The British Library | 14 Million Tomes… and the Magna Carta
British libraries are hit and miss – they're either receptacles for the Tracy Beaker Christmas annual and Jilly Cooper's back catalogue of erotica, or they're indomitable cornerstones of cultural history.
The British Library, with its bold, burgundy-bricked brilliance is the latter, sitting firmly upon the crossroads of culture, charting an expanse of history that ranges from 2000 BC to the very second you're reading this.
Located on Euston Road beside the Hogwarts-esque St Pancras Hotel and Kings Cross station, the British Library's entrance is marked by a strikingly large homage to Isaac Newton crouching on a plinth, compass in hand. Past the revolving doors, the glass case of King's Library extends skyward like some tower of the otherworld. Don't fret if you glimpse a hand behind the glass, that's just a real-life librarian doing librarian things.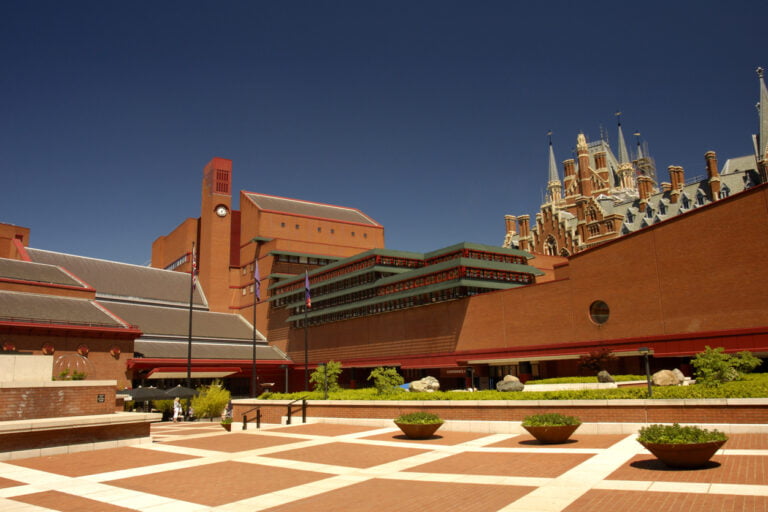 Image: Kalulu/istock
So essential is the library to the preservation of British culture that every publication produced in the UK and Ireland is sent to its door (so, yes, even Jilly Cooper books). The resulting interior is a galaxy of knowledge and creativity, containing 200 million items, from books (14 million of them), to maps, videos, letters, newspapers, sound recordings and drawings. It also happens to contain two of the most culturally significant things to ever be written down in this country – the Magna Carta, and an extensive collection of original, handwritten Beatles lyrics. 
Other notable items at the British Library include the original manuscripts of Virginia Woolf, Jane Austen and James Joyce's novels; a medieval manuscript of Beowulf dated back to 1019; letters from Elizabeth I; and 3000-year old Chinese oracle bones – many of which are on display in the building's free Treasures of the British Library gallery; one of many exhibitions that run throughout the year.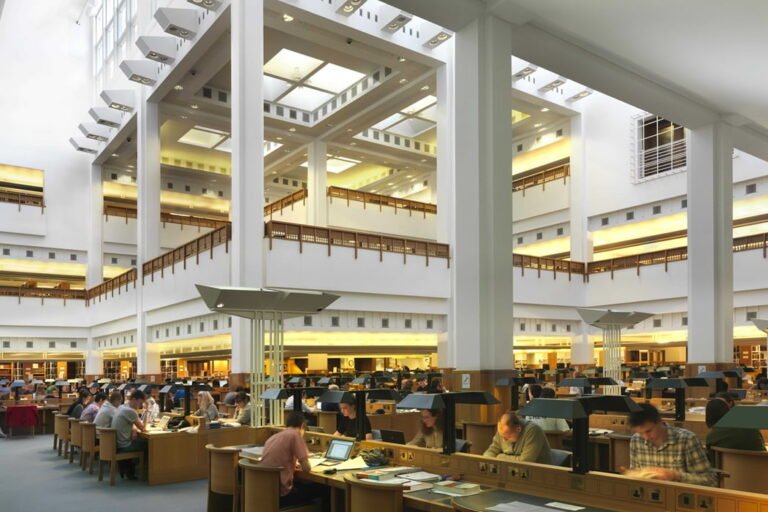 But the British Library isn't all literature and oracles – some of the weird and wackier items include a lock of Shelley's hair, Beethoven's tuning fork and a Burmese tattooing tool. There is also a really nice carrot cake which one would hope isn't 3000 years old because it can be purchased and consumed for £3.70.
If you apply for a free reader pass, you can request any of the British Library's items to be picked out and prepared for your visit. Or you can just make use of the free wi-fi and desk space in one of London's most inspiring places to get a bit of work done, or finally write your best-selling novel.
Just know that if you were to look at five items from The British Library per day, it would take you 80,000 years to get through the whole collection.
So you should probably stop wasting time…
NOTE: The British Library is open daily. You can find out more about their current exhibitions and events here, or register online for a free reader pass (granting you access to the library's reading rooms, and the ability to look at anything you want from the collection) here.
The British Library | 96 Euston Road, London NW1 2DB
---
Feeling cultural, eh? Check out London's best museums…