The Greatest Snowman | Ho Ho Hop on Board
Snowmen usually travel by riding an 'icicle.
But The Greatest Snowman takes the train.
Specifically, the train leaving from the extremely fictional Pedley Street Station in East London, which is run by the folks at Funicular Productions. It's the same station that housed their earlier excellent, hammy, and hilarious locomotive-based supper clubs/theatrical experiences the Murdér Express and Journey to the Underworld.
The aim is to see out 2018 in style, with the show running from November 22nd until December 23rd. The station itself is very appropriately housed in a former railway arch, making it literally the perfect size to fit a train inside – which they have. It's completely custom-built for the space and is really quite impressive. Before you board, you'll get a chance to have a stiffener at the cocktail bar on the platform (run by the capable mixology minds from Dalston's Three Sheets) and see some of the show's characters milling around, introducing themselves, and generally setting the tone for the evening.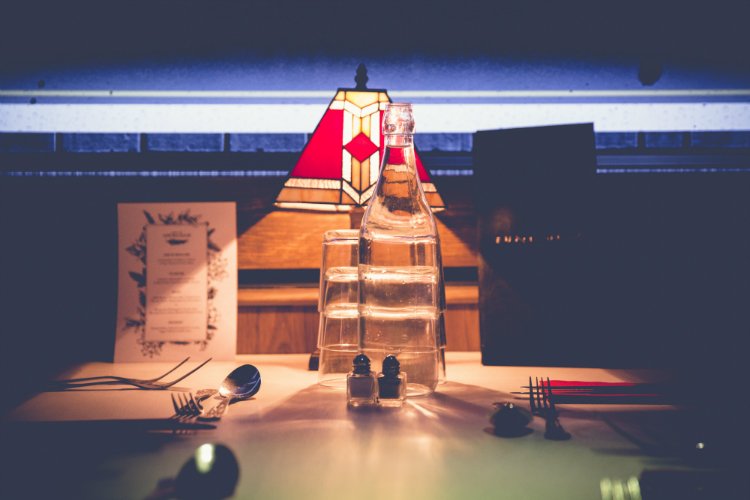 Once you step aboard, you'll take a seat at one of the leather-seated booths filling the space, and watch as the screens in the windows cleverly project the illusion of movement and the journey begins. The exact details of the plot are, like every good Christmas present, being kept under wraps. But we can tell you that one of your fellow passengers – a man named Ed Snow, travelling to Birmingham Christmas market – is going to be faced with "mysterious forces working on a secret Christmas mission to disrupts his travel plans". Presumably it involves some kind of man made of snow. A particularly great one.
Keeping your mouth entertained as well as your eyes & ears will be the four-course dinner from MasterChef: The Professionals finalist Louisa Ellis. She's prepping festive dishes like caramelised cauliflower volute with crispy onions; grilled globe artichoke with baby rocket; a 3-bird roast with cavolo nero & parsnip puree; mushroom wellington with mustard sauce; and poached pear with salted caramel ice cram and vanilla snow. Meaning there aren't actually any carrots…
…no matter what the Snowman says he can smell.
NOTE: Tickets to The Greatest Snowman are available from now until December 23rd. They cost £56-£65 and are available right HERE.
NUDGE MEMBERS: We've got something special lined up for you. Be sure to check next week's (Nov 29th) new Members' Experiences for more…
Pedley Street Station | Arch 63 Pedley St, E2 6GS
---
Image Credits: @arabellaitani