The London Eye didn't really have lofty ambitions when it first opened…
You probably have vague recollections of how the night of 31st December 1999 unfolded, but one thing that definitely did happen was the formal opening of this now iconic rotating sightseeing structure: adored, called unaesthetic at times, but never ignored. And also remembered by those born in the 20th century by its forgotten name, the Millennium Wheel. 
Prime Minister at the time Tony Blair had the honour of opening the London Eye – something that was done to usher in the new Millennium, although due to a mechanical fault it didn't actually open to the public for the first ride until March 2000. It was a statement piece of modern architecture sitting in contrast alongside all the lovely old buildings along the river Thames, and it was only supposed to stick around for five years…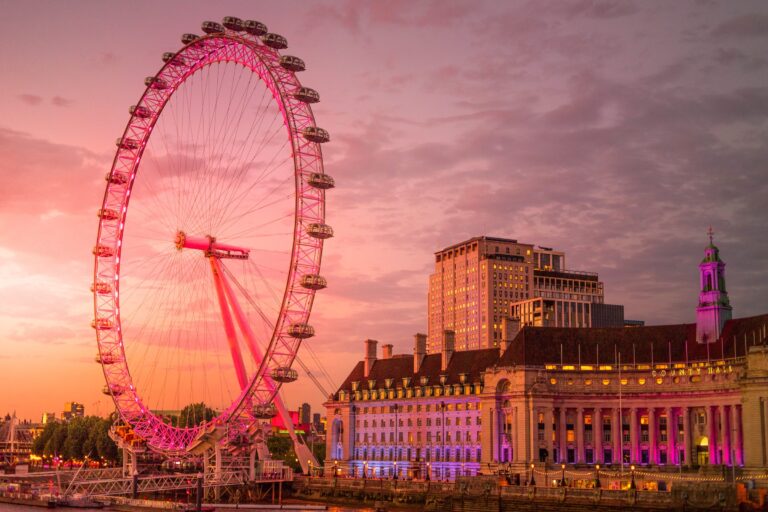 23 years later though, as you can see whenever you walk the Thames, the London Eye lives on – largely because having a 135-metre high ferris wheel (once a upon time the world's tallest, until it was outdone by the Star of Nanchang in 2005) offering one of the best viewpoints in London was something that turned out to be pretty popular with the public. Now, it's one of the top London attractions and most trodden tourist sites in not just the capital, but the whole world. Each year it lures in around 3.5 million people, who eagerly stand for half an hour in one of its 32 pods – numbered from 1-33, with no. 13 excluded as this is a superstitious eye – for a breathtaking 360-degree vista of London.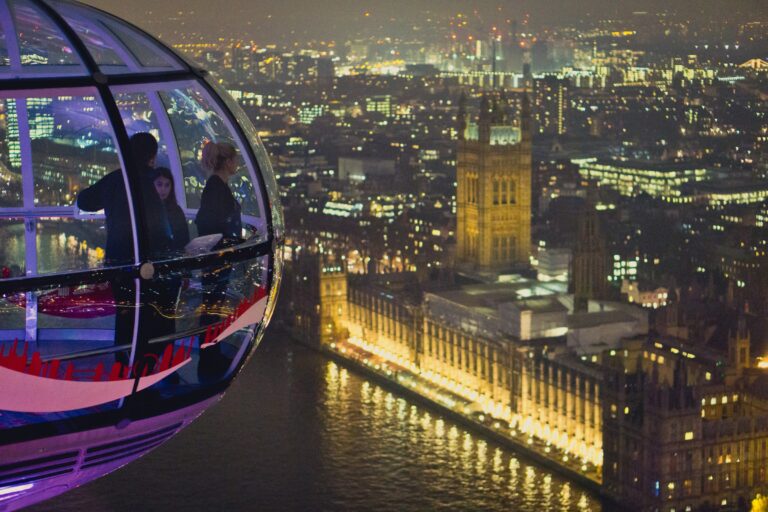 The closest tube stop to the London Eye is Waterloo. From there it's a five minute walk along the South Bank and once you've patiently waited it out for your turn in queue (naturally, those exist), you and a max of 25 others get an aerial tour of the London skyline – with the Shard, Tower Bridge, the Houses of Parliament, the Tower of London and the rest of the landmark gang all clearly visible (provided the British weather is playing ball). Once you get going, it moves at a rate of 0.6 miles per hour and 'the wheel advances 26cm every second', which in simple terms is pretty slow – slow enough at least that you'll easily have enough time (and chances) to capture the moment with a postcard-worthy photo. 
For less best-position-in-the-pod competition, complete solitude, the chance to avoid potential small talk from other passengers, or if you're after a truly showstopping London date idea, you can even rent out an entire glass bubble for yourself. And for any especially loved up couples, there's a VIP 'cupid pod' that comes with pink Champagne truffles and a bottle of Pommery Rosé Champagne, so you can take your romance to new heights. Just try to avoid any lovers tiffs…
You'll find yourself going round in circles.
NOTE: The London Eye is open daily from 11am-6pm. It's £32.50 for one ride online (£36 if you're buying on the door). You can book tickets and find more info here.

The London Eye | Riverside Building, County Hall, London SE1 7PB

---
Now that you've checked out the city from above… check out the city from below with help from our guide to the best things to do in London