The Lost Love Speakeasy | Jazz Age music, cocktails, and storytelling
Manhattan, the summer of 1929.
The end of the jazz age looms. Alcohol is illegal. But at least the stock market is on an unstoppable upward trajectory, so there's that.
This is the time & space that you'll walk into at the Lost Love Speakeasy. It's the followup project from the people behind the insanely good In Night's Darkling Glory and The Great Christmas Feast, whose immersive experiences blend fantastic food, music, and storytelling in one exquisite package.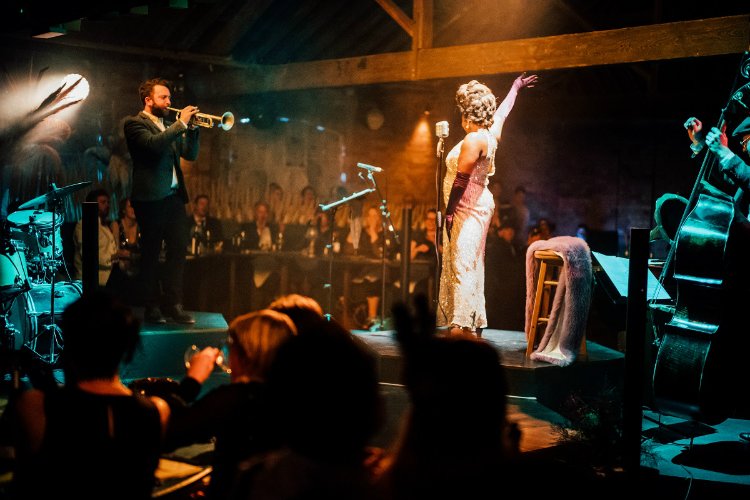 Here, you'll wander into the dark, clandestine liquor-soaked jazz den that is The Lost Love, Manhattan's hottest underground bar. Like all of your fellow revellers you'll be dressed to the nines as a flapper, movie star, tycoon, gangster, bohemian, or whatever takes your fancy. And you'll all be introduced to Stella, the proprietor, starlet, and owner of a broken heart – a condition that won't exactly be helped when a ghost from her past wanders back into her life…
The story will play out throughout the evening (it's penned by award-winning playwright Juliet Gilkes Romero) while being skilfully interwoven with songs from the house band, The Lost Love Rhythm Kings, who'll be led by Jamie Cullum's MD Rory Simmons. The cocktails will flow, the dancing will be wild, and the feasting will come courtesy of temper's Neil Rankin, who is easily London's best BBQ chef.
It'll be a fully immersive affair, and everything from the music, to the drinks, to your fellow guests will all evoke the Roaring '20s. And like all good speakeasies, it's at a secret location…
…so just make sure you don't get lost, too.
PERK: Nudge Members plus two or four guests are getting a complimentary pre-dinner sharing cocktail worth £25 or £45 when purchasing tickets.
NOTE: New tickets to The Lost Love Speakeasy have just been released, extending the show from July 25th to August 25th 2019. You can snap them up (fast, we recommend) by signing up to their website, and awaiting a secret ticket link right HERE.
The Lost Love Speakeasy | Somewhere Secret
---
Kinda wish this was set in the future? Then check out The Banquet of Hoshena…