We doubt very much that the Sistine Chapel asked Greenwich for an answer to anything.
But if it had, this would be it.
The Painted Hall is the show-stopping centrepiece to the Old Royal Naval College, the elegantly symmetrical Christopher Wren building with colonnades for days, sitting at the foot of the hill in Greenwich Park. Together with other historic buildings like the Royal Observatory and the shored-up 19th century clipper, the Cutty Sark, it makes up part of Greenwich's UNESCO World Heritage Site, reckoned to be the "finest and most dramatically sited architectural and landscape ensemble in the British Isles."
TL;DR: it's a pretty fine-looking building.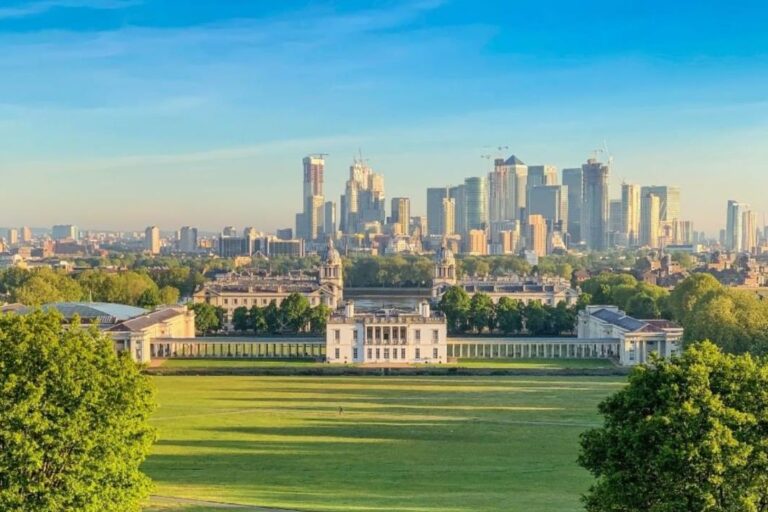 Built on the site of a royal palace, it was originally the Royal Hospital for Seamen (no laughing at the back), before becoming a training site for the Royal Navy. Since the early 2000s, though, the building has been open to the public for art & architecture buffs to have a good nose around.
On any given day you can swing by to take a look at the basement skittles alley, listen to concerts in the old chapel, or see where tens of thousands people came to see Nelson's body lying in state after the battle of Trafalgar, magically recreated using the old Victorian illusion of 'Pepper's Ghost'.
But without a doubt the jewel in the crown is the Painted Hall. Fresh from a head-to-toe conservation job in 2019, all 40,000 sq ft of the walls and ceiling are covered in murals of mythical, allegorical and historical figures. It took artist Sir James Thornhill a mere 19 years to plan and execute all this meticulous, spectacular paintwork – so you can't blame the guy for sneaking in a self-portrait peeking out from behind a marble pillar.
It's a majestic sight to behold; even more so for the few special events a year when the hall is used for anything from candlelit dinners to yoga classes. It's even been an unlikely setting for Luke Jerram's touring artwork, the Museum of the Moon, which in all likeliness will come back here again…
…then you'll really see the place in a new light.
NOTE: The Painted Hall is open daily – tickets cost £15, or £5 on the first Sunday of every month. You can find out more, and book, HERE.
Old Royal Naval College | Romney Road, London, SE10 9NN
---
Love art? See what's on at every London art gallery now