London has a vast amount of activity bars in which you can do a vast amount of activities. Clay shooting? Axe throwing? Shuffleboard? Yep, yep, yep.
So it seems slightly odd that it's taken until we dug this deep in to the activity bar barrel before someone thought that, maybe, just maybe, the world's most popular game might make for a good shout, too.
And what a shout it is – TOCA Social is a pretty unique and genuinely fun concept. And to be clear, you don't have to even like football to like TOCA Social, in the same way that you don't have to care about the PGA tour to enjoy Swingers. If you enjoy cocktails, games, and a little light banter, then you'll have fun.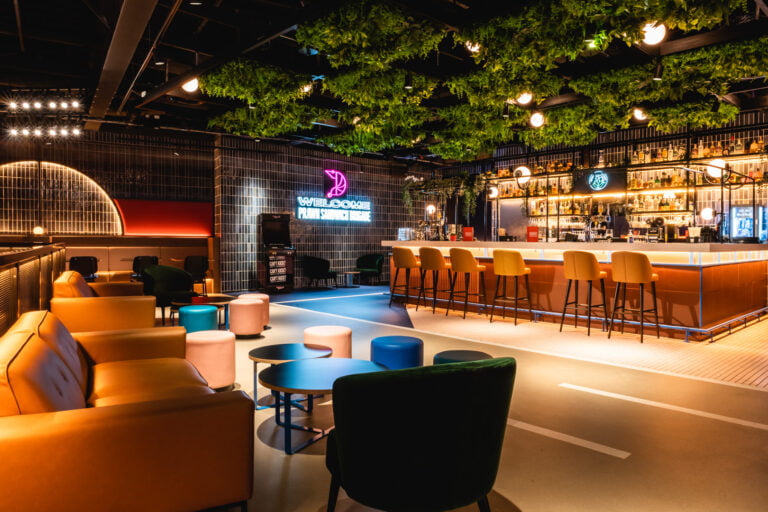 The venue itself is housed in the O2, one of the few spaces in London big enough to accommodate the parade of sizeable private playing booths that the game requires. You can even occasionally see the immense steel roof struts of the dome punching up through the floors and into the walls. This place is huge.
Walking in, you'll first find yourself wandering through their vivid, flashing neon-striped tunnel complete with an underscore of cheering, to evoke the feeling that you're walking into a stadium. And it almost feel like one too, with an atrium of tables surrounded by a belt of playing booths & a double-height bar, all overlooked by the mezzanine-style second floor. Making your way up there, and you'll find another, slightly leafier bar (with table football, of course) and yet more playing booths. It's thankfully quite restrained in its footie-fandom, but for the ardent, there are some subtle nods (a pink neon sign declaring "Welcome Prawn Sandwich Brigade" is a particularly nice touch).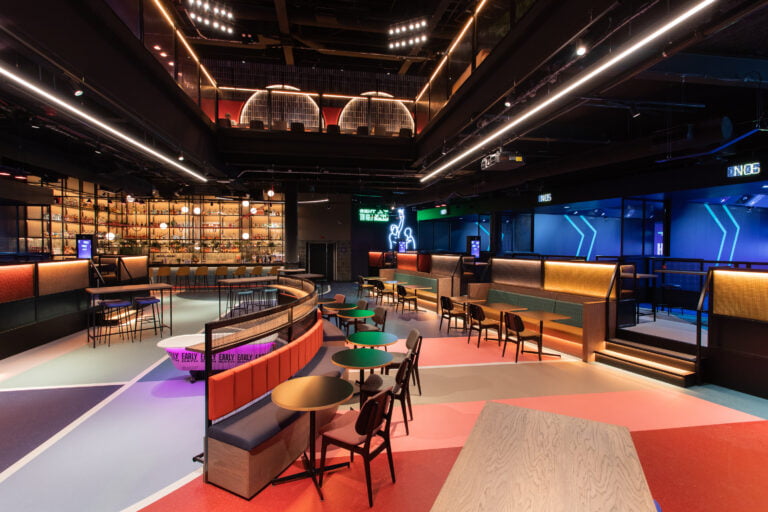 So how exactly do you play?
Well, it's a simple setup – you and your team step into your own private booth, with its rear wall covered in a massive projector screen. Everyone punches in their name, gets their photo taken, and chooses their skill level. Then, after picking from the various games things, ahem, kick off. The ball is delivered to your feet by a smart mechanism, and the screen detects precisely where you want to try and land it. All the games are easy to pick up, but the challenge will ramp up as far as you're able to take it.
Now you could play with just two people, but games like this obviously come with a strong more-the-merrier factor – so they've put together group packages for a dozen or more people (and by 'or more' we mean literally up to 700) including cocktails & bar food. And for Christmas parties? You can even get a full keg of beer, custom shirts and bubbles, too.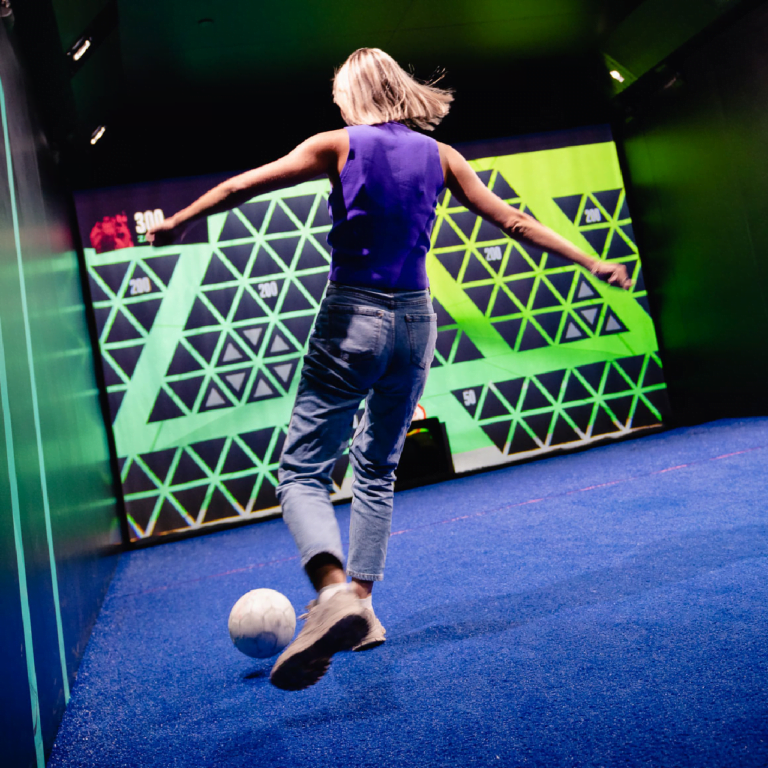 Of course, there's also the all-important second half of the 'activity bar' equation – the food & the booze. To help with the former of those, they've roped in chef Ross Clarke (Fat Duck Experimental Kitchen) who's put together a menu of casual bangers: Nashville-style hot chicken sandwiches, jerk BBQ chicken wings, salt & pepper squid with Indonesian ket-jap sauce, tuna burgers in charcoal buns, 7-cheese Mac & cheese, smoked pickles, fried pickles, taco trios, annnnd much more.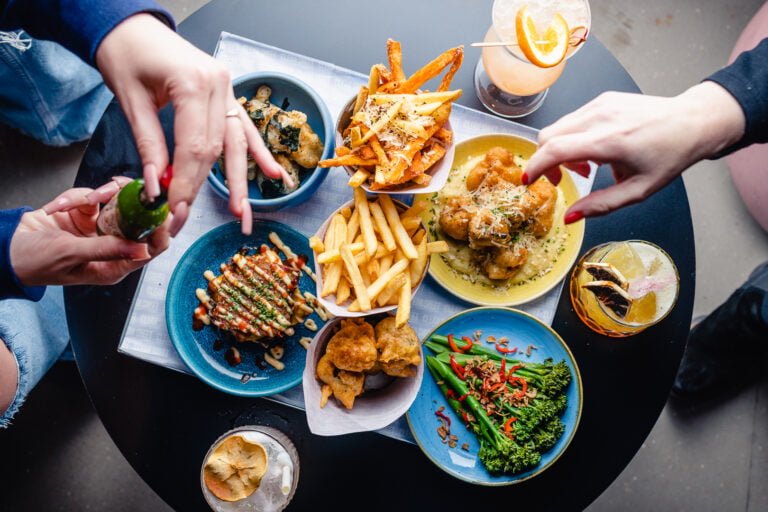 Washing it all down is the list of cocktails, beers, wines, which include some pretty creative numbers – the Lionel Mezzi brings together mezcal, yuzu, and lychee, and the Hard Melonade involves a boba cup filled with honey melon balls & vodka. And if you want to really push the boat out, you can get a massive sharing combo (called a Tocazade) served in a rack of half a dozen sports bottles filled with a fruit-forward cocktail.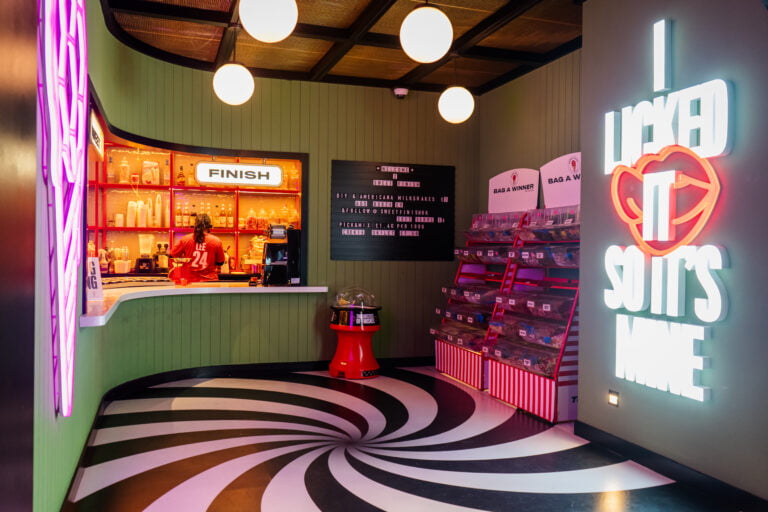 And then, as a perfect finishing touch, you can pop into their Willy Wonka-style dessert room, absolutely packed to the rafters with cookies, milkshakes, soft serve ice cream, churros, and pick 'n' mix.
They call it a 'Sweet Finish'.
NOTE: TOCA Social is open now, seven days a week. You can find out more, and make a booking at their website right here.
Toca Social | The O2, Peninsula Square, SE10 0DX
---
Like booze with your balls? Check out London's best Activity Bars…