Welcome to the Union Chapel.
Trust us, even if you don't live in Islington it's worth a pilgrimage.
Built a mere 220 years ago, it was designed in the Gothic Revival style… which basically means it's a stunner. A Grade-1 listed stunner with soaring stained glass windows, jaw-dropping vaulted ceilings, a grandiose 140-year-old organ, and rows upon rows of beautiful wooden pews.
Now, of course you can still pop by there for a spiritual service should you fancy it, but that's not why you're reading The Nudge. No, it's the fact that – in keeping with the founder's original inclusive wishes – the place has also decided to become one of the more extraordinary entertainment venues in the city.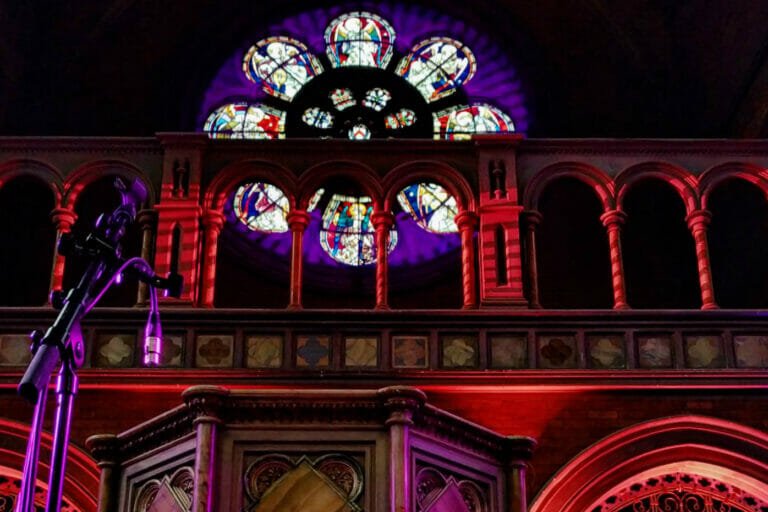 Score a ticket and head down there on any given night, and you'll find anything from:
Comedy – Taking place once a month, the line-ups are focussed on quality rather than quantity, and comprise 4 or 5 comedians, usually including one or two household names.
Live music – They've hosted sets from people like Liam Ghallager, Laura Marling, Josh Ritter, Duke Special, and Ingrid Michaelson. And there's the occasional mass-a-oke singalong, too.
Cinema – there are regular cinema nights, including an annual run of sell-out performances of Romeo & Juliet screened with a live gospel orchestra.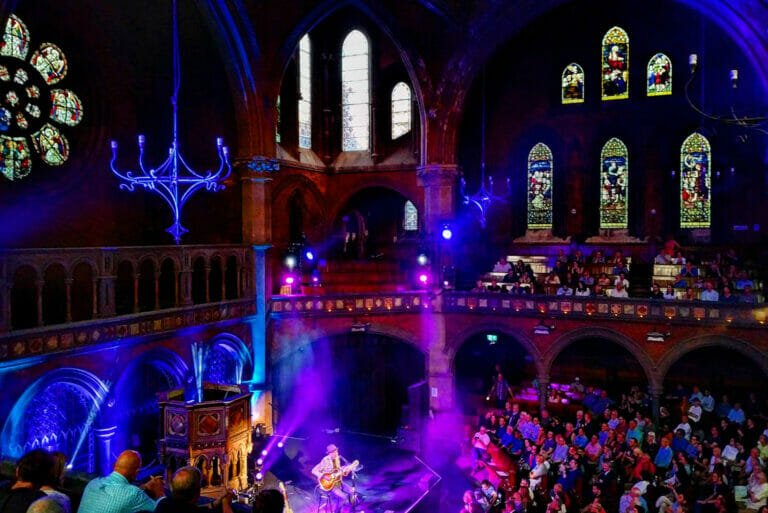 Add to all of that the bar (which serves its very own 1877 Union Chapel Pale Ale) and the cafe (where you can find the likes of mint & lemon chicken with apricots & potato, or a raspberry cream tart) and you've got a live entertainment venue you can have faith in.
And as a kicker? The profits from that cafe go towards supporting their drop-in centre for the homeless. It's called The Margins Project, and it provides therapy, English tuition, and a job club to help those struggling to find work.
NOTE: You can get tickets to events, and find out more, at the Union Chapel website right HERE.
Union Chapel | 19b Compton Terrace, London, N1 2UN
---
Of course if you do live in the area… you may want to see these other great things to do in Islington.