A lot of people look down on London… when they're standing atop one of the city's viewpoints.
And it's not a terrible idea – because while the city's best explored on foot, sometimes you can only really get a sense of how big the place is from above. Not to mention it's a very efficient way of ticking off many of London's attractions in one go, before getting down to the more important business of tackling London's best restaurants, bars, and unusual things to do.
Thankfully there are plenty of viewpoints in London where you can do just that, from glittering skyscrapers taking you up hundreds of feet in the air, to grassy hilltops surrounded by trees and free viewing platforms dotted around the city. What follows here is a list of the very best…
…but of course, that's just our point of view.
NEWLY OPENED: Horizon 22 | The City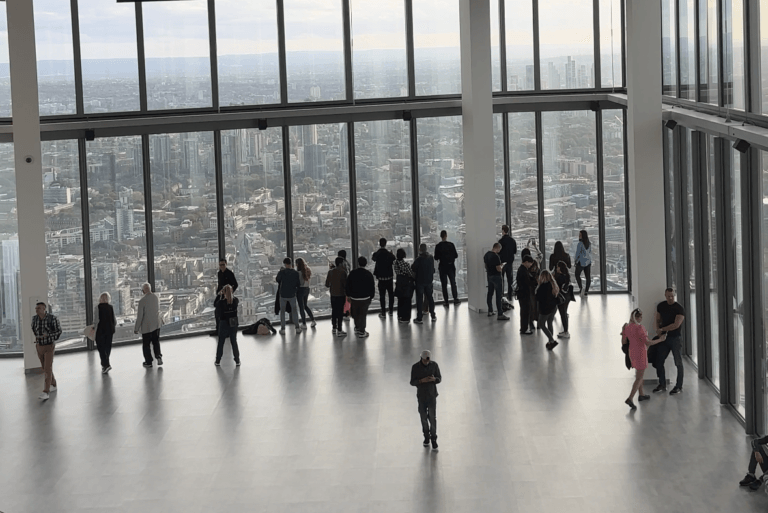 Sitting on the 58th floor of the tallest skyscraper in The City, Horizon 22 is the tallest free viewpoint in London. The views sweep across a near-perfect 300° panorama, so you can take in most of the major sights from up here. Sheet glass floor to ceiling windows also mean the view is pretty much uninterrupted – apart from all the other altitude enthusiasts you'll need to elbow out the way for a selfie.
Details: 22 Bishopsgate, London, EC2N 4BQ | Book a free ticket here
–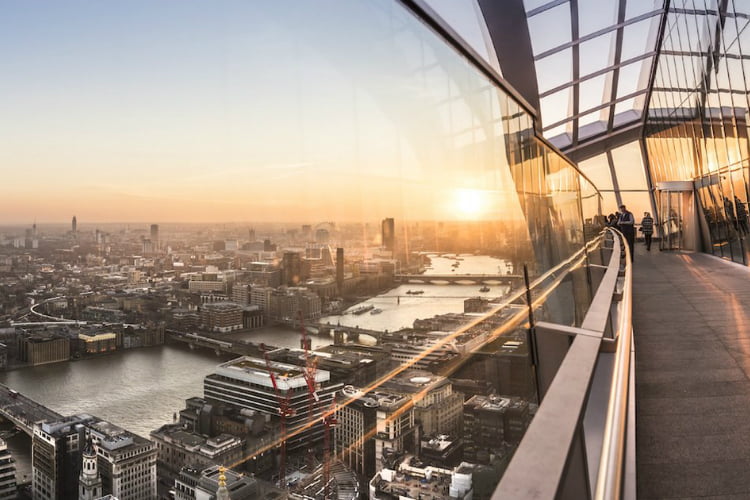 Set at the top of the Walkie Talkie skyscraper, Sky Garden is one of the most impressive free viewpoints in London. The 35th floor features an outdoor viewing platform along one side – taking in sights of the Thames, Tower Bridge, Monument, the Tower of London, and more – as well as two more mezzanine floors in the triple-height space inside, taken up with bars and restaurants. Inside you can also enjoy the 'garden' part of the equation: 45,000sq ft of tropical greenery, which makes just as scenic a backdrop to their regular events schedule of live music, parties and yoga classes.
Details: 20 Fenchurch Street, Bank, The City, EC3M 3BY | Free tickets for the week ahead released each Monday here
–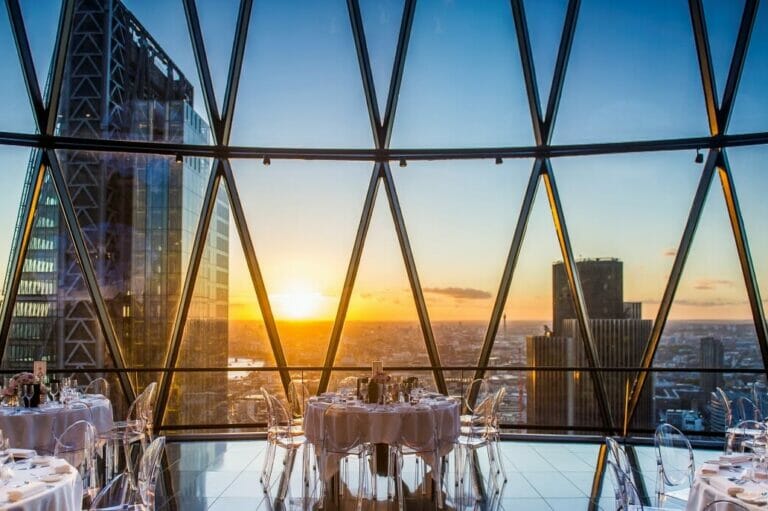 The Gherkin doesn't have any outside viewing platforms – otherwise, it wouldn't be gherkin-shaped. What it does have is a fancy restaurant, Helix, on the 39th floor; a bar on the very top (40th) floor, Iris (where the ceiling is literally the transparent tip of the building); and 38 storeys of office space. Meaning that the best way to enjoy this London viewpoint is either to a) get a job as a stockbroker, or b) get a lift up to the top floor, and drink Champagne.
Details: 30 St Mary Axe, London EC3A 8BF | Book a table here
–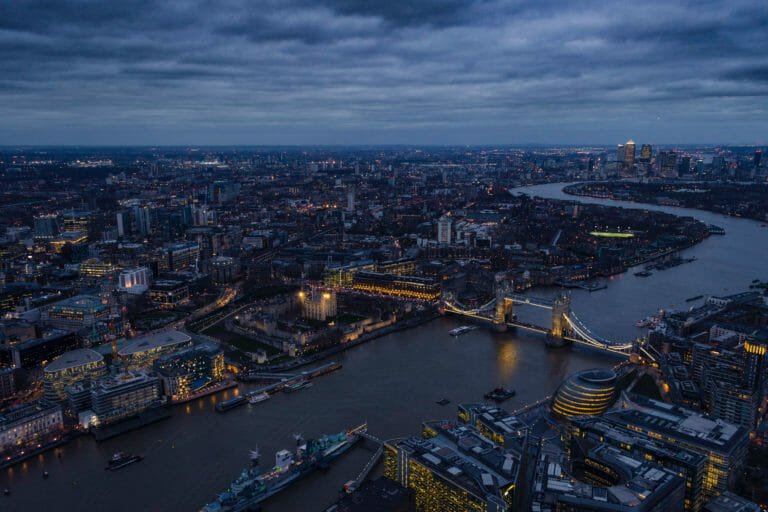 For some people, the best part about taking in the view from The Shard is that you don't have to look at The Shard. But however you feel about London's tallest building, there's no denying that the views up here are pretty spectacular. Floors 68-72 make up the official viewing platforms, The View From The Shard, which include a bar, an open-air deck, and 360º views across the city, with visibility up to 40 miles away (that's technically as far as Reading and Southend). You'll also shoot up in a lift that covers more than one floor a second. For all this, though, there's a pretty price tag – entry starts at £28pp. For our money, you're better off keeping that pocket money to spend on a drink or two at one of the restaurants in the Shard. Aqua Shard is halfway down at level 31, but the views are still breathtaking (even in the loos). And you'll have a cocktail.
Details: 32 London Bridge St, London SE1 9SG | Book tickets
–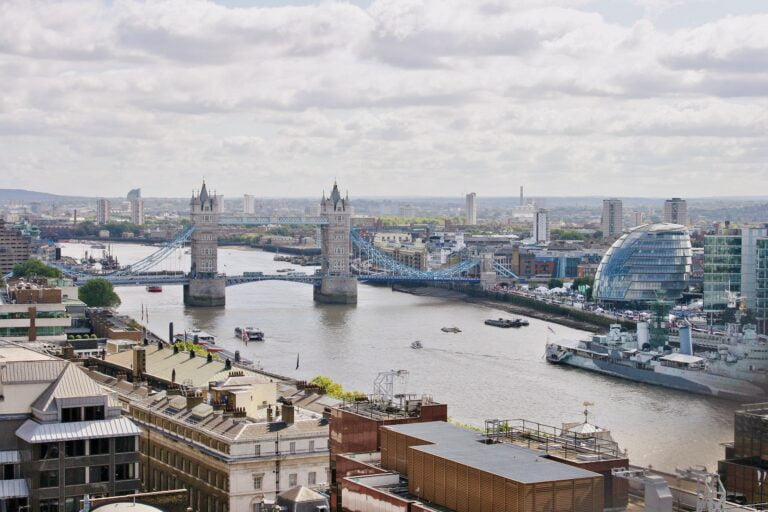 Once the highest viewpoint in London, the Monument was built as a memorial after the Great Fire of London, which rampaged across the capital for four days back in the 17th century. Ironically, that fire led to the erection (stop it) of many of the buildings you can now admire from the top of that monument, including St. Paul's Cathedral. More modern sights include Tower Bridge, HMS Belfast, and Foster & Partners' City Hall building, tenderly referred to by Boris as 'the glass gonad'.
Details: Fish St Hill, London EC3R 8AH | Open weekends & school holidays | £13.80
–
St Paul's Cathedral | The City
Another iconic landmark that you're more used to looking at than looking from – but if you can hack the almost 1000-step climb to get up there, the galleries at St. Paul's Cathedral have amazing views over London. There are three levels to the famous dome: first up is the Whispering Gallery, which is windowless and indoors – but while you can't see outside, the dizzying views down to the cathedral's chequered marble floor are impressive in their own way (plus you can play a high-altitude game of bogeys and see if the whispering thing is actually true). Continue up to the Stone Gallery and the Golden Gallery above that, and you'll get access to an utterly terrifying outside balcony with views across the city that just about justify the leg-jangling vertigo and nausea you'll almost certainly have to grapple with.
Details: St Paul's Cathedral, St Paul's Churchyard, London, EC4M 8AD | £18
–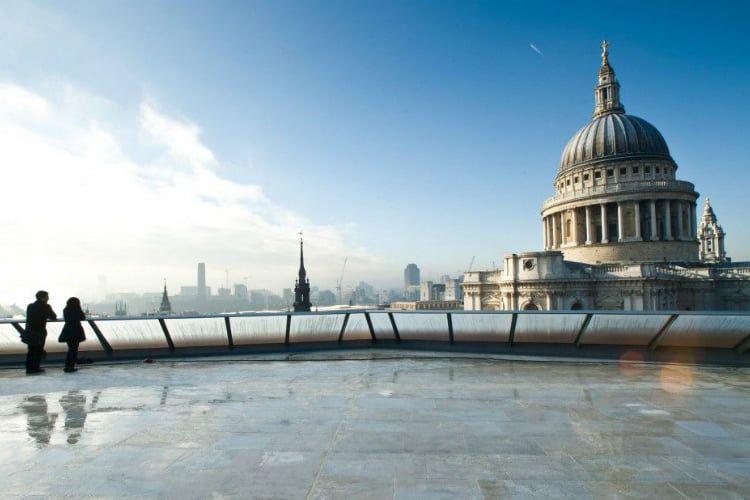 Blessedly closer to the ground, and accessible via lift, is this semi-secluded roof terrace and viewing platform on top of the One New Change shopping centre. It's totally free to access, and open from 6am-midnight for exceptional views of St. Paul's itself, as well as various other decorative spires, skyscrapers and rooftops across the historic City of London. The platform itself sometimes plays host to events – keep an eye out for open-air cinema screenings here – but if you want to take a load off while you're up here, there's really no better place than Madison, which shares the same rooftop (and views), but also has cocktails and grill dishes.
Details: One New Change, London EC4M 9AF | Open daily, 6am-midnight | Free
–
Post Building | Bloomsbury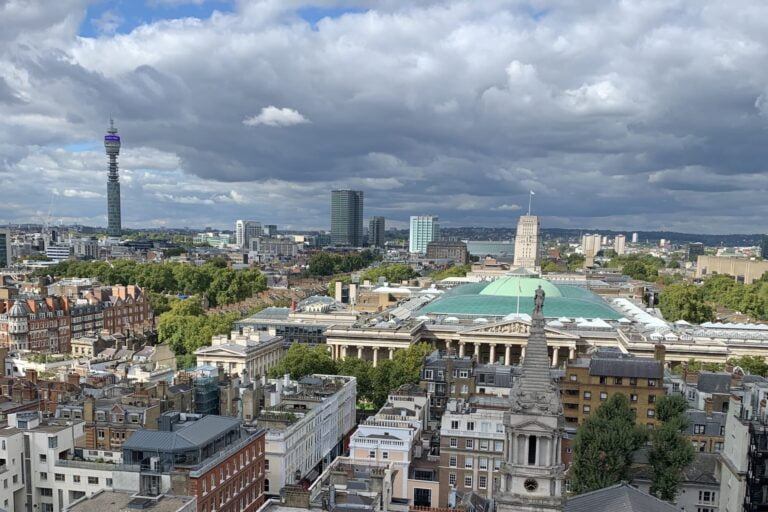 Take NYC's Flat Iron Building, cover it in giant smartphones, and you've got something that resembles The Post Building in Bloomsbury. The architects included a roof garden in its recent makeover, and now the 9th floor viewpoint is open to the public. Granted, it's a bit of a faff to get up there – you'll need to bring some ID with you and have your bags scanned for security – but once you're up, you can enjoy some pretty rare views over this part of Central London. You'll get to see the iconic roof of the British Museum from the other side; check out the BT Tower without any surrounding skyscrapers; and appreciate what a surprisingly green patch this area of London is. Currently you're not allowed to bring any food or drink up with you, so it's really more of a stop-off while you're in the area, but there are plans in future to open a gin terrace up there…
Details: New Oxford Street, London WC1A 1PB | Weekdays 10am-4pm | Free
–
Popular with tobogganists, kite flyers, and groups undergoing a kind of euphoric silent disco dance experience, Parliament Hill is a great North London viewpoint just cresting the fringes of Hampstead Heath. Get the tube to Gospel Oak, stroll past the Parliament Hill Lido and the playing fields dotted with Quidditch players, and take a two-minute hike up the hill for glorious views across the city, including St. Pancras station, St. Paul's Cathedral, and all the skyscrapers beyond. An extremely good ratio of low effort:high reward.
Details: Hampstead Heath | Free
–
Queen Elizabeth Hall Roof Garden | Southbank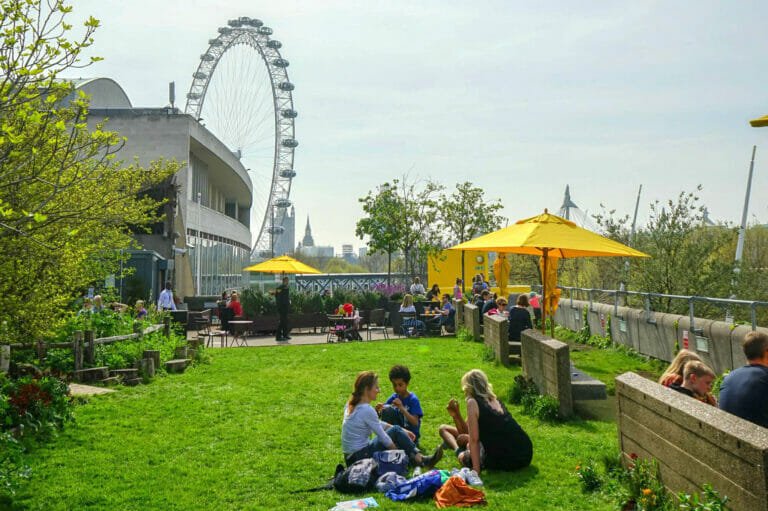 It's not the highest viewpoint in London, but what it lacks in stature, the QEH roof garden makes up for in charm. It's a miniature meadow perched incongruously amongst the brutalist architecture of the Southbank Centre, with a grassy lawn, planters spilling over with wildflowers, and a bar tucked amongst all the greenery. And its central London position – right on the banks of the Thames – means you get a lovely panoramic view of the London Eye, the Houses of Parliament and St. Paul's. Just look out for the bright yellow staircase to take you up there (there is also a lift).
Details: On top of the Queen Elizabeth Hall, Southbank Centre, Belvedere Road, London SE1 8XX | Open daily – just turn up
–
St Augustine's Tower | Hackney
That little stone tower overlooking the pedestrianised bit of Mare Street by Hackney Central station is actually the oldest building in Hackney. We're talking 13th century old. It's only standing now because they ran out of money when the rest of the church was being demolished in 1798. The view from the top probably wasn't much back then, given that it was surrounded by fields, but now you can get an unexpectedly impressive view over Hackney's rooftops, the Overground tracks, and the City's skyscrapers in the distance. On the way up you'll also get a potted history of the area, and if you're very good, they might even let you ring the bell.
Details: St. Augustine's Tower, London E8 1HT | Open last Sunday of the month except December, 2-4.30pm, just turn up | Free, but donations encouraged as it's all run by volunteers
–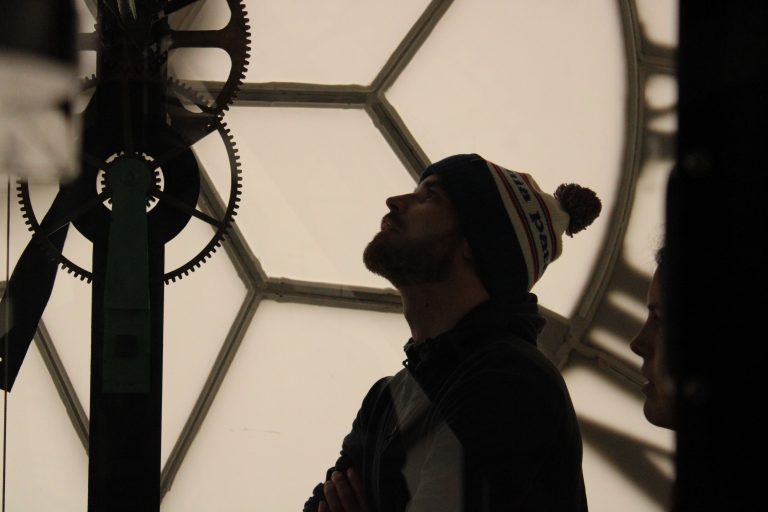 The recently restored Cally Clock Tower – or the Caledonian Park Clock Tower, to give it its full title – was built as the centrepiece to the surrounding live meat market in 1855, giving visitors dazzling birds-eye views of more than 10,000 cattle about to breathe their last. Nowadays the sights are more serene: after a bracing 170-step climb (past the inside of the clock itself) you'll emerge onto the viewing platform to one of the most under-appreciated viewpoints in London, with uninterrupted views of The City, St. Paul's Cathedral, The Shard, and other iconic buildings across the London skyline.
Details: Clock Tower View, Market Estate, London N7 9HF | Check for upcoming tours here
–
Severndroog Castle | Shooter's Hill
An 18th century tower standing in the middle of the woods, Severndroog Castle was essentially a giant memorial built by a widow for her husband. After falling into disrepair, the tower was restored in 2014 and is now open to visitors, with occasional live music nights to accompany the views. Despite only being 19m tall, its position on a hill means it has quite amazing views over London from the top – you can see up to seven different counties on a clear day. It's also located partway along the Green Chain Walk and Capital Ring circuit, so you can take in the views while ticking off one of London's nicest walks, too.
Details: Severndroog Castle, Castle Wood, Shooters Hill, London SE18 3RT | Open Sundays, 10am-4pm | £4
–
King Henry's Mound | Richmond Park
Reasons to visit Richmond Park: 1) There are deer, just hanging out and doing deer stuff. 2) There's King Henry's Mound, where Henry VIII apparently used to go hunting and which now offers sprawling views across leafy south-west London, including a protected view across to St. Paul's Cathedral (which means that no new buildings can block it, and even the trees have to be trimmed back to keep it clear). 3) Petersham Nurseries is at the bottom of that mound, serving exquisite post-walk fare in a flower-laden greenhouse.
Details: Richmond Park, Queen's Road, Richmond TW10 5HX | Free
–
The top of the hill in Greenwich Park is one of the highest points in London – that's why the royal observatory was built here almost 350 years ago. From up here you can see some of the big hitters of this UNESCO World Heritage site: acres of lush lawn, the Queen's House (over four centuries old), and the two domes of the Old Royal Naval College, designed by Sir Christopher Wren. But beyond that, there's the dazzling cluster of Canary Wharf's skyscrapers, making this one of the best viewpoints in London to appreciate the city's eclectic mix of old and new.
Details: Greenwich Park, Blackheath Ave, London SE10 8XJ | Open daily from 6am-dusk | Free
–
Primrose Hill | Camden
Another one of Henry's old hunting grounds, Primrose Hill was bought off Eton College in 1841 to give access to health-giving green space to the poor locals of North London. Now one of London's bougiest areas, the rest of us peasants can be thankful it's still free and open to all to enjoy its manicured lawns and amazing panoramic views across London.
Details: Primrose Hill Road, London NW1 4NR | Open daily, 6am-10pm | Free
–
Horniman Museum | Forest Hill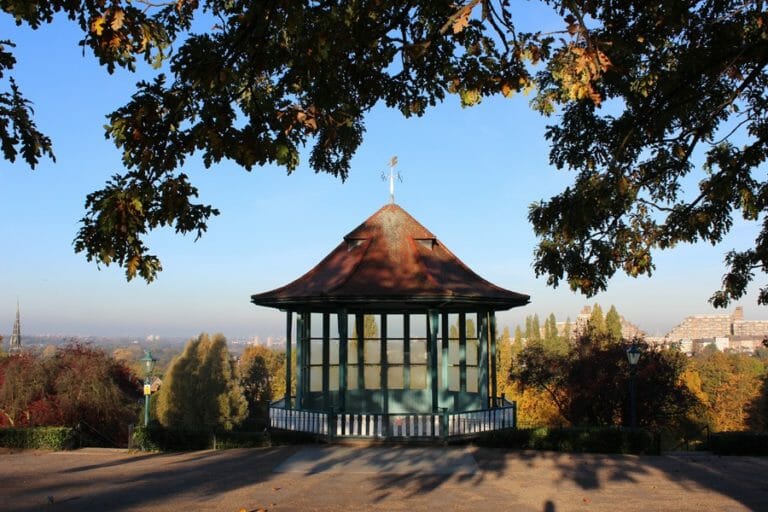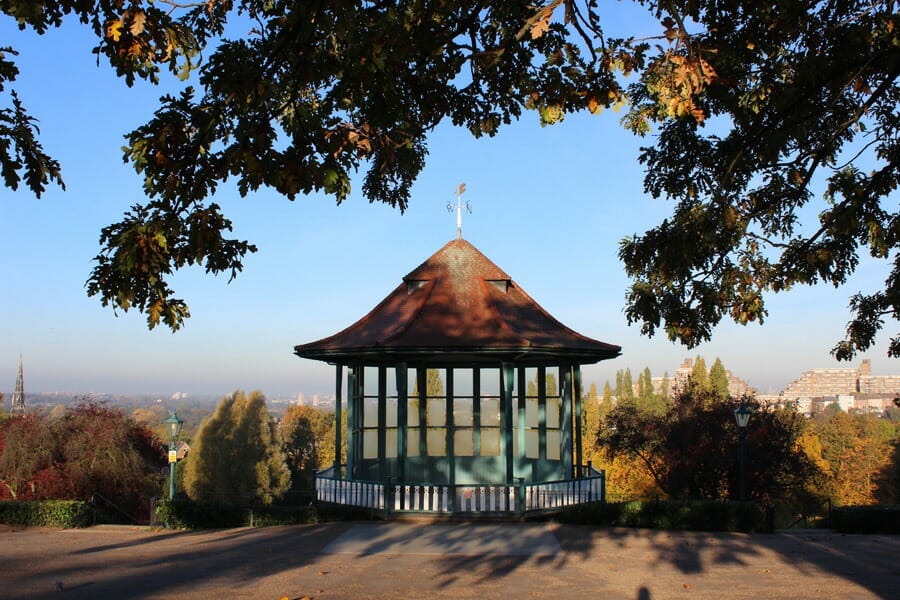 Forest Hill is exactly as advertised: it's one of the highest, leafiest patches of south-east London, and the best place to enjoy it all is from the gardens of the Horniman Museum. Covering a modest 16 acres, they include an animal walk (with goats and alpacas); a butterfly house; sunken gardens; a Victorian bandstand; a giant xylophone aaand some ridiculously good views across Dulwich and beyond.
Details: 100 London Road, Forest Hill, London SE23 3PQ | Open daily except Christmas Day | Free
–
Yes, it's touristy. Yes, tickets start at £30. But everyone's favourite sponsored wheel, the lastminute.com London Eye, is in pole position for some prime city viewing action. Set right on the Southbank, you can get some quintessential views of the Thames with double deckers heading over the bridges, unobstructed sight-lines to the Houses of Parliament, Big Ben and Westminster Abbey; and all of Central London stretching into the distance. And you can get discounts online if you're organised enough to book in advance. Ironically.
Details: The London Eye, Riverside Building, County Hall, Westminster Bridge Road, London, SE1 7PB | From £32.50
–
Cable Cars | Docklands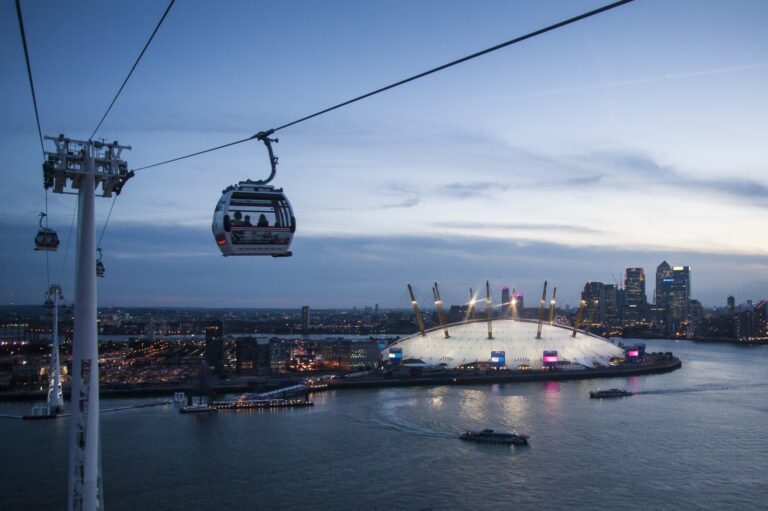 Everyone's favourite sponsored aerial transport, the IFS Cloud Cable Cars offer a constantly changing view of London in the comfort of your very own pod. And it costs a fiver! Granted, you're not getting the same views you would in Central London, but if you want to see a different side to the city – the historic docklands, Canary Wharf's skyscrapers and the Millennium Dome all lit up, this is how to do it.
Details: Stations at Royal Docks and Greenwich Peninsula | Runs daily | £5+
–
Alexandra Palace | Wood Lane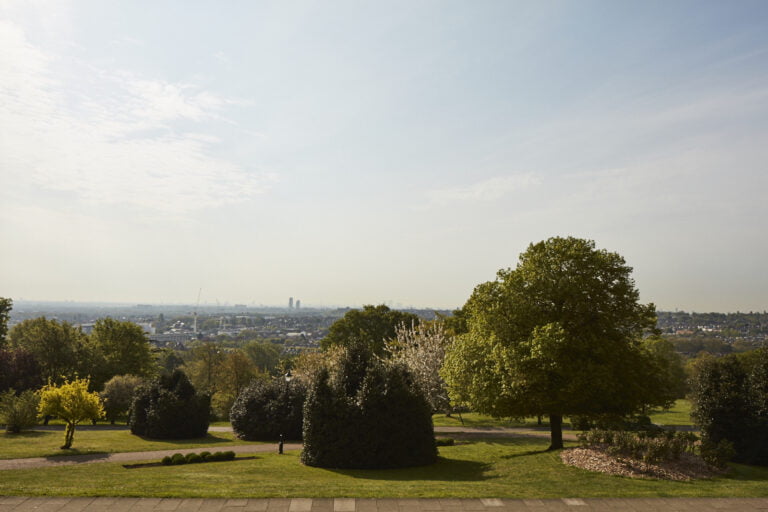 Once the broadcasting centre for the BBC, Ally Pally is a benevolent Victorian giant who looks over North London. You can soak up the views from the park slopes any day of the year, but they become particularly spectacular backdrops in the summer, when Ally Pally opens a panoramic beer garden on the terrace, as well as staging its annual Kaleidoscope music festival; open-air cinema screenings; and street food markets. And in winter, tens of thousands flock to the slopes for the annual fireworks festival where the display only just out-shines the glittering city behind.
Details: Alexandra Palace, Alexandra Palace Way, London, N22 7AY | Open daily | Free
–
Any of London's Rooftop Bars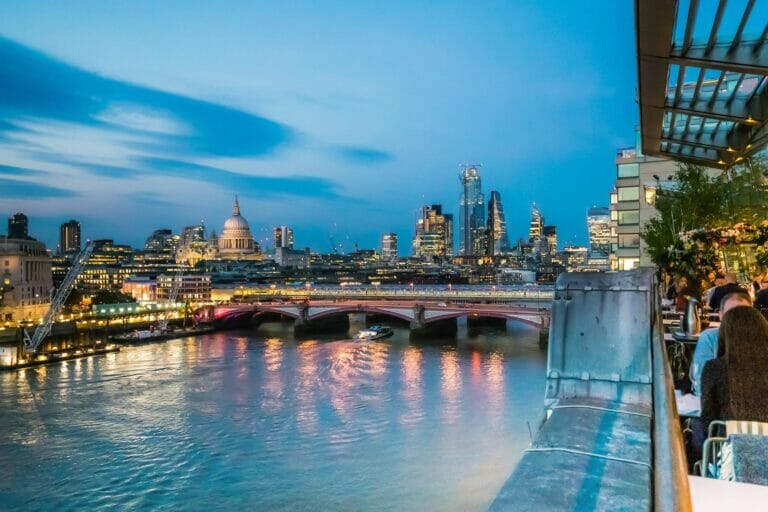 Kill two birds with one stone (not literally, though you're high up enough) by drinking in both the views and the cocktails at one of the city's many rooftop bars. Or if you'd rather be sheltered from the elements, you could also book into one of these amazing London restaurants with a view.
–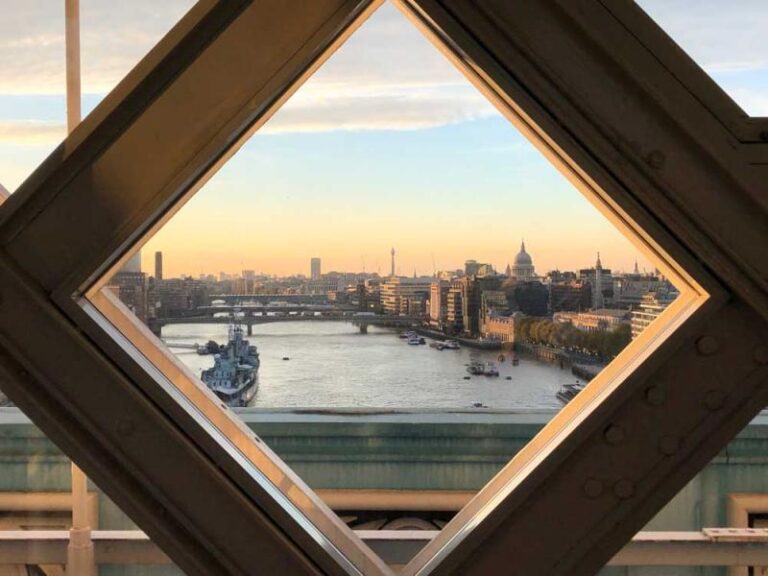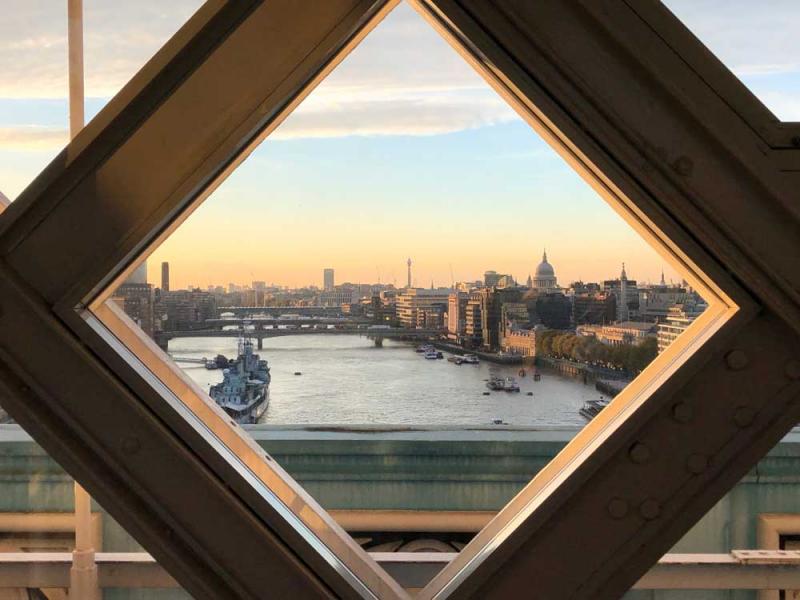 There are two ways to get high up at Tower Bridge.
1) Stand on it at the wrong time, or
2) Take the lifts up inside the towers themselves to reach the high-level walkway. Once the stomping ground of thieves and prostitutes when the bridge first opened, they were recently renovated, complete with glass floors so you can see the traffic below (and even the bridge lifting if you time it right). Since you're quite literally straddling the Thames, you can see the iconic buildings lining both sides of the river, making it one of the more unusual viewpoints in London.
Details: Tower Bridge Road, London SE1 2UP | Open daily | £11.40
–
Westminster Cathedral | Westminster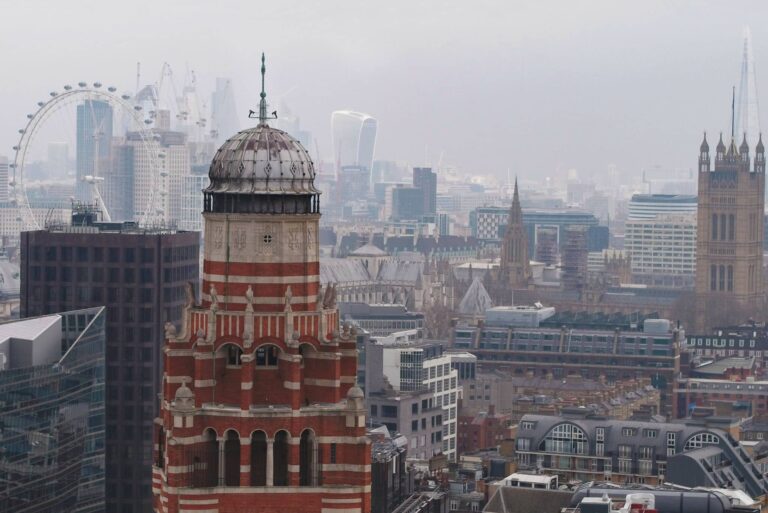 Sat by Victoria station, London's biggest Catholic church is an architectural marvel with huge domes, marble pillars, and a lofty bell tower clocking in at 284ft. Thankfully, there's a lift up to the top. Take in the views of Central London in the company of several carved stone birds – fitting, since the tower starred in Hitchcock's Foreign Correspondent.
Details: Victoria Street, London SW1P 1LT | Open daily | Free
–
What do you do with the giant chimneys at Battersea Power Station now it's no longer a power station? Install a 109m-high glass elevator, of course. Newly open along with a load of new shops, bars and restaurants – including Control Room B, a cocktail bar from the Cahoots team set in the station's old control room – Lift 109 whisks you up to a brand new London viewpoint, complete with jaw-dropping 360º panorama.
Details: Open daily | £14.45+
---
Want to soak up some culture in the city? Check out the best museums in London