The Wildlife Photographer of the Year 2019 | Warning: these models wear fur
There's only one acceptable context for shooting wild animals, and it's the one practiced by the world's wildlife photographers.
And now in its 55th year, the Wildlife Photographer of the Year is back to show off the very best amongst them. This year, they trawled through some 48k entries from 100+ countries before landing on the winning images, which are displayed on special lightboxes (alongside dozens of runner-up shots) throughout the Natural History Museum's gallery.
The winning images are divvied up into a dozen different categories, ranging from Black & White, to Underwater, to photographers 10 Years Old and Under (!).
Here they are in all their glory: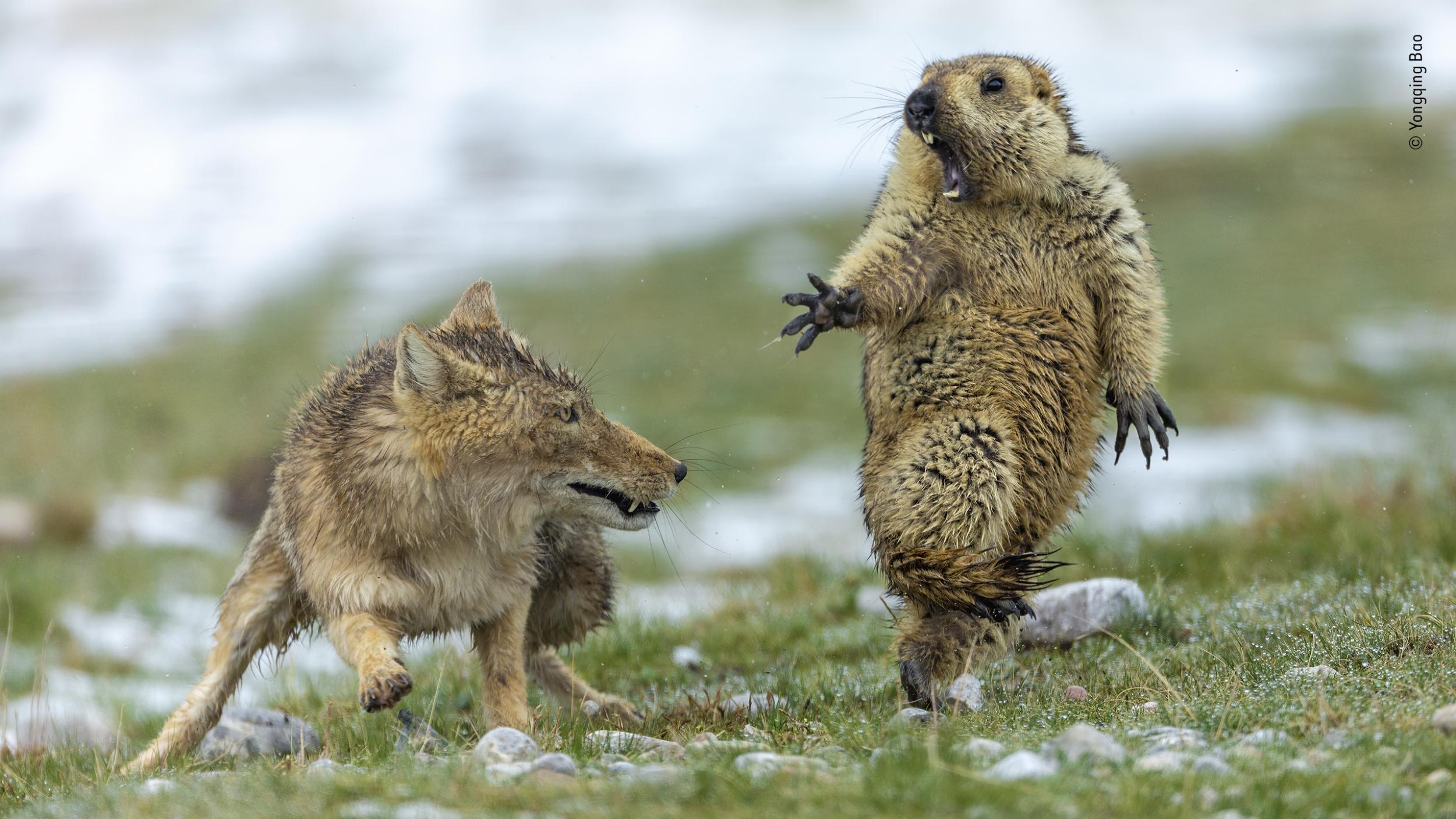 This one was the overall winner of the entire thing – the Grand Title. It's called The Moment, and it was taken by Chinese photographer Yongqing Bao. The two animals having a frank exchange of ideas are Tibetan fox with three cubs to feed, and a delicious-looking marmot.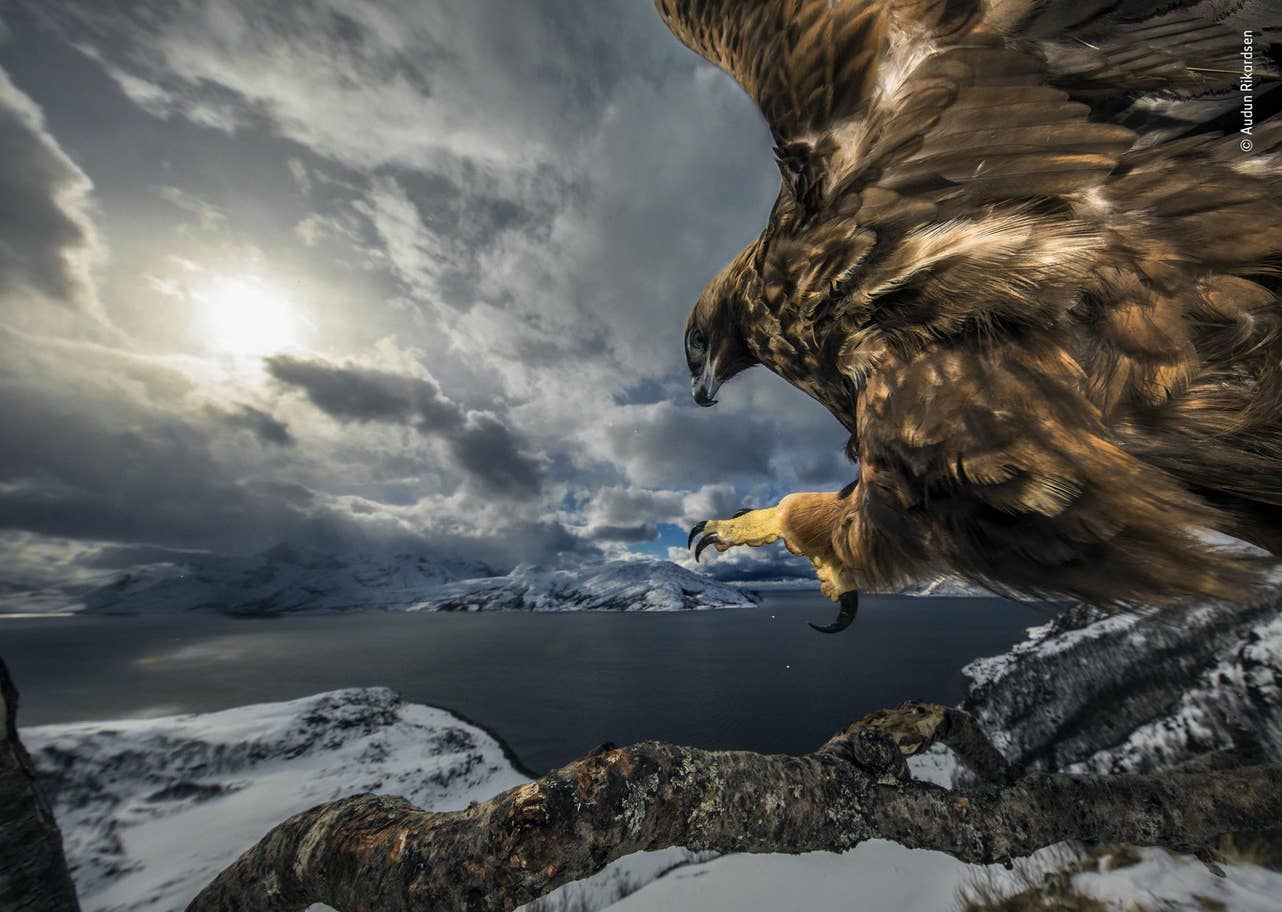 The Behaviour: Birds winer was Land of the Eagle by Audun Rikardsen of Norway. Apparently it took three years for the eagle to get comfortable with the camera this close.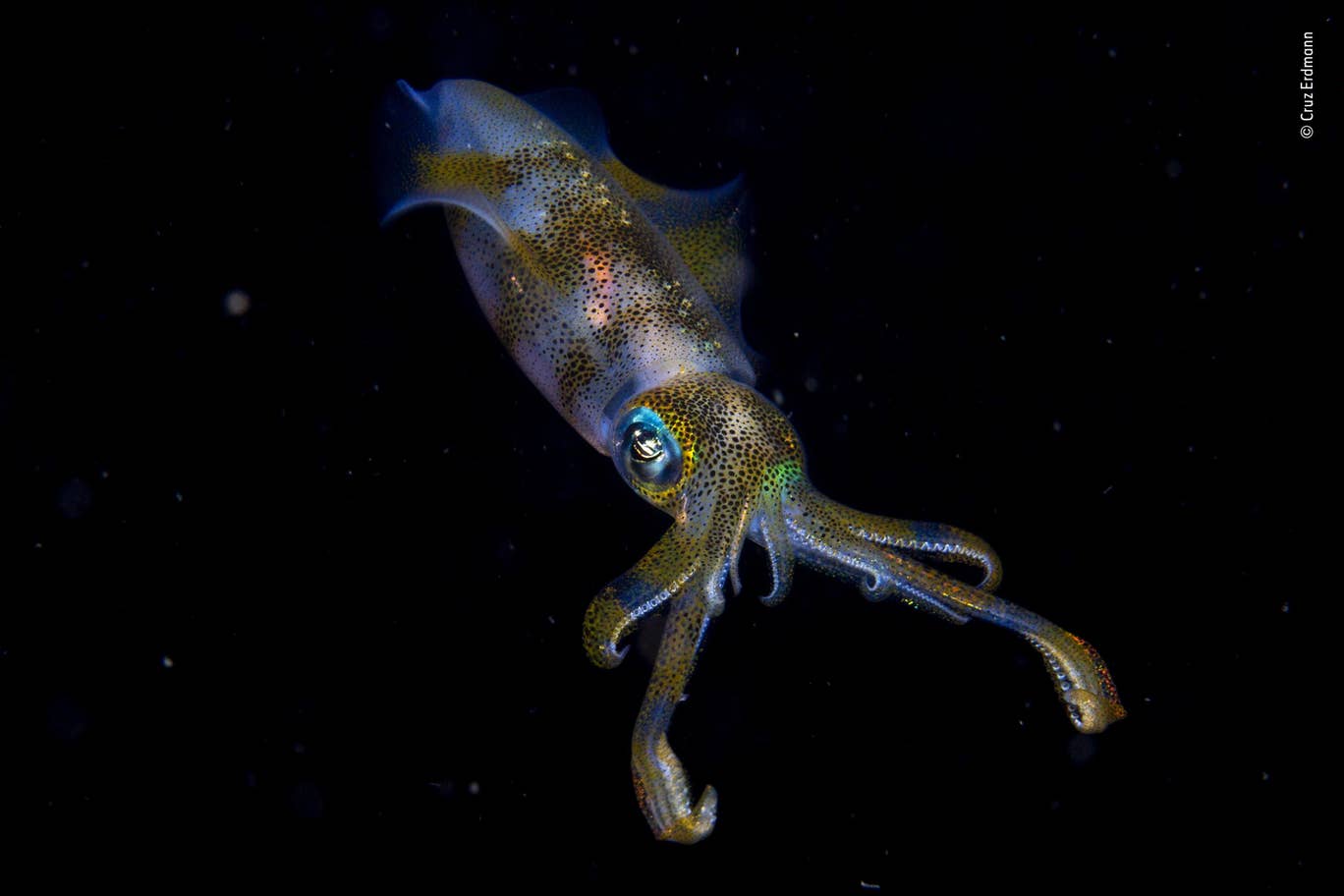 This one – Night Glow – was taken by Cruz Erdmann of New Zealand. It won the 11-14 years old category. Cruz was on a night dive with his dad in Indonesia when he saw this guy glowing, and managed to snap off four shots before he disappeared.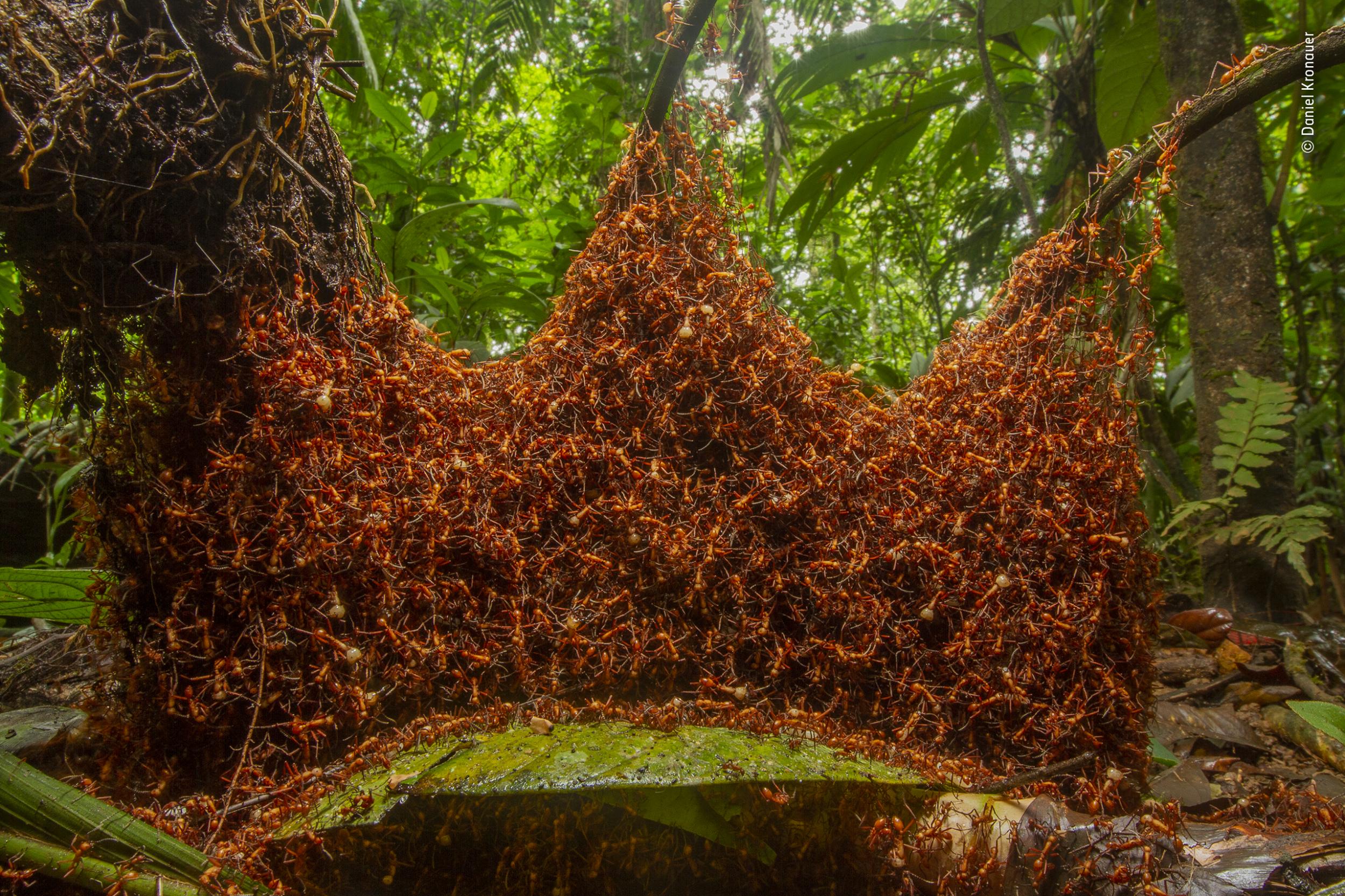 The Behaviour: Invertebrates category was won by this pic (Daniel Kronauer, USA) of a nightmarish amount of highly venomous army ants. The photographer learned the hard way that "You mustn't breathe in their direction", apparently.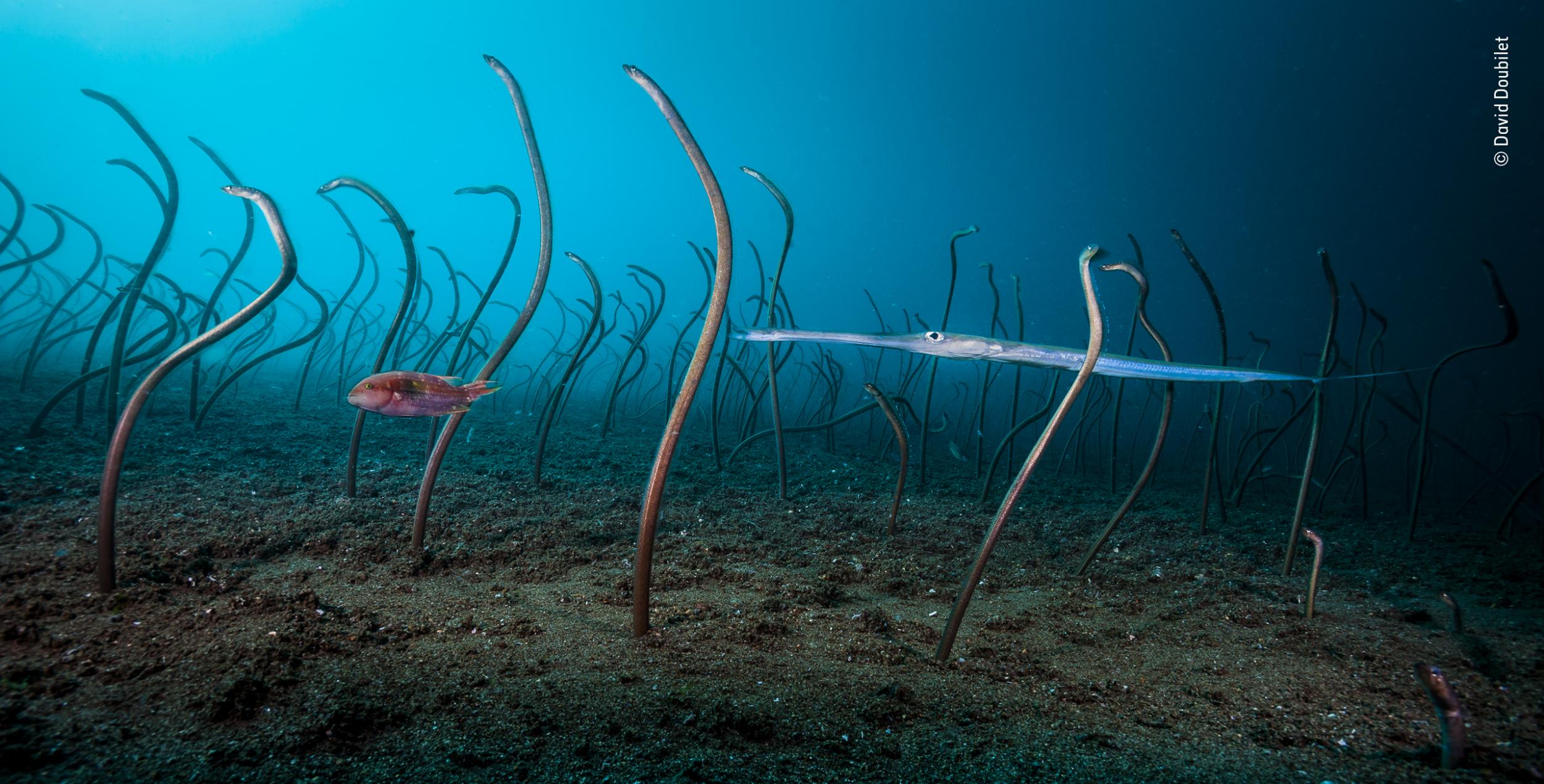 Seasoned underwater photographer David Doubliet won the Underwater category with this. Yes, those are actual eels snaking out of the sand.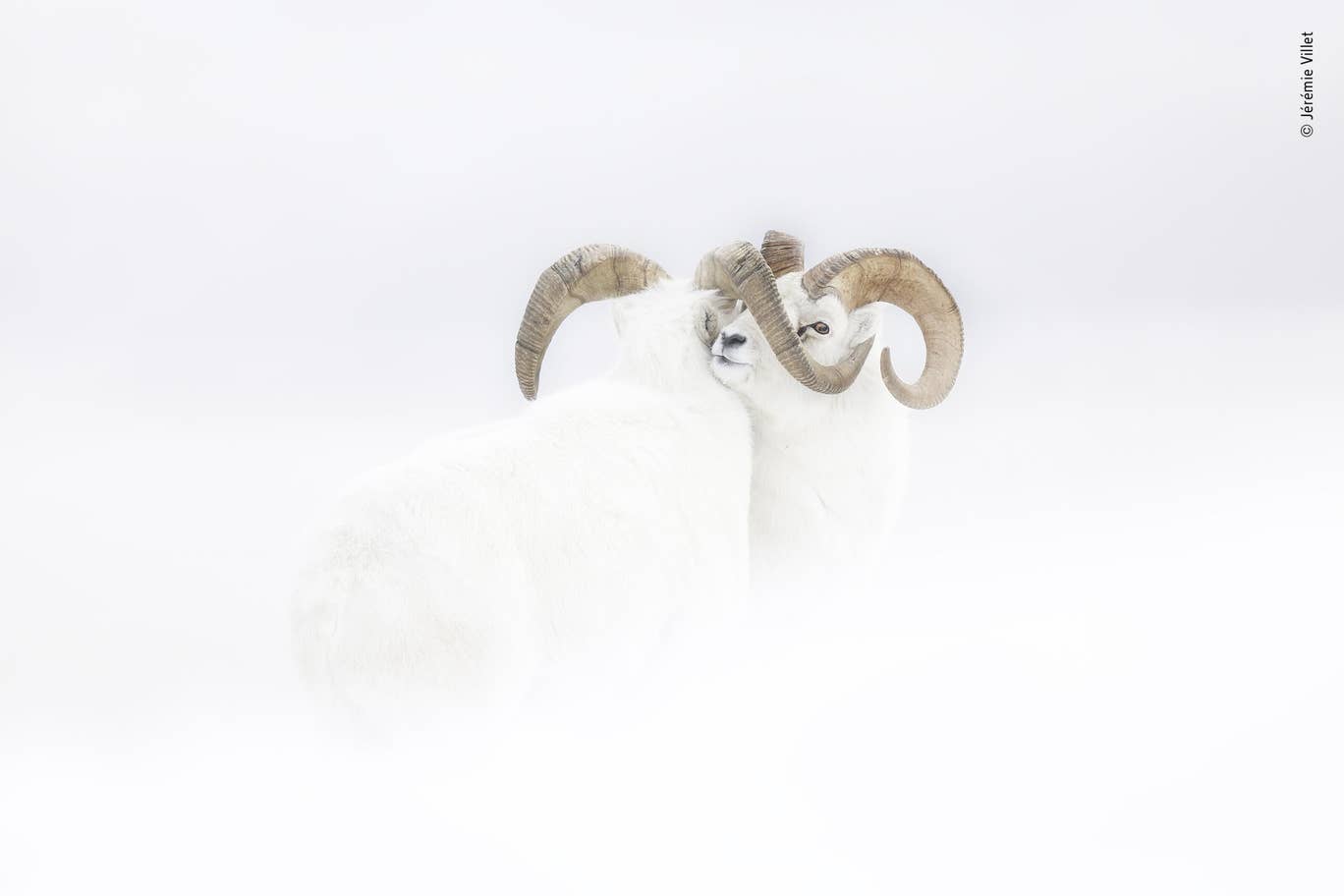 The Rising Star Portfolio Award went to Jérémie Villet of France for this pic of two pure white Dall sheep. In order to escape from predators, they tend to prefer "deep snow, strong winds, and bitterly cold temperatures". So capturing this photo wasn't exactly a doddle.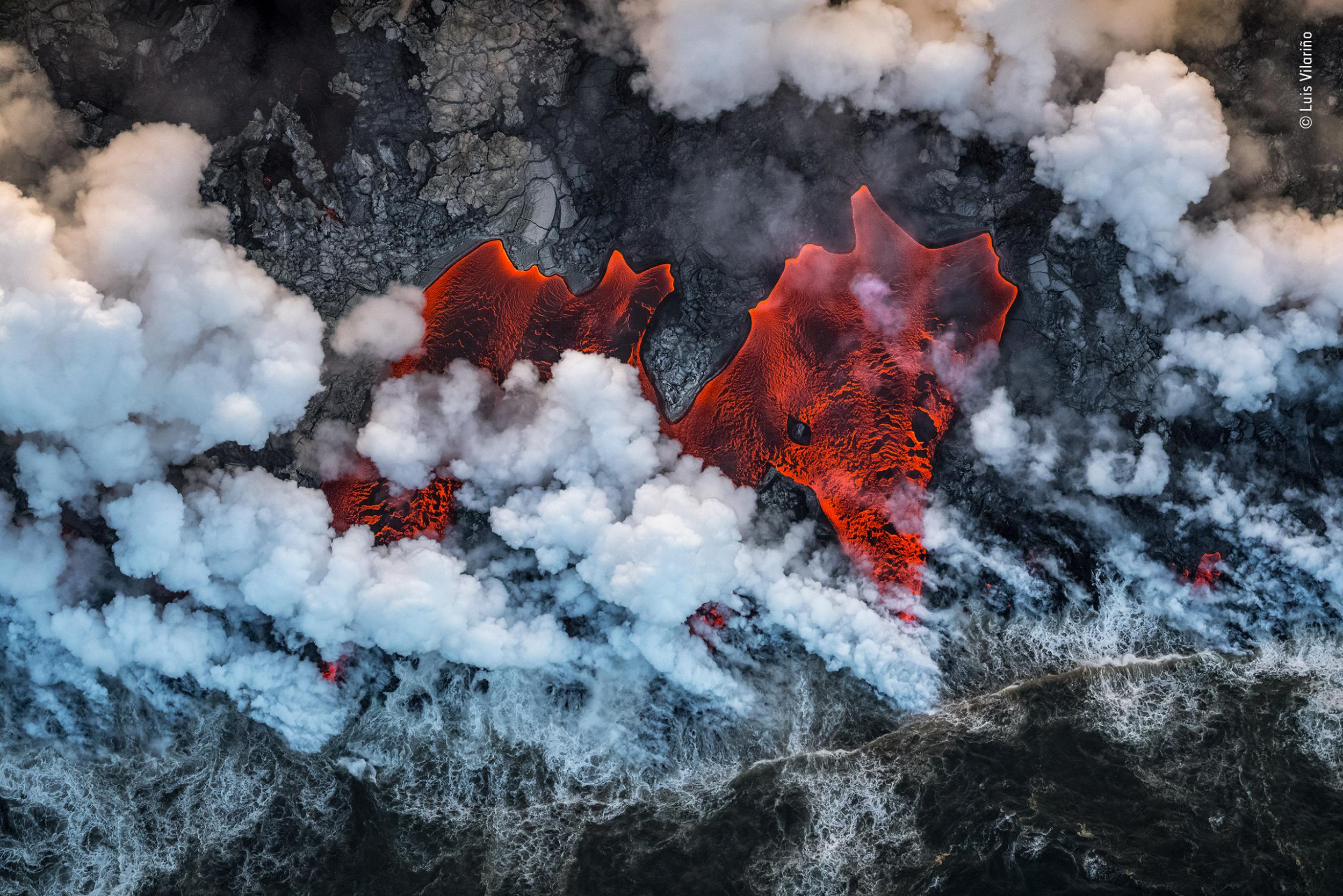 Earth's Environments was won by this pic (taken by Luis Vilariño Lopez, Spain) which shows lava from Hawaii's Kīlauea volcano flowing into the Pacific Ocean. It was the volcano's biggest eruption for 200 years.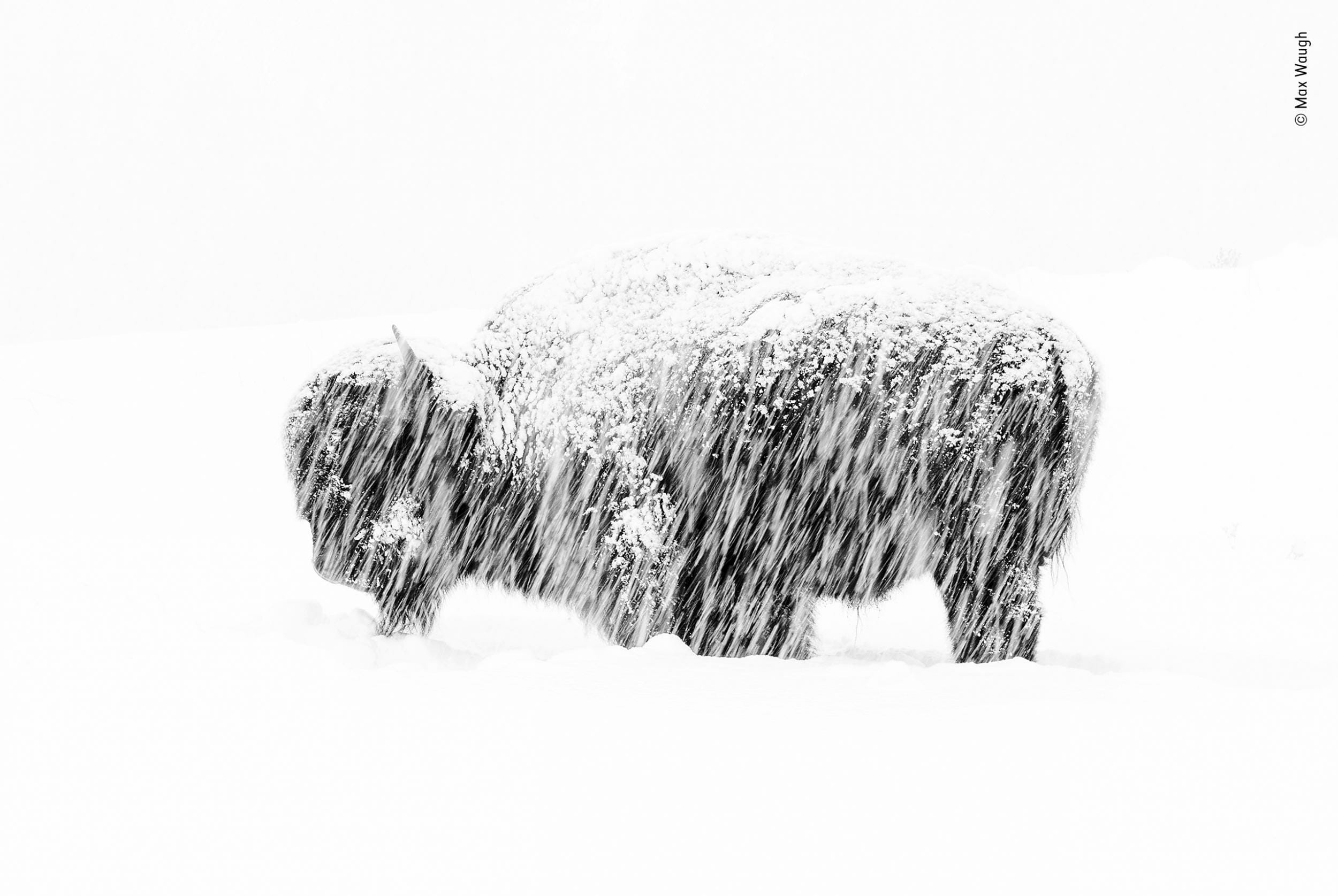 This Black & White winner (Snow exposure by Max Waugh, USA) might legitimately be a colour image, we can't tell.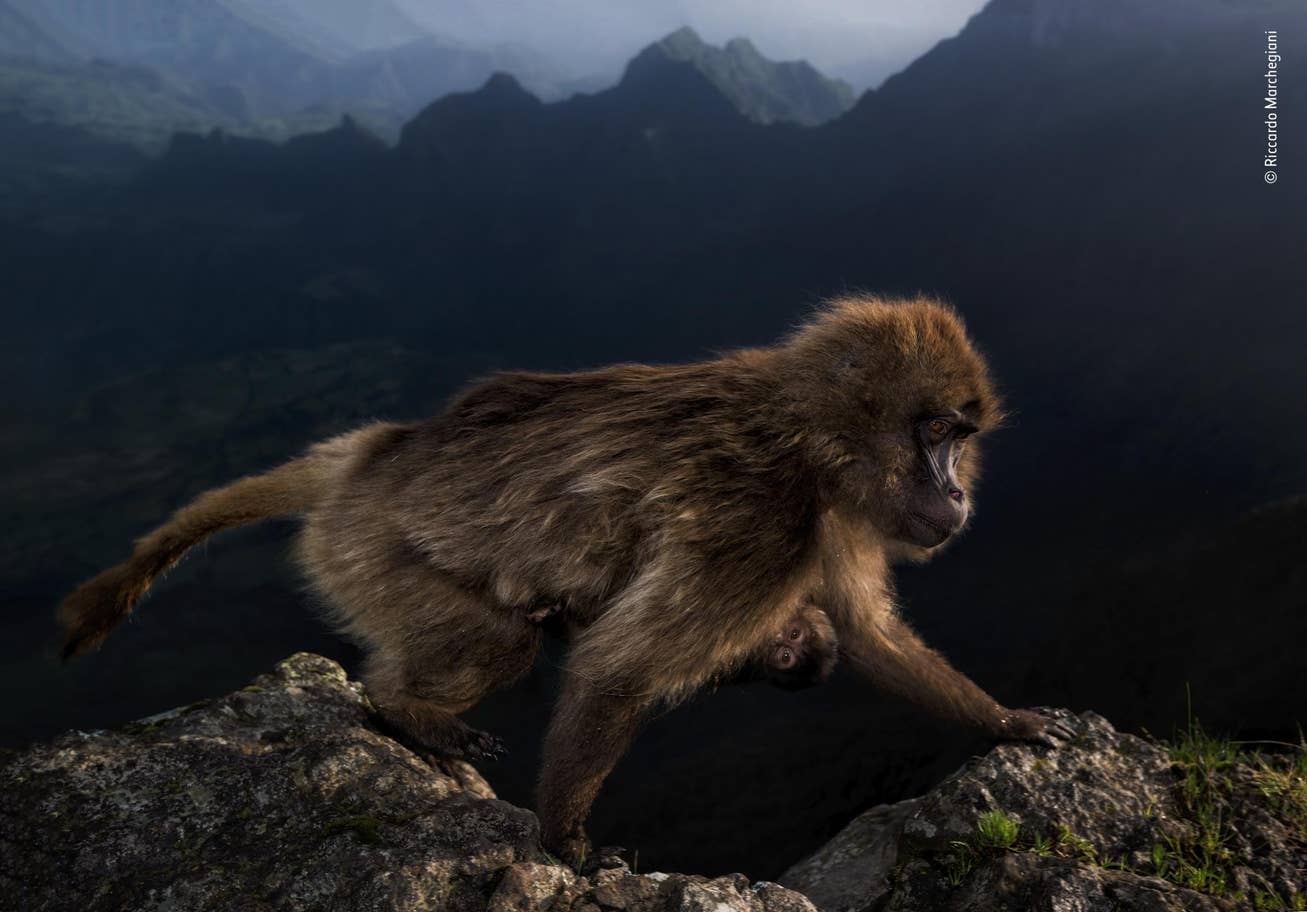 Italian Riccardo Marchgiani won the 15-17 years old category with this snap. It's a female gelada carrying around a wee little baby on her stomach.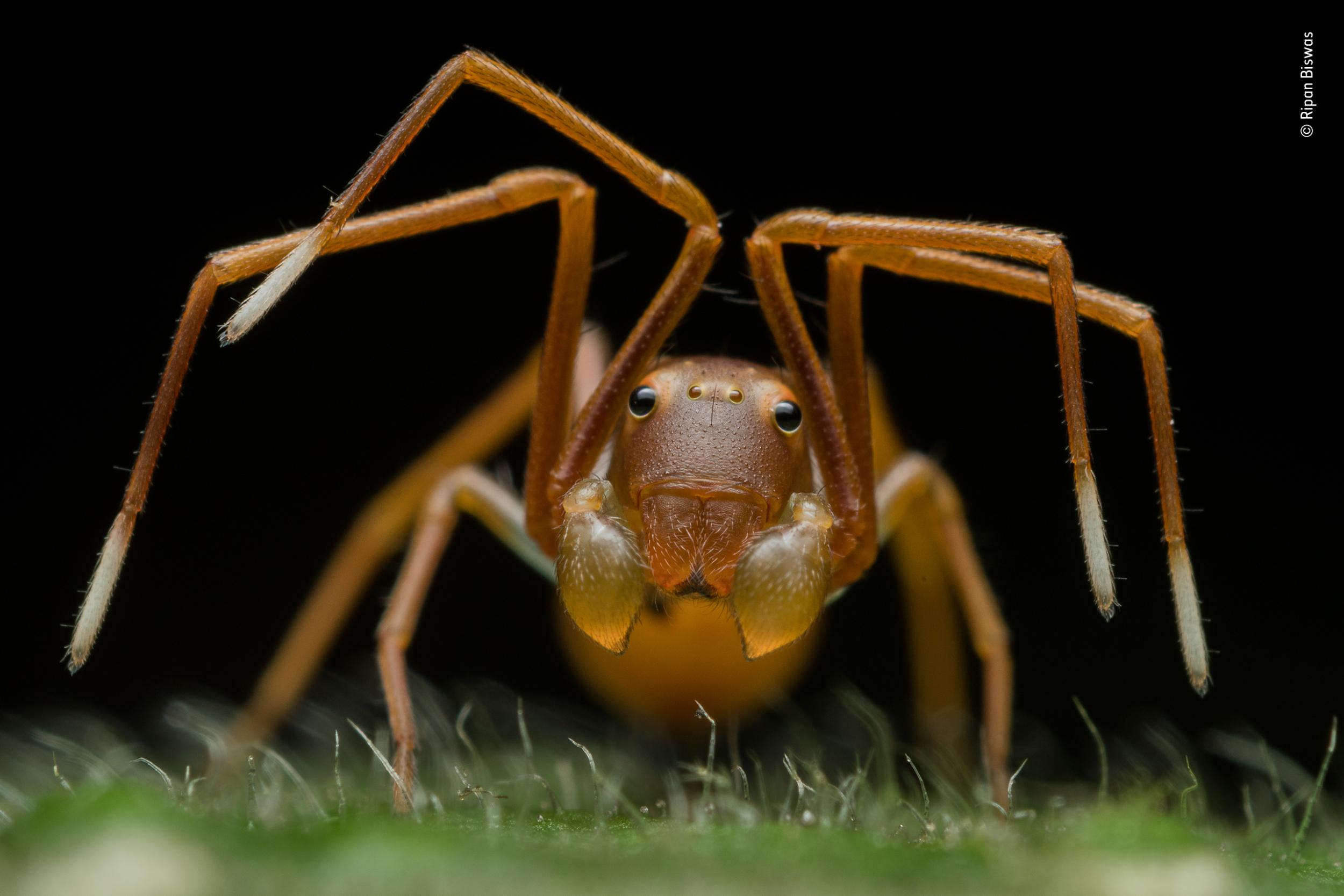 Winning the Animal Portraits category was Face of deception by Ripan Biswas of India. It it looks slightly weird, that's because it's a crab spider pretending to be a red ant.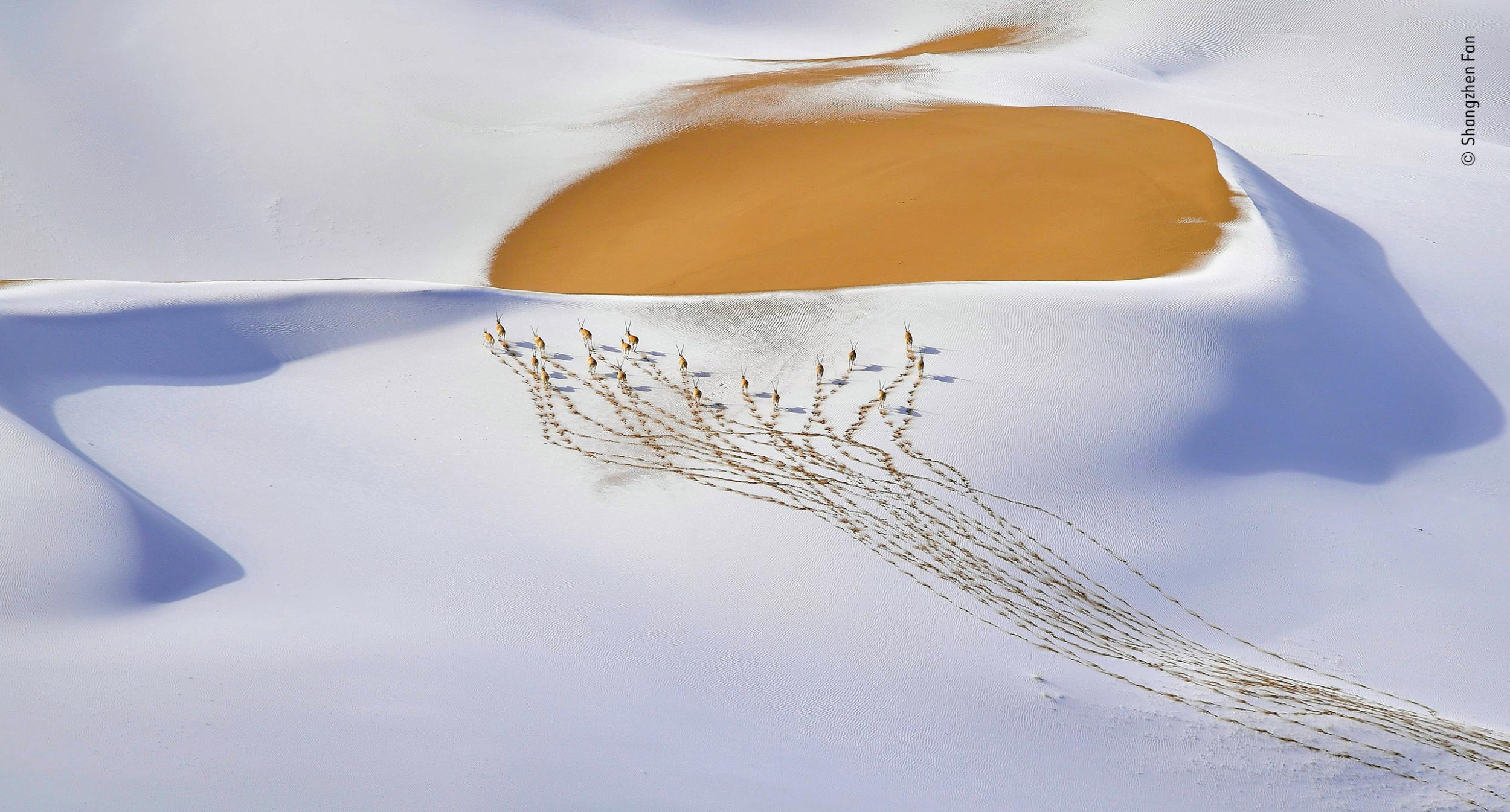 These guys are Snow-Plateau Nomads (AKA chirus) and this pic was taken by Shangzhen Fan of China. It's the winner of the Animals in Their Environment category.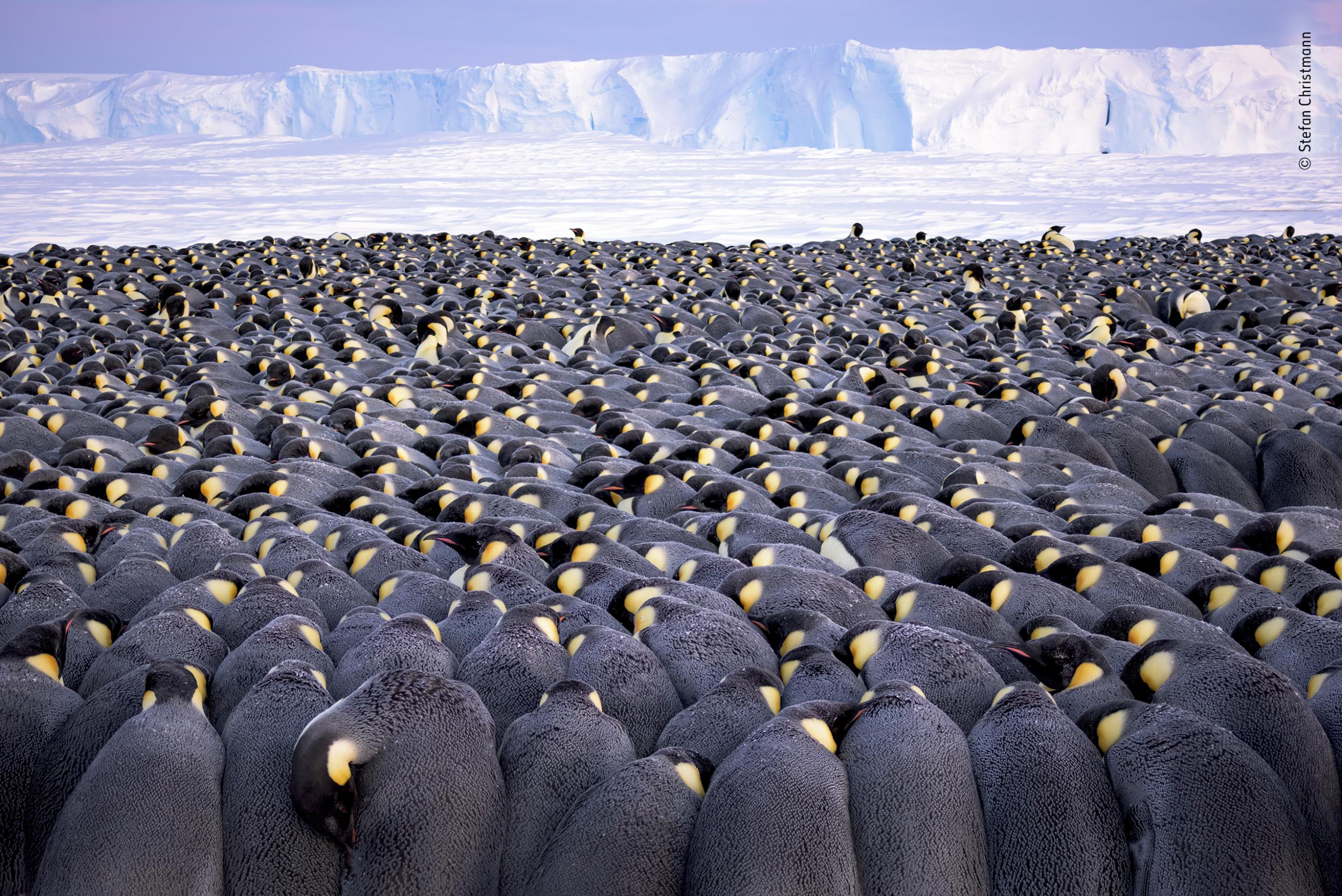 The Huddle, by Germany's Stefan Christmann. It won the Portfolio award.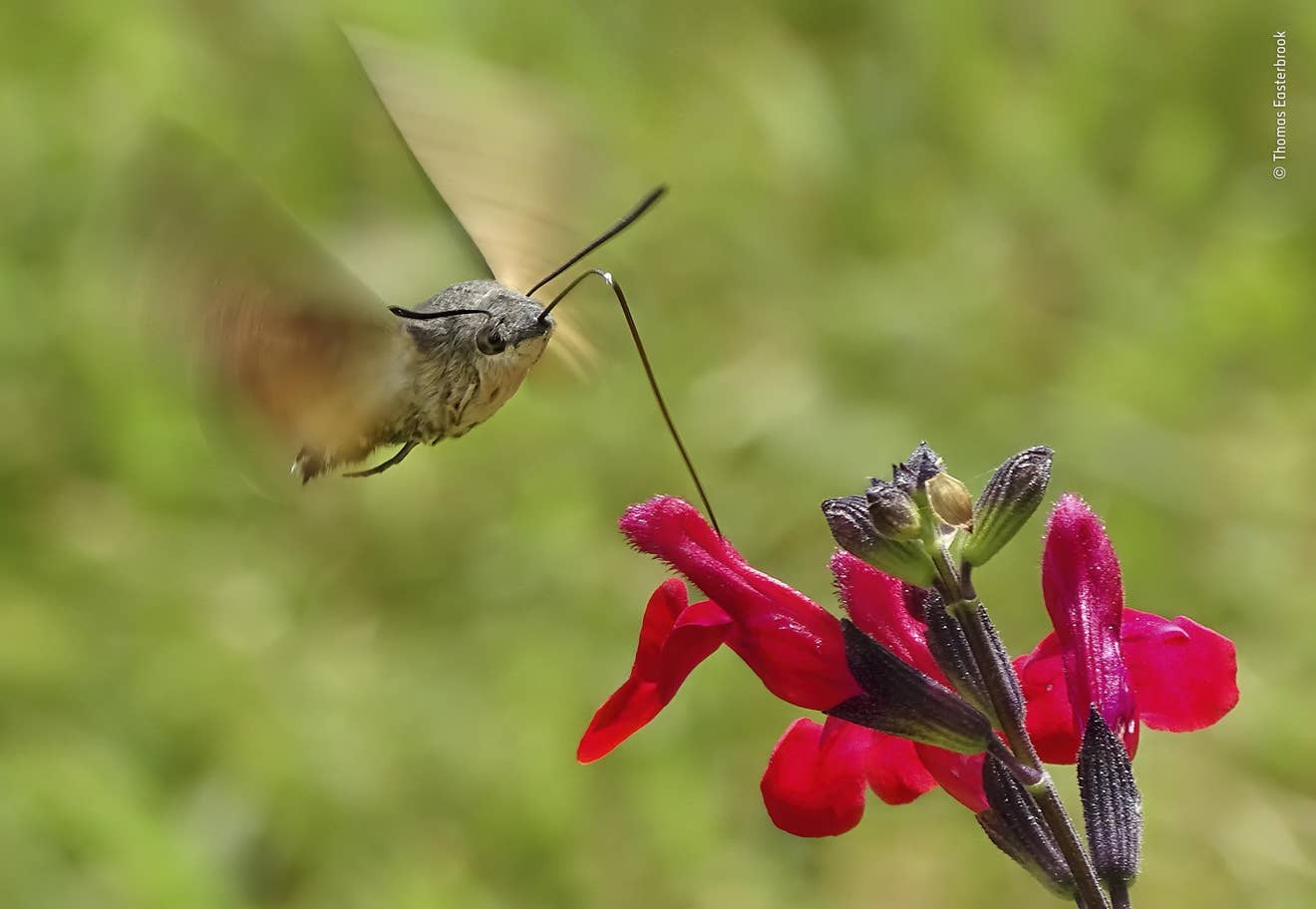 The UK's own Thomas Easterbrook won the 10 Years and Under category with this hummingbird number. That's right, he's not even 10 yet.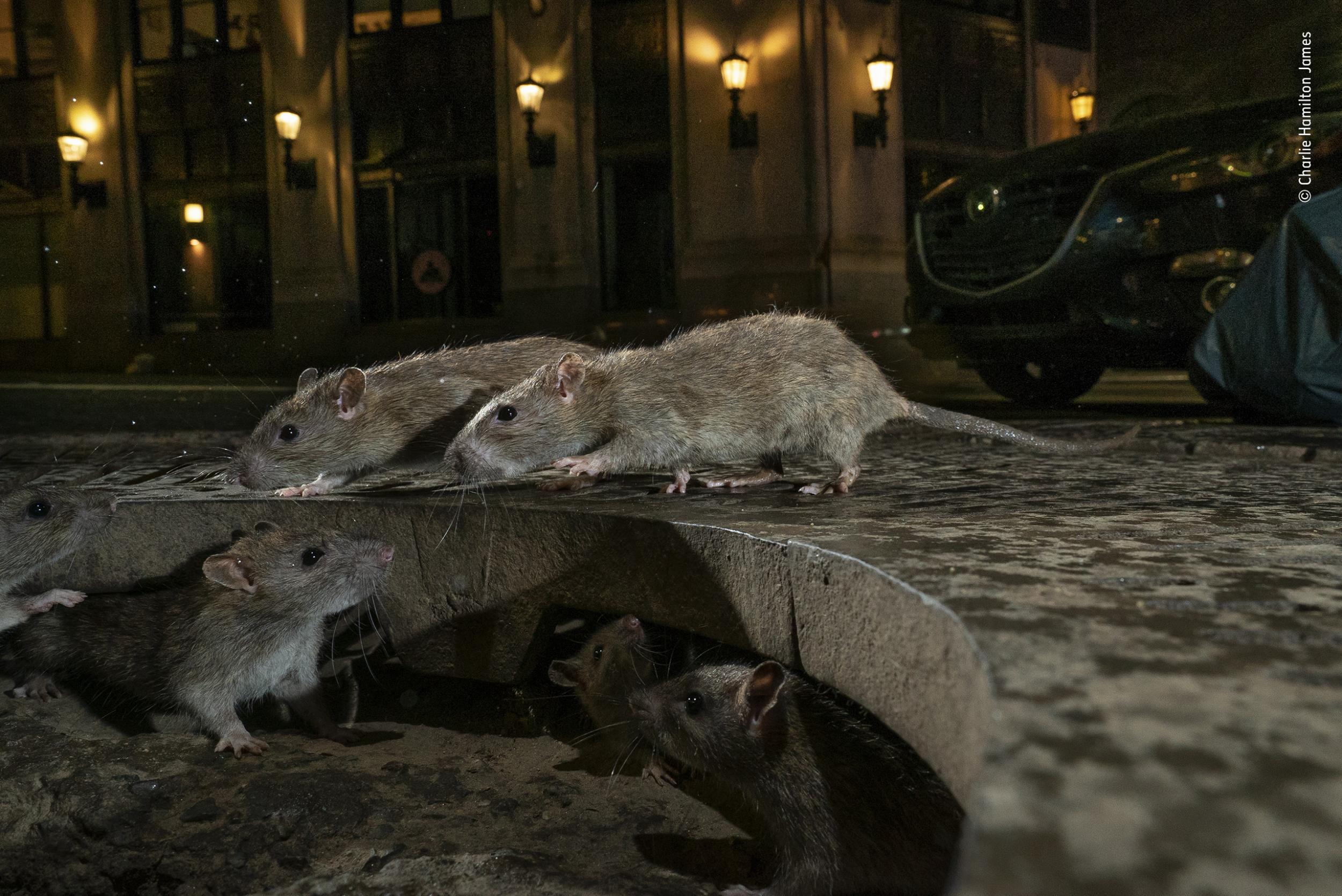 The Rat Pack is a pc of a literal rat pack by the UK's Charlie Hamilton. It won the Urban Wildlife category.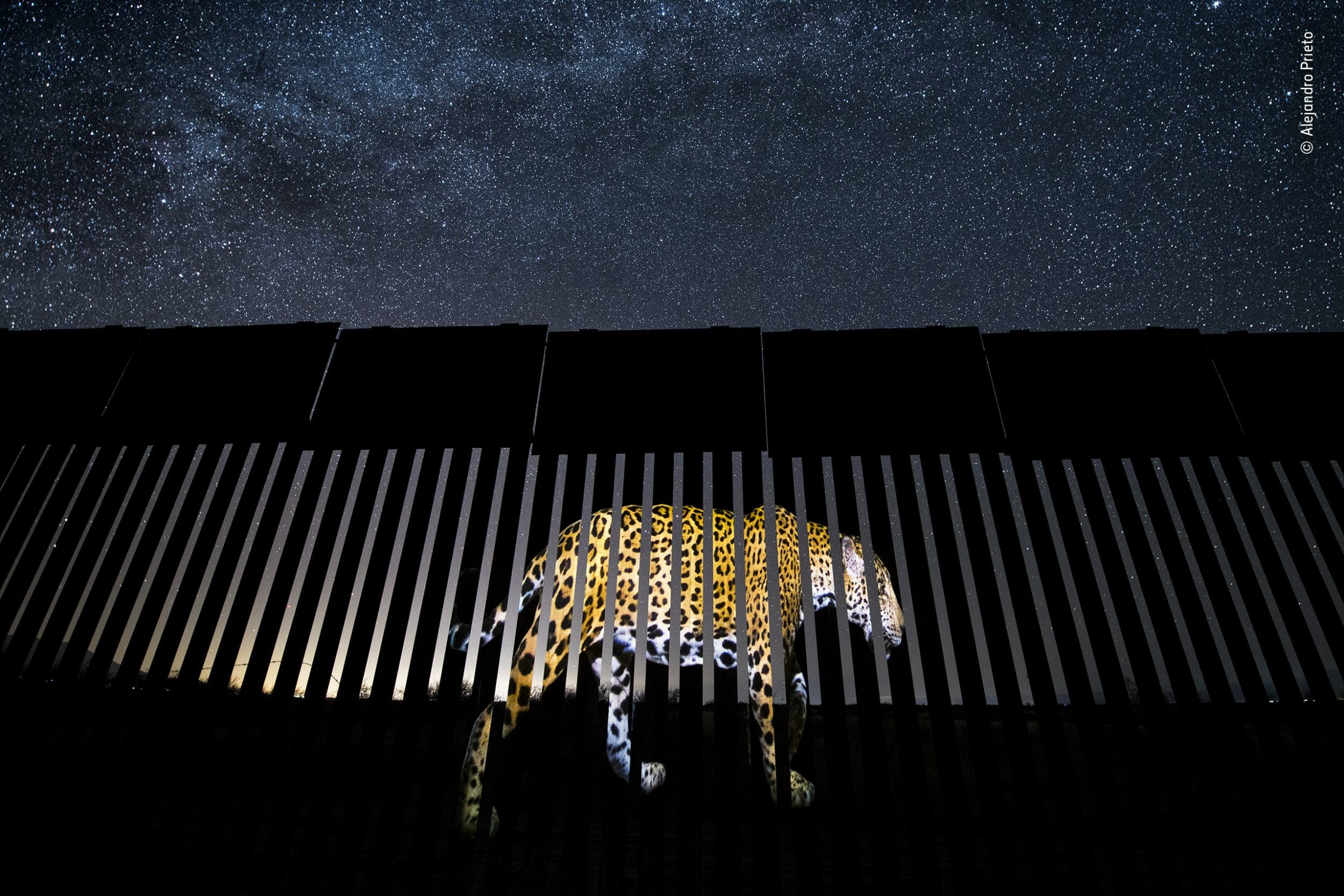 This Wildlife Photojournalism winner is called Another Barred Migrant. Photographer Alejandro Prieto is Mexican. It's unclear which side of the wall he's on when he took this shot.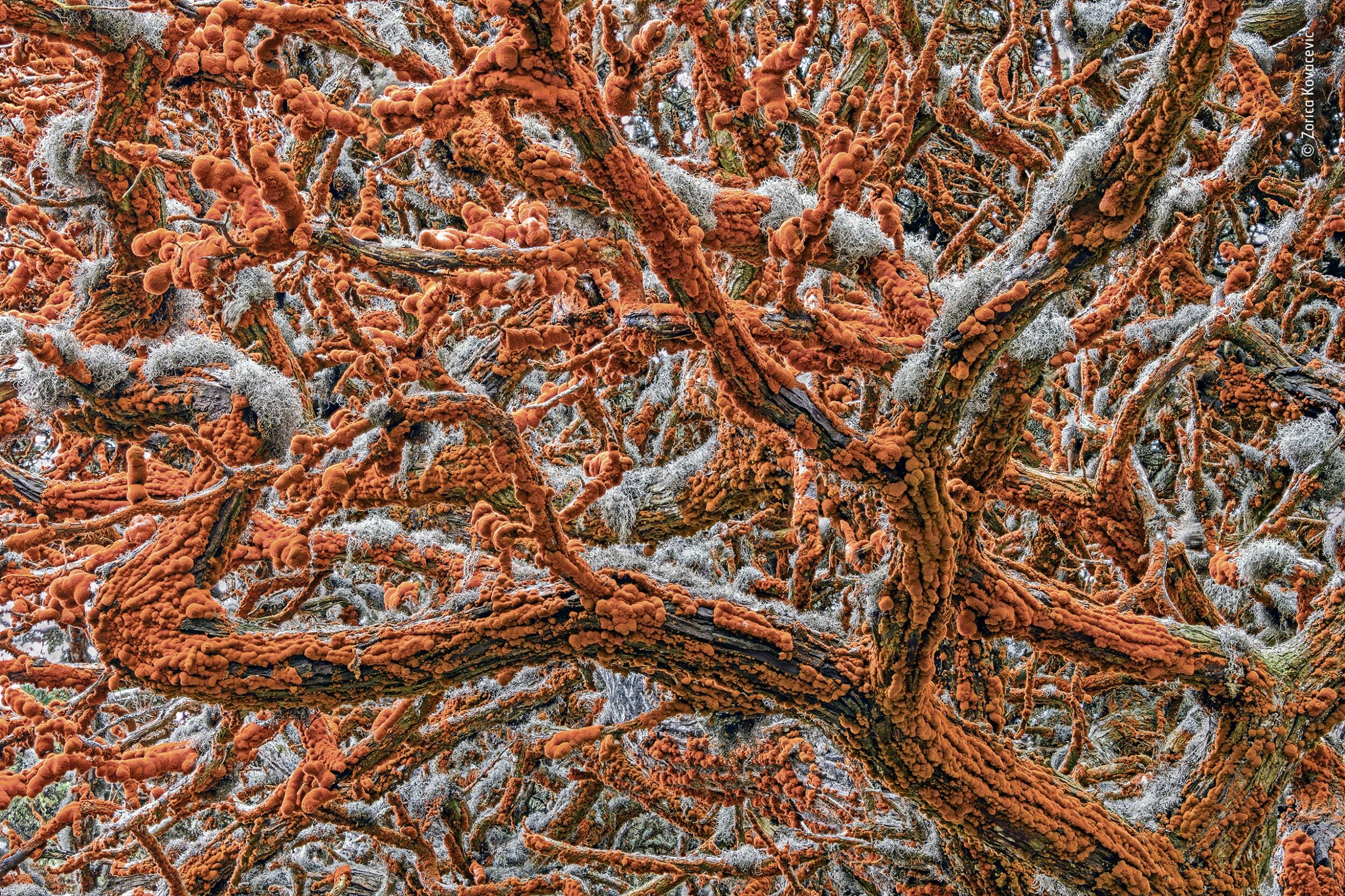 Plants and Fungi was won by this picture by Zorica Kovacevic of Serbia/USA, presumably because it shows both plants and fungi in one shot.
These guys might not have won their category… but they're still bloody good…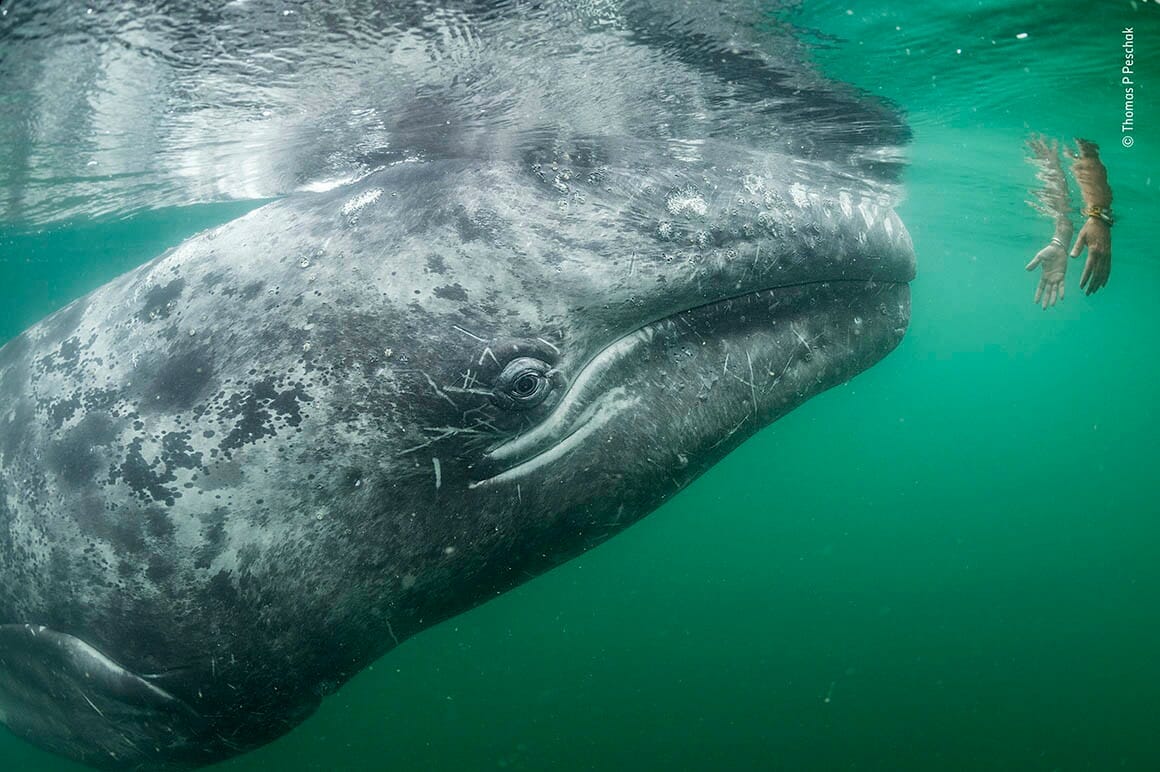 Touching Trust by Thomas P Peschak was Highly Commended in the Wildlife Photojournalism category. It shows a young, curious grey whale in Mexico.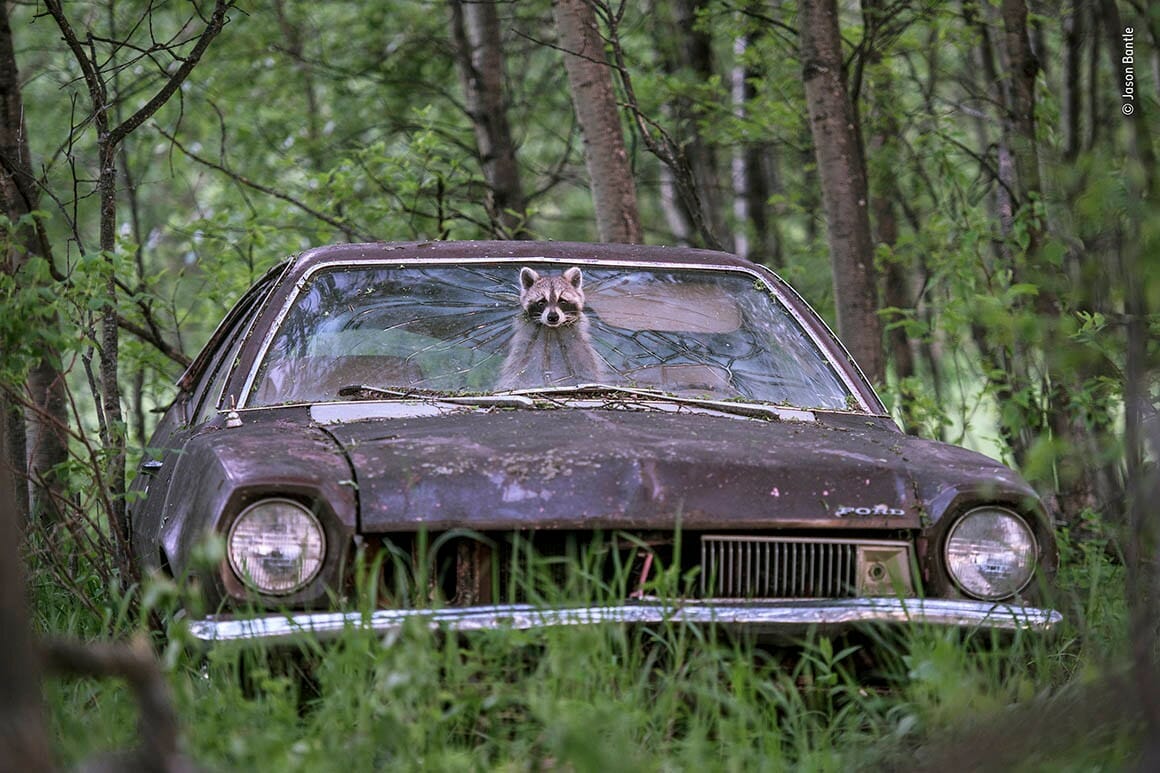 Lucky break by Jason Bantle (Highly Commended 2019, Urban Wildlife) shows a raccoon wearing a Ford Pinto as a necklace.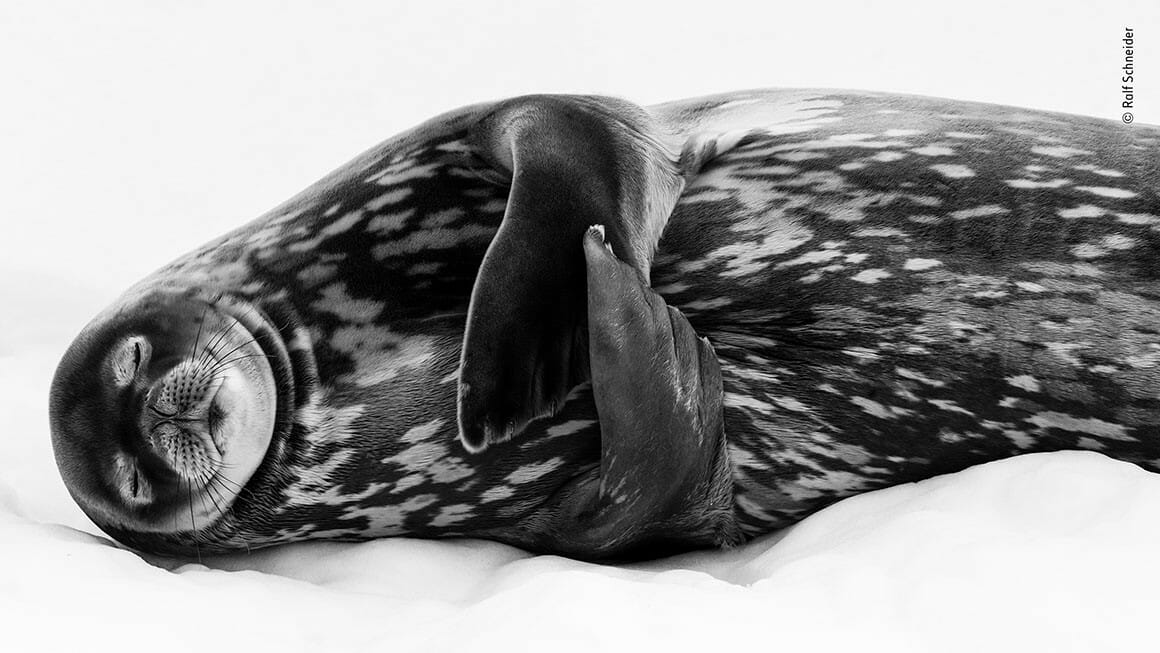 This is a temptingly cuddly sleeping Weddel Seal (taken by Ralf Schneider) and it was highly commended in the Black & White category.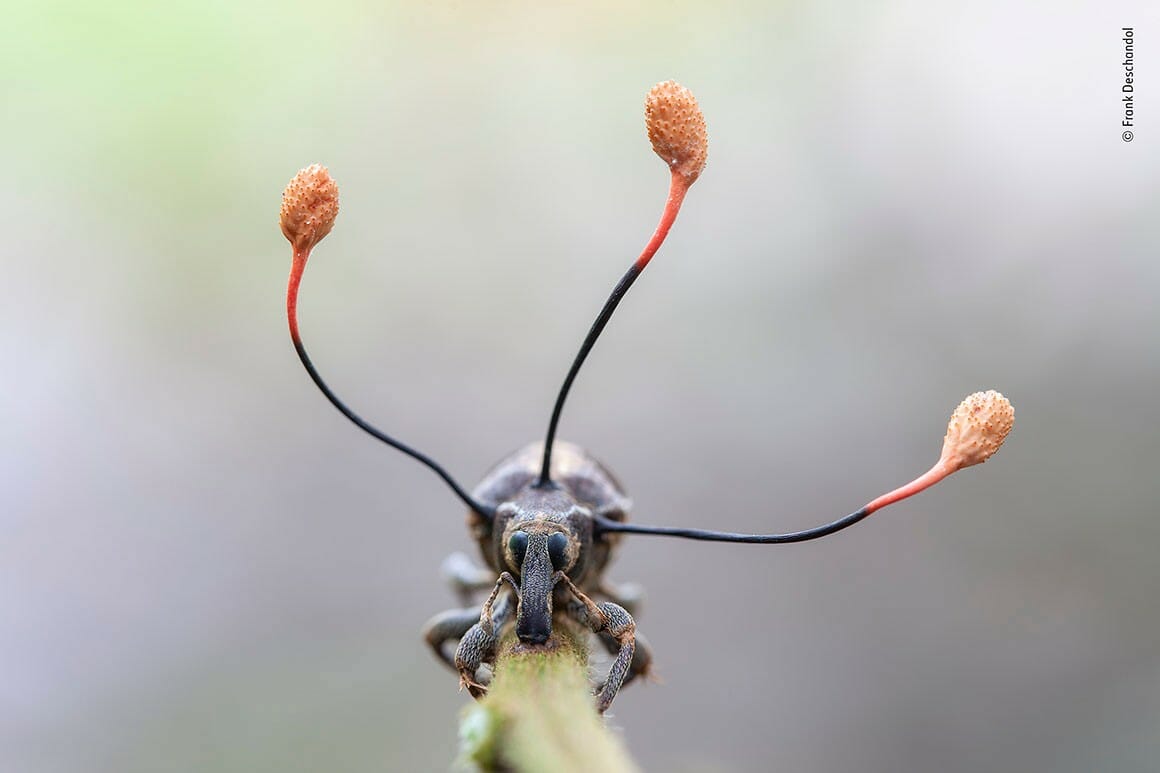 Frank Deschandol's highly rated Plants & Fungi shot is called The Climbing Dead. Why? Because those weird antennas are actually a parasitic zombie fungus that's taken control of that weevil's body. Yah.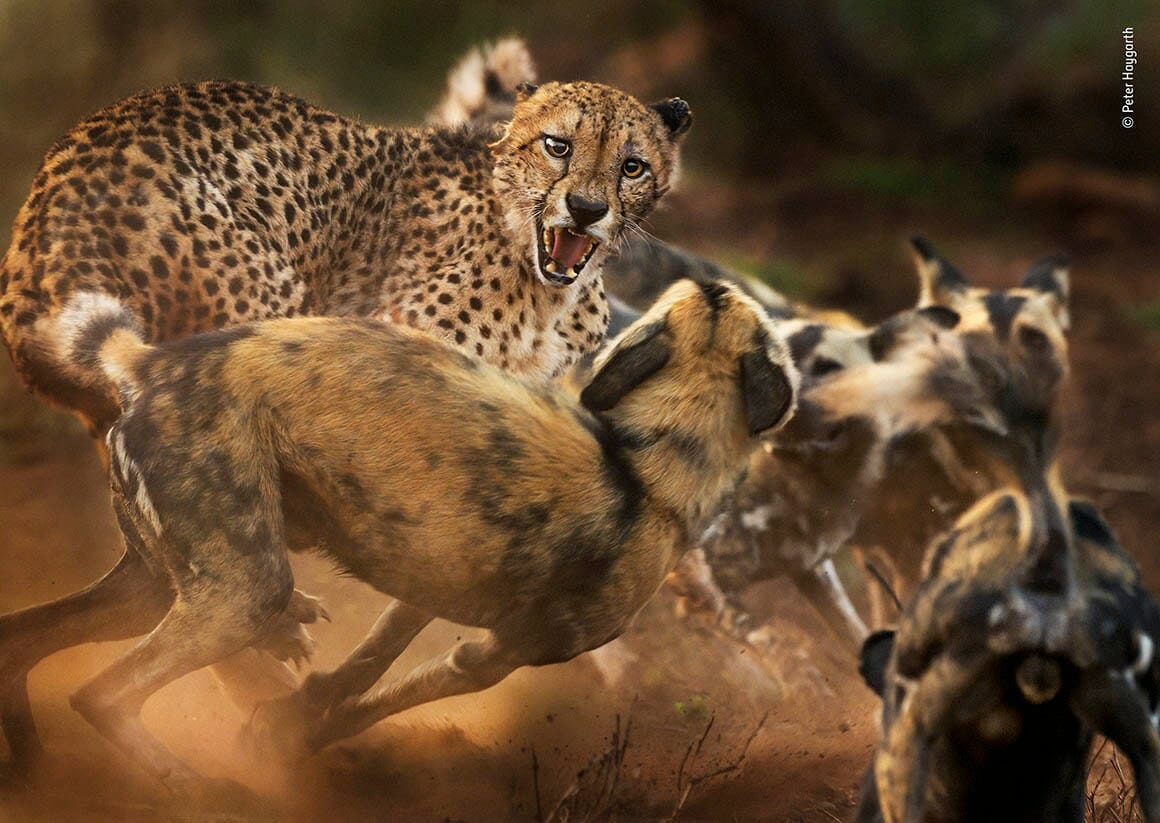 This Big Cat And Dog Spat by Peter Haygarth got a lot of attention in the Behaviour: Mammals category. It shows a cheetah taking on an entire pack of African wilddogs.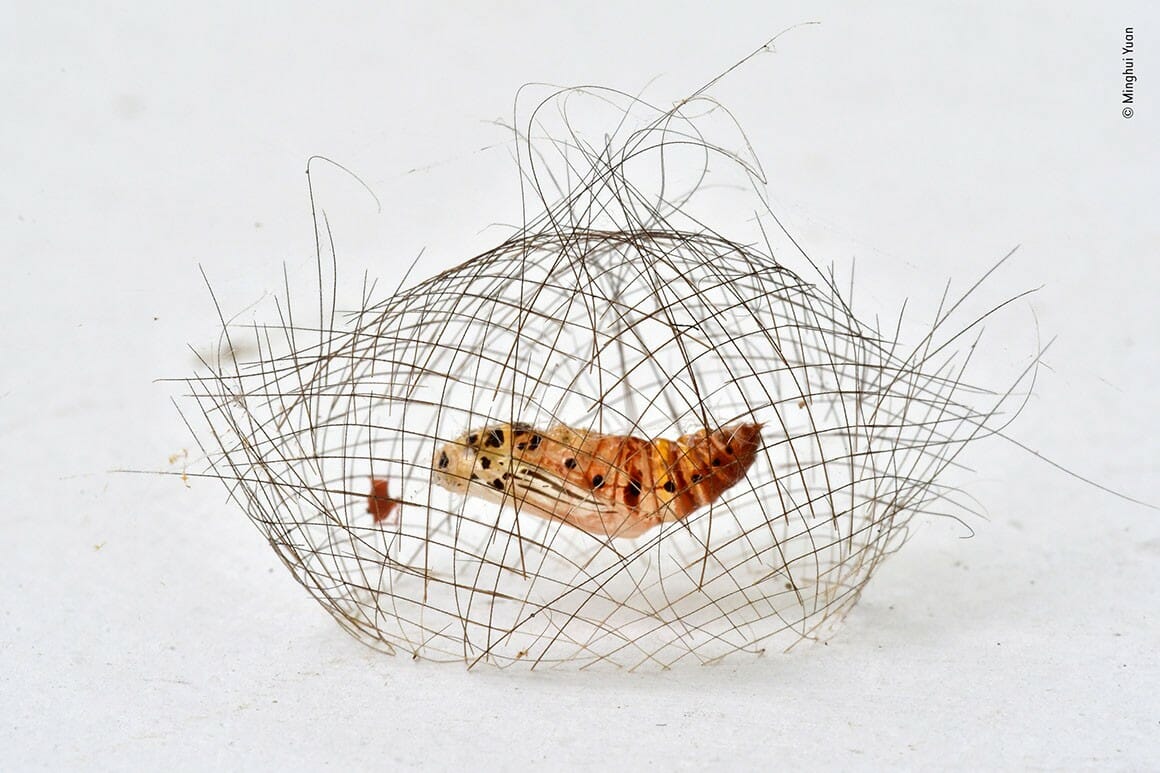 The Hair-Net Cocoon by Minghui Yuan (Highly Commended, Behaviour: Invertebrates) shows the frankly stunning cocoon of a Cynamoth pupa.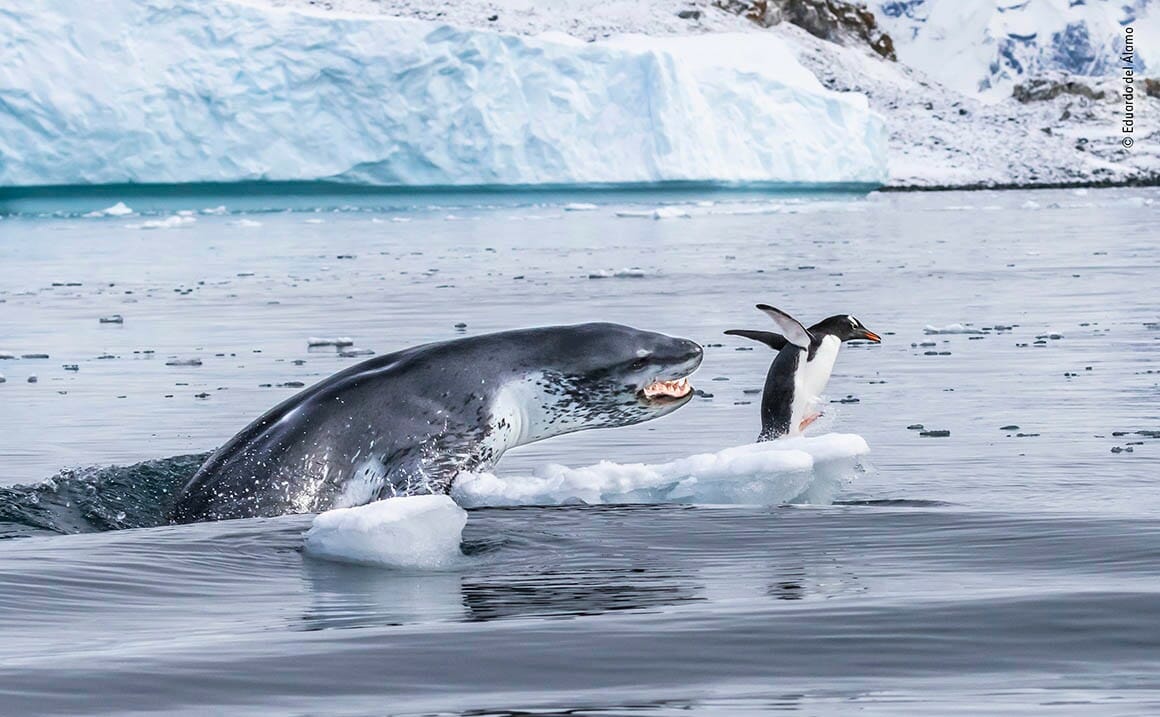 If Penguins Could Fly by Eduardo Del Álamo (Highly Commended, Behaviour: Mammals) shows the scariest leopard seal you're ever likely to see.
And there are literally dozens more images like these at the show right now, until 31 May 2020. Entries for next year's competition are open now, if you feel like you might give it a shot…
NOTE: Wildlife Photographer of the Year is open now at the Natural History Museum until 31 May 2020. You can find out more, and book tickets at their website right HERE.
The Natural History Museum | Cromwell Road, SW7 5BD
---
The Natural History Museum makes a pretty good date spot, incidentally. Find more inspiration in our pick of 100 London Date Ideas