Word on the Water | A Floating Bookshop Moored by King's Cross
Don't judge a book by its cover, they say.
In this case, though, it might be alright… as Word on the Water is actually what it appears to be, when you see it moored in Granary Square in King's Cross: a floating second-hand bookshop.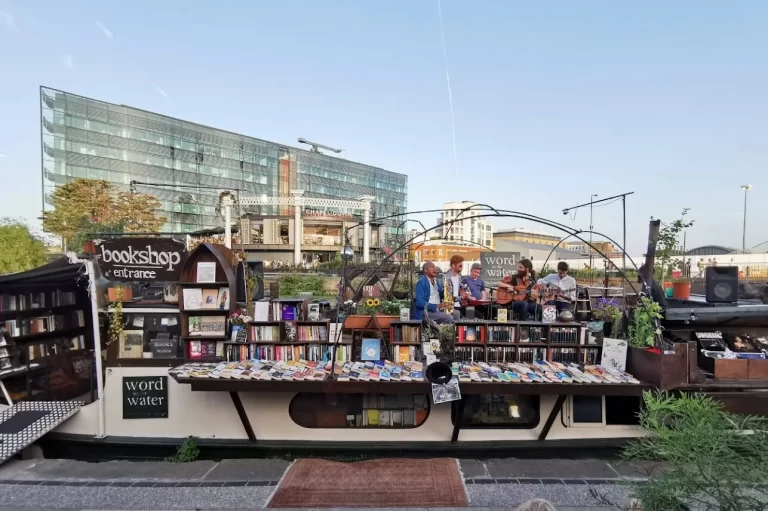 It's a hundred-year-old Dutch barge that was meandering in and around Regent's Canal for months without a home – like a London newbie going from couch to couch until someone from Spare Room finally says yes – until it was granted permission to stay here in this position permanently back in 2015. Despite canal regulations stipulating that a barge could only set up shop somewhere for a max of two weeks, the court of public peer pressure won (there was a petition signed by thousands, including well-known authors Michael Bywater and Elizabeth Speller), and the barge (named Diante) is now able to stay in Granary Square for as long as it wants.
As you'll notice by the 'bookshop entrance' sign – and all the books – it's a bookshop first and foremost. An impressive collection has been assembled with all genres given their due course – autobiographies, classics, mystery and crime thrillers, children's books – there's a wide range and there's barely an empty part of the vessel so as to fit them all in on the shelves.
While you can chill and flick through a few pages in the below deck area (a creaky and surprisingly roomy space bedazzled with loads of kooky knick knacks and a resident parrot) on a tall red leather armchair or a bohemian-blanketed sofas, there's the option to bring your find to the rooftop as well, or sprawl out on the grassy bank opposite. Got an unwanted book in reasonable condition? They accept those here, too. 
While Word on the Water is obviously not-your-regular bookshop thanks to the canal-side setting, it's also not-your-regular bookshop thanks to the performing arts programme that takes place on its top deck – which turns into more of an open-air stage. Depending on the schedule (and the weather), you may be treated to poetry readings, open mic nights, performances from buskers and perhaps even a full-on acoustic concert. When the next show comes around…
…it should be one for the books.
NOTE: Word on the Water is open daily from 12-7pm. For more info and event news, see their Twitter or website.
Word On The Water | Regent's Canal Towpath, London N1C 4LW
---
A fan of the off-beat? Have a look at some of the other hidden gems in London