Boringdon Hall | Five star spa, dining & hospitality in Devon
Boringdon Hall is first mentioned in the Domesday book, back in the year 1086.
It was valued at 12 pounds and 10 shillings.
Now, it's worth a touch more than that. In the intervening millennium the various owners have added dozens of structural touches that make it quite "irritating for the historian", at least according to one irritated historian who was attempting to divine which parts of the buildings were built in which century. But the most recent additions? Are the spa & first-class restaurant.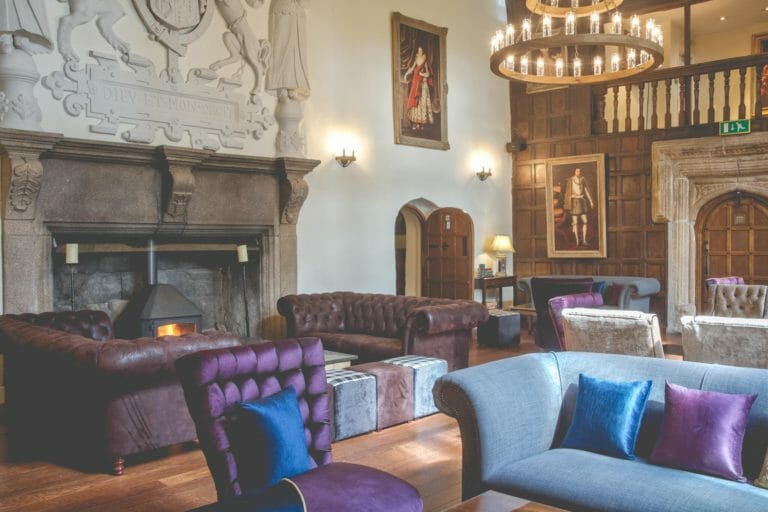 Making your way up the long hill, you'll be presented with the magisterial building itself, which seems like something out of a period drama. Heading inside, and pretty much the first thing you'll see will be the aptly named Great Hall. It's palatially huge, and has a 10ft tall royal seal above the stone hearth that we're told dates back to 1640. As introductions go, it's not too shabby.
The rooms are a mix of new builds out in the courtyard, and old fashioned four-posters you'll find in the ancient rabbit warren of stairs & corridors snaking through the main building. Whichever you spring for, they'll have all the modern amenities you'd expect from a five star joint (fluffy dressing gowns, toiletries from the spa, etc.) as well as the occasional more lavish comfort, including stone fireplaces, freestanding bathtubs, and private terraces with heated jacuzzis.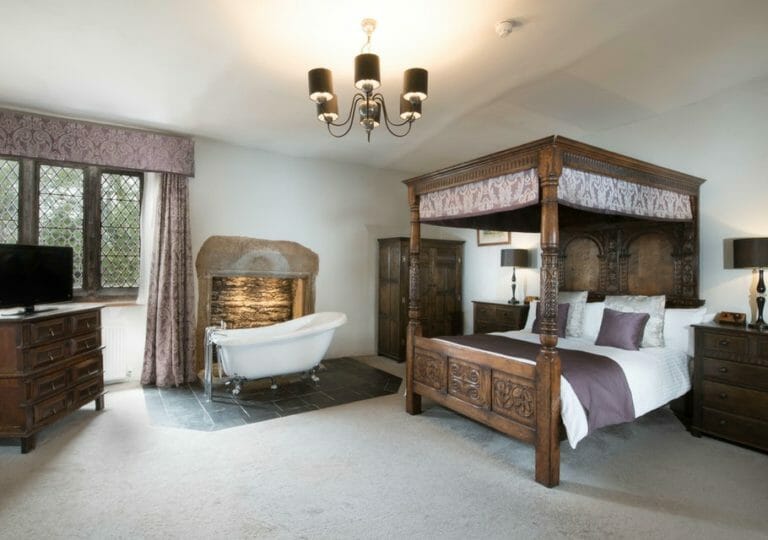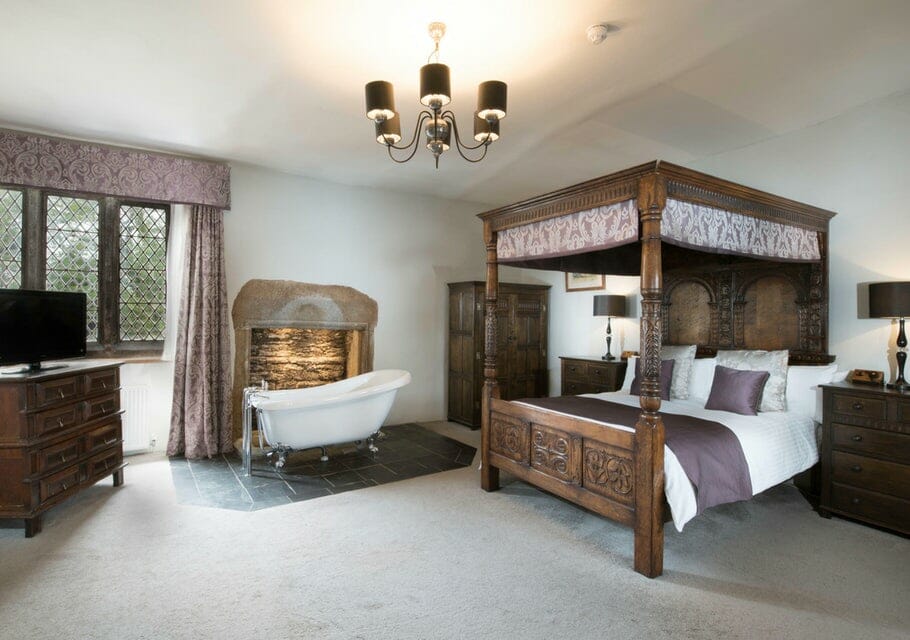 If you're staying at the hotel it means you have free use of the Gaia spa facilities, which are absolutely second to none; there are two pools heated to different temperatures, including one with half a dozen different spots to sit and be blasted with therapeutic bubbles. There's even a waterfall. And an outdoor hot-tub-style limb cleverly designed so that you don't even have to leave the water to get there.
Then we come to the steam rooms, of which there are several – there's the Finnish style sauna, the herbal steam room, the salt rock room, and more. And that's not even to mention the spa treatments and massages themselves, which are absolutely first-class, thanks to tranquil rooms with double-heigh ceilings, and highly skilled staff.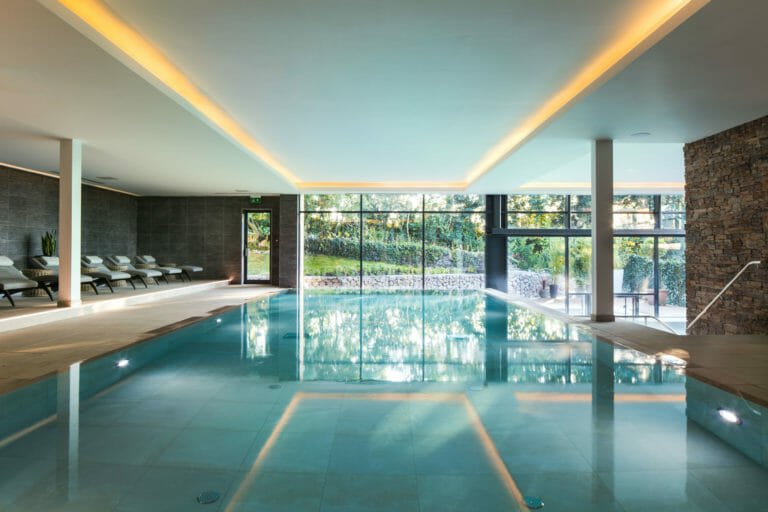 There's an onsite restaurant – the Mayflower Brasserie – which is perfectly lovely, and serves a delicious breakfast. But that's not what you come to Boringdon for. No, you come for Àclèaf, the pet project of rapidly rising star Scott Paton. It's so-called because in 2017 Paton won an Acorn Award, which recognises the country's top chef talent under the age of 30 – and Àclèaf (which literally means 'oak leaf' in old English) represents the fruition of that promise.
It's set on Bordingdon's upper floor, and the best seats in the house look down across the Great Hall itself, almost at eye-level with characters guarding the gigantic royal seal. The decor projects an appropriate white tablecloth formality, but the staff handily offset it with a warmth and easygoing charm.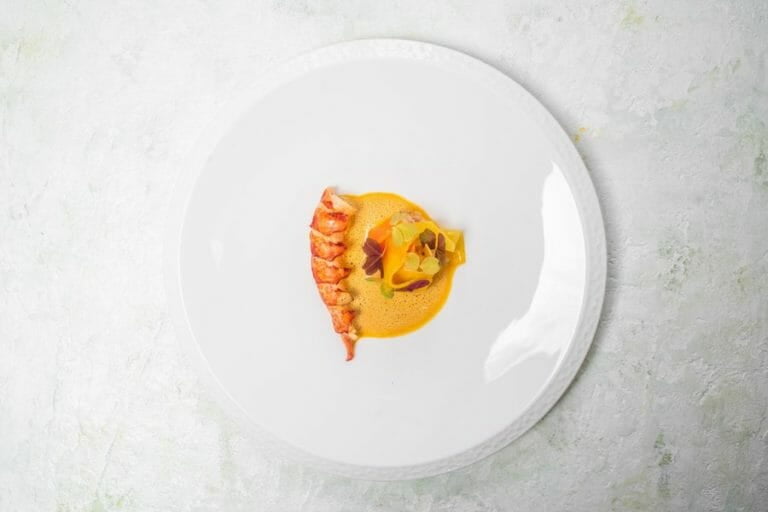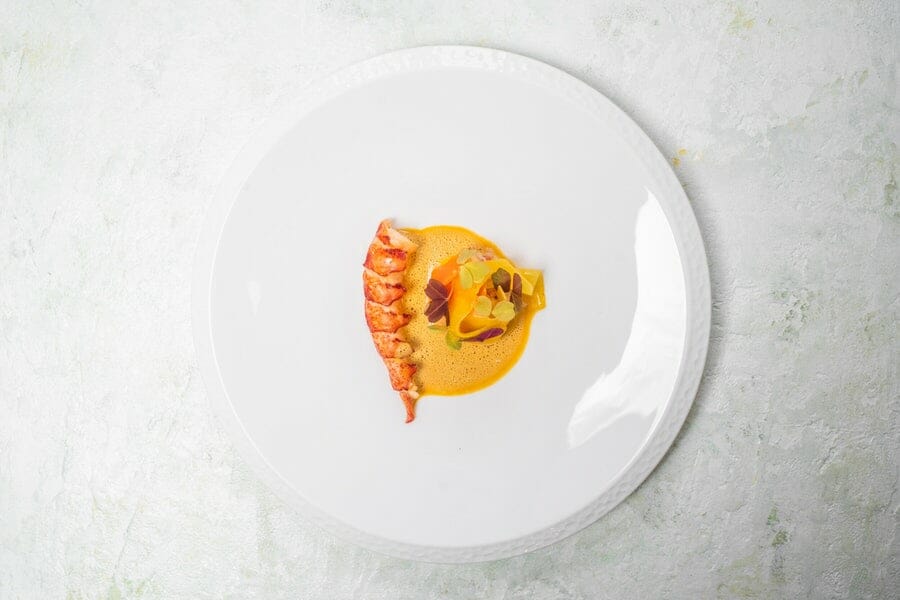 Your meal will begin, as usual, with a simple personality quiz. You'll be cryptically asked to circle one of three colours, shapes, and symbols on a small piece of paper handed to you by the waiter. Then, things move onto a another quiz of sorts: the menu. This one's designed so that you can essentially create your own tasting menu from a pleasingly symmetrical grid of four courses with four choices each.
You could get crab with curry (it's made with satisfying lumps of white crab, with high notes of lime throughout); followed by some fragrant Dover sole punctuated with an evocatively briny bullet of caviar; then a strikingly tender, rich medallion of beetroot-dusted beef that tastes simply sensational. All in all, there are literally hundreds of possible combinations. Or, you could simply place yourself in the chef's hands, and get his own six-course lineup of his favourites from the options.
And then? That personality quiz comes back, attached to a personally tailored dessert made to match your answers. It's just one of the many elegant little touches that elevate the experience beyond your average, everyday five star hotel restaurant.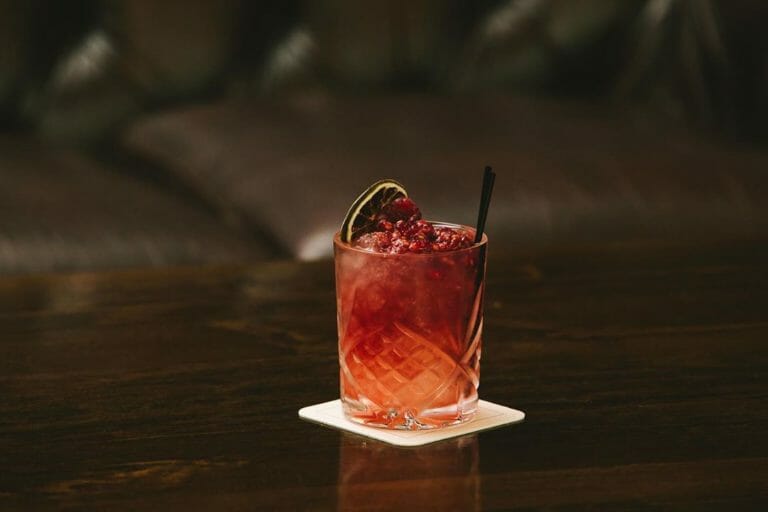 Oh, and speaking of little touches – remember that rabbit warren of corridors and staircases we were talking about? Well, if you follow them to the right place, you'll find yourself standing by an innocuous-looking bookshelf. Find the right book (HG Wells' Tales of the Unexpected) tilt it back, and the shelf will open up to reveal a hidden bar. It's literally called the Secret Bar, and it's a deeply old fashioned Manor House-style hideaway that serves deeply modern craft cocktails.
It'll all cost you a little more than 12 pounds and 10 shillings… but it'll still be one of the best experiences to be had in the South West.
NOTE: Boringdon Hall is open all year round. You can find out more, and book a table at Àclèaf or a room at their website right HERE.
Boringdon Hall | Colebrook, Plympton, PL7 4DP
---
Like hotels with fine dining and fine spa-ing? Check out the Athenaeum.