The Best Hotels In Nashville

Main image: Noelle

Nashville's a city proud of their reputation for Southern hospitality, so picking out the best hotels isn't easy…
Nevertheless, these are the top Tennessee.
Whether you're after a packed live music schedule on your very own doorstep, sweeping views of the city from a rooftop pool, or historic buildings rejigged in the most stylish way imaginable; we've rounded up the best of the bunch.
---
PS You can explore all of our favourite restaurants, bars, hotels, and things to do in our full Nashville City Guide

---
The Hermitage Hotel | Downtown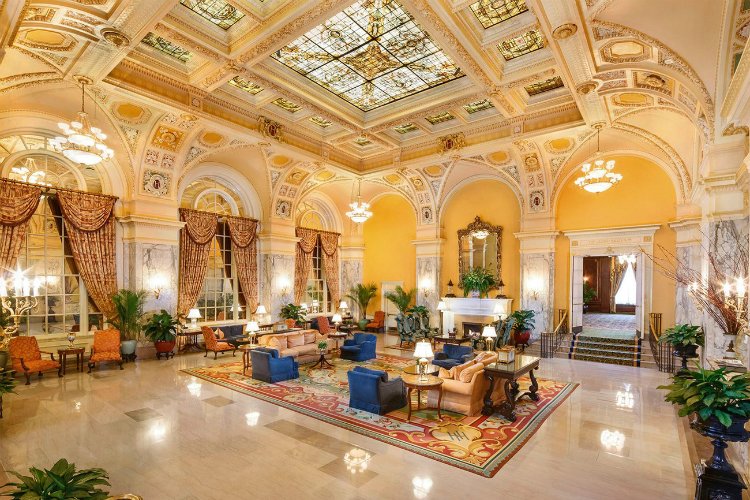 A Hermitage, technically speaking, is somewhere to hide away. And that's easily done at Nashville's oldest and grandest hotel, boasting lavish Victorian-era decor, a private spa, and a bar in an oak-panelled former gentlemen's club. The rooms themselves are no less decadent, featuring freshly-baked pastries hand delivered daily, an on-call bath concierge, and your standard TV in the bathroom mirror set-up.
Details: 231 6th Avenue North, Nashville, TN 37219 | Doubles from $799/night
–
SoBro Guest House | SoBro
The SoBro check in's worth checking out. It's all done on mobile as you're en route to your apartment, after which you'll be texted a passcode to get in. You'll then be free to enjoy the sleek, modern decor; vinyl turntable; artisan coffee; lush shower products and fully-kitted kitchen of your very own Nashville suite, perched right next to the Country Music Hall of Fame and Museum, bowling bar Pinewood Social, the excellent restaurant Husk and the Listening Room Café, with its regular songwriter nights.
Details: 310 Peabody Street, Nashville, TN 37210 | Suites from $379/night
–

Fairlane Hotel | Downtown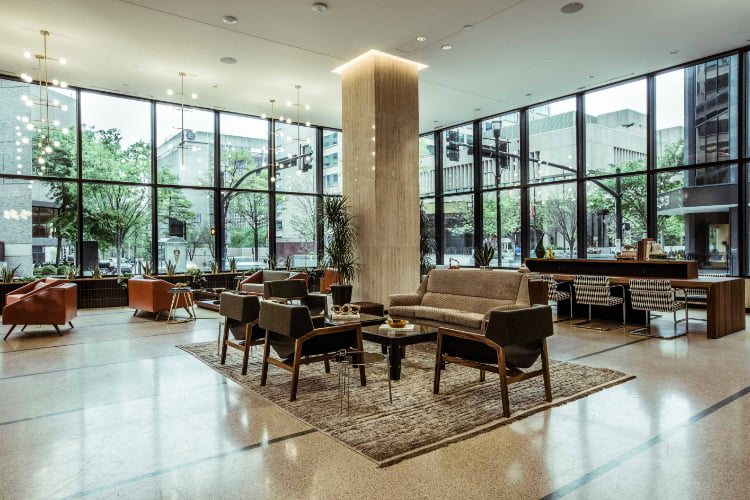 Only a few months old, the Fairlane has already made a name for itself thanks to its glamorous take on old-school Southern hospitality. Decked out with retro touches, from the swish modernist facade to the mid-century furnishings in the rooms, it's undoubtedly stylish; but there's plenty of substance too. Downstairs is the popular Mile End Delicatessen, serving bagels, smoked meats and poutine; there's a 24-hour concierge service on offer; and the rooms are filled with huge TVs, luxury toiletries, and minibars filled with local goods.
Details: 401 Union Street Nashville, TN 37219 | Doubles from $233/night
–

Hotel Indigo | Downtown
Round the corner from the rowdy and historic Printers Alley you'll find the Indigo; a sleek boutique hotel sporting an all day restaurant, a library, a fitness centre, and an excellent speakeasy-style cocktail bar hosting performances by local musicians and songwriters every night of the week. And when you're done exploiting all that, you can crash out in a spacious, printing-themed bedroom.
Details: 301 Union Street Nashville, TN 37201 | Doubles from $312.55/night
–

Thompson Hotel | The Gulch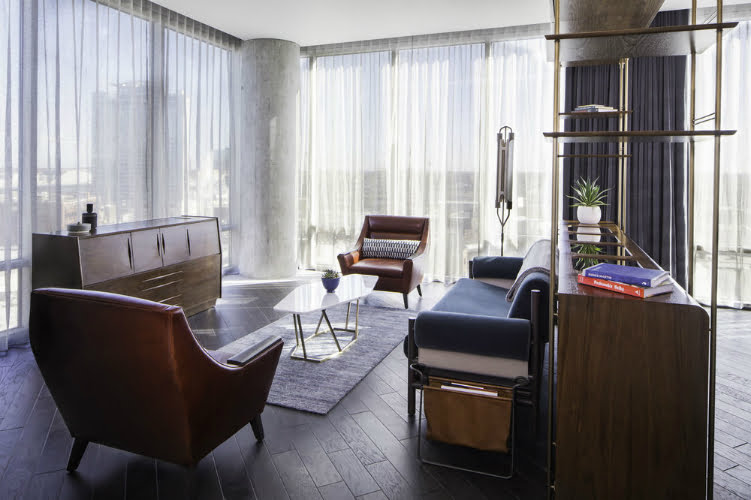 The Thompson Hotel is known for its sleek, mid-century design; delicious seafood restaurant Marsh House; and above all, its bar. Literally – because you'll find it perched on the rooftop patio alongside a bar serving excellent cocktails and a slew of regional craft beers, all accompanied by views across Downtown Nashville. And those views don't stop when you retire for the evening, thanks to the floor-to-ceiling windows in every room.
Details: 401 11th Avenue South, Nashville, TN 37203 | Doubles from $339/night
–

21c Museum Hotel | Downtown
Staying in a museum can be quite a daunting prospect. You don't want to make an exhibition of yourself. But the 21c – part art collection, part boutique hotel – manages to fuse the two pretty well. The former is the huge Gray & Dudley, free to enter and home to a rotating series of exhibitions and site-specific installations. The latter offers pared-back but plush rooms for the night, filled with original artwork, personal coffee machines and floor-to-ceiling windows; as well as a fitness centre, spa, restaurant, and regular guided museum tours.
Details: 221 2nd Avenue North, Nashville, TN 37201 | Doubles from $299/night
–

Aertson Kimpton Hotel | Midtown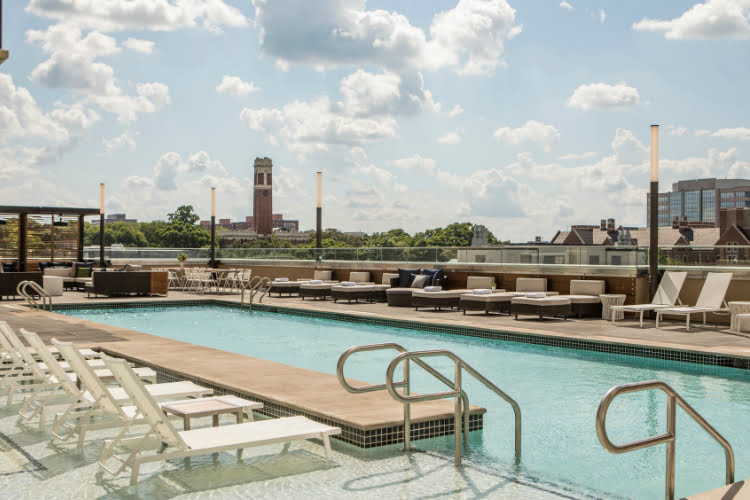 You could argue that The Aertson has one of the most interesting views, overlooking Vanderbilt University. But that's purely academic. Besides that, the place boasts sleek contemporary decor, a spa, a fitness centre, a top-notch restaurant complete with chef's table, free bike hire, a sparkling rooftop pool, and a nightly complimentary wine hour.
Details: 2021 Broadway, Nashville, TN 37203 | Doubles from $319/night
–

Union Station Hotel | Downtown
The USH is housed in a huge, 19th century former railway station, with a grandiose vaulted lobby complete with century-old stained glass windows. And since they don't do things by halves here, there's also an excellent Southern small plates restaurant, a sprawling cocktail bar, and cosy bedrooms kitted out with Nashville touches like cowhide headboards.
Details: 1001 Broadway, Nashville, TN 37203 | Doubles from $430/night
–
Hutton Hotel | Midtown
The Hutton was made for musicians, boasting state-of-the-art 'Writers' Rooms' – uber stylish workspaces kitted out with recording booths, souped up mixing boards, and comfy armchairs for wistfully strumming guitars on. For everyone else, meanwhile, there's 24-hour room service, rainfall showers, and free cocktails at the 5,000sq ft bar downstairs – home to regular DJ nights, live performances, comedy, and more.
Details: 1808 West End Avenue, Nashville, TN 37203 | Doubles from $529/night
–

Noelle | Downtown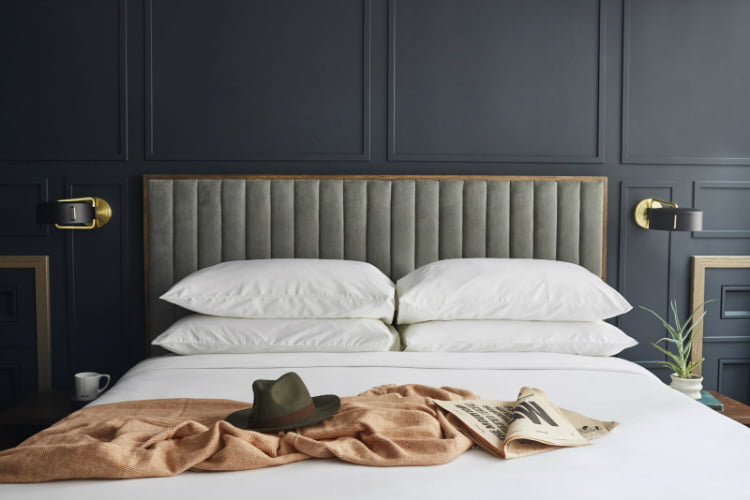 The Noelle is just plain stunning. In a '30s hotel block (with the requisite marble walls, art deco railings and vast arched windows), the new team have managed to cram in a rooftop bar, third-wave coffee shop, critically acclaimed basement restaurant, an artisan boutique, a letterpress portrait studio, an art gallery, and a reading room and archive of the hotel's first incarnation. And, of course, some of the most beautiful rooms in town.
Details: 200 Fourth Avenue North, Nashville, TN 37219 | Doubles from $314/night
PS Planning a trip to Music City? Check out our complete Nashville City Guide