The Top 25 Bars in New York
Last Updated: 7th October 2019 | Main image: King Cole Bar
Ok, we give in.
We may as well just call every drink a Manhattan.
Because they do cocktails here better than they do it anywhere else. Which makes choosing just 25 drinking dens to grace your patronage with very, very difficult. Nevertheless, we've attempted to whittle it down, so here it is: our hand-picked selection of the slickest cocktail bars, shadiest speakeasies, trashiest dives and all-round best bars in New York…
Dante | Greenwich Village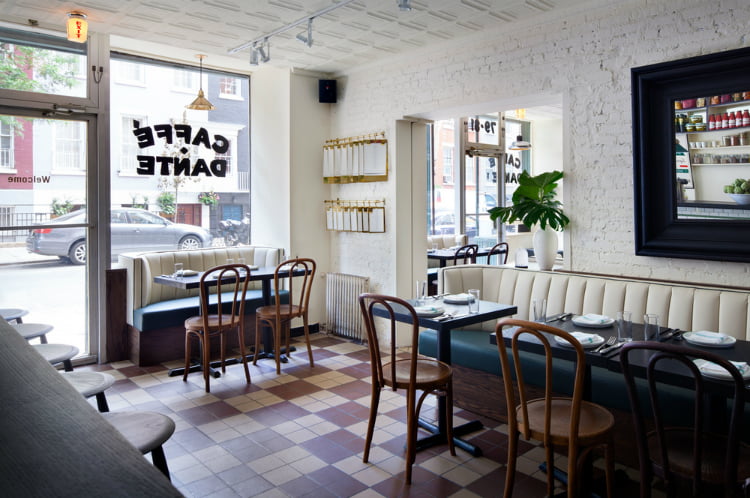 Forget the inferno, Dante's is pure heaven. It was a family-owned spot for a century, before new owners took the baton in 2015 and lovingly restored its Victorian tin ceilings and '50s banquettes, buffed up ready for a new generation of drinkers. Staying true to its Italian roots, the cocktail menu riffs heavily on the aperitivo spritz and negroni – think cocktails on tap, negroni frappes and cold brew concoctions – and has just seen them crowned top dog in the World's Best Bars list. Plus, there's a pretty moreish food menu too, from handmade pasta to Full Italian breakfasts, cheeseboards and antipasti. FIND OUT MORE
Details: 79-81 Macdougal Street, 10012 | Open daily from 10am-late
–
Westlight | Willamsburg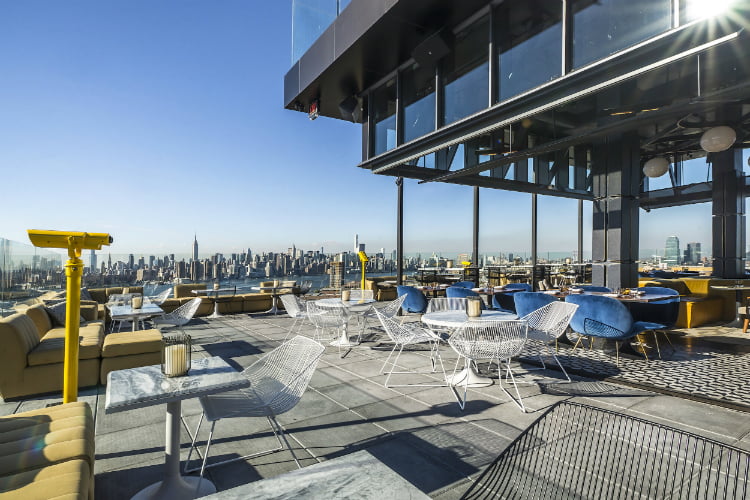 You'll need to visit at least two high-level bars while in New York. Because sure, you want to check out the view right in the thick of it (catch the sunset at the Rockefeller Center's Bar 65). But then you'll also need to zip across to Brooklyn to take in the whole Manhattan skyline – and that's where Westlight comes in, boasting panoramas across New York on three sides. There's live jazz every Monday, and in summer, the windows are pulled back to create a huge continuous terrace – setting the perfect scene for a bergamot-laced spritz. FIND OUT MORE
Details: The William Vale Hotel, 111 N 12th Street, NY 11249 | Open daily until midnight (2am Fri-Sat)
–
Maison Premiere | Williamsburg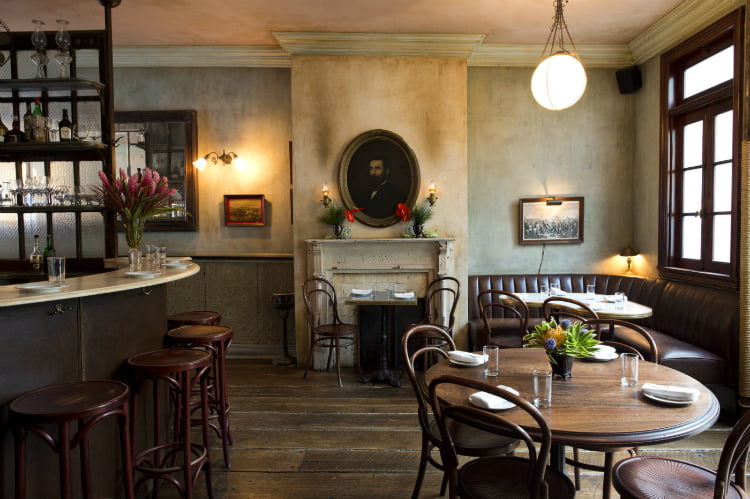 Putting 'premiere' in your name is a pretty persuasive way to at least sound like the best. But following it up with 19th century New Orleans-inspired decor, tableside martinis, happy hour oysters and over 30 absinthes served up with a traditional drip is a good way to actually prove it. Just be prepared to fight it out for a table under the fairy-lit garden pergola. FIND OUT MORE
Details: 298 Bedford Ave, Brooklyn, NY 11249 | Open daily (till 4am Thurs-Sat)
–
Dead Rabbit | Financial District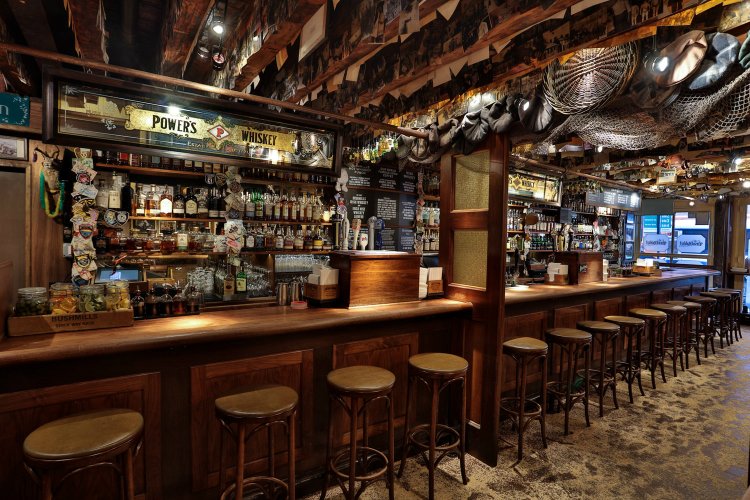 Topping the World's Best Bars list for two consecutive years, it's safe to say The Dead Rabbit is probably also one of the best bars in New York. This polished up, mahogany-clad Irish bar has an old-school sawdust floor, photos pinned to the rafters, and a nice balance between intimate booths and sociable stool seating up at the bar. The cocktails here are flawless – the Irish Coffee deserves to be the 8th wonder of the world – and there's DJs three nights a week, as well as live blues on Wednesdays and Irish bands on Sundays. FIND OUT MORE
Details: 30 Water Street, NY 10004 | Open daily till 4am (weekdays)/3am (weekends)
–
Death & Co | East Village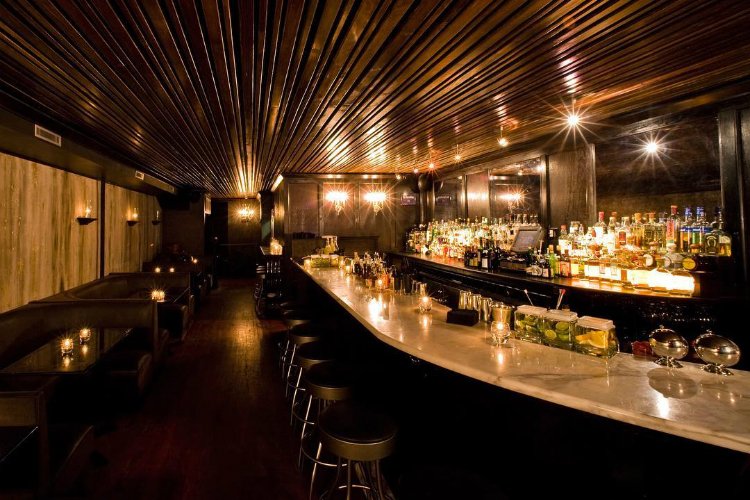 This bar makes good on its swaggeringly cool name, with moody, dark wood interiors, smartly dressed barkeeps and kerosene lanterns to offset the luxe marble bar. Said smartly dressed barkeeps have all earnt their keep from other top-notch bars like the Pegu Club, so expect cocktails swizzled to perfection, like the Harlequin – combining gentian, amaro and calvados with honey and 'acid phosphate'… FIND OUT MORE
Details: 433 E 6th Street, NY 10009 | Open daily 6pm-2am (3am Fri/Sat)
–
Bemelmans Bar | Upper East Side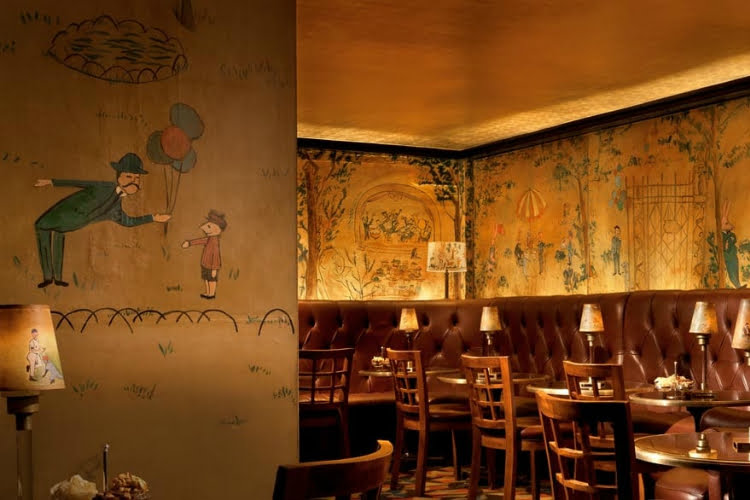 We'll level with you: this place is a little sketchy.
That, however, is its biggest selling point – because Bemelmans bar is an opulent, illustrated cocktail den tucked inside the swish Carlyle Hotel, named in honour of the creator of the Madeline books. The drinks are stunning and there's nightly live entertainment, but you're here for the surroundings – buttery brown leather banquettes, a 24K gold leaf ceiling and walls daubed with Bemelmans murals; his last surviving public commission. FIND OUT MORE
Details: 35 E 76th Street, NY 10021 | Open daily (until 1.30am Fri & Sat)
–
PDT | East Village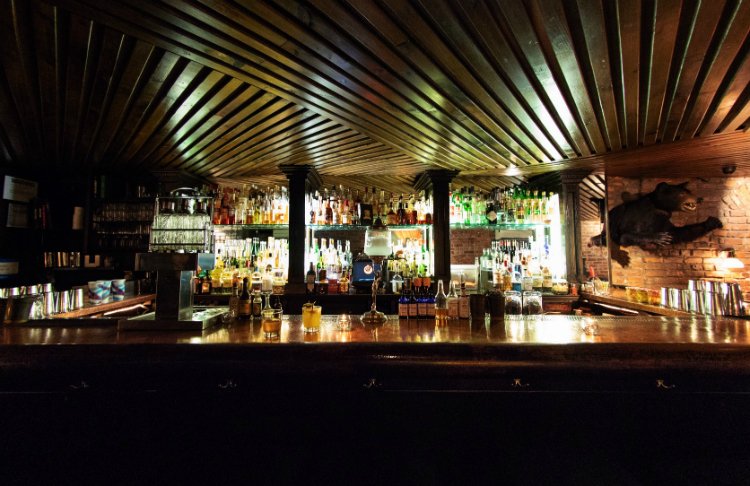 Taking the whole 'speakeasy' thing pretty literally, entrance to PDT (Please Don't Tell) requires you to dial up in a vintage phonebooth stuck in the wall of a hot dog joint, before the host slides back a panel and hustles you in. Decor is kept minimal – just the odd taxidermied animal head, with jaunty headgear – but the cocktails, from Pegu Club 'tender Jim Meehan are anything but. FIND OUT MORE
Details: 113 St Marks Pl, NY 10009 | Open daily till 2am (4am Fri/Sat)
–
King Cole Bar | Midtown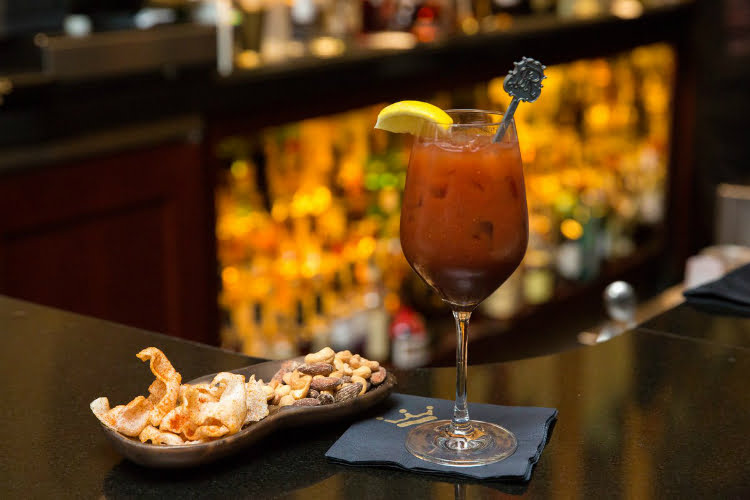 The high-end King Cole Bar is a movie location favourite, and has played host to the stars off the screen as well (Marilyn Monroe came here, as did Salvador Dalí and John Lennon), thanks to Maxfield Parrish's dazzling mural of Old King Cole behind the bar. It's said that the Bloody Mary was either invented here – or at least made its American debut, if you're among those who believe it was invented in Paris. Either way, order yourself a Red Snapper, and soak up your surroundings. FIND OUT MORE
Details: 2 E 55th St, NY 10022 | Open daily until midnight
–
Fine & Rare | Midtown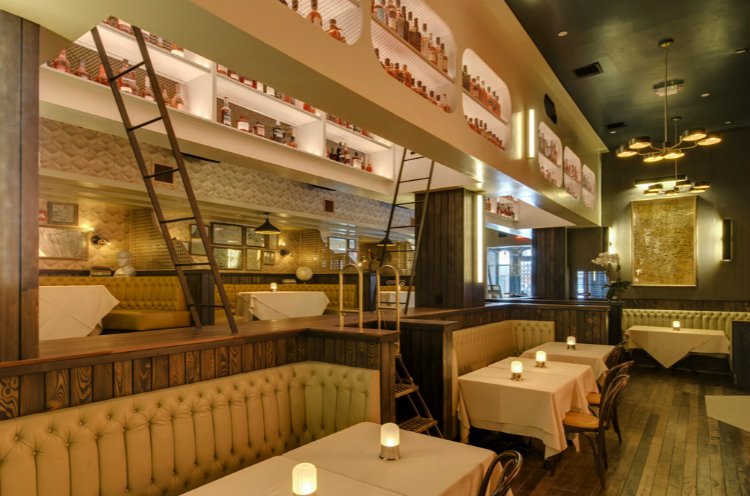 Fine & Rare provides that all-too-rare combination of upmarket bar motifs (fancy lighting, expansive banquettes, nightly live jazz), with smoking Old Fashioneds; ostrich eggs for brunch; and ladders propped up against futuristic glowing cabinets housing rare spirits. Here the thoroughly knowledgeable barkeeps will guide you through everything from private bottlings of single malts to super-rare, small-batch mezcals de pechuga – where the spirit is distilled beneath a raw piece of turkey. And if you find something you really like, they'll even keep your bottle behind the bar and hand-hammer a personalised metal name tag for it. FIND OUT MORE
Details: 9 E 37th Street, NY 10016 | Open daily till midnight (Sun-Tues), 1am (Wed/Thurs) or 2am (Fri/Sat)
–
Employees Only | Greenwich Village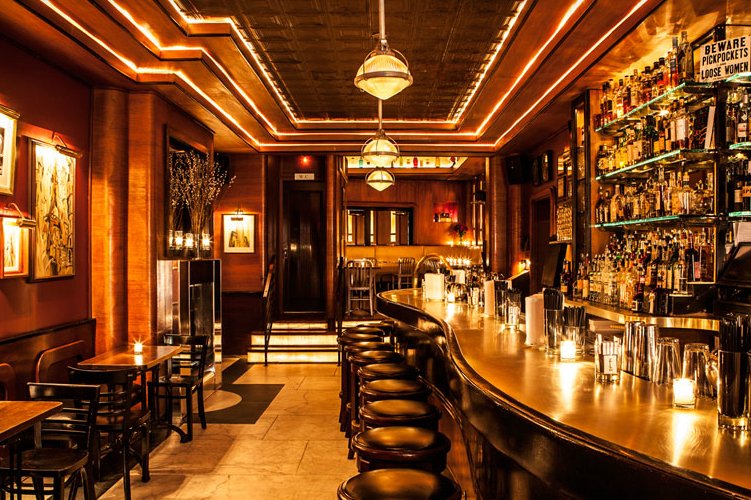 Head to 510 Hudson Street, and you'll find a fortune teller. And there's a high chance that they'll see in your future a dimly lit, late-night, Prohibition-era style bar serving up a multitude of award-winning cocktails that combine both inventive flair with traditional know-how. And sea salt and banoffee cheesecake. They'll see a lot of that. And the good news is that it's all waiting just behind their booth…FIND OUT MORE
Details: 510 Hudson Street, NY 10014 | Open daily 6pm-4am
–
Apothéke | Chinatown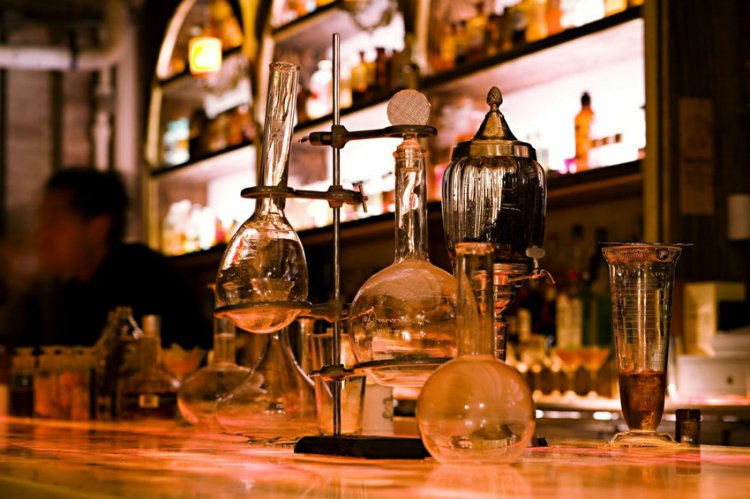 Slip down a deceptively quiet Chinatown alleyway, look for the over-the-door sign marked 'Chemist', push back the dark, heavy curtain behind the door – and you'll know immediately if you're in the right place. Somewhere between an old apothecary's store, a circus, and an Ottoman palace, Apothéke not only serves accomplished, creative cocktails but has an electric atmosphere to boot. Live 8-piece percussion and brass bands blast out in the centre of the room, crowds dancing around them with 'Stimulant' cocktails in hand (and that's just on a Tuesday). Try the Huntsman, a short drink with duck fat-washed scotch, balsamic vinegar glaze, fresh fig, chocolate, peated scotch mist… and a feather. FIND OUT MORE
Details: 9 Doyers Street, NY 10013 | Open daily, 6.30pm (8pm Sun) – 2am
–
Dear Irving | Gramercy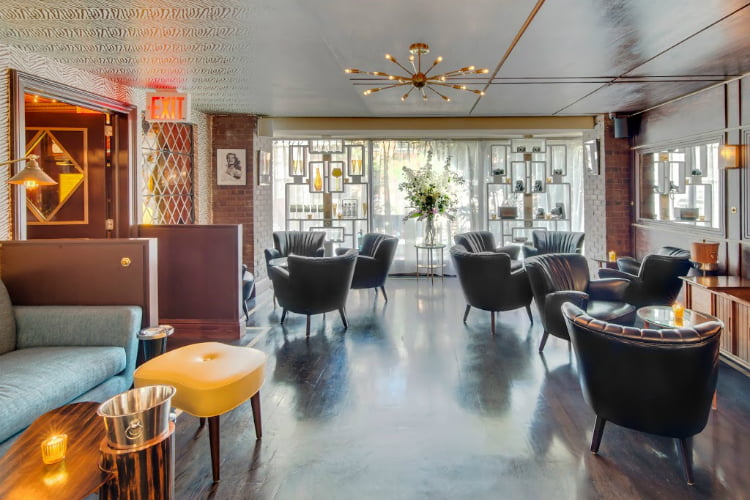 Most spirits get better with age… so a time-travelling bar makes perfect sense. Gramercy's Dear Irving is divvied up into four rooms, each from different historical eras. They cover all the usual themes – a gilded room fit for Marie Antoinette, an art deco cocktail lounge, a 60s bar worthy of Mad Men, your typical 'Abraham Lincoln' room – and the drinks, fittingly, are split between fresh, new creations and tried-and-tested classics. More recently, they've opened a two-floor branch in Times Square, with incredible roof terrace views. FIND OUT MORE
Details: 55 Irving Place, NY 10003 | Open daily 5pm-2am (1am Sun)
–
Blind Tiger | West Village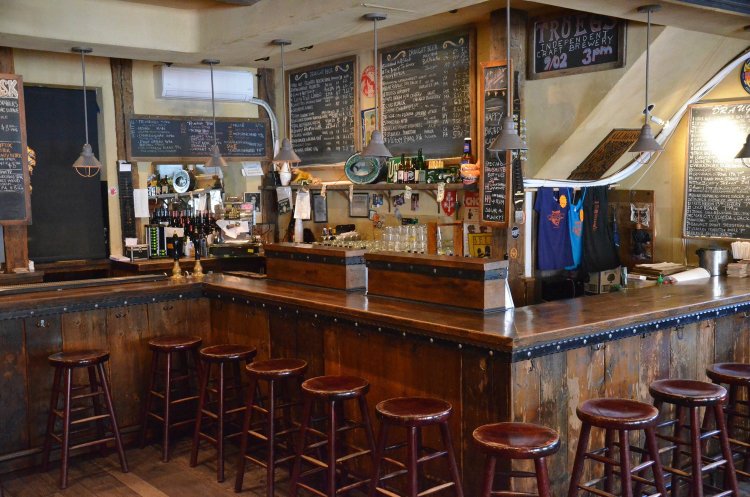 This bar has certainly earned its stripes. An unfussy, unpretentious ale house, it's been serving up rare and unusual brews since before 'craft brewing' became a thing. Decked out with low wooden beamed ceilings, leathery bar stools and blackboards announcing the weekly specials, it's the kind of spot you can settle in for a long afternoon to work your way through as many of the 30-or-so beers on tap as you can handle. They also have a free cheeseboard on Wednesday evenings. FIND OUT MORE
Details: 281 Bleecker Street, NY 10014 | Open daily 11.30am-4am
–
Barcade | Williamsburg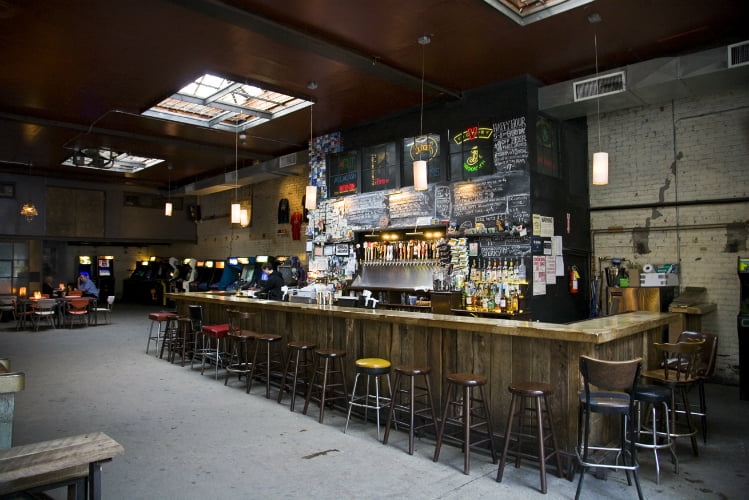 If you've visited London's Four Quarters, you'll already be familiar with the concept of arcade games + beer, and you'll also already appreciate that it's a strong combination. Head to Brooklyn's Barcade for the original American version, with games for a quarter and 25+ US craft brews on tap. FIND OUT MORE
Details: 388 Union Road, NY 11211 | Open daily 12pm-4am
–
Blacktail | Battery Park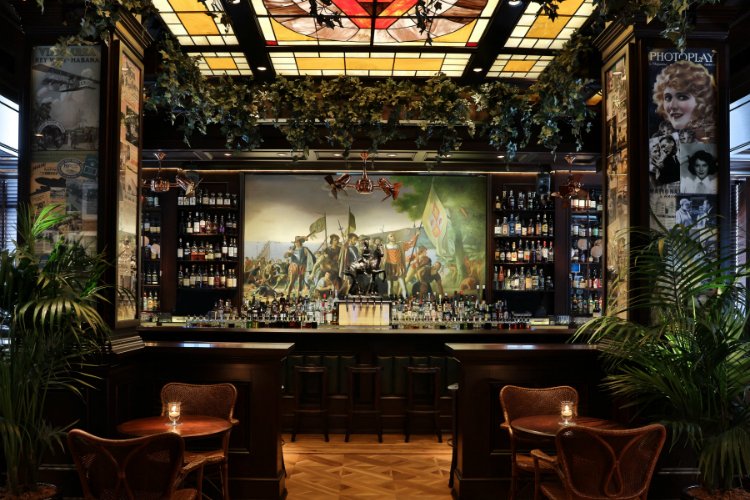 When a bar invites you to revisit the "devil-may-care early days of aviation", you know you're onto something good. A notion which can only be confirmed by the glamorous, retro Cuban decor, the stained glass above the well-stocked bar, and the fact that it's the follow up to the illustrious Dead Rabbit. The menu is a survey of Cuban-influenced cocktail recipes from the 1920s – 1950s, given a contemporary twist and organised by glass type. The Blue-Arsed Fly is a zinger, with Haitian rum, sherry, coconut, and tandoori spice. FIND OUT MORE
Details: Pier A 2nd Floor, 22 Battery Place, NY 10004 | Open daily 5pm-2am
–
NoMad Bar | NoMad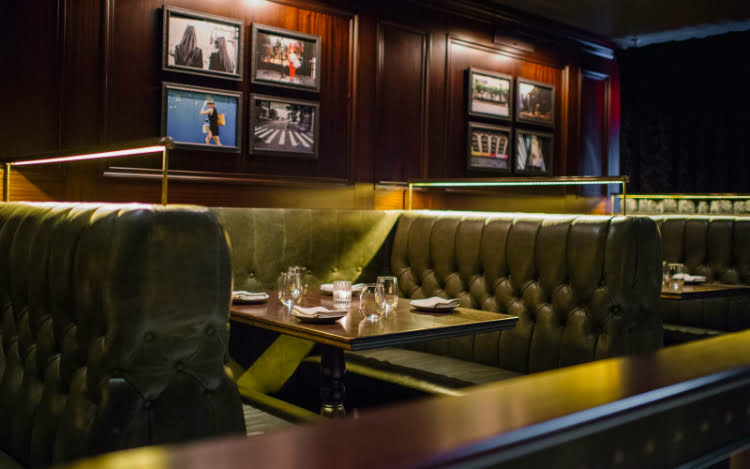 Dimly lit, understated, library-like interiors suit the refined finesse of the cocktails made here. Weighing in at number 4 on the World's Best Bars list, NoMad Bar boasts a menu ranging from the heavily boozy (the Creole Contentment combines cognac, marsala wine, amaro, scotch and maraschino liqueur) to the light aperitif (like the Nod to Nothing, with jasmine tea, yuzu and gin). They're all executed as delicately layered drinks with subtle waves of flavour – a paragon of the fine art of cocktail making. FIND OUT MORE
Details: 10 W 28th Street, NY 10001 | Open Mon/Tues 5pm-12am; Wed-Sat 5pm-2am; Sun 3pm-10pm
–
Clover Club | Brooklyn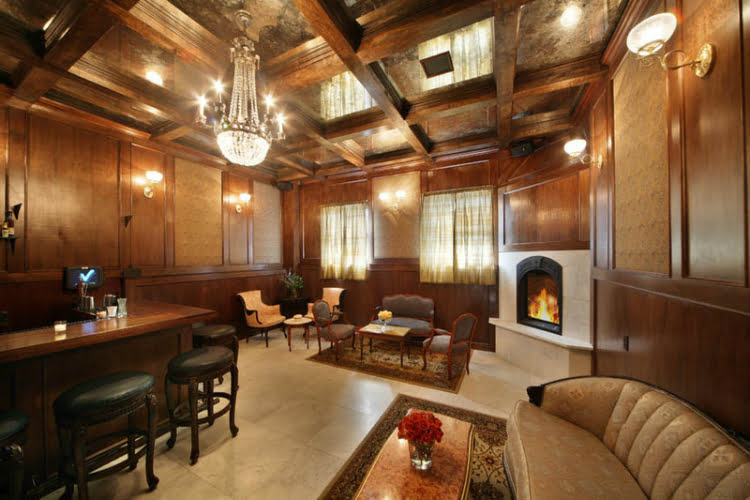 Regardless of how many leaves it has, it's already lucky that you've come across this Clover. Because this Brooklyn drinking den from cocktail champion Julie Reiner serves unparalleled concoctions, from martinis made with muddled sugar snap peas, to hot buttered rums and old-recipe sharing punches in a laidback, Victorian-attired parlour, alongside brunch and the occasional jazz night. FIND OUT MORE
Details: 210 Smith Street, NY 11201 | Open daily till 2am (4am Fri/Sat, 1am Sun)
–
Mezcaleria La Milagrosa | Williamsburg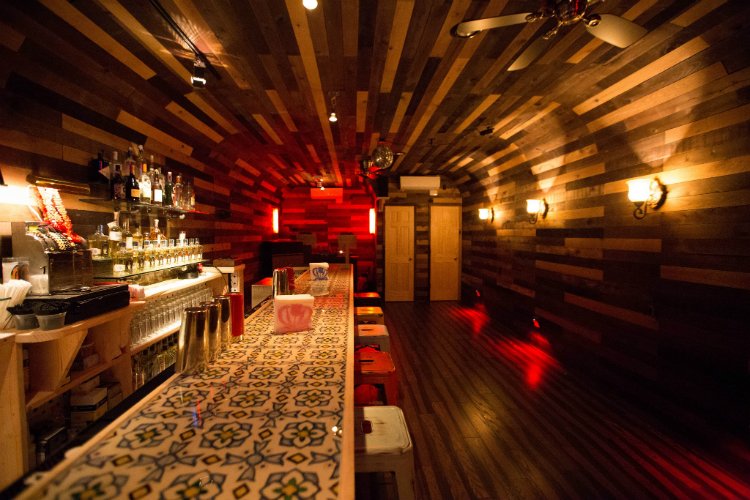 Ask anyone about the big freezer door at the back of this Mexican deli, and they might get a little prickly. Because that's no freezer, but a secret entrance to a hidden wood-panelled bar dedicated to the cactus spirits; mezcal and tequila. While the charming barkeeps rustle up a New Fashioned (mezcal, orange bitters and sugar syrup), check out the old jukebox and pick a 45 to blast out on the top-notch sound system. FIND OUT MORE
Details: 149 Havemeyer Street, NY 11211 | Reservation only; book ahead on 718-599-1499
–
169 Bar | Lower East Side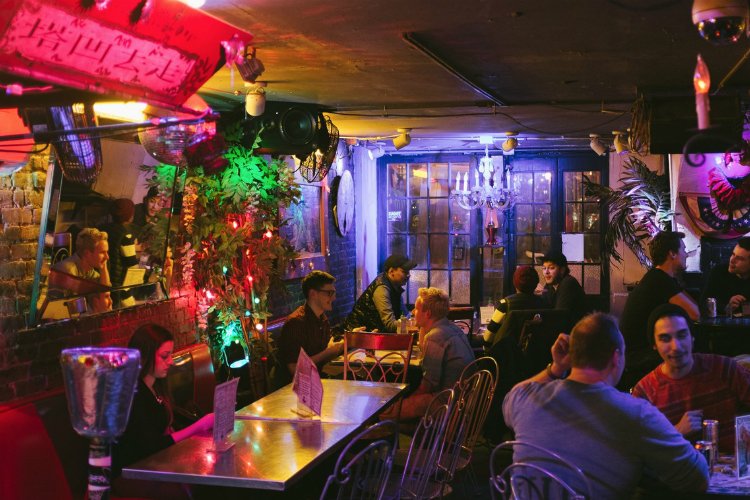 169 Bar makes no sense. There are leopard-print pool tables, fish tanks, fresh oysters (not related), about 12 different colours of lighting, and an inexplicable (but delicious) menu of borscht and dumplings, served until 4am. You text the bartenders your orders. It's owned by a man with an unbelievable music history. It has an 8 hour long happy hour, and it's the diviest of dives. And it's excellent. FIND OUT MORE
Details: 169 East Broadway, NY 10002 | Open daily 11.30am-4am
–
Ghost Donkey | NoHo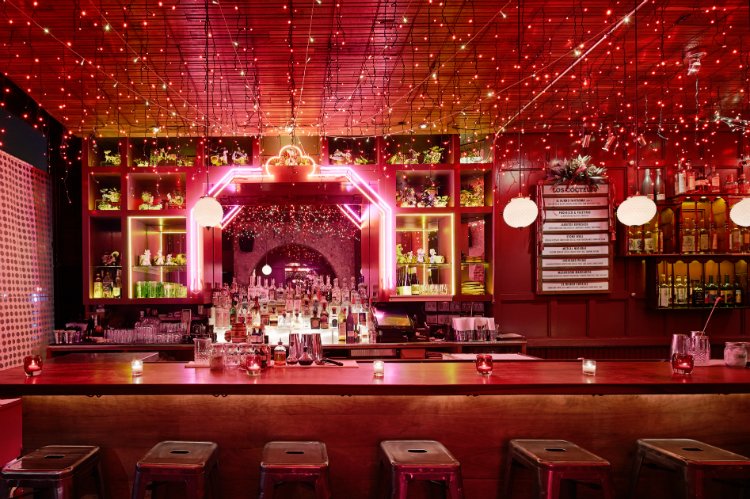 They say, on certain nights with a frosty, mysterious chill in the air, the Ghost Donkey appears – a rosy-lit tequila and cocktail bar with a giant white donkey overseeing proceedings. It's also there on all other nights. Founded by cocktail maestros Eben Freeman and Ignacio "Nacho" Jiminez, the joint fittingly serves up upmarket nachos drizzled with truffle, chorizo or chili de arbol, as well as cocktails shining a light on mezcal, tequila, horchata and Nicaraguan rum. Start with the El Burro, a piquant cocktail for two served out the flower-laden cart of a porcelain donkey. FIND OUT MORE
Details: 4 Bleecker Street, NY 10012 | Open daily 5pm-2am
–
Tørst | Greenpoint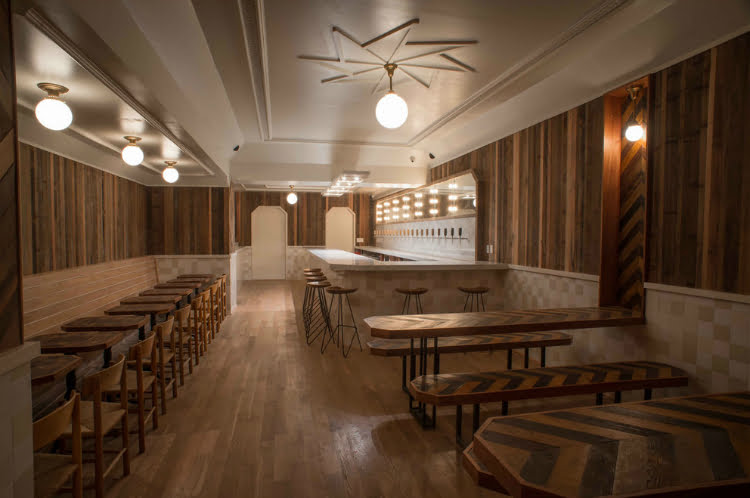 The brainchild of a Danish brewer and the former head chef at Momofuku's test kitchen, Tørst (Danish for thirst) is a minimalist craft beer haven dotted with reclaimed furniture and Scandi wood panelling. Behind the expansive, marble-clad bar are 21 taps, each of which house one of a regularly rotating selection of beers on draught, ranging from the founder's brew, Evil Twin, to unusual guest beers like the "Even More Jesus".
It's holy drinkable. FIND OUT MORE
Details: 615 Manhattan Avenue, NY 11222 | Open daily noon-midnight (2am Fri/Sat)
–
ROKC NYC | Hamilton Heights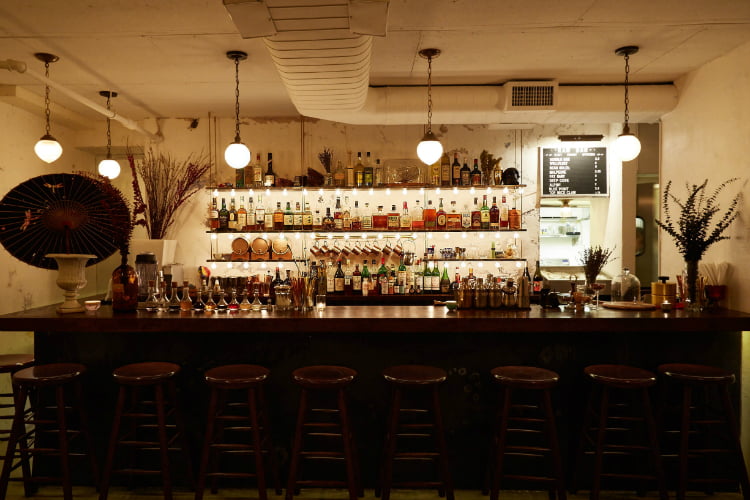 ROKC (it stands for ramen, oysters, kitchen and cocktails) does everything that it says – in an abbreviated way – on the tin. The trio of industry icons behind the bar are Shigefumi Kabashima and Tetsuo Hasegawa from the excellent Angel's Share bar, and the Experimental Cocktail Club's Joji Watanabe – between them, they serve up unbelievable cocktails with Japanese touches, served up in everything from eggshells to miniature garden scenes that sit atop your glass. Add to this a kitchen doling out steaming ramen and oysters to knock back at the bar, and you've got yourself a pretty sweet date spot. FIND OUT MORE
Details: 3452 Broadway, NY 10031 | Open daily 5pm-11.15pm (12am Fri/Sat)
–
Old Town Bar | Flatiron
Like many New York bars emulating speakeasies (and London bars emulating New York bars emulating speakeasies), Old Town Bar sports a shimmering tin ceiling, antique cash registers, and a sleek marble and mahogany bar. But unlike most other bars, they're all original, authentic features dating back to its opening in 1892. Its urinals even had their own 100th birthday party. The bar survived all the way through Prohibition as a real speako, and nowadays continues to boast great drinks, surprisingly good wings, and a friendly team of barkeeps who'll happily fill you in on the place's history.  FIND OUT MORE
Details: 45 East 18th Street, NY 10003 | Open daily till 1am (12am Sundays)
–
Pegu Club | SoHo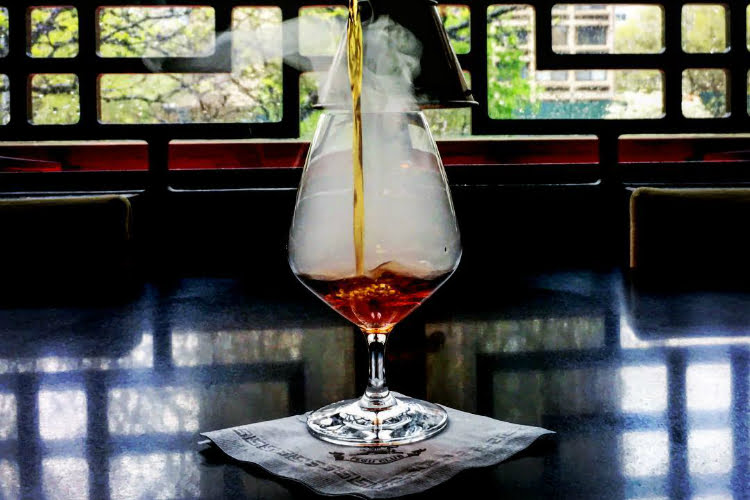 Named after the gin cocktail invented at the eponymous 19th century British military and government officials' hangout in Burma, the Pegu Club is just a straight-up, hella slick date spot, with a nod to its Asian inspiration in the decor and a growing reputation as a bartending talent incubator (alumni have gone on to set up Death & Co, PDT and Bar Goto). Cocktails are classic, but well-made – with the eponymous Pegu Club a very reasonable place to start. FIND OUT MORE
Details: 2nd Floor, 77 West Houston Street, NY 10012 | Open daily 5pm-2am (4am Thurs-Sat)
–
Sake Bar Decibel | East Village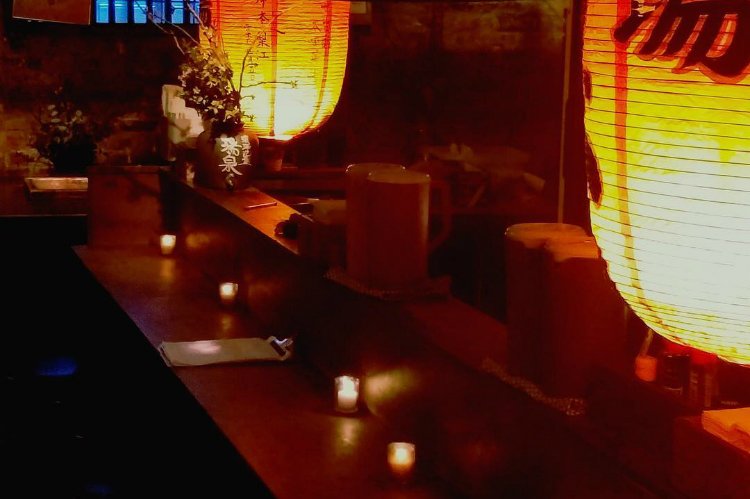 Making some noise in the East Village cocktail scene is Sake Bar Decibel, a family-owned, atmospheric sliver of Tokyo tucked away on East 9th marked only by a flickering "On Air" sign. Candlelit cocktail tables surround a cramped but welcoming bar, where you'll be able to pick the punk-styled barkeeps' brains on the 100 sakes on offer. Occasionally they've been known to crack out the rare fugu hire sake, which comes served with a side of puffer fish. FIND OUT MORE
Details: 240 East 9th Street, NY 10003 | Open daily 6pm-2.50am (12.50am Sundays)
–
---
Need something to line the stomach before tackling this list? Check out our guide to New York's best restaurants