You're Off To Visit Kuala Lumpur
Main image: Naim Fadil/Flickr
–
Kuala Lumpur is one of South-East Asia's most dazzling cities, with skyscrapers rubbing shoulders with minarets and old colonial buildings; a famously impressive shopping scene; and some of the best street food in the world…
…Not bad for a place which literally translates as "muddy river confluence".
And the good news is, given you're reading this article, you're already going there… or at least will be convinced to, once you've read about the city's buzzing hawker night markets and Malaysian fine dining; cocktail bars behind barbershops; suspended glass boxes 300m above the ground; a Hindu temple hidden in a set of caves; and a shopping centre whose 7 storeys are spanned by a giant indoor rollercoaster…
…Which ironically, as far as we're concerned, has no downside.
GOOD TO KNOW
It's very easy to get around Malaysia's capital as an English tourist, since practically everyone speaks the language – but learning a couple of basic phrases in Bahasa Malaysia will always go down well. The weather's generally hot and sunny (though be prepared for the humidity), and it's pretty easy to visit on a budget. The only caveat is that the transport system can be overwhelming to say the least: while trains and buses are fairly regular, interchanges can involve unexpectedly long and awkward transfers, journeys with multiple legs usually demand multiple tickets, and there are a lot of acronyms to get your head around. Citymapper hasn't covered KL yet, but Moovit does an excellent job in helping to get you around, as does Uber or Grab. On a similar note, wheelchair users should be aware that accessibility can be patchy on public transport, and even pavements can be tricky, with high kerbs and infrequent dips.
–
WHERE TO STAY
KL is spoilt for boutique hotels that are both charming and ridiculously affordable. At the lower end of the scale, from about £17 a night are Chaos and Hotel Maison Boutique. The former is a stylish, pared-back spot that's also home to design company Chaos Lab – so as you'd expect, the rooms are sleekly decorated with 'organic' materials, plus there's a fairy-lit al fresco restaurant on the first floor where you can chat to the team and get some insider tips. The latter, meanwhile, is an eccentric themed hotel, with room decor running the gamut from 'Michael Jackson' to 'Atlantis'; plus there's a regular free shuttle to the more popular sights in the city.
For a home away from home, the Sekeping Tenggiri is an oasis in the more residential Bangsar area. With just a handful of rooms and a communal kitchen area, it feels like a small commune – albeit one with your own pool, lush greenery and floor-to-ceiling windows. And for full-on luxury, splurge on the Stripes Hotel, a sleek Marriott spin-off with a rooftop pool and bar; well-appointed rooms with fancy views; and weekly bottomless cocktail nights. Yes, really.
WHAT TO DO
KL is a patchwork of architectural styles, cultures and languages, and it's a city best taken in by exploring the various neighbourhoods on foot. Kampung Baru is known for its picturesque traditional Malay houses, while the constantly bustling Chinatown is home to the handicraft-touting Central Market, colourful Sri Mahamariamman Hindu temple, and the Petaling Street night market.
To the west of Chinatown is the old colonial city centre, where European-style former government buildings jostle with striking mosques like the Masjid Negara, and the Moorish railway station. The Islamic Arts Museum is one of the city's most interesting collections, ranging from ornate ceramics to miniature Qu'rans that can only be read with a magnifying glass.
In the centre of town you'll find the Golden Triangle, KL's central commercial district, fenced in by three roads: Jalan Imbi, Jalan Sultan Ismail and Jalan Raja Chulan. Here you'll find the bulk of the city's nightlife and vast, glossy shopping malls lining the renowned Bukit Bintang district. Lot 10's a good one to start with, ranging from bargain to designer stores alongside the vast Japanese department store and food market Isetan; but Berjaya Times Square has musical staircases you can play like pianos, all interwoven with a seven-storey indoor rollercoaster.
Make sure you take a snap by the iconic Petronas Twin Towers but give the Skybridge tour a miss – you only get ten minutes, and the view's better from the loftier KL Tower, which even has a glass box jutting 300m above the ground, making for both impressive and nauseating photo opportunities. If you're not one for heights, however, you can busy yourself with the other standard tower attractions of a miniature zoo and an entirely upside down house.
Set a day aside to make a trip to the Batu Caves, 13km north of the city. Guarded by a gleaming gold statue of the Hindu deity Murugan, the caverns are home to long-standing sites of worship, with walls lined with colourful scenes of the gods. It's free entry, and you should make sure your shoulders and knees are covered – though you can rent sarongs on-site if you're on an impromptu visit.
–
WHERE TO EAT
The hawker markets are one of KL's most distinctive experiences; so schedule in an evening to peruse the stalls on Jalan Alor – or, if you're there over a Sunday, the Bangsar night market, surrounded by bars with live music. There's plenty of good-value eat-in options for KL's multiple cuisines – try Tg's Nasi Kandar for some excellent Indian, and Yap Hup Kee for Hakka dishes (big on umami-rich braised meats and preserved veg).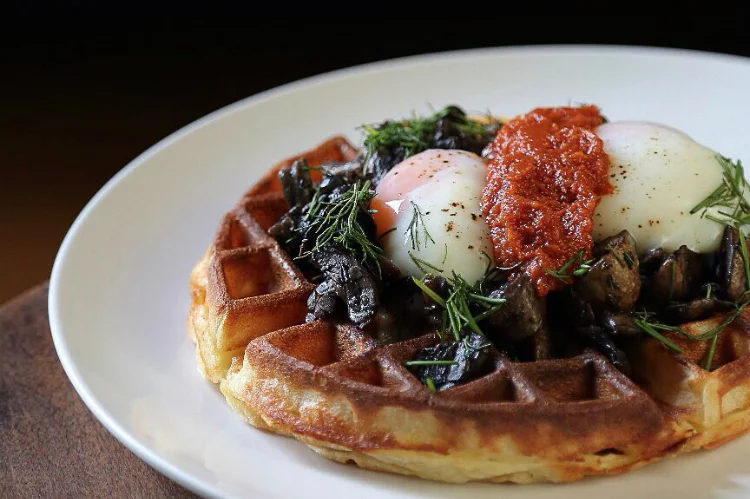 VCR is the spot for brunch, with dishes like roasted squash toast with smoked sausage; French toast with espresso ice cream; and potato waffles topped with 63-degree eggs (cooked low'n'slow, so that even the white is runny). The coffee's not bad either; the baristas here have won awards for their latte art.
If you're after something a little fancy during your stay, Manja is a failsafe spot for unusual, internationally-inspired cuisine. Baked escargot arrive in a smoking kilner jar to smother with creamed spinach on focaccia; while cocktails are made with local flavours like pandan and palm sugar. For fine dining Malaysian style, head to Bijan, where traditional dishes like cucur udang (prawn fritters) are given a gourmet twist on a candlelit, colonial-styled terrace.
–
WHERE TO DRINK
KL's no stranger to good bars, and neither should you be. Firmly posted on the World's 50 Best Bars, Omakase + Appreciate is designed after the Japanese style of service where chefs pick dishes for you. Here that translates to bespoke cocktails based on your own personal tastes, served up in a cosy (read: minuscule) red basement. The entrance looks sketchy – persevere.
Another cocktail den sporting a date-worthy glow is PS150, decked out with exposed brick walls, and a library of spirits illuminated by a neon Cantonese sign and dim lanterns. The drinks here are divided up by era, and include numbers like the Lady O, a pisco sour mussed up with mezcal and activated charcoal.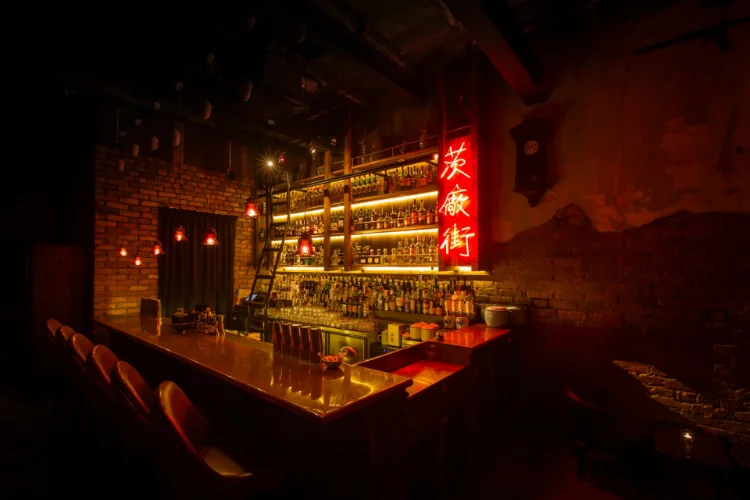 PS150
A recent addition to the significant speakeasy scene, Three X Co, is tucked behind a Muhammad Ali poster, inside a barbershop, inside a shopping centre. Behind this nondescript wall panel you'll find an updated jazz age drinking den, where drinks can come bearing anything from chrysanthemum-infused gin to Chinese cough syrup. And last but not least, there's No Black Tie – KL's preeminent jazz bar, home to a regular roster of national and international stars; and a glorious selection of tapas dishes to wash down your drinks with.
Which should suit you pretty well.
PS Planning a trip to Kuala Lumpur? Then you cooould nip down to Singapore…