House of Holi | Throw shades at each-other
Get ready to paint the town red.
And yellow. And blue. And orange. And pink. And green.
Because Cinnamon Kitchen are setting up an all-white party pod to help celebrate India's festival of colours, Holi.
For those who'd like to know just what Holi is: it's a Hindu festival that celebrates the triumph of good over evil, symbolically represented by the season of Spring finally wrestling the thermometer out of Winter's crushing grip, and dropping a bunch of new life across the hemisphere. And in India, the event is honoured by slinging a spectrum of colours at your friends, family and whatever total strangers stumble into your eye-line.
So Cinnamon Kitchen have taken that ball and sprinted away with it, creating the House of Holi. It's basically a huge, all-white play pod in the middle of Devonshire Square, meaning it's completely weather-proofed too. You'll be given a set of all-white overalls to put over your regular clothes, then let into the main space with a virtually limitless supply of paint-powder for a 30-min rainbow fight.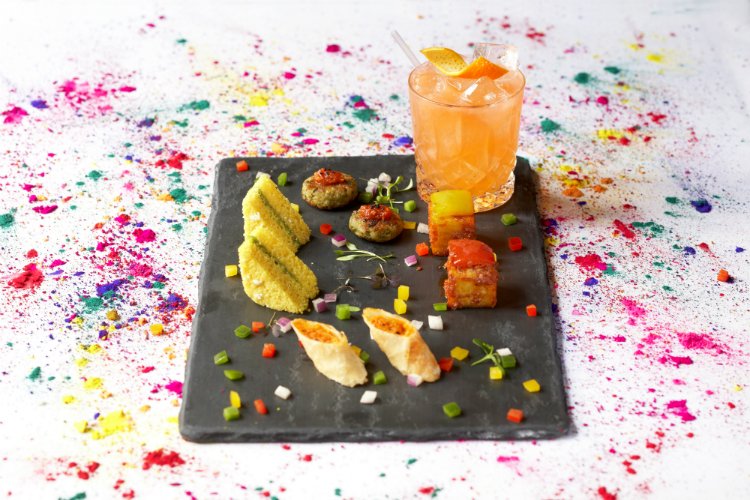 After the dust settles, you'll then get to down a few drinks at their special pop up bar, serving some appropriately colourful Holi cocktails, as well as some canapés. And if you're really feeling colourful, you can score a special five-course Holi menu, including the likes of char-grilled kingfish with shallot raita; thandai sorbet; Rajasthani lamb curry; and more.
And if that wasn't enough, Executive Chef Vivek Singh himself will be personally hosting a one-off Holi Special Masterclass, to explore the traditional & modern Indian cooking methods involved in creating the colourful snacks and street food often served during Holi. Oh, and he'll be hosting a Holi supperclub, too.
All of which are fairly persuasive reasons to take a Holi day.
NOTE: House of Holi runs from the 6th-21st March. You can find out more, and book tickets right HERE. The Holi Masterclass will be on the 16th. To book, just email [email protected]. The Holi supperclub with be on the 14th. Get tickets right HERE
Cinnamon Kitchen | 9 Devonshire Square, EC2M 4YL
---
While you're in the neighbourhood… here are a few of Liverpool Street's best bars.