Campari | Everything You Need To Know
There are two key ingredients to success in the cocktail industry –
1) Always keep mixing things up, and
2) Never reveal your secrets.
And Campari gets two massive ticks out of two… because since being created in 1860 its brand has continued to evolve, while the recipe itself of Gaspare Campari's bitter, ruby-red aperitivo has remained a closely guarded secret. An infusion of aromatic fruits, herbs and spices, its exact components are a mystery: some say there are 20 ingredients, others say 80. In fact, the only known elements are water and alcohol. Like a time capsule in a bottle, that recipe hasn't changed in over 150 years.. but it's still (of course) found in many of the world's most popular cocktails – and not only the negroni.
o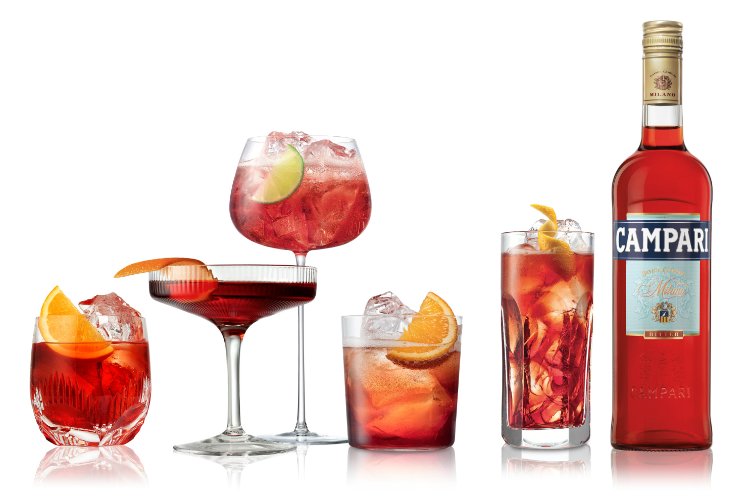 HOW IT ALL BEGAN
Gaspare Campari was born in a tiny town in Lombardy in 1828.
Like most children, he grew up.
But unlike most children, he was already working behind a bar at the age of 14, tinkering away with his own recipes for bitter infusions – all the rage in Italy as a pre-dinner sharpener. By 1860 he had settled on the final recipe, and in 1867 he opened his own bar, Caffè Campari, in the centre of Milan. Right in the thick of things, amongst travellers, writers, thinkers and artists, his drink quickly became the aperitivo of choice amongst the creative class, served simply with vermouth from Turin as a 'Milano-Torino' cocktail.
After Gaspare passed away, his son Davide inherited the business and set about bringing Campari to the masses. The first production plant was built in 1904 – almost half a century after the drink had first been created by hand – while a second bar, Camparino, opened in Milan in 1915. Over the next decade, it became popular with American tourists (whose preferred serving with vermouth and soda became known as an Americano), while the negroni – first made in 1919 at the request of an Italian count-turned-cowboy with a penchant for gin – was an instant hit across Europe. Crucially, the gins and vermouths in these cocktails were interchangeable, but Campari remained an integral part – and so it became the totem of stylish, continental aperitivo culture.
THE ART OF CAMPARI
Of course when something becomes popular it can risk feeling a little less, well, unique. So Davide's next challenge was to capture Campari's artistic spirit in a way that could translate anywhere: and so art began to imitate life.
Even in the shadow of the two World Wars, creativity was still thriving. Painters and sculptors rebelling against fascism and the appropriation of art for propaganda were becoming more experimental and promoting bold new styles. Davide followed these artistic movements closely, and enlisted some of the most avant-garde painters in Italy to create iconic artwork for the drink. To the Futurist artists, the 'future' of art was not in galleries but on the streets, and the striking imagery heralded a whole new era for advertising.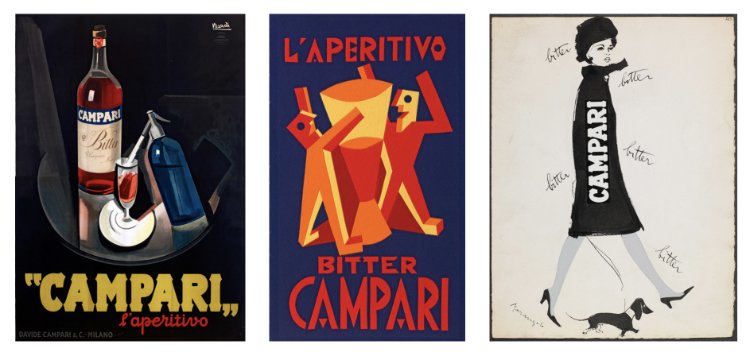 It started with the radically modernist, monochrome images by Fortunato Depero; evolved into the rich art deco tones of Leonetto Cappiello and Marcello Nizzoli; and culminated in the stylish 60s sketches by Franz Marangolo, whose posters were more fashion illustration than advert. These images built up a style and philosophy around Campari, and they're still hugely evocative – you'll find some displayed in MOMA, while last year the art of Campari landed its own dedicated exhibition in London's Estorick Collection.
It's this inextricable link between Campari and Italian art – and, by extension, the daring, avant-garde lifestyle of the creatives drinking it – that has given the drink such distinctive, enduring charm.–
CAMPARI COCKTAILS
Of course, all this would be worth nothing without the taste to match. And while cocktails became sweeter in the 80s and 90s, if the gin and Aperol renaissances are anything to go by, we're hankering for something more complex, bitter and aromatic. Bartenders have long kept a bottle of Campari within easy reach behind the bar, and London's positively spoilt for bars serving great negronis – but the good news is that it's just as easy to put something together yourself…
–