The Best Exhibitions on Now | London Exhibitions Guide November 2023
London is full of exhibitionists.
In fact, we have some of the finest in the world.
And right now, they're doing what they do best: showcasing some utterly fascinating topics at the amazing array of museums and art galleries in London. Currently, you can see everything from dazzling cosmic photography; to the various near-death encounters of a 76-year old Serbian performance artist; a recreation of possibly the largest creature to ever walk the earth; a peek into infinity itself; and some otherworldly snaps by a legendary Japanese artist.
---
Of course, you can also see the permanent collections at most of these museums for free – take a look at our guide to the best museums in London, or for something a little different, the most unusual museums in London.
---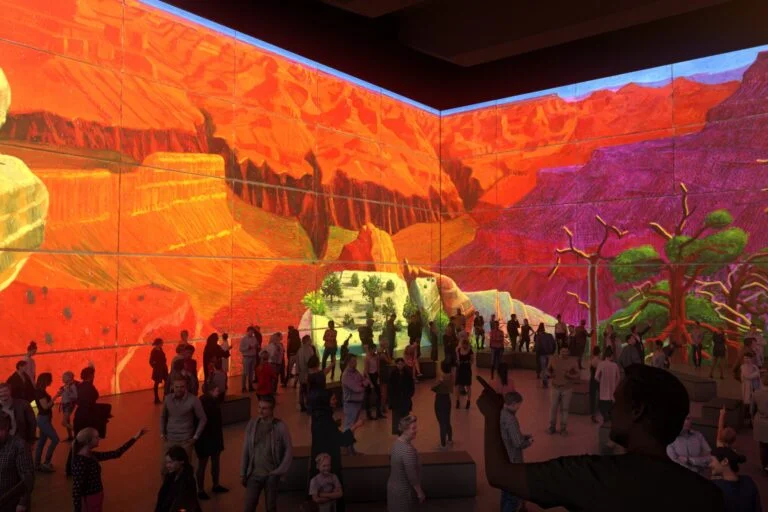 Hot tip! Invest in neck braces. Because people are craning their heads up at frankly unnatural angles in order to take in the entirety of David Hockney's illuminated, four storey tall exhibition. Call it immersive if it makes you happy, but the fact is that this thing is gigantic, and utterly envelops you in vibrantly hued artworks that were specifically designed to be seen like this…
Details: David Hockney: Bigger & Closer Not Smaller & Further Away is showing at The Lightroom in King's Cross until 3rd December. You can find out more, and get tickets at the website right here.
–
---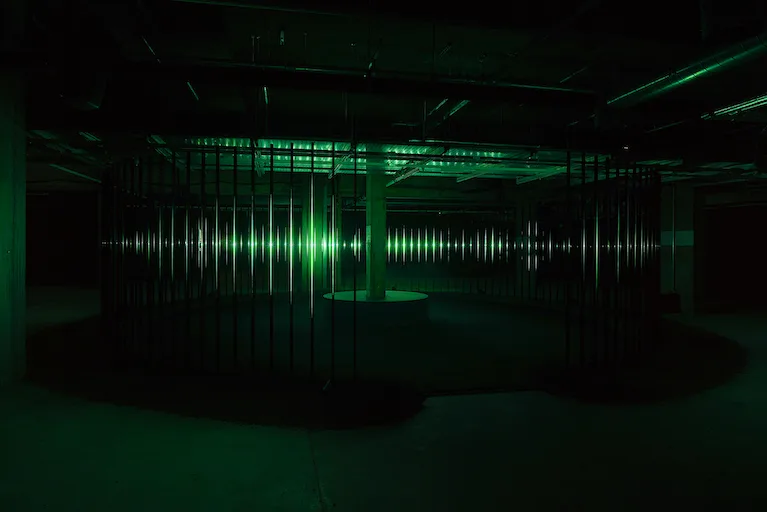 UVA (that's United Visual Artists to you and us) have been blowing minds with their trippy audiovisual installations for twenty years now, and for their anniversary show at 180, they've pulled out all the stops. Synchronicity is their largest show ever, and it's absolutely bonkers. You'll wander through a series of rooms containing bewildering light shows, ear-bending soundscapes, and intriguing digital artworks. You can get an idea of what to expect in our reel here…
Details: UVA – Synchronicity runs at 180 Strand until 30th December. Tickets cost £25 and can be booked HERE.
–

Gucci Cosmos | 180 Studios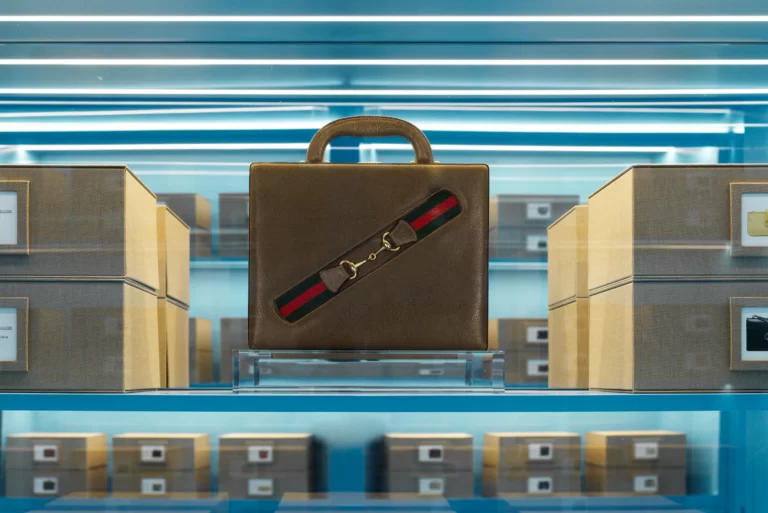 We're not saying designer fashion is the most important thing in the universe…but it is in this particular one. Gucci Cosmos showcases some of the most iconic designs from the Italian fashion house across its century-long history, filling the cavernous spaces of 180 Studios with extravagant set design and items flown over from the Gucci archives in Florence.
Details: Gucci Cosmos runs at 180 Strand until 31st December. Tickets cost £18 and can be booked HERE.
–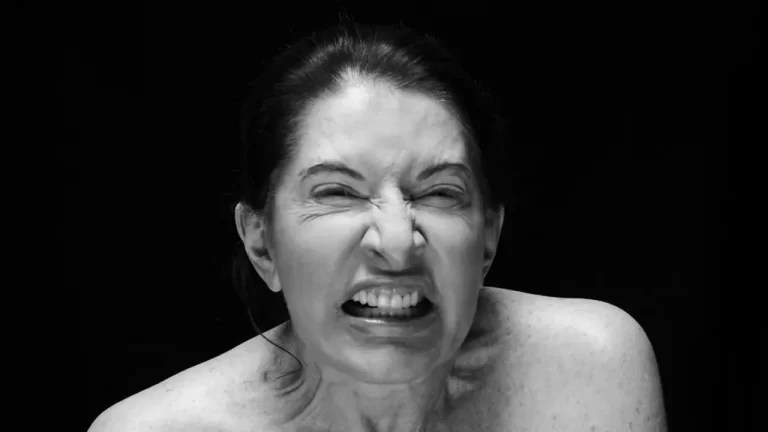 Marina Abramović needs no introduction. But if she did, it would probably read something like: "a 76-year old Serbian performance artist who's had a four-decade career in which she's lost consciousness while standing in a ring of fire, stood with a bow and arrow pointed square at her heart, and survived on nothing but water for 12 days." And after a few years of pandemic-induced delays, a hugely anticipated exhibition of her work has now opened at the Royal Academy.
You'll get to pore over photographs, videos and installations that document her 40+ year career, and experience some of Abramović's most famous pieces, recreated live by graduates of her performance art academy. And they're going to involve nudity, skeletons, pop up bars, and some entirely new & utterly bizarre pieces…
Details: Marina Abramović is at the Royal Academy until 1st January 2024. Tickets cost £25.50 and can be booked HERE.
–
Hiroshi Sugimoto: Time Machine | Hayward Gallery
By the end of this exhibition, you'll realise that Hiroshi Sugimoto is a man of many talents and interests: 17th century science, primeval history, architecture, sculpture, mathematics, and psychology. All this is channelled into a photography career spanning fifty years, one which darts between truth and artifice, reality and memory, past and present. He's a rare talent, and this exhibition – his largest major survey to date – is a varied beast that simultaneously serene and unsettling.
Details: Hiroshi Sugimoto: Time Machine runs at the Hayward Gallery until 7th January 2024. Tickets cost £18 and can be booked HERE.
–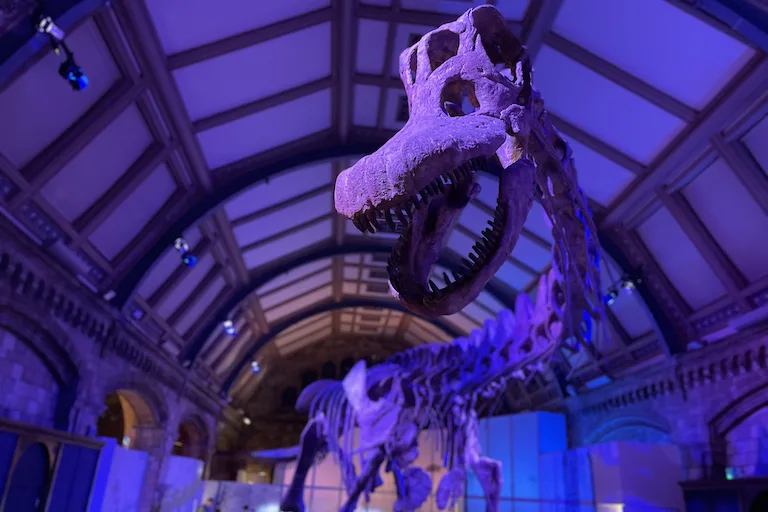 Just one of its legs weighed more than an elephant. It was longer than a blue whale. Its heart was the size of a cow. The Patagotitan was such an unfathomably large animal it almost defies belief. And the Natural History Museum have created a special exhibition all about it, putting a full-size model of one on display for the first time in Europe…
Details: Titanosaur is on at the Natural History Museum until 7th January 2024. Tickets cost £16, and you can book here.
–
As an art-form, you can always rely on photography to put things in perspective…
Tate Modern is well aware of this, and for its upcoming landmark exhibition this summer, World in Common: Contemporary African Photography, Britain's national modern art gallery is wading into the Photographers' Gallery's territory, zeroing in on the medium, specifically – as you may have already guessed from its title – African photography.
Details: A World in Common: Contemporary African Photography runs at Tate Modern until 14th January 2024. Tickets cost £17 and can be booked here.
–
Contemporary artists don't come much more provocative than Sarah Lucas. Her career spans over four decades, during which she's created edgy photographic prints, unsettling installations, and instantly recognisable sculptures that reconfigure the female body, and how it's represented. This retrospective brings together some of her most challenging pieces that, while brash and confrontational, reveal what it means to be human.
Details: Sarah Lucas: Happy Gas is at Tate Britain until 14th January 2024. Tickets cost £17, and can be booked here.
–
In a total 180º from the vast, all-encompassing digital exhibition of Hockney's work at The Lightroom, the newly revamped NPG's sophomore exhibition shows Hockney's art at its most intimate. Drawing From Life was staged for just 20 days before the pandemic cut it short, and it feels all the more joyful in a post-covid world: meet colourful figures from Celia Birtwell and Harry Styles to neighbours in Brittany and farmers on tractors, all vividly captured by Hockney's vibrant strokes.
Details: David Hockney: Drawing From Life runs at the National Portrait Gallery until 21st January 2024. Tickets cost £21, or £5 for U25s on weekends. You can book here.
–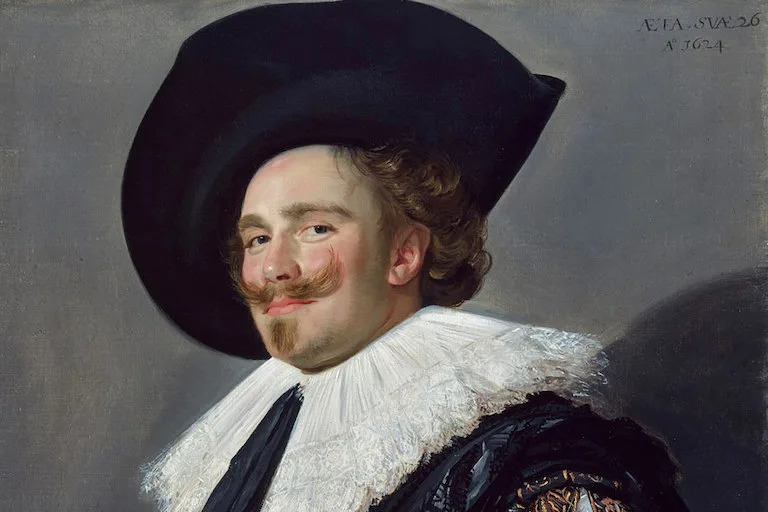 Frans Hals had a knack for capturing the essence of a moment and the personality of his subjects with unparalleled vivacity. While other portraitists might have aimed for a subdued, formal presentation, Hals' portraits are a celebration of life. His quick, loose brushstrokes lend an almost impromptu quality to his work, as if he's caught his subjects in the middle of a laugh or a conversation. In essence, Hals didn't just paint portraits; he painted people. And this show at the National Gallery will show off 50 of his finest works – including The Laughing Cavalier.
Details: Frans Hals runs at the National Gallery until 21st January 2024. Tickets cost £20, and you can book here.
–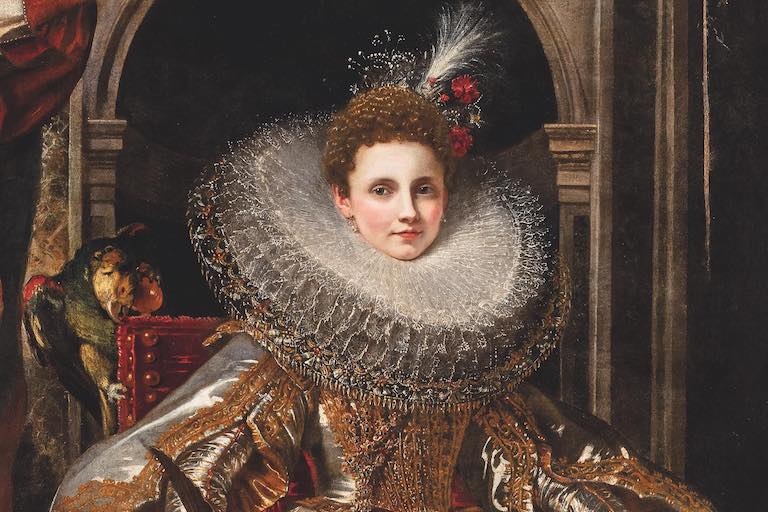 Peter Paul Rubens painted big, baroque canvases of beautiful light & shadow, filled with mythological characters and grand landscapes. At least, that's how most people think of him. What most people don't know is that he painted more pictures of his own wives and children than almost any other major artist. This exhibition brings together over 40 paintings and drawings from the artist's career, featuring women who – get this – weren't just Greek goddesses.
Details: Rubens and Women runs at Dulwich Picture Gallery until 28th January 2024. Tickets cost £15, and you can book here.
–
No artist has a more literal 'body of work' than Antony Gormley, whose storied career has seen him create unnerving statues everywhere from the side of the A1 to er, the sea at Crosby Beach. His latest exhibition sees hundreds of blocky bodies interacting with the galleries of the White Cube to explore the innate human tendencies both to seek refuge, and to roam.
Details: Antony Gormley: Body Politic runs at the White Cube Gallery Bermondsey until 28th January. It's free to visit; just turn up.
–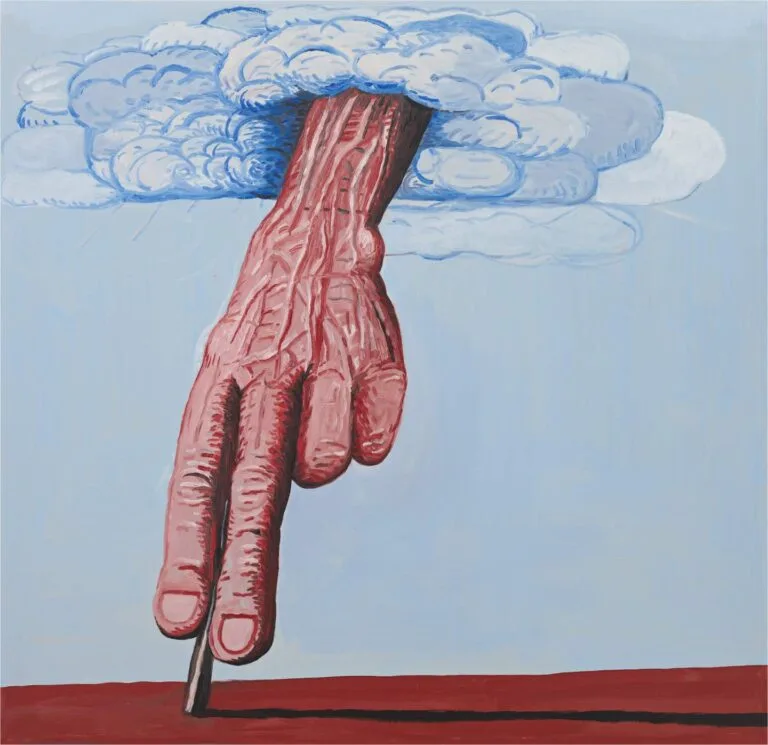 Noone paints like Guston. With a career spanning fifty years, his style shifted from 30s Dali-esque surrealism to large-scale politically-motivated murals and eventually bold, cartoon-styled paintings addressing racism in America. It's all striking, moving stuff, veering from the ridiculous to the tragic, and this is his first major retrospective in the UK for 20 years.
Details: Philip Guston runs at Tate Modern until 25th February 2024. Tickets cost £20 and can be booked here.
–
It may not have a snappy title, but there's plenty of excellent snaps in this annual photography competition, which returns to the NPG after three years. It showcases a diverse approach to portrait photography, from intimate black & white shots to candid snaps and inventively staged compositions, with everyone from amateurs to professionals giving it their best shot.
Details: Taylor Wessing Photo Portrait Prize runs at the National Portrait Gallery until 25th February 2024. Tickets cost £8.50-9.50, but U25s can get £5 tickets from Fri – Sun – you can book here.
–
It's almost odd that there hasn't been an exhibition about the life of Gabrielle 'Coco' Chanel at any major UK museum until now. But here we are, and here it (finally) is. This truly is the Little Black Dress of exhibitions, and it's sold out pretty much for its entire run already, but if you're a V&A Member, you can stroll right in like you own the place. So, worth considering.
Details: Gabrielle Chanel: Fashion Manifesto runs at the V&A until 25th February 2024. V&A Membership is £77, or £50 for under-26.
–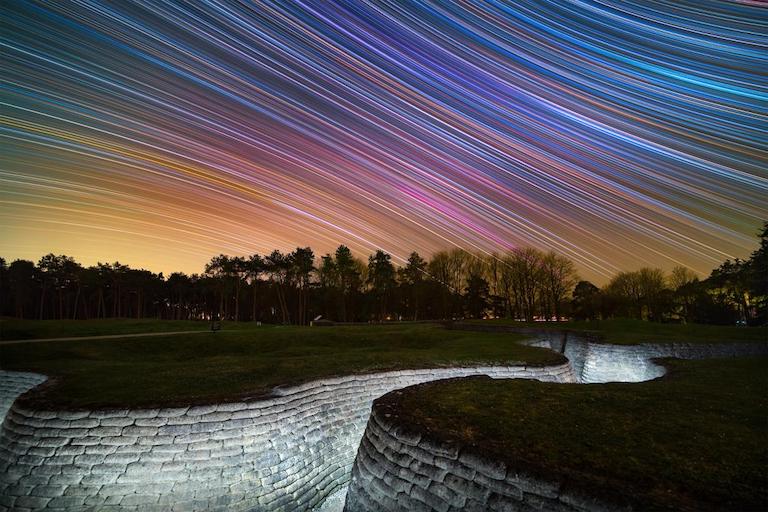 Depending on what kind of stars you like seeing photos of you should either buy a copy of Hello!, or go to the Astronomy Photographer of the Year exhibition at the Maritime Museum, where you can see shimmering constellations, vast galaxies, mesmerising eclipses, and feel a sense of genuine awe wash over you as you're confronted with the sheer vastness of the universe we live in.
We recommend the latter.
Details: Astronomy Photographer of the Year is on at the National Maritime Museum until 10th March 2024. Tickets cost £10, and you can book here.
–
Women have been revolting for centuries; that's nothing new. But in the 1970s, 80s and 90s, art became an increasingly important vessel for amplifying voices and fuelling movements for equal pay, reproductive rights and more. Tate Britain's new exhibition brings together the work of over 100 feminist artists, including a re-staging of Bobby Baker's famous installation comprising an entire family made out of biscuits and cake. And yes, you're encouraged to eat the art.
Details: Women in Revolt! runs at Tate Britain until 7th April 2024. Tickets cost £17, and can be booked here.
–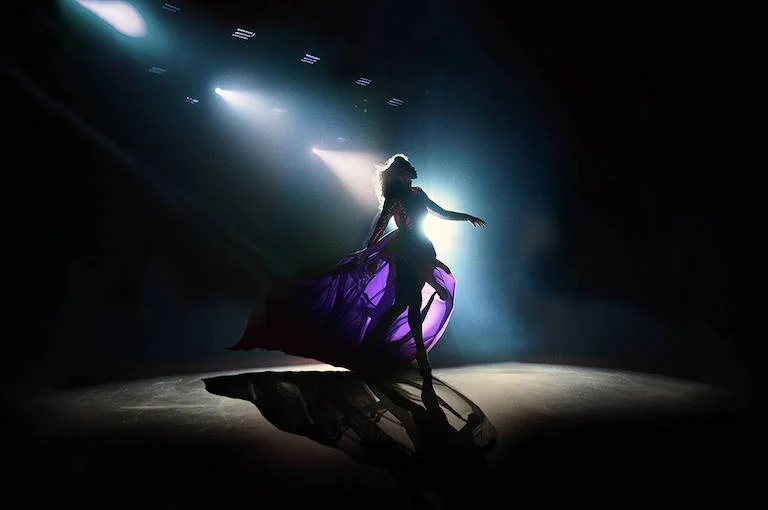 Naomi Campbell. Marilyn Monroe. Elton John. There have been a lot of first-class divas throughout history, and the V&A are here to explore just what it means to be one, and how the role has evolved throughout the ages. They're using costumes, artefacts, sketches, stories, and video to show off how a confident, larger-than-life attitude can be so utterly transformative both in real life, and in the cultural ether. You'll see everything from Josephine Baker's Jazz Age crystal bikini, to Tina Turner's 1977 Flame Dress, to a cinematic screening of Beyoncé's Formation video, and a lot more. And you'll love it, darling.
Details: Diva at the V&A is showing until 7th April 2024. Tickets cost £20 and you can get them here.
–
Fashion City | Museum of London Docklands
This beautifully staged exhibition at the Museum of London Docklands traces the history of Jewish fashion design in the 20th century, from the tailor's shops of the East End to the boutiques of Carnaby Street in the swinging 60s. There's glamour in the coat designed for Princess Diana by David Sassoon and the psychedelic styles of Mr Fish (who dressed the likes of Bowie and Hendrix), but you'll also hear about the thousands of seamstresses and makers who put together styles for high street shops like M&S and Moss Bros.
Details: Fashion City is showing at the Museum of London Docklands until 14th April 2024. Tickets cost £12+, and you can get them here.
–
The latest intelligence suggests that the Imperial War Museum have put together a free exhibition all about spies and their clandestine methods. You'll get to see hidden communications, as well as stories exposing the real people behind these undercover operations, the cool toys they used (like these matches that could be used to write secret messages), secret messages and info about the history of espionage itself.
Details: Spies, Lies and Deception runs at the Imperial War Museum until 14th April 2024. It's free to visit, just drop in.
–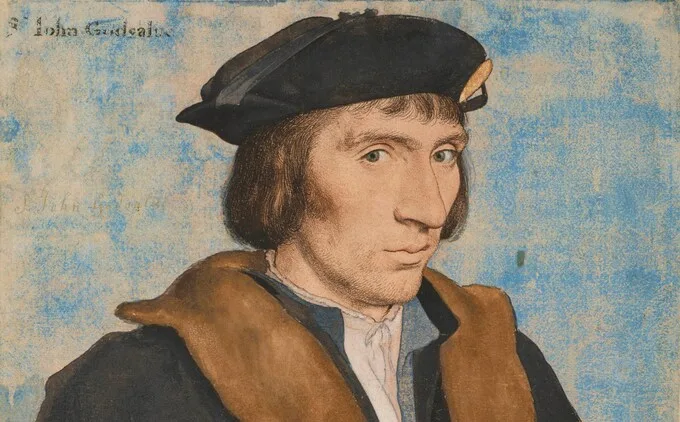 You might have clocked Holbein's stately royal portraits before in the National Gallery, but this exhibition offers a rare glimpse of the artist's spellbinding sketches. The artist started out in Basel painting religious scenes, but his arrival in England, armed only with a letter of recommendation from the philosopher Erasmus, sparked a career in portraiture which was to establish him as one of the most talented artists in Western history. And these timeless sketches cement that reputation – give the subjects a hair cut and a change of hat, and most of them feel like you could be sitting across from them on the tube…
Details: Holbein at the Tudor Court runs at The Queen's Gallery, Buckingham Palace, until 14th April. Tickets cost £19 and can be booked here.
–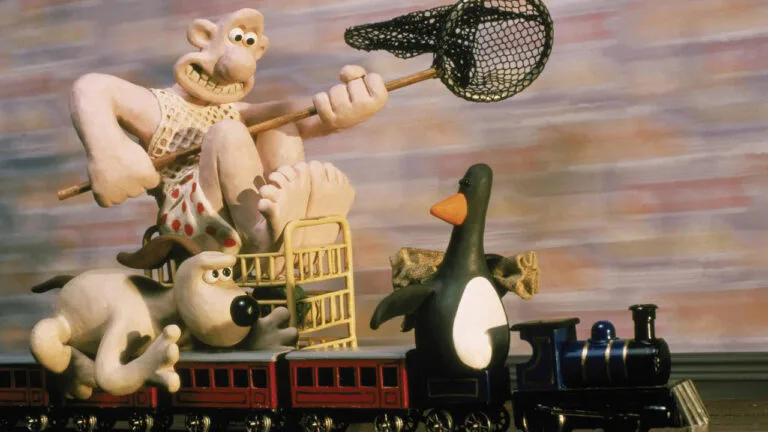 If you've never seen The Wrong Trousers, it's a classic tale of a man happily living on a diet of cheese with his highly intelligent dog, who is forced to unknowingly commit a diamond heist in a pair of robotic trousers by an evil penguin. It won an Oscar for Best Animated Short Film – and despite being only 30 minutes long, it took 13 months to make. That's because the entire film is painstakingly shot through stop-motion animation, the process for which you can learn all about in this comprehensive exhibition, combining storyboard artwork, props and models, and behind the scenes photographs showing how the whole thing was made.
Details: Wallace and Gromit: The Wrong Trousers Turns 30 is on at The Cartoon Museum until 16th April 2024. Tickets cost £9.50 – you can just turn up, or book ahead here.
–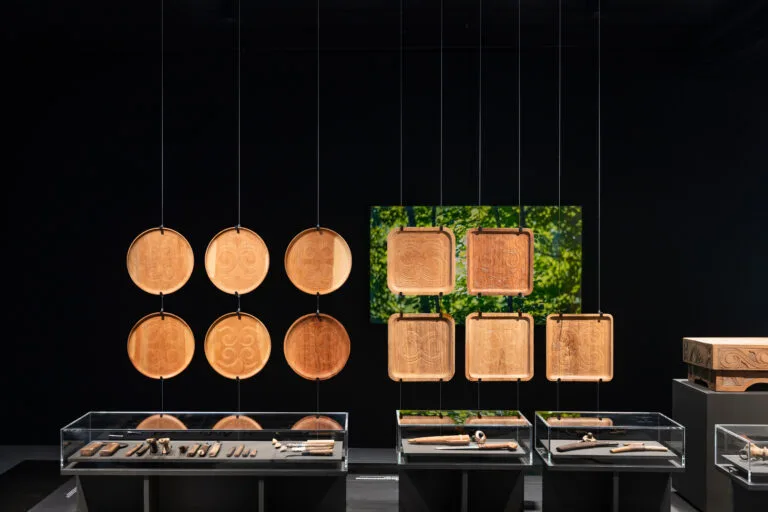 The Ainu people are an indigenous group in northern Japan, who have a distinct culture and (nearly extinct) language from the rest of the country. With a population of only about 30,000, it's one of the world's most endangered cultures – but in recent years there's been a resurgence among younger members of the community in reviving the language and Ainu crafts. Lots of this is on show in Japan House's latest exhibition, where you can see contemporary artwork, traditional crafts and unique items like a pair of shoes crafted from salmon skins – plus there's a whole programme of live performances, talks, cookery demos and more.
Details: Ainu Stories runs at Japan House until 21st April 2024, and it's free to visit.
–
They've tackled Milk, Sight, Air, and Joy, and now it's time for the Wellcome to tackle another big hitter: Beauty. This vast exhibition corrals over 200 objects to explore how ideals of beauty have evolved over the centuries, and the lengths people will go to to attain them. There are 4,000 year old cosmetics palettes from Ancient Egypt and grim footage of modern-day facelifts, and the exhibits are absolutely fascinating – though there's a definite subjectivity to the exhibition's narrative, and not a lot of digging into why we buy into these bizarre notions. But the show's proclaimed ambition is to provoke a dialogue, so bring a friend, discuss it afterwards… and hope it doesn't turn ugly.
Details: The Cult of Beauty runs at the Wellcome Collection until 28th April 2024. It's free to visit; find out more here.
–
Skateboard | The Design Museum
Since its first boom period in the 1950s, skateboarding has really kicked off. And to acknowledge this, The Design Museum's major exhibition, simply titled 'Skateboard', pays homage to how the boards – as objects of design – have grown out of their homemade-in-the-garage early days to high-tech performance models you get today, to keep the pace with what's become a multibillion dollar industry and now a legitimate, properly-recognised sport.
Details: Skateboard runs until 2nd June 2024 at the Design Museum. Tickets cost £16 and can be booked here.
–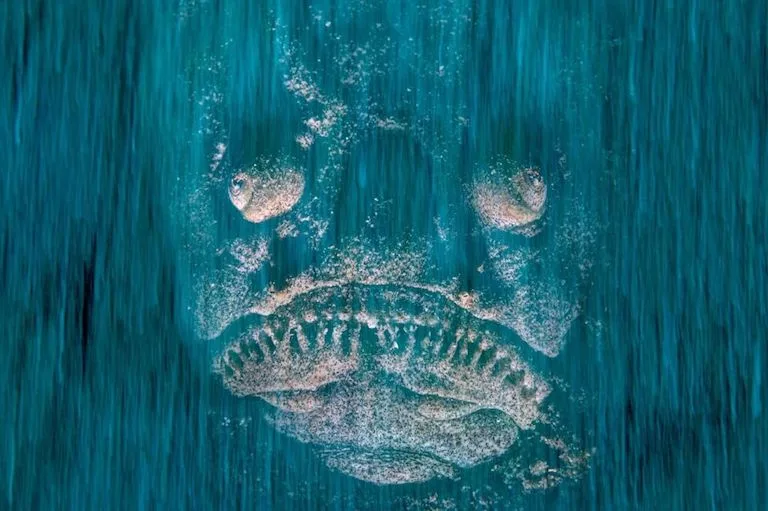 These guys shoot a lot of wild animals.
And the best of those shots are put onto the shortlist for The Wildlife Photographer of the Year at the Natural History Museum. Now in its 59th year (!), the judges have trawled through tens of thousands of entries from 100+ countries before landing on the winning images, which will be displayed on special lightboxes (alongside dozens of runner-up shots) throughout the Natural History Museum's gallery when the show opens this October.
Details: Wildlife Photographer of the Year runs until 30th June 2024 at the Natural History Museum. Tickets cost £15 and can be booked here.
–
Japan: Myths to Manga has set itself the fairly ambitious brief of exploring the influence of Japanese spiritual beliefs, traditions and folk stories on contemporary culture. And to do it, the team have brought together over 150 objects from the 15th century right up to the modern day. Being the Young V&A, the show's mainly targeted at families – but with cult references like Studio Ghibli films, Tamagotchi, and the globally renowned artwork of Hokusai, there's going to be more than enough for adults to pore over too…
Details: Japan: Myths to Manga runs at the the Young V&A until 8th September 2024. Tickets cost £10, and can be booked here.
---
Like culture? Like being indoors? Check out our guide to London's best cinemas.