There are a lot of excellent exhibitions on in London right now.
But this one might just eclipse them all.
The Moonwalkers opens this December, promising to transport you to the surface of the moon itself. And what makes it such a big deal, you ask? Well, that's down to two things:
1) THE VENUE
The Moonwalkers will be touching down at Lightroom in King's Cross; a four storey-high, state-of-the-art gallery space where every surface is a screen. This will be the second exhibition to go on show here after the critically acclaimed David Hockney: Bigger & Closer. For The Moonwalkers, they'll be drenching the walls, floor and ceiling in jaw-dropping visuals, from NASA rocket launch footage to 360º panoramic vistas that'll make you feel as though you're actually standing on the moon. Also –
2) THE NARRATOR
…who is Tom Hanks.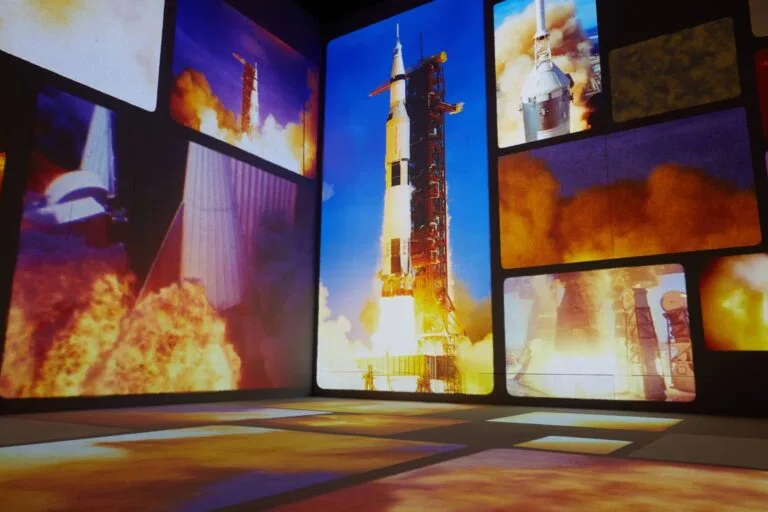 He'll be guiding you through the history – and the future – of lunar landings, including the famous Apollo missions of 1969 when Neil Armstrong took one small step for man (and then a couple more normal-sized ones), and interviews with the crew of the Artemis missions – who'll be the first humans to set foot on the moon since 1972 when they make the trip in 2025.
It sounds like it'll be quite similar to the BBC Earth Experience, in that it's essentially an immersive documentary. Hanks himself has co-written the script, along with Christopher Riley – a BAFTA-nominated director who's created programmes on space for the BBC and Netflix. Plus, it'll all be soundtracked by an epic original score from HIJACK composer Anne Nikitin. So ironically…
…it sounds like there'll be a lot of atmosphere.
NOTE: The Moonwalkers runs from 6th December 2023 – 21st April 2024 at Lightroom in Kings Cross. Tickets are on sale now (from £25) and you can get them right HERE.
The Moonwalkers | Lightroom, 12 Lewis Cubitt Square, N1C 4DY
---
Love art? Have a look at what's on at the best art galleries in London right now…