The Natural History Museum | London's Vast Repository of Animals & Plants
The dinosaurs must have wondered why that strange bright spot in the sky kept getting bigger.
And then it hit them.
Thankfully though, 65 million years later, their fossilized skeletons were dug up and put on display at the Natural History Museum – alongside more than 80 million other animal, plant and mineral specimens.
And one giant whale.
Housed in a vast, architecturally magnificent Gothic building next to the V&A and the Science Museum, the Natural History Museum is one of London's undisputed cultural gems – and not just because it contains actual gems. It's also home to the largest animal that's ever existed on Earth; a huge research centre; a wildlife garden; half a dozen temporary exhibitions every year; late-night, cocktail-fuelled openings; and dinosaur sleepovers.
So behold, your ultimate guide to London's Natural History Museum…
---
JUMP TO: WHAT TO SEE | NHM LATES | WHAT'S ON | VISITING THE NHM
---
ABOUT THE NATURAL HISTORY MUSEUM
Of course you're interested in the history of this museum.
It's only natural.
It all goes back to the 18th century, when gentlemen scientists and travelling naturalists attempted to make sense of the world around them by gathering, classifying, and ordering nature. Collecting became a serious trend amongst the wealthy, who would display exotic creatures, artefacts and curiosities from far-flung places in meticulously curated cabinets in their homes (a kind of Georgian instagram, if you will).
One of London's most prodigious collectors was Hans Sloane, a physician, botanist and explorer who bequeathed his own modest personal collection of 71,000 items to the state, which led to the foundation of the British Museum. A century later, and the collection had grown so much, the natural history elements – stuffed animals, jars of worms, shells, rocks, fossils and the like – were getting stuffed into drawers and basements as the BM strained to accommodate everything. The head of the collection, Richard Owen (who, coincidentally, coined the term 'dinosaur'), had the wild idea to move it all to a dedicated, purpose-built museum, a 'Cathedral to nature'.
And so, after 15 years of building, two architects, and 100 days of moving the collection across London by horse and cart, the South Kensington branch of the British Museum opened its doors in 1881. In fact, the two museums were joined until the 60s, with the Natural History Museum only becoming its official title in 1992.
Here's what you can find inside it.
WHAT TO SEE
The building itself is a work of art. The grandiose, stone-clad, light-flooded Hintze Hall boasts a vaulted ceiling panelled with 162 hand-painted botanical illustrations, while carved stone monkeys clamber up pillars and cloistered recesses house some of the museum's prize objects, including a mastodon skeleton; a slice of a 101 metre tall Victorian tree; and an asteroid as old as the solar system. Of course, the fairly unmissable centrepiece is the titanic skeletal framework of a blue whale, suspended overhead and measuring over 25m long. It's the largest animal that has ever been known to exist on Earth, something you can get your head around with one of the following facts:
1) You could swim through its veins, and
2) Its tongue is as heavy as an elephant.
You're welcome.
Spinning off the main hall is the Natural History Museum's permanent collection, which is totally free to explore. Divided into three main areas, covering dinosaurs; humans, nature and evolution; and the early life of the Earth, it counts amongst its treasures a full-size animatronic T. rex (currently sporting a Christmas jumper); an earthquake simulator in a 90's Japanese convenience store; lightning frozen in sand; moon rocks; sea cows; and an early horse that was the size of a dog.
MUSEUM LATES
When the Natural History Museum first opened, the galleries were gas-lit and open till late, so that people working in the day could come and admire its exhibits in the evening. Carrying on this noble tradition, the museum opens its rather impressive arched doors after hours on the last Friday of every month for you to enjoy the exhibits in the best possible way – with a drink in your hand. 
Natural History Museum Lates allow you to grab a cocktail from one of the bars and wander the terracotta halls perusing exotic animal, plant, and insect specimens. Or if you'd prefer, pull up a seat and relax with a pale ale and a bite to eat next to a 70ft dinosaur.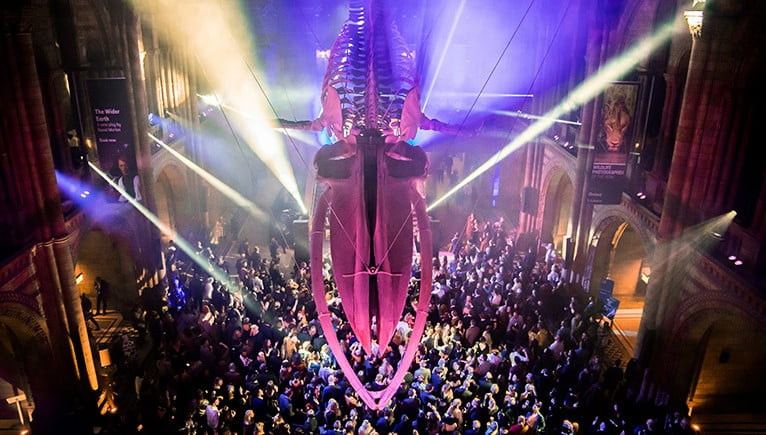 On the off-chance that food, booze, ornate architecture, and more natural history than you can shake a petrified stick at can't keep you entertained, however, don't worry: there's more…. like night tours through the spirit gallery (a huge, glass library of deep sea creatures, arthropods and worms preserved in jars); a mass silent disco held underneath the blue whale skeleton; live music; pop-up science stations; special exhibitions and interactive displays to educate and amuse whilst you enjoy a chilled glass or two of wine.
Other late night events include movie screenings after dark; murder mystery nights combining immersive action with forensic detective work; yoga mornings and gong baths; and sleepovers with the dinosaurs – which, like all good sleepovers, also involve a three-course dinner, gin classes, insect tastings, all-night movie marathons, stand-up and a 'live animal workshop'. SEE WHAT'S ON
WHAT'S ON AT THE NATURAL HISTORY MUSEUM
Wildlife Photographer of the Year | Until 30th June 2024 | £15+
Nature is indeed metal and as is the custom each year, nearly 40,000 photographers – both amateur and professional – handed their National Geographic attempts over to a professional panel of judges in hope of being crowned Wildlife Photographer of the Year. This exhibition cuts it down to the final 100 photos and this year's champion (of the 59th edition) is second-time winner Laurent Ballesta, who captured a giant horseshoe crab – one of the natural world's most bizarre-looking animals that's barely changed for over 100 million years.
–
Titanosaur: Life as the Biggest Dinosaur | Until 14th January 2024 | £16+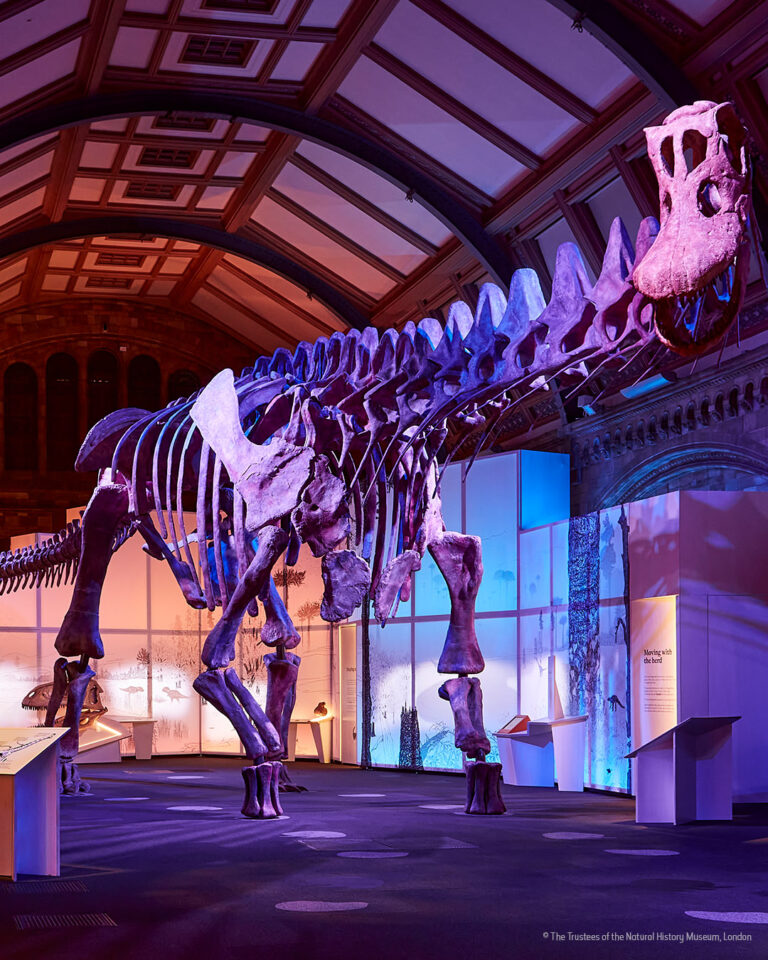 For the first time in Europe, a model of the biggest known dinosaur, Patagotitan mayorum, is going on display. And it seriously deserves the name Titanosaur: just its heart was the size of a cow. And this interactive exhibition surrounds the jaw-dropping main attraction with the dino's full life story, including the opportunity to er, smell its poo.
VISITING THE NATURAL HISTORY MUSEUM
The Museum is open daily, all year round (except 24th-26th December), from 10am-5.30pm, and is free to visit – though their temporary exhibitions do have an entrance fee. It's best accessed by public transport (nearest tube station South Kensington), with the main entrance on Cromwell Road. There's a cloakroom charged by item type, and an on-site café, but if you're making a day of it, you're a stone's throw from many of the best restaurants in South Kensington –  and the boozy, science-themed afternoon tea at The Ampersand Hotel.
No beer goggles required.
The Natural History Museum | Cromwell Road, SW7 5BD
---
Want to keep broadening your mind? Tick off this bucket list of London's best museums