Imagine a Venn-style diagram representing Ferris wheels, psychedelic pop ups, voguing, cocktails, and opulent 18th century neoclassical courtyards.
The teeny tiny area where they all somehow overlap is This Bright Land.
It's a month-long, colourfully psychedelic festival based at Somerset House for the whole of August. It's mostly free to enter, open to all, and it's all centred around a huge pop-up Ferris wheel. They're planning on packing rather a lot of stuff in, ranging from street parties to voguing nights, but let's start with the permanent stuff:
The Ferris wheel looms 35m high, which isn't massive in terms of Ferris wheels, but it is in terms of pop up things. And for reference, the highest point at Somerset House is around 20m tall, so you can take in quite a nice view in every direction from the top. And it's not just a treat for the eyes, either – each gondola has its own "uplifting audio experience" in which you get to hear the voices & stories of "Londoners from all walks of life".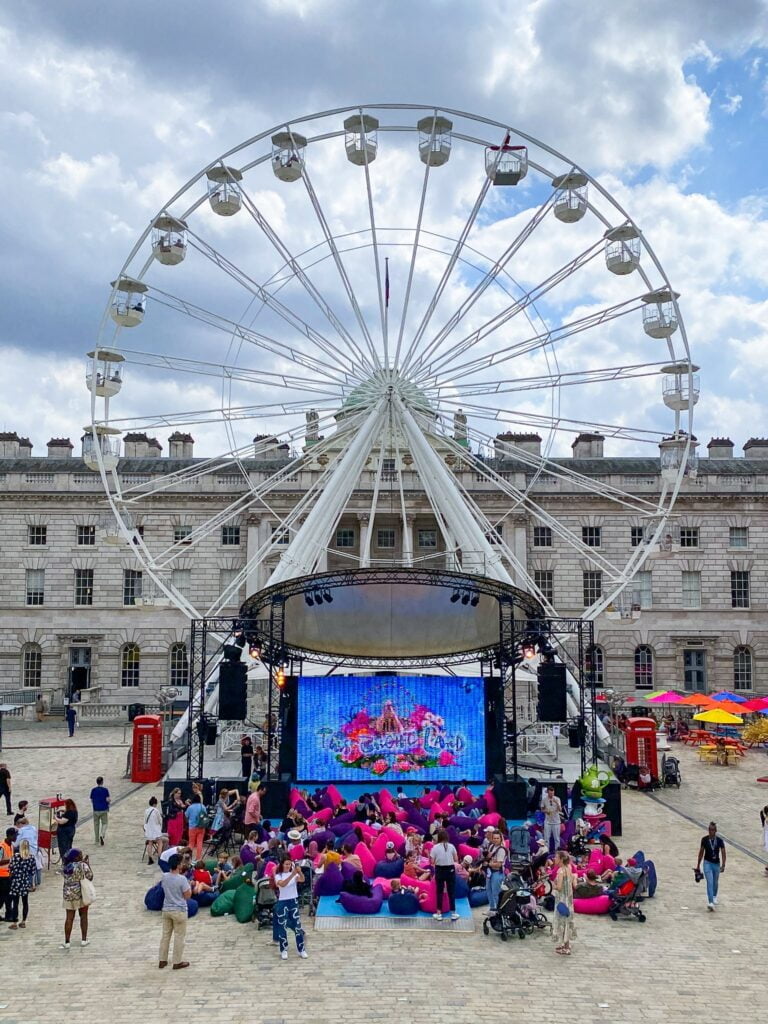 Then there are the installations, which include the vibrantly colourful Wonder Garden which is stuffed with "floral pathways and unique breakout spaces". And there's the Clubhouse, which is apparently a "futuristic space" armed with its own "active beauty stations where visitors can enjoy free make-up services". So, make of those what you will.
And there are the events – which includes free film screenings with Everyman every day at 1pm. Each Friday is going to be the home of performance nights, with a very diverse lineup of DJs, dancers, and artists pencilled in to pull the crowds. Saturday nights are reserved for those open-air vogue balls, as hosted by Vogue Rites – apparently the finale on August 27th will be "the largest open-air Vogue Ball in UK history". And finally, Sundays are set aside for day-to-night street parties, loaded with live art, games, workshops, treasure hunts, and more.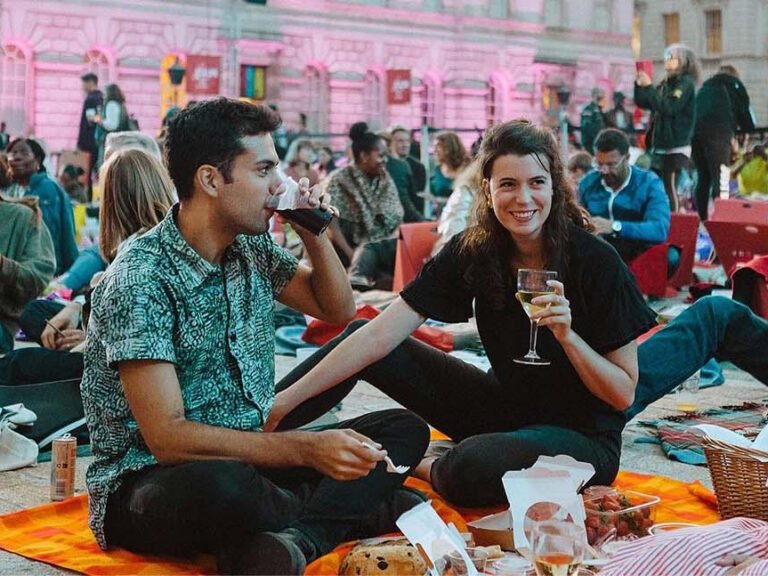 Finally, the literal cherry on top of all of this is the food & drink. The former is provided by Black Eats LDN, who champion culinary delights from independent Black-owned businesses across London, meaning that you'll find sustenance from East African, West African, Caribbean, American, South American cuisine, and much more. And the latter? Your thirst will be ably slaked by the Bombay Sapphire pop up bar serving up classic cocktails and gin-loaded citron pressés.
If you could do with some lemon-aid.
NOTE: This Bright Land runs 1st-29th August 2022 in Somerset House. Entry is free (although parties cost up to £22.50) and are likely to sell out fast, so snap up tickets and check what's on right here.
Somerset House | Strand, London WC2R 1LA
---
Culture vulture? Check out the best exhibitions on in London right now