100 Things To Do in Berlin
Last Updated: 17th May 2019
If you're only going to do one thing while you're in Berlin…
…make sure it's this list of 100 things.
Because while yes it's important to crash a karaoke showdown in the middle of a park or spend a day on an actual island of museums, you probably also don't want to miss taking a naked techno-bath or exploring Berlin's secret underground passages. And so from the important historical landmarks to the cutting edge of the city's art scene, we've tirelessly collected all the best things to do in Berlin, whether you're there for a day or a month.
Buckle up…
–
1. TAKE A STREET ART TOUR WITH SOME LOCAL ARTISTS
Mitte | €€
Then create your own graffiti in their abandoned factory complex. VIEW MORE INFO
–
2. HAVE BREAKFAST ON THE REICHSTAG'S ROOF TERRACE
Mitte | €€€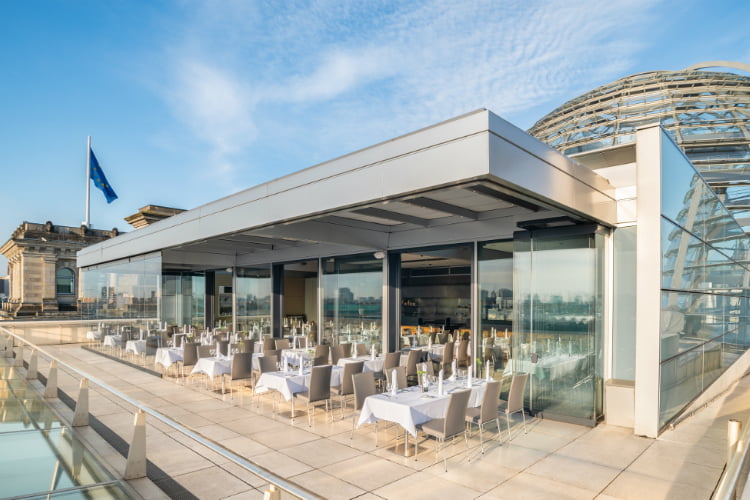 And walk around the Norman Foster-designed glass dome afterwards. VIEW MORE INFO
–
3. TAKE A STROLL ALONG THE EAST SIDE GALLERY
Friedrichshain-Kreuzberg | Free

AKA the longest surviving piece of wall. VIEW MORE INFO
–
4. VISIT THE HOLOCAUST MEMORIAL
Mitte | Free
Sobering and important. VIEW MORE INFO
–
5. SPEND A DAY ON MUSEUM ISLAND
Mitte | €€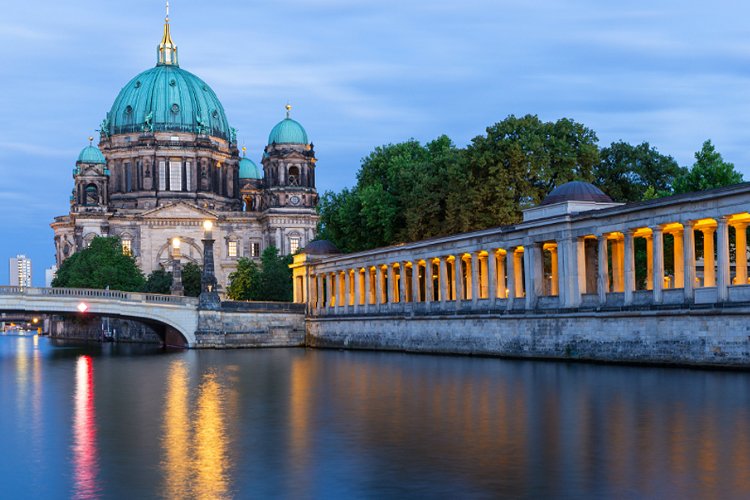 Or just admire it from afar on a river cruise. VIEW MORE INFO
–
6. BROWSE THE CANALSIDE TURKISH MARKETS
Neukölln | €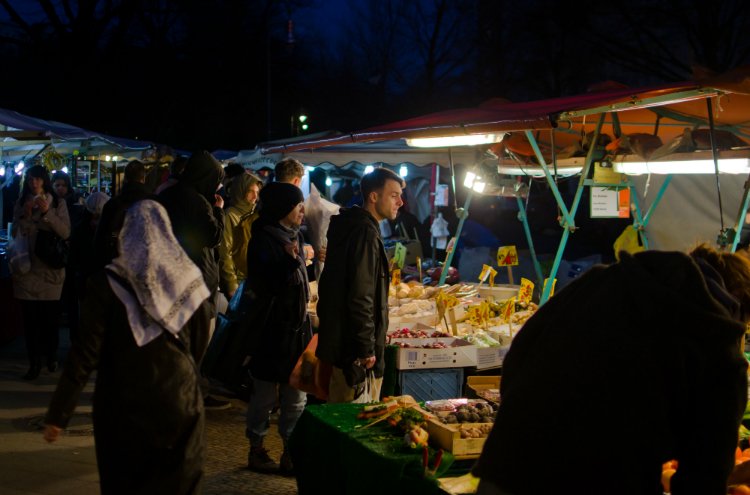 Treat yourself to some afternoon Delight. VIEW MORE INFO
–
7. SMASH YOUR DEBUT AT BEARPIT KARAOKE IN MAUERPARK
Prenzlauer Berg | Free
Yep, singing to an amphitheatre of cheery strangers in a park. VIEW MORE INFO
–
8. FLOAT NAKED IN A TECHNO-FILLED SALT BATH
Kreuzberg | €€€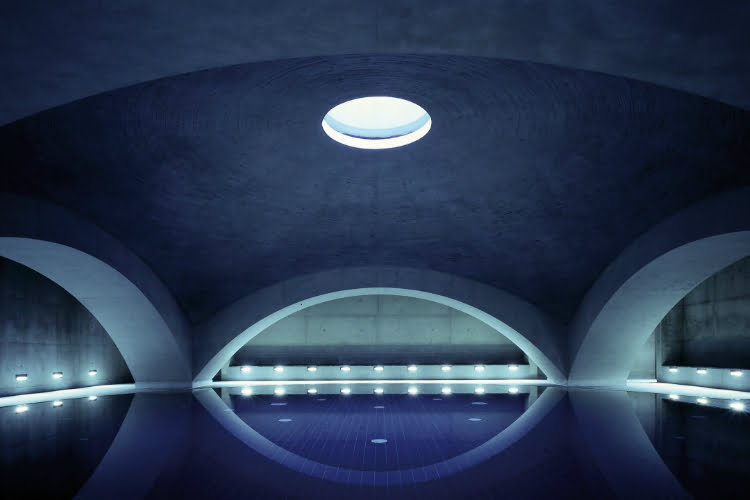 The music's designed to be heard underwater. VIEW MORE INFO
–
9. DINE IN A FADING 19th CENTURY MIRRORED SALON
Mitte | €€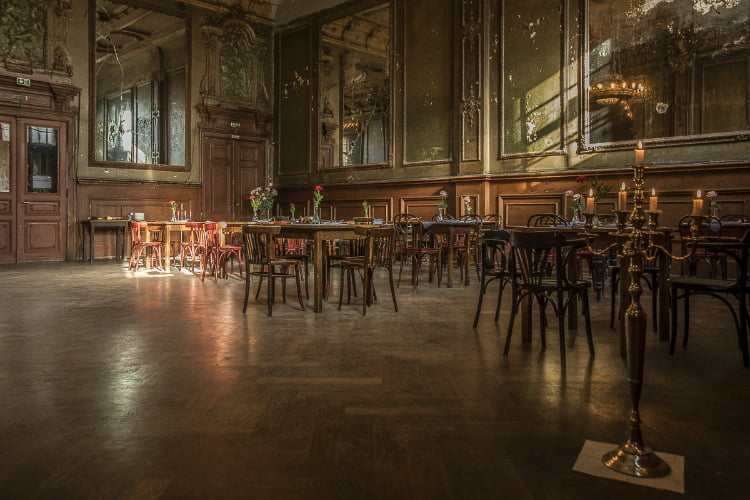 Wills and Kate visited. They're very proud. VIEW MORE INFO
–
10. …THEN TAKE DANCE CLASSES IN THE RETRO BALLROOM DOWNSTAIRS
Mitte | €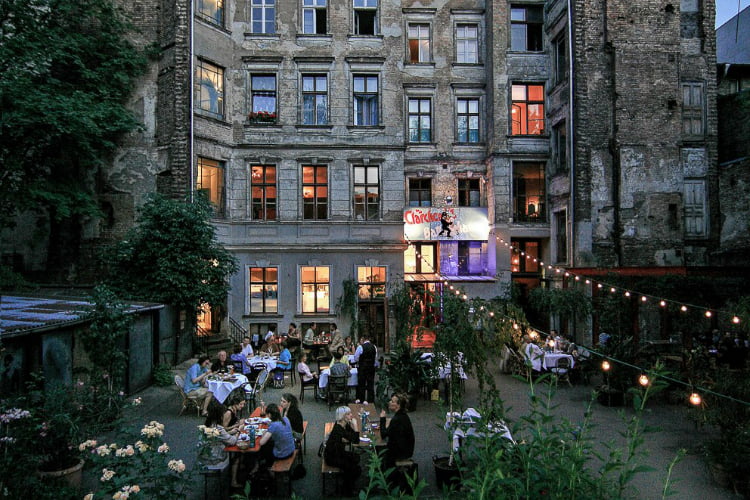 It's like stumbling on a 70s school disco, with an al fresco bar outside. VIEW MORE INFO
–
11. FIND OUT HOW THE STASI MONITORED EVERYONE
Lichtenberg | €
The Museum even offer checks to see if they held a file on you. VIEW MORE INFO
–
12. …THEN LEARN HOW PEOPLE ESCAPED FROM THEM ON AN UNDERGROUND TOUR OF BERLIN
Gesundbrunnen | €€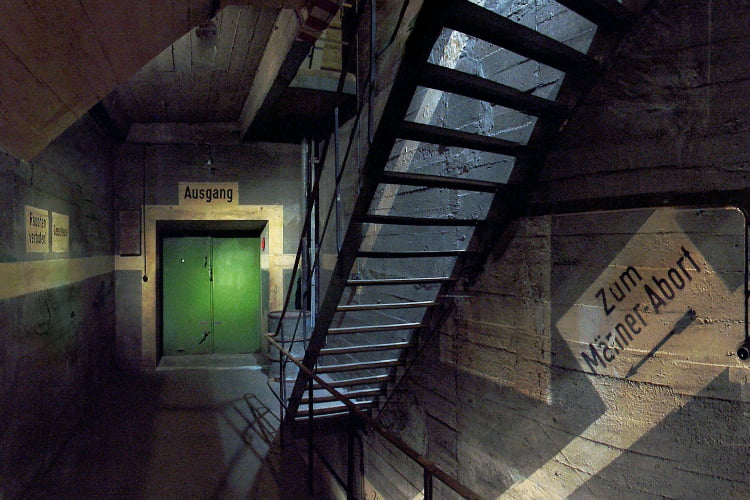 Berliner Unterwelt run tours around former smuggling tunnel networks, as well as bunkers, abandoned subway stations, and underground hospitals. VIEW MORE INFO
–
13. EXPLORE AN ABANDONED SPY STATION SURROUNDED BY WILD BOAR
Charlottenburg | €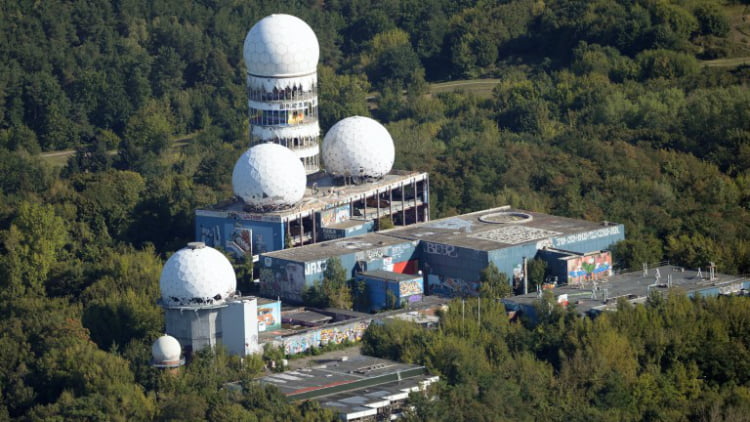 You'll recognise it by its totally undercover, inconspicuous design. VIEW MORE INFO
–
14. SIT IN AN ACTUAL IVORY TOWER ON A WILD PEACOCK-INHABITED ISLAND
Wannsee | €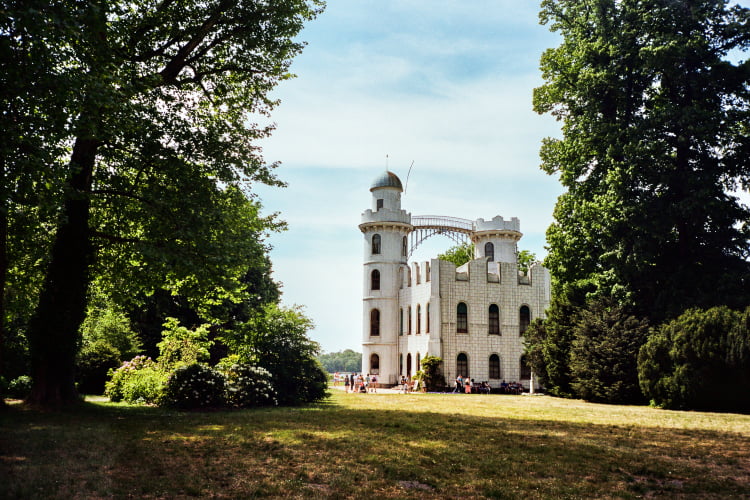 Take the vintage buses on route 218 to get there. VIEW MORE INFO
–
15. TAKE A DIP IN THE BADESCHIFF
Treptow | €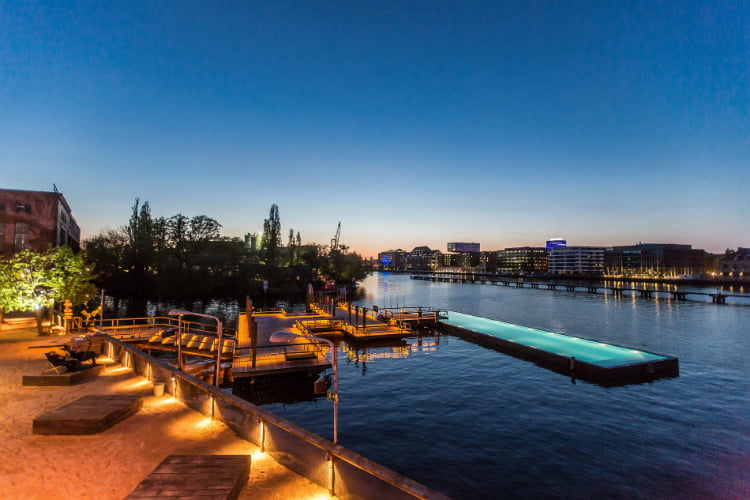 Why swim in a river, when you can swim in a swimming pool in the river? VIEW MORE INFO
–
16. GET YOURSELF SOME BERLIN THREADS AT THE NOWKOELLN FLEA MARKET
Neukölln | €
Or just stock up on dozens of antique trinkets. VIEW MORE INFO
–
17. TAKE A STEAMBOAT CRUISE ALONG THE TEGELER SEE
Reinickendorf | €
And visit Berlin's oldest tree, Fat Marie, on the other side. VIEW MORE INFO
–
18. PLAY ARTIST-DESIGNED CRAZY GOLF ON A FORMER AIRPORT STRIP
Tempelhof | €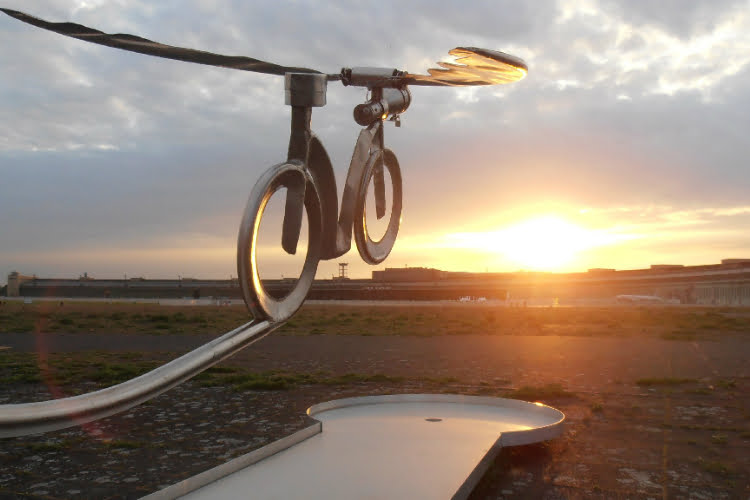 Or bring a BBQ. Or fly a kite. Or go land-windsurfing down the runways. VIEW MORE INFO
–
19. WALK ROUND THE BRUSHMAKER'S WORKSHOP THAT SAVED THE LIVES OF BLIND JEWS
Mitte | Free
He said he couldn't work without them since all the machines were custom-made for blind operators. VIEW MORE INFO
–
20. SWAP SOME LITERATURE AT THE BUCHERWALD
Prenzlauer Berg | Free
It's a book shelf hidden in a tree at the Kolwitzstraße junction.
–

21. EAT BURGERS IN A FORMER TRAIN STATION TOILET
Kreuzberg | €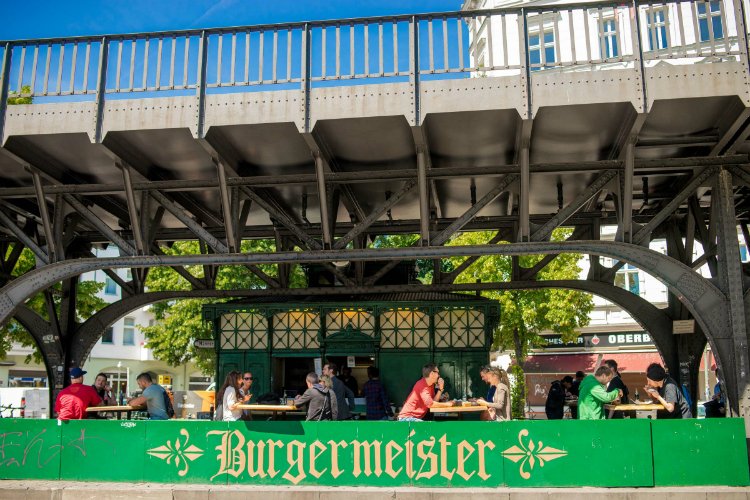 It sounds wrong, but just watch the video on their website and tell us you're not dribbling a bit. VIEW MORE INFO
–
22. TRY EVERY POSSIBLE TACTIC TO GET PAST THE DOORMAN AT BERGHAIN
Friedrichshain-Kreuzberg | €€
Current theories are that the head bouncer is "seeking inspiration from the nocturnal atmosphere" (his agent) or "just being a dick" (everyone else). VIEW MORE INFO
–
23. DON'T SNEAK INTO SPREEPARK
Treptow-Köpenick | Free, because you're not going.
Yes, it's an abandoned theme park. Yes, people recommend you break in. And yes, they now leave crazed, unattended guard dogs in there to maul anyone who does. VIEW MORE INFO
–
24. …BUT DO WATCH A DOCUMENTARY ABOUT IT
All Over Berlin | €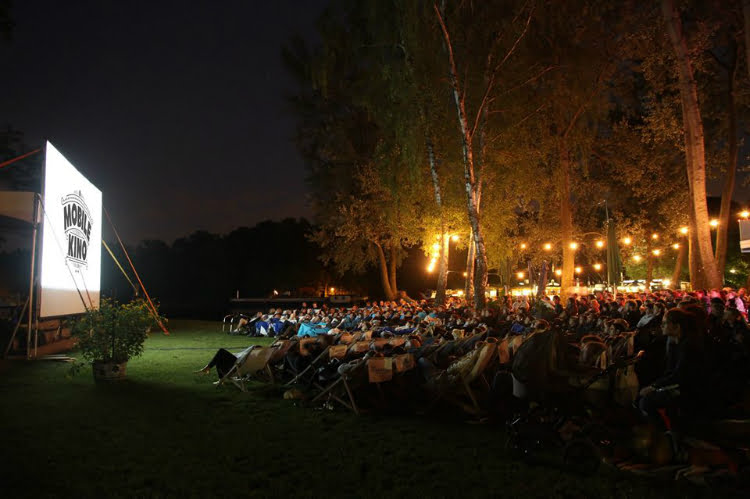 Or an arthouse film, or Monty Python and the Holy Grail, at this mobile cinema that pops up in places like former GDR holiday camps… VIEW MORE INFO
–
25. TRY NOT TO LOSE YOUR SH*T IN THE MONSTERKABINETT
Scheunenviertel | €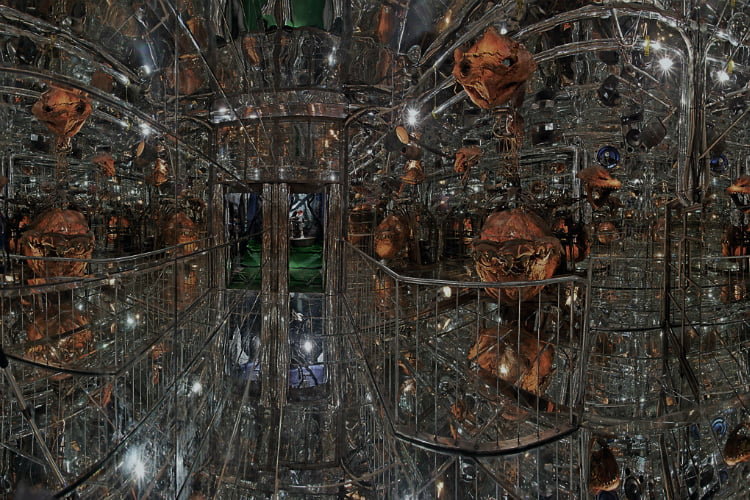 It's basically a haunted artist squat filled with terrifying robots and even more terrifying actors. VIEW MORE INFO
–
26. BRAVE SOME URBAN EXPLORATION
This particular abandoned hospital was left derelict when they sold it to an investor who claimed to cure AIDS with radio waves… VIEW MORE INFO
–
27. VISIT BERLIN'S OLDEST BEER GARDEN
Prenzlauer Berg | €
Then catch something at their open air theatre after. VIEW MORE INFO
–
28. SEE A FREE PIANO CONCERT IN A BOHEMIAN GARAGE
Wedding | Donations Encouraged
It's like a much classier version of the gigs you used to do in your friend's garage as a teenager. VIEW MORE INFO
–
29. HAVE A COCKTAIL AS THE SUN SETS AT KLUNKERKRANICH
Neukölln | €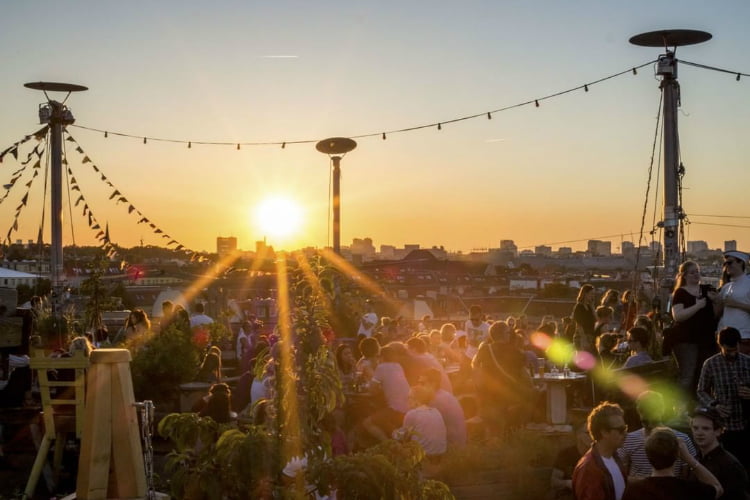 It's the Frank's of Berlin. VIEW MORE INFO
–
30. TAKE A DAY TRIP TO A TROPICAL ISLAND. IN AN AIRCRAFT HANGAR.
Krausnick | €€€€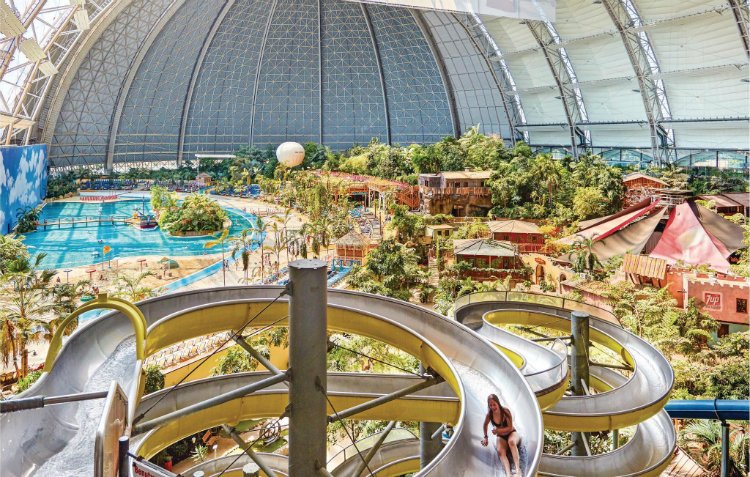 60km from Berlin is a giant, Truman Show-esque tropical bubble, where you can get a real suntan, camp in tents on the fake beach by the fake sea, take a hot air balloon ride (yes, INSIDE) and stroll through a rainforest and mangrove swamp, complete with wild flamingoes. VIEW MORE INFO
–
31. VISIT A MUSEUM DEDICATED TO CURRYWURST
Mitte | €€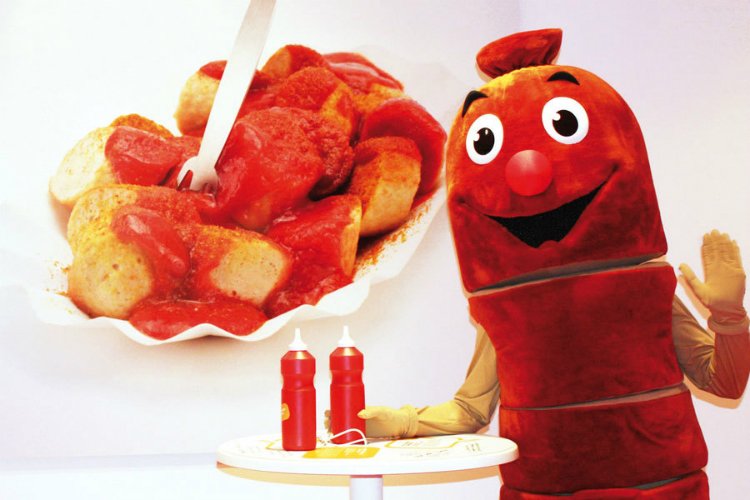 Feat. "A spice chamber with sniffing stations, a sausage sofa to relax, and audio stations in ketchup-bottle shape with iconic songs about the Currywurst". VIEW MORE INFO
–
32. …THEN EAT SOME AT CURRY 36
Kreuzberg | €
You can order it "with or without bowel"… VIEW MORE INFO
–
33. GO CLUBBING OUTDOORS
Kreuzberg | €
Ipse has fancy chandeliers hanging from trees. VIEW MORE INFO
–
34. WATCH A SILENT FILM AT MIDNIGHT IN A PRESERVED CINEMA
Mitte | Free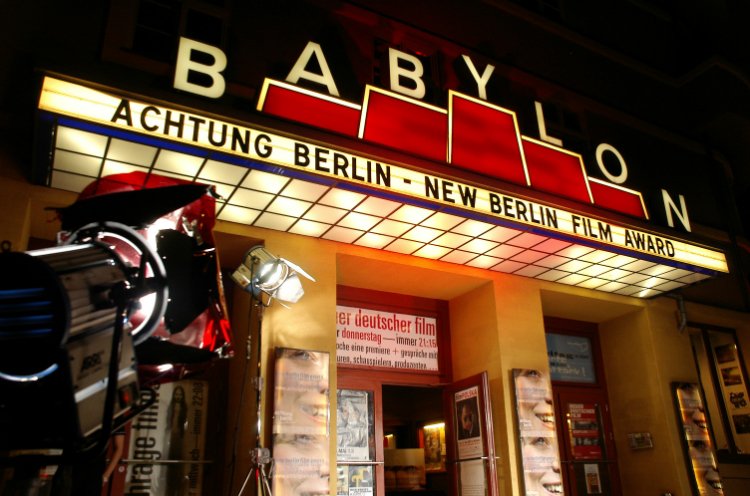 They're accompanied by improvised soundtracks on the original organ, which includes sound effects like car horns and telephones. VIEW MORE INFO
–
35. LEARN TO TANGO ON AN URBAN BEACH
Mitte | € | Spring & Summer only
Then bust out your own moves when the DJs come on later. VIEW MORE INFO
–
36. GO SWIMMING IN GRAND BUDAPEST HOTEL-STYLE BATHS
Charlottenburg | €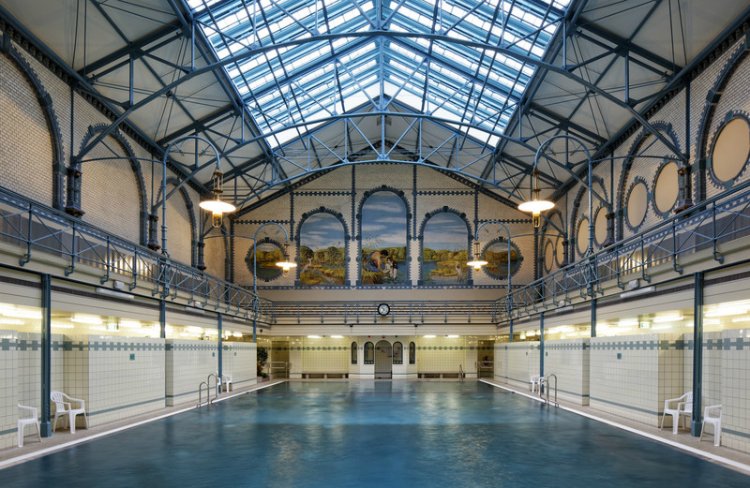 These ones are the oldest preserved baths in the city. VIEW MORE INFO
–
37. SEE HOW BERLIN DOES DINERAMA AT STREET FOOD THURSDAYS
Kreuzberg | €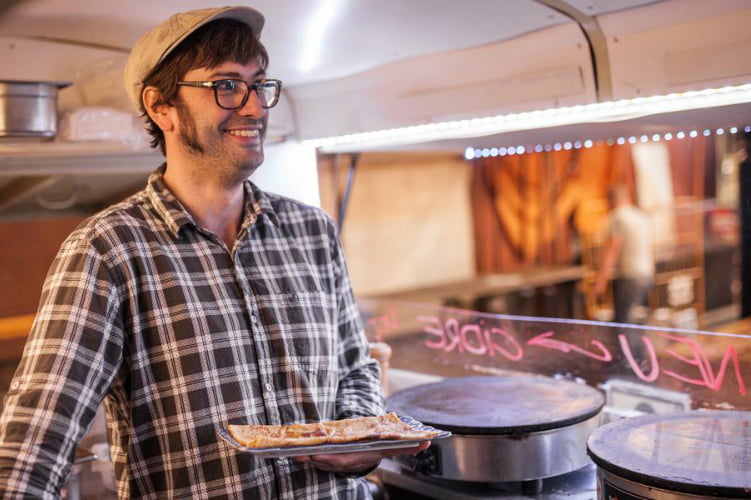 Take a culinary tour of the world, from Nigerian Fufu to British pies, or head there on the third Sunday of every month for the dedicated breakfast market. VIEW MORE INFO
–
38. VISIT THE DALI EXHIBITION
Potsdamer Platz | €€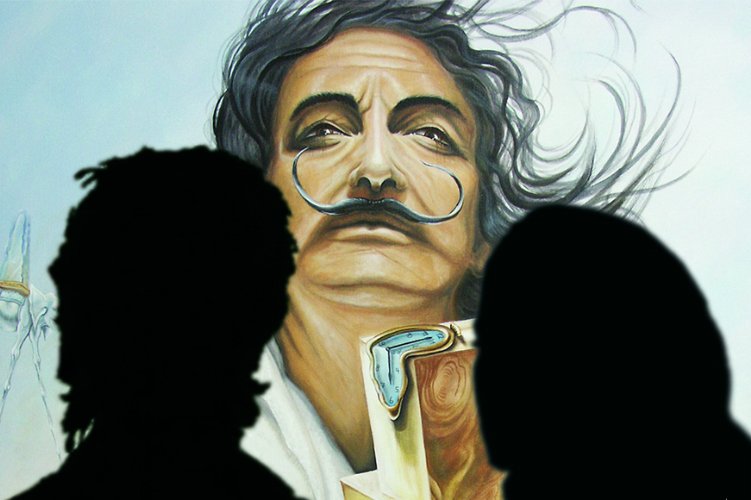 Look at him there. What a man. VIEW MORE INFO
–
39. GO SHOPPING IN AN APARTMENT
Prenzlauer Berg | €€€
BLESS boutique is also a home to several artists – but everything, even in the cupboards, is for sale. VIEW MORE INFO
–
40. VOICEOVER A PORNO AT PORNO KARAOKE
Prenzlauer Berg | €
Free drinks if you dress up in 'trashy porno costume', apparently. VIEW MORE INFO
–

41. RENT A MOTORBOAT, TOUR NEW VENICE
Köpenick | €€€€€ (but seats 4)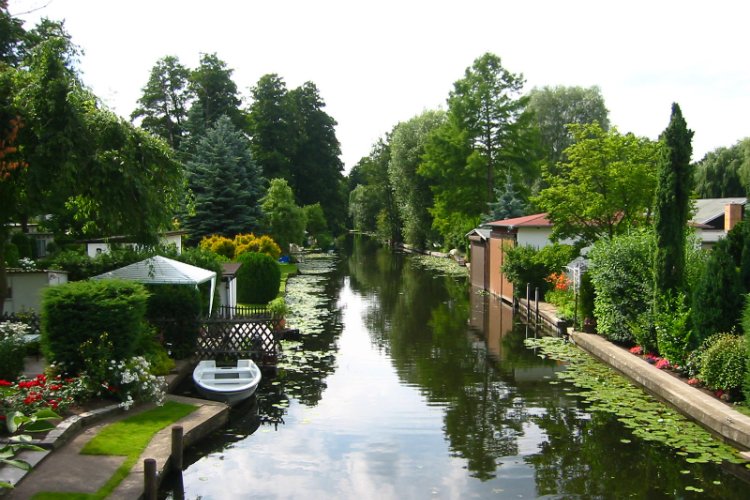 And get garden envy from all the fancy houses there. VIEW MORE INFO
–
42. VISIT THE HASSELHOFF MUSEUM
Mitte | €
And hassle him. Hassle him reaaaal good. VIEW MORE INFO
–
43. HIT THE BEACH AT YAAM
Friedrichshain | Free Entry
Caribbean food trucks, deckchairs in the sand, and club nights with sets from the likes of Roy Ayers and Princess Nokia all in one place. VIEW MORE INFO
–
44. ENJOY A GOURMET DINNER INSPIRED BY ART
Mitte | €€€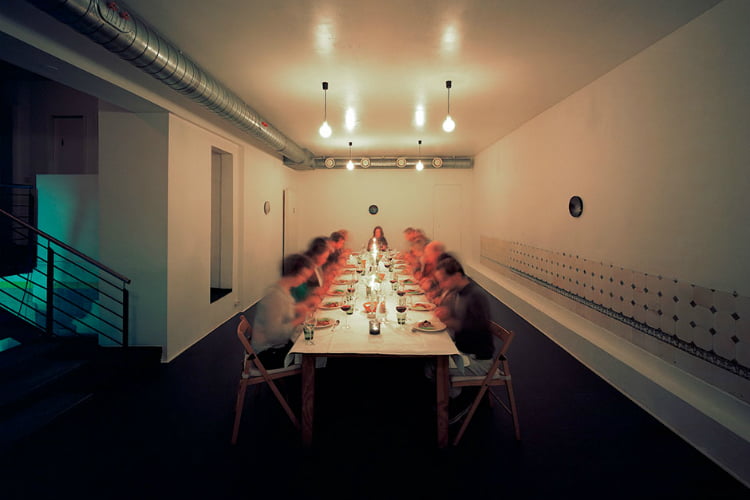 This guy just holds temporary exhibitions in his basement. Then gets chefs in to cook meals inspired by them. VIEW MORE INFO
–
45. TAKE A TRABI TOUR FROM EAST TO WEST
Potsdamer Platz | €€€€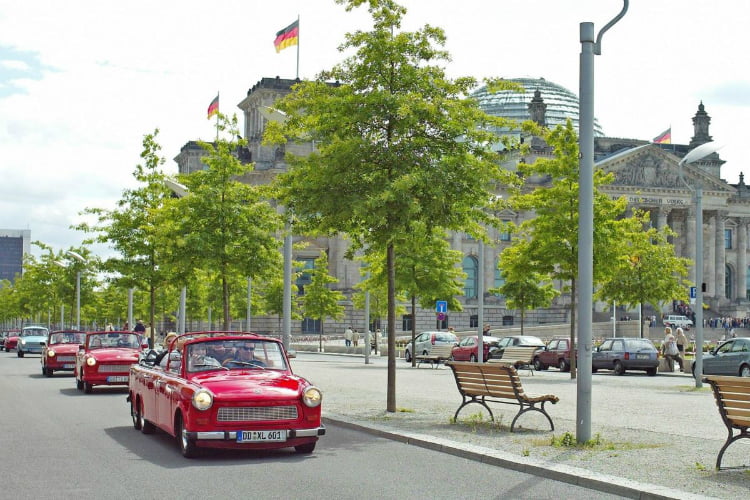 The East Germany-produced car was described by critics as a "spark plug with a roof". Good luck. VIEW MORE INFO
–
46. GO TO AN HONESTY WINE BAR
Mitte | € – €€€€€
Drink what you like, pay what you like. VIEW MORE INFO
–
47. JUMP OFF A BUILDING
Mitte | €€€€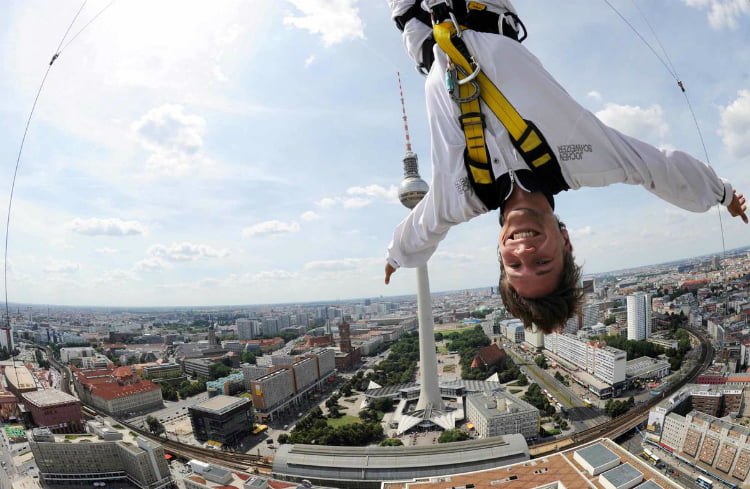 …In a totally safe, controlled manner. VIEW MORE INFO
–
48. TAKE A GUIDED TOUR OF A BUNKER-TURNED-ART GALLERY
Mitte | €€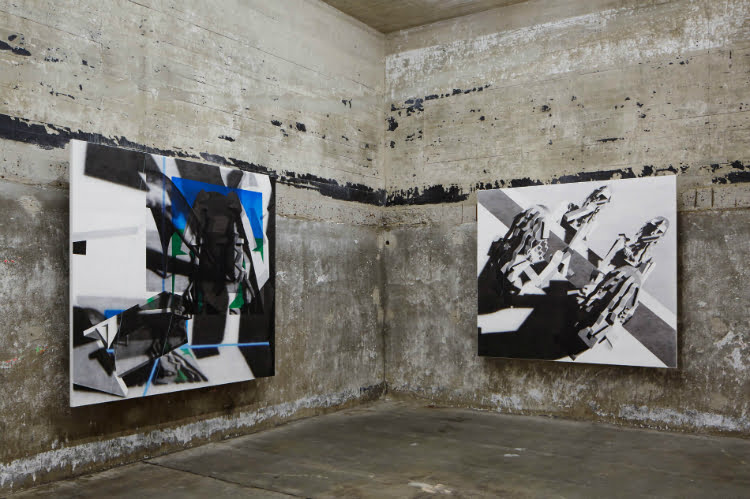 It's called Sammlung Boros, and it's excellent. VIEW MORE INFO
–
49. VISIT THE BEST RESTAURANTS IN BERLIN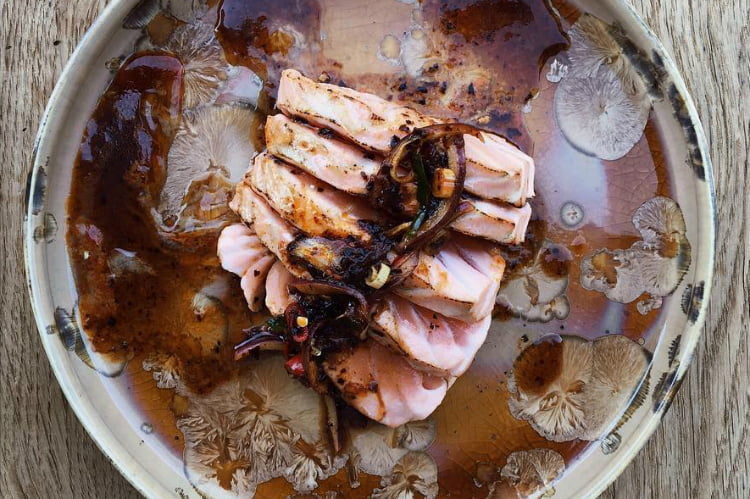 We've made our picks right here: VIEW MORE INFO
–
50. …THEN HEAD FOR A NIGHTCAP AT THE CITY'S MOST INTERESTING BARS
The upside down bar in a former brothel is one of the more standard ones. VIEW MORE INFO
–
51. SPEND AN EVENING EXPLORING BERLIN'S ART NOUVEAU COURTYARDS
Mitte | €
The Hackesche Höfe boast galleries, theatres, boutiques and cafés, besides being completely adorable. VIEW MORE INFO
–
52. EXPLORE THE BAT CAVE AT THE ZITADELLE
Spandau | €
Just your classic bats nesting in a Renaissance fortress. VIEW MORE INFO
–
53. …OR IF YOU'RE THERE IN APRIL, GO TO THE 'EASTER KNIGHT SPECTACULAR'
Spandau | €
Because they fill the courtyards with people in Medieval garb, jousting and fire shows. Oh, and something called mice roulette. VIEW MORE INFO
–
54. HIT UP THE SMALLEST DISCO IN THE WORLD
Friedrichshain-Kreuzberg | €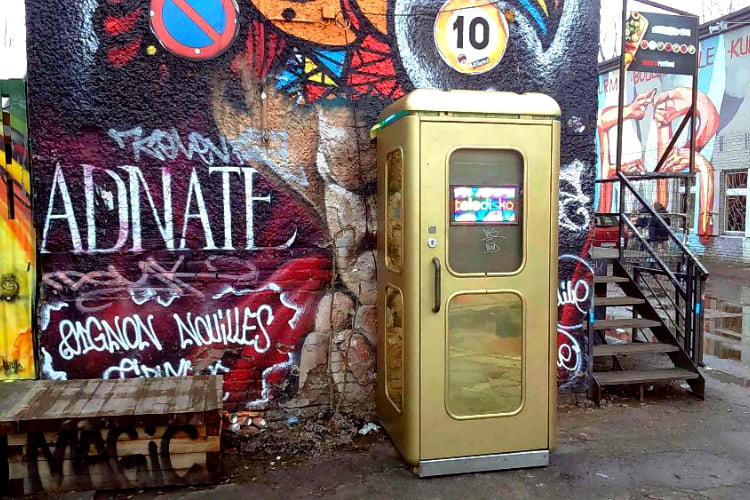 Part jukebox, part photo booth, part A. VIEW MORE INFO
–
55. IS IT WINTER? THEN GO TO A CHRISTMAS MARKET
Mitte | €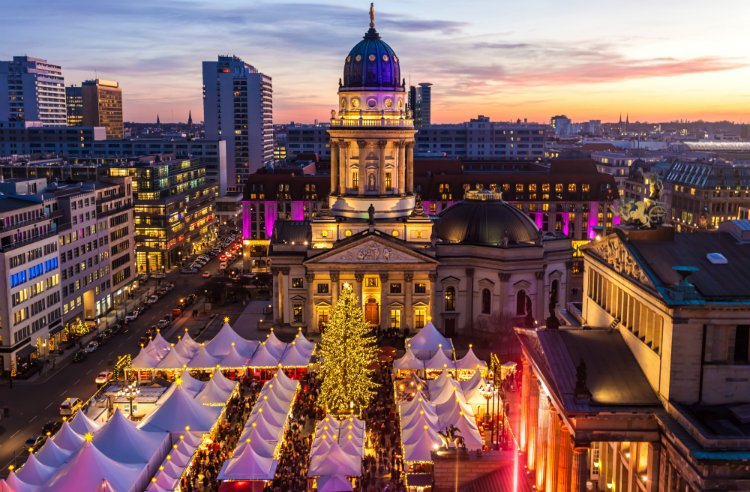 The Gendarmenmarkt is like being inside an advent calendar. VIEW MORE INFO
–
56. THEN SEE THE SIGHTS IN CHOCOLATE FORM AT THE LONGEST PRALINE BAR IN THE WORLD
Mitte | €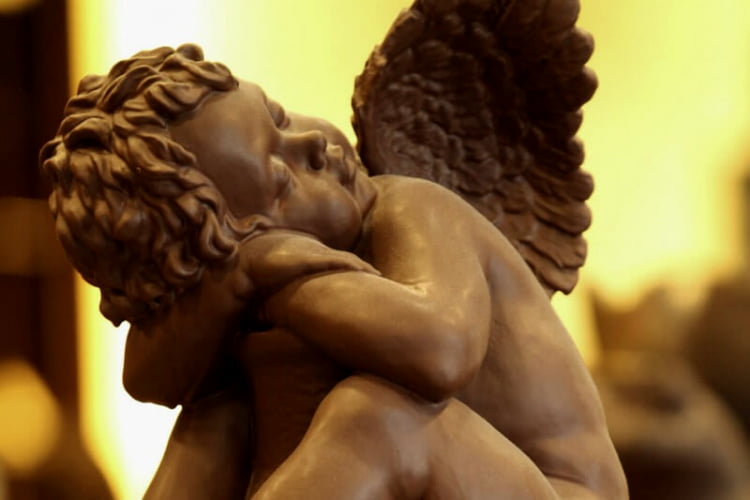 They also have a CHOCOLATE RESTAURANT overlooking the marketplace. VIEW MORE INFO
–
57. TAKE A DAY TRIP TO POTSDAM
Potsdam | €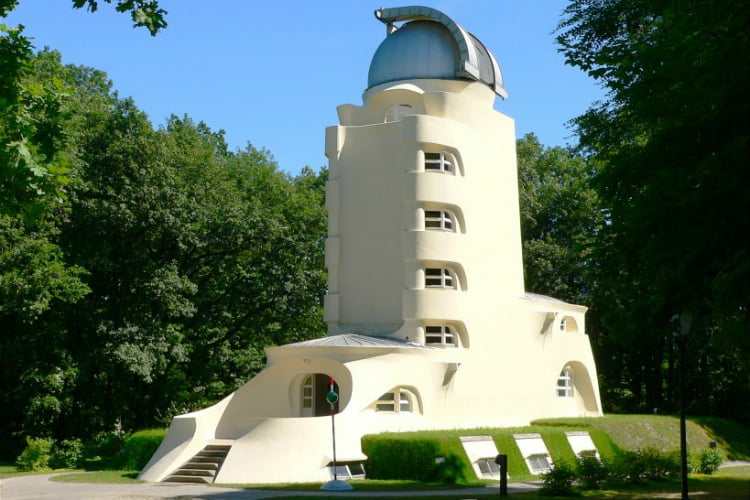 You can visit the Hobbit-style tower where Einstein developed his theory of relativity. VIEW MORE INFO
–
58. …THEN SWING BETWEEN TREES IN THE NEARBY WOODS
Potsdam | €€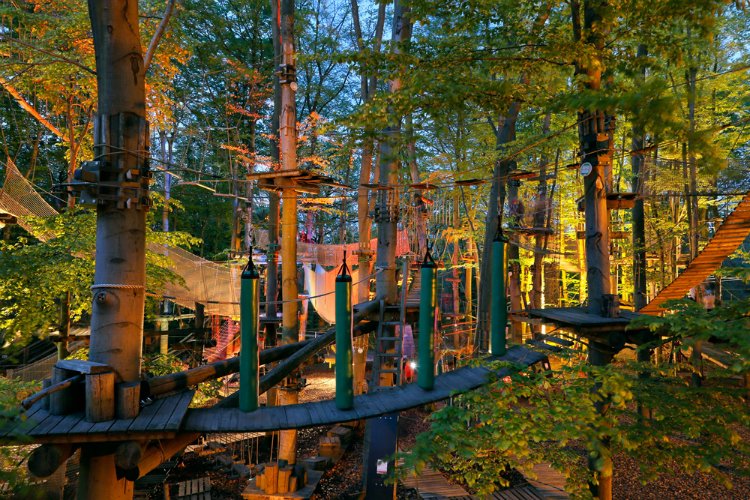 We like to think this is where Einstein developed his theory on gravity. VIEW MORE INFO
–
59. GO POP UP SHOPPING AT BIKINI BERLIN
Charlottenburg | €€
…then have lunch on the roof terrace overlooking Berlin Zoo. VIEW MORE INFO
–
60. PADDLEBOARD ON THE SPREE
Treptow | €€
And if that's too easy, do it at night. Or with yoga. VIEW MORE INFO
–
61. TAKE A LATE NIGHT, OPEN-ROOF TRAIN RIDE TOUR THROUGH BERLIN'S SUBWAY NETWORK
Mitte | €€€€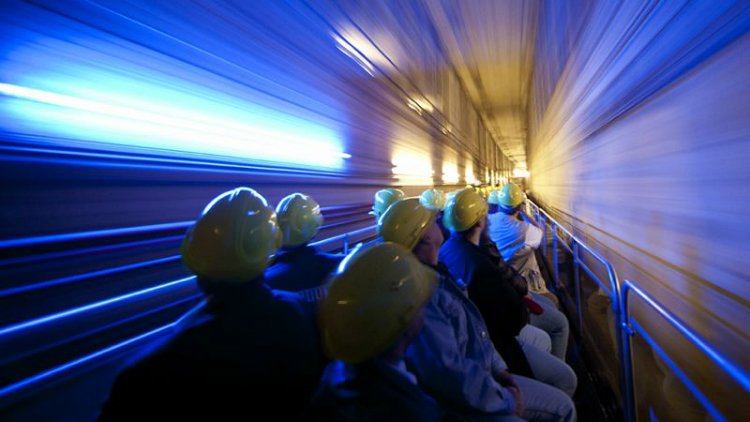 It's like the night tube, but way, way better. VIEW MORE INFO
–
62. VIEW HITLER'S ARCHITECTURAL EXPERIMENT
Tempelhof | €
This massive cylinder was used to see how far large buildings would sink into the marshy soil of Berlin (quite far, as it turned out). His ultimate plan of a huge domed hall was never built, but it would have been so large that it would have had its own weather. VIEW MORE INFO
–
63. RENT ROW BOATS IN THE TIERGARTEN
Tiergarten | €
Then reward yourself in the Biergarten. VIEW MORE INFO
–
64. CRAM INTO A PHOTOAUTOMAT
All Over Berlin | €
Find a map of them here: VIEW MORE INFO
–
65. BIKE ALONG THE SPANDAU CANAL (SING GOLD ALL THE WAY)
Spandau | Free
Combine it with a visit to this abandoned Boeing: VIEW MORE INFO
–
66. CHECK OUT CONTEMPORARY ART IN A FORMER BREWERY
Neukölln | €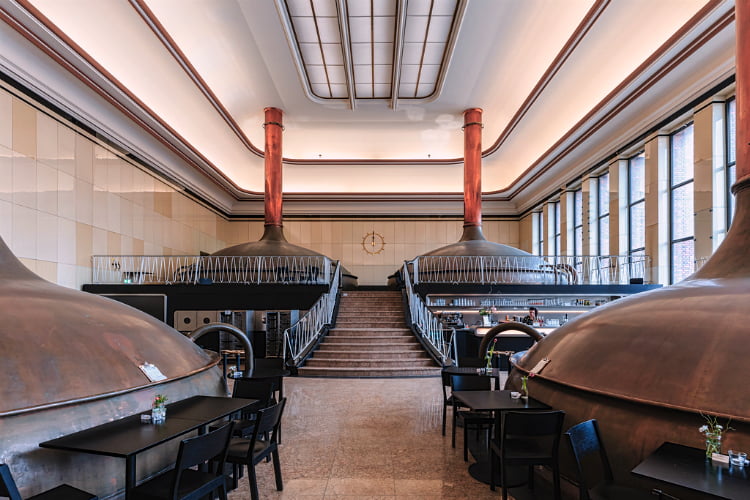 There's a nifty vegetarian café amongst the tanks, too. VIEW MORE INFO
–
67. GRAB SOME PROPER STREET FOOD
Wilmersdorf | €
Every Sunday, crowds of Thai families serve up delicious home cooking in a park. VIEW MORE INFO
–
68. VISIT THE DESIGN PANOPTIKUM, GET FREAKED OUT
Mitte | €
Things are about to get very weird. VIEW MORE INFO
–
69. GET DINNER AND A SHOW…IN THE DARK
Prenzlauer Berg | €€€€
They range from erotic poetry readings to horror shows, depending on your mood. VIEW MORE INFO
–
70. CHECK OUT CHECKPOINT CHARLIE
Mitte | € – €€€€
…or even better, from above. VIEW MORE INFO
–
71. LEARN ABOUT THIRD REICH RESISTANCE AT THE BENDLERBLOCK MUSEUM
Tiergarten | Free
It's housed on the site of the attempted coup of 1944. VIEW MORE INFO
–
72. FLICK THROUGH RECORDS AT THE SPACE HALL STORE
Kreuzberg | €
It's a vinyl Valhalla. VIEW MORE INFO
–
73. HAVE DINNER IN THE REVOLVING TV TOWER
Mitte | €€
They have a, er…rotating menu. VIEW MORE INFO
–
74. VISIT THE BERLINER MEDIZINHISTORISCHES MUSEUM
Mitte | €
10,000 pathological and anatomical exhibits, including iron lungs, arthritic knees, and a 19th century birthing chair. VIEW MORE INFO
–
75. ACT ÜBER-LOCAL AND DRINK 60¢ BEERS OUTSIDE A SPÄTI
All Over Berlin | €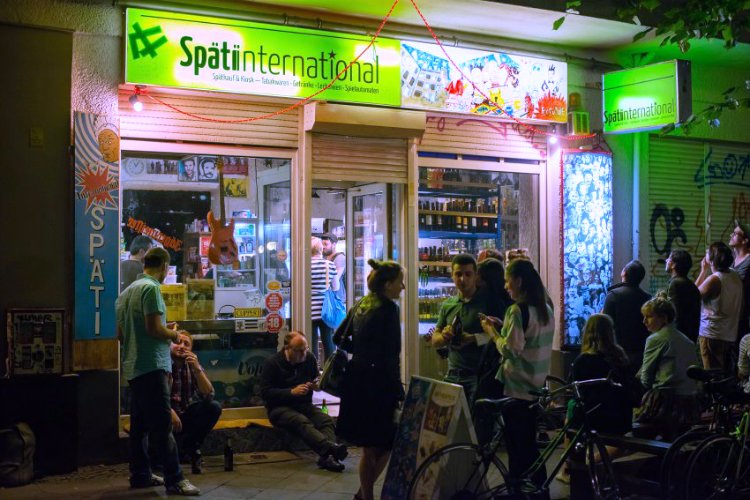 Or even join a full on Späti crawl.
–

76. JOIN A COOKING CLASS THAT SUPPORTS DISPLACED INDIVIDUALS
Schöneberg | €€€€
They appear as guest chefs to swap skills and meet the community. VIEW MORE INFO
–
77. SEE THE BERLIN WALL FROM ABOVE
Mitte | Free
This museum shows you a hidden patch of preserved East Berlin behind the wall. VIEW MORE INFO
–
78. VISIT THE DDR MUSEUM
Mitte | €
You can get hands on with all of the exhibits, from ministerial limousines to bugging devices. VIEW MORE INFO
–
79. OR CALL IN AT AN UNTOUCHED DDR APARTMENT
Hellersdorf | Free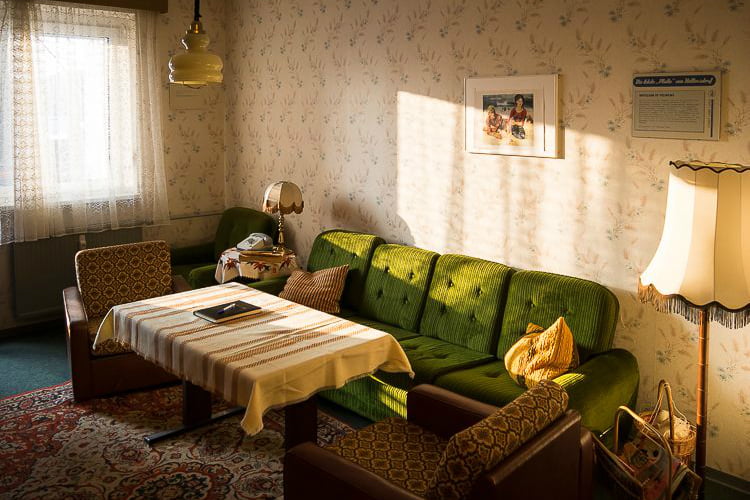 The manager will be able to tell you some first-hand stories, too. VIEW MORE INFO
–
80. GET COMPETITIVE AT THE COMPUTER GAMES MUSEUM
Friedrichshain | €
And try out everything from Pong to state of the art VR. VIEW MORE INFO
–
81. WATCH SOME EDGY PERFORMANCE ART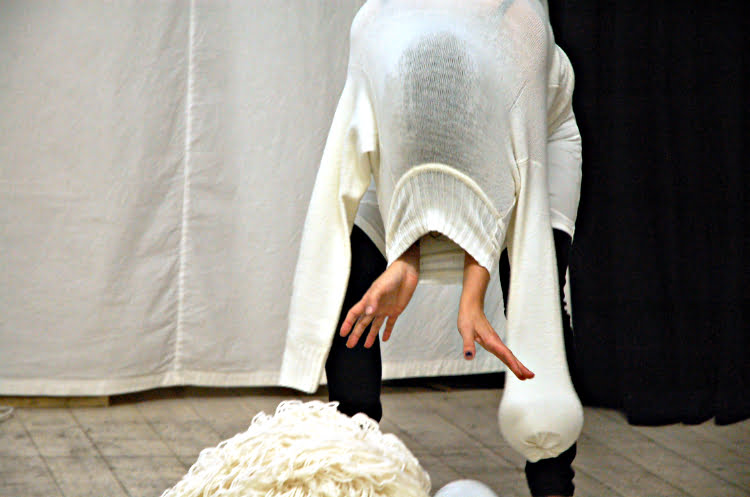 We don't know what's happening here, but we like it. VIEW MORE INFO
–
83. SPEND A SATURDAY STOCKING UP AT THE WINTERFELDMARKT
Schöneberg | €€
Lots of places are shut on Sunday – which is a good excuse for an all-day BBQ in Tempelhof park. VIEW MORE INFO
–
84. VISIT THE WILD WEST, COMPLETE WITH COWBOY CLUB, LEATHER WORKSHOPS AND OLD SALOONS
Spandau | €
According to the website, "Weapons may only be used with permission." VIEW MORE INFO
–
85. GO WINDOW SHOPPING AT KADEWE
Charlottenburg | Free/€€€€€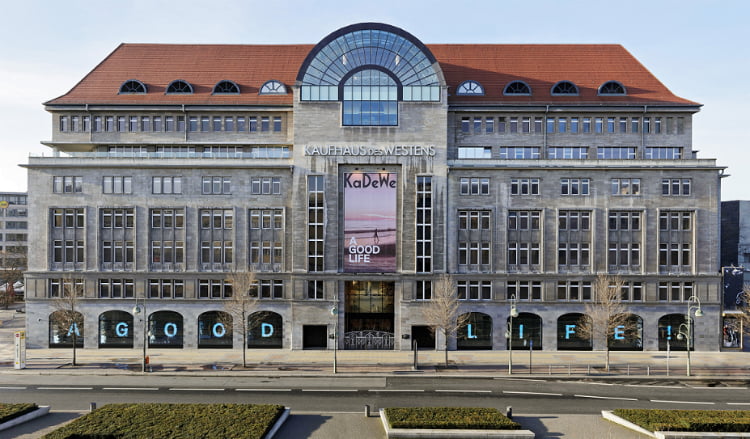 It's the Harrods of Berlin. VIEW MORE INFO
–
86. MEDITATE AT THE BRANDENBURG GATE
Mitte | Free
The Room of Silence is a peaceful space for thinking. And, you know, for running away from ALL THE CROWDS. VIEW MORE INFO
–
88. MUCK IN AT THE PRINZESSINNENGARTEN
Kreuzberg | Free
It's a guerilla gardening project on former wasteland. VIEW MORE INFO
–
89. TAKE HIGH TEA IN THE TAJIKISTAN TEAROOMS
Mitte | €€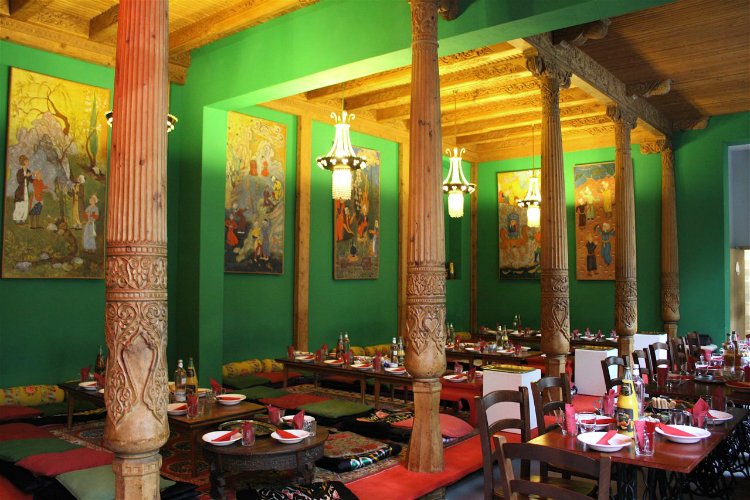 Or an atmospheric two-course meal with live music and storytelling. VIEW MORE INFO
–
90. …THEN CONTINUE YOUR WORLD TOUR AT THE GÄRTEN DER WELT
Marzahn | €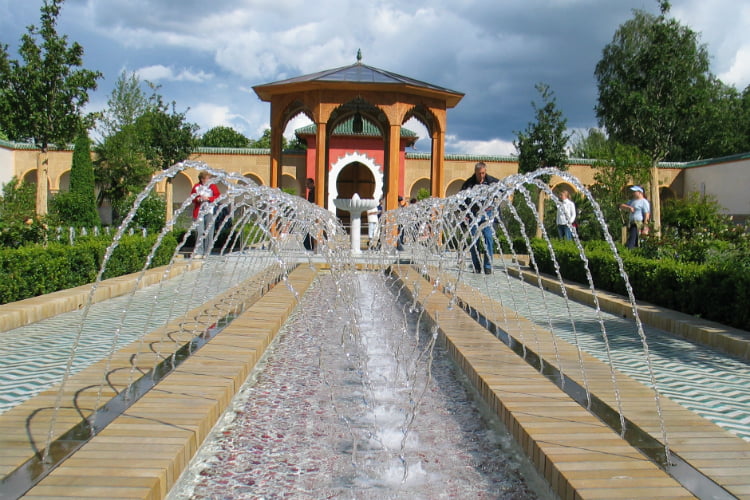 From the comfort of a WOODLAND BOBSLEIGH. VIEW MORE INFO
–
91. PLAY BLACKLIGHT CRAZY GOLF
Kreuzberg | €
And make relentless 'shot in the dark' jokes. VIEW MORE INFO
–
92. WALK AROUND THE MEDIEVAL STREETS OF SPANDAU'S ALTSTADT
Spandau | Free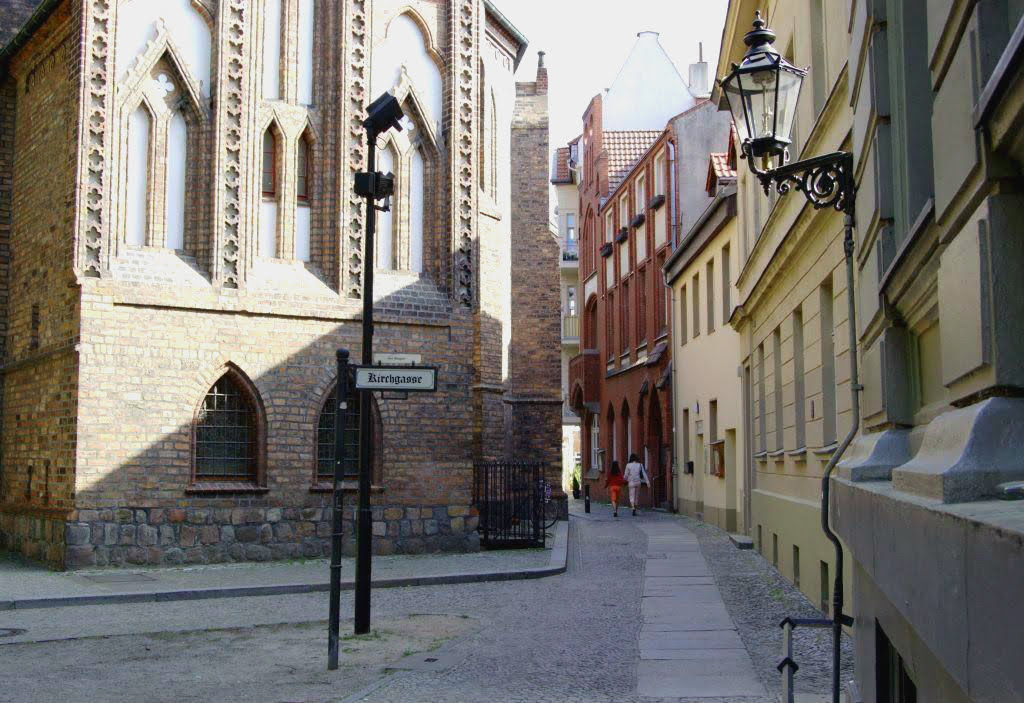 It's the perfect spot to…
–

93. ORDER A NEON BEER
Berliner Weisse beers come in red or green flavour.
– 
94. VISIT THE JEWISH MUSEUM
Kreuzberg | €
It covers 2 millennia of Jewish-German history. VIEW MORE INFO
–
96. SEE A FREE LUNCHTIME CONCERT AT THE BERLIN PHILHARMONIE
Tiergarten | Free
Get your culture on. VIEW MORE INFO
–
97. HAVE A NOSE AROUND THE BAUHAUS MUSEUM
Charlottenburg | €
The permanent museum is closed for renovations, but there's a great pop up exhibition in its place. VIEW MORE INFO
–
98. CLIMB THE TOWER OF THE ZIONSKIRCHE FOR AMAZING VIEWS
Rosenthaler Vorstadt | € | Every Sunday
…also, they keep bees. VIEW MORE INFO
–
99. SPEND ALL NIGHT ON YOUR PHONE
Mitte | €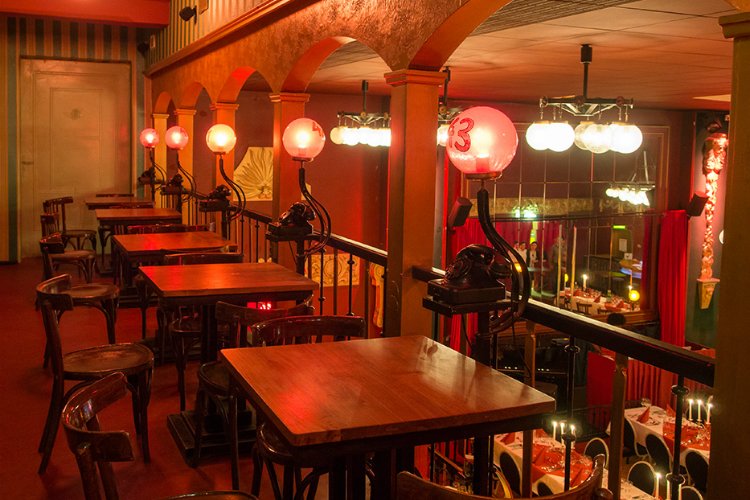 This retro cabaret bar has phones on every table, so guests could flirt from afar. VIEW MORE INFO
–
100. EAT ALL THE DONUTS AT BÄCKEREI SIEBERT
Prenzlauer Berg | €
Bist du ein Berliner? VIEW MORE INFO
Last Updated: 19th November 2018
---
Now check out Berlin's best hotels for a well-deserved rest…