Here's Why Bologna Should Be Your Next Foodie Trip
Main image: Thomas Kohl/Flickr
It's surprising that the food scene in Bologna is one of the best in the world.
Everything the restaurants serve is Bolognese.
But it doesn't stop at their eponymous pasta dish (which, somewhat paradoxically, doesn't actually exist there). Because Bologna is the capital of Italy's Emilia-Romagna region, i.e. the home of parmesan. And balsamic vinegar. And mortadella, tortellini, and parma ham. In fact, there are no less than 42 DOP (protected origin status) products in the region; some of which you might not even know so well, like the local sparkling red wine.
So yes, while there's stunning Medieval architecture, more than fifty museums and a fantastic, world-feted culture to absorb – Bologna is, quite frankly, worth visiting for the food alone. Here's why.
–
THE CAFES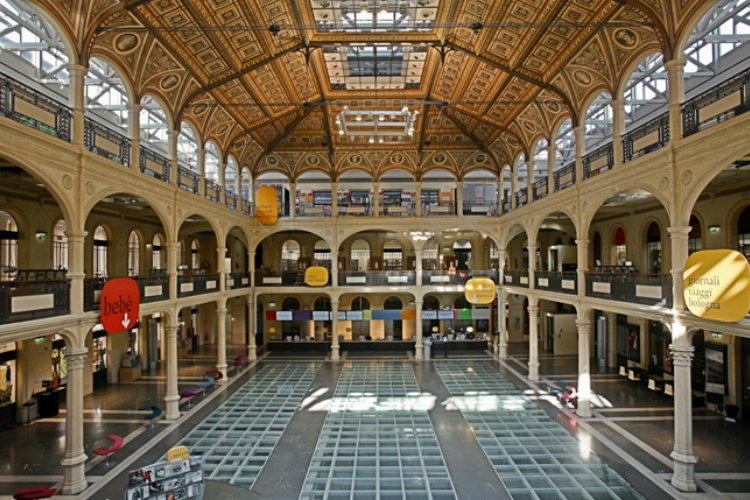 Italians perfected the espresso a century ago, so of course there's plenty of spots in Bologna that take pride in their caffeine. Join the students at the Biblioteca Salaborsa café for an espresso underneath the elaborately decorated ceiling of the former stock exchange hall – and take a peek at the Roman ruins beneath the glass floor. Caffè Rubik too, is worth (multiple) visits – not only is their espresso some of the best in town, the retro interiors and soundtrack of cassette tapes make it one of the city's most unique spots.
–
THE MARKETS
Bologna's markets are a sight to behold. There's the crowded streets of the Quadrilatero, a warren of a neighbourhood behind the Piazza Maggiore, packed with specialist food-stores that go back generations. There's the Atti & Figli bakery; the terrazzo-floored Tamburini deli; and La Baita; a cheese and cured-meat emporium with entire legs of ham suspended alongside the chandeliers.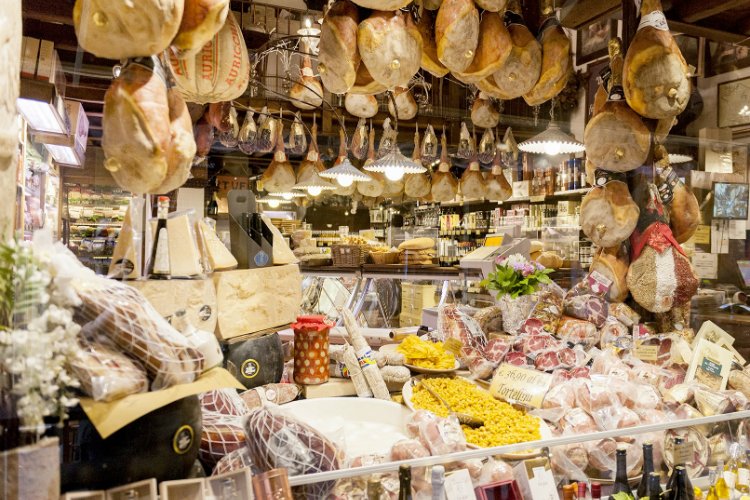 Then there's the covered markets, like Mercato delle Erbe, home to stall after stall heaving with artisanal, home-grown produce; or the recently re-opened Mercato di Mezzo with its street-food style vendors, live music and basement craft beer den. The open-air Mercato del Novale, meanwhile, is part of the Slow Food movement, and sees farmers come together to tout fresh local grub and run cooking demos.
And the best way to savour the fruits of your market trip? Take it all along to Osteria del Sole – a sort of Italian 'pub' that's been open since 1465. Wine starts at €2 a glass here, and they don't serve any food – instead, you're encouraged to bring along your own pickings and they'll slip you a sharing board to lay it all out on.
Molto bene.
–

THE GELATERIAS
Gelato is serious business in Bologna; so much so that there's even a museum dedicated to the stuff on the outskirts of the city. Head to the Carpigiani factory and you'll be given the full scoop (sorry) on its history before getting to sample ice cream made according to 19th century recipes, or have a shot at making your own.
If you'd rather leave it to the professionals, there's plenty of notable spots in town – try Il Gelatauro for scoops made with top-quality Italian produce, like goat's milk with caramelised strawberries; Cremeria Funivia for adventurous combinations like toasted pine nut or white chocolate with crispy puffed rice; and Cremeria Santo Stefano, a family-run joint that brings in exotic ingredients like Turkish pistachio for their offerings. And if in doubt? Just follow the queues.
–
THE APERITIVO SPOTS
The late afternoon is Bologna's most sociable time of day, as restaurants, bars and shops prop open their doors and the tables and chairs spill out onto the streets and courtyards. While the spritzers, vermouth and wines are a big part of the aperitivo, food plays a part too, with most places offering a tapas-style accompaniment to your drinks. Zanarini makes for a good people-watching spot, with seating scattered across the elegant Piazza Galvani outside its 16th century edifice.
As for that sparkling red, pay your respects to the Enoteca Storica Faccioli; a Bologna institution with a vast array of natural wines. Or if you're after a more dedicated cocktail den, then the folks at Pastis will look after you. A sleeve of a space lined with vintage tiles, their cocktails have a Parisian slant, executed with typical Italian flair.
–
THE RESTAURANTS
And finally, we come to the eateries themselves. The local specialities here include tortellini in brodo (stuffed pasta parcels served in a broth), tagliatelle al ragù and veal meatballs – you can get excellent takes on them all at Franco Rossi and Da Serghei, while Caminetto d'Oro gives them the upscale treatment. For traditional with a twist, head to Al Pappagallo, another high-end spot that serves unusual takes on the classics like coffee-flavoured tagliatelle.
At Bottega Portici, you'll watch the pastai hard at work in the window before plating up fresh boxes of the stuff for you to take away and enjoy under the nearby portico; while Danilo e Patrizia is the best spot for dining in. The personable owners will explain what's on the menu (depending on their ingredients that day), but it'll usually include something along the lines of handmade pasta topped with freshly shaved truffle and some sort of delicious sauce. It's probably worth swinging by a few times to try their different iterations.
After all, in for a penne…
---
Like exploring the foodie side of a city? Check out our guide to the best restaurants in Barcelona