Iceland's Bubble Igloo Hotel
Main image: Nelly Volkovich/Unsplash
A bubble igloo hotel.
It's exactly as cool as it sounds.
This is one of nine private, hireable bubbles that are hidden away in a particularly picturesque fir forest in Skálholt, southern Iceland.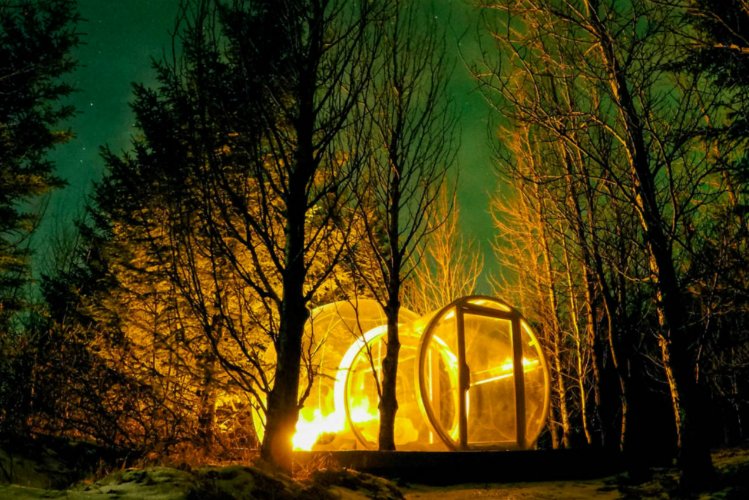 Inside, your only home comforts are a plush bed scattered with faux-fur throws; a chest for your belongings; and a small lamp casting a cosy glow over it all. Oh, and heating. Other necessities (the bathroom and self-catering kitchen) are tucked away in a nearby communal block, so that all you're left with is an unobstructed panorama of your naturally blessed surroundings. Which means that in the summer, you'll be going to sleep under midnight sunsets; and in the winter, there's a chance of watching Northern lights glimmering overhead.
In the summer months, pods can be booked just for the night, with the hotel's tours available all year round. These combine a night in a bubble with a whirlwind introduction to some of the region's most striking natural wonders, like the Seljalandsfoss waterfall – one of the country's most famous, thanks to the natural cave that allows you to walk behind it.
That's part of the South Coast tour, which also takes you to Skógafoss (another waterfall with a 60m drop, rainbows, and a troll who was supposedly turned to stone halfway up) and the black beach, Reynisfjara. The 'sand' here is actually made up of lava that once rolled down from a volcano and instantly solidified when it met the sea. Over time, it's been broken up into tiny, glossy shards the size of rice grains. And that's not the only striking thing about this beach – there's also an unnervingly geometric pyramid of basalt (cooled lava) columns; a cave; and another two former trolls petrified in the sea.
As you might have gathered, they're quite a big part of the folklore here.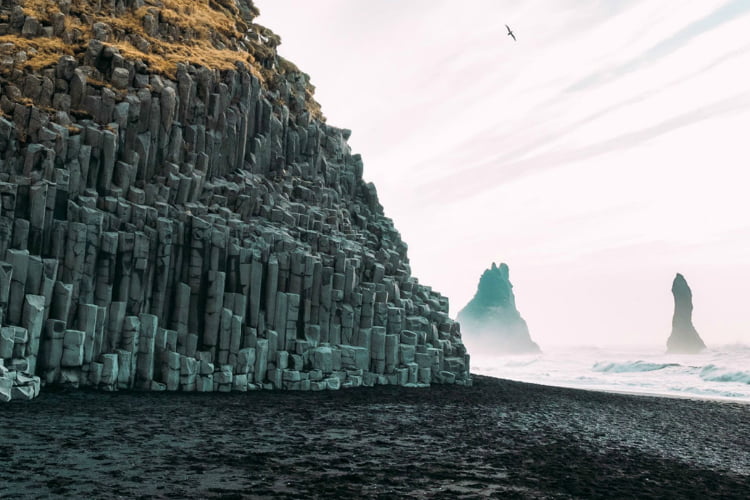 Plump for their Golden Circle tour, however, and you'll start your tour at Þingvellir (pronounced 'Thingvellir'), a World Heritage Site in the region of Bláskógabyggð (generally pronounced incorrectly). 1000 years ago, it was the site where the Icelandic parliament officially became a Thing – which, as you no doubt know, is the official term for a northern Germanic governing assembly. It also happens to be arrestingly beautiful, home to chasms, gorges and water-filled fissures that have formed where two of the Earth's tectonic plates are literally pulling apart in front of your eyes.
It's also close to the next two stops on the trip, which together make up the scenic Golden Circle. The first is Haukadalur valley, home to bubbling hot spring geysers that spout out of the earth every five minutes; the second, Gullfoss waterfall, where water cascades down three rocky steps at a pacy 140,000 litres a second. It all wraps up with a dip in the Secret Lagoon, a natural hot spring that was carved into a proper bathing pool in the 19th century. While you soak, you'll be able to spot erupting geysers and – if you're lucky – the Northern Lights. But even if you don't…
…that shouldn't burst your bubble.
NOTE: Prices start from £420 for the tour, or £232 for accommodation only. You can find out more, and book yourself a bubble, right HERE.
---
Like drooling over exotic places? Take a look at these beautiful yoga retreats…