The Best Hidden Bars In Paris
"Secrets travel fast in Paris" – Napoleon Bonaparte.
So claims the man who never visited any of these bars… Coincidence? We think not.
And yes, Paris may be brimming with al fresco apéritif spots, convivial wine bars and edgy, late-night clubs. But when you're after somewhere a little off the beaten track, only its growing number of bars cachés will do. So behold, the best hidden bars in Paris… and more importantly, how to find them.
–
Le Comptoir Général | Canal Saint-Martin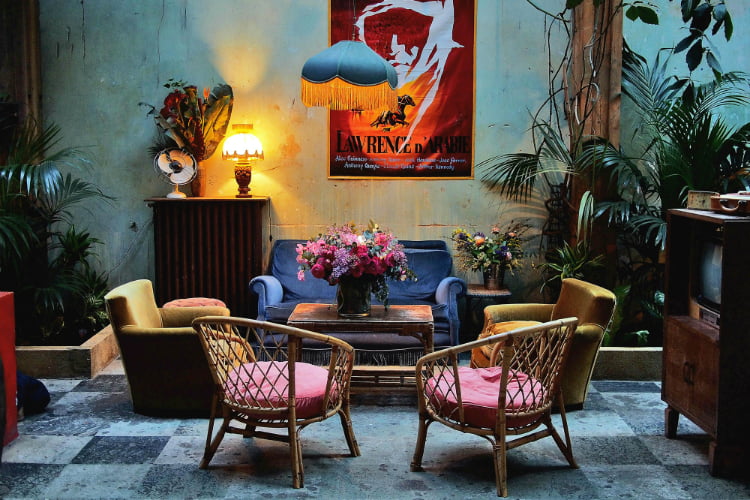 Le Comptoir Général translates as 'the general bar'. Which, presumably, is why it's filled with your run-of-the-mill, common-or-garden bar touches like the fully recreated retro classroom; chintzy vintage furnishings plucked straight out of a grandmother's living room; and a bar in the form of a life-sized shipwreck. Matching the colourful, Caribbean echoes of the decor is the rum-heavy drinks menu – head here if you're an early bird by Paris standards and want to hit a dance-floor before 1am.
Details: 80 Quai de Jemmapes, 75010 | M-Th 6pm-2am, Fri 4pm-2am, S/S 2pm-2am | €€€
–
Moonshiner | Bastille
Moonshiner is the latest descendant in a long list of Parisian bar royalty, sibling to Dirty Dick, Kremlin and Clockwork Orange. To find it, however, you need to be a real friend of the family. Head to local pizzeria Da Vito, resist the tempting wafts of freshly-baked dough, and breeze your way to the metallic fridge door at the back. Assuming you get the right one (though it's hard to tell, since there is a temperature drop), you'll find yourself in an atmospheric, fully-committed retro spot, with above-par cocktails, a gramophone soundtrack and a snug fumoir – complete with a safety deposit box whose contents you can win by guessing the right combination.
Details: 5 Rue Sedaine, 75011 | Open daily 6pm-2am | €€
–
Le Bar-Bibliothèque à Saint James Paris | 16ème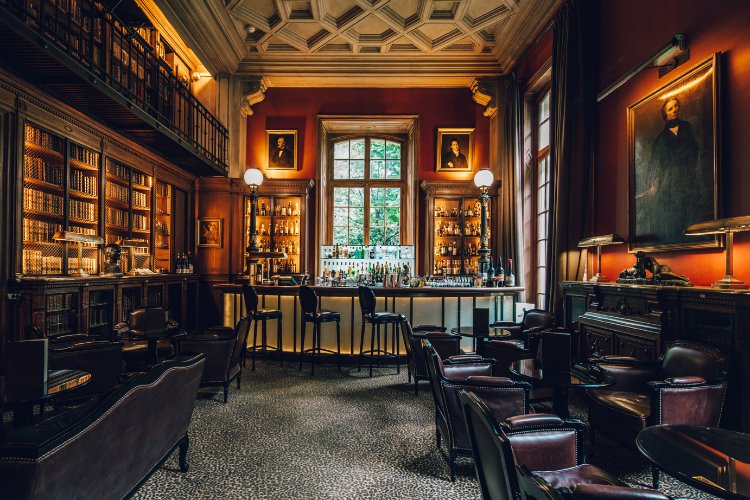 A secretive bar that doesn't try too hard, Le Bar-Bibliothèque owes its hidden status to the beautiful chateau-style hotel that it's tucked away in. Housed in the former study of a 19th century research institution, the vast spirit collection is only just eclipsed by the 12,000 old books lining the wood-panelled walls. For such a traditional setting, the drinks are surprisingly innovative – order the Terre Sauvage, where mezcal, beetroot and red pepper reduction are topped by tea foam.
Details: 5 Place du Chancelier Adenauer, 75116 | Open daily 7pm-1am | €€€
–

Candelaria | Le Marais
Candelaria's tacos are worth the trip alone. But head through the door at the back of the taqueria, and you'll happen upon their secretive (but famous enough to be award-winning) mezcaleria and cocktail joint, whose close-quartered tables, flickering candlelight and roughly-hewn walls give the impression of an illicit cocktail cave bar. Drinks have a focus on agave spirits, but the barkeeps here are razor-sharp and will be able to knock up something bespoke for you at the drop of a hat.
Details: 52 Rue de Saintonge, 75003 | Open daily 6pm-2am | €€
–
Lavomatic | Les Halles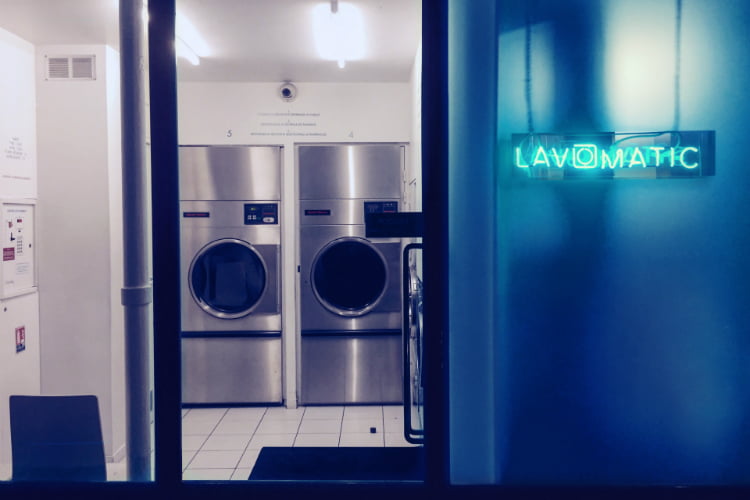 A bar hidden behind a washing machine? It's got to be worth a spin. Lavomatic is so dedicated to the idea of the speakeasy, that their front is a fully-functioning laundromat by day. Head there at night and slip behind the right machine, though, and you'll find a rickety staircase leading up to a grown-up playground with swings, pop-art inspired laundry box seating, and excellent cocktails.
Details: 30 Rue René Boulanger, 75010 | Open T-W 6pm-1am, Th-Sa 6pm-2am | €€
–
Little Red Door | Le Marais
The Little Red Door isn't the hardest to find on this list (especially now that they've installed street-side windows)… but it's one of the most authentic-feeling speakeasies inside. The relatively low-key, low-lit surroundings take their cue from understated Brooklyn bars – the artistry's all saved for what comes in your glass. The drinks here are put together by a former Experimental Cocktail Club head bartender and his team, and have won the bar a coveted spot on the World's 50 Best Bars list. Each cocktail's inspired by a different architectural period – which, as it turns out, is a pretty solid foundation for a menu.
Details: 60 Rue Charlot, 75003 | Open daily 6pm-2am (3am Fri/Sat) | €€€
–

Le Ballroom du Beefclub | Les Halles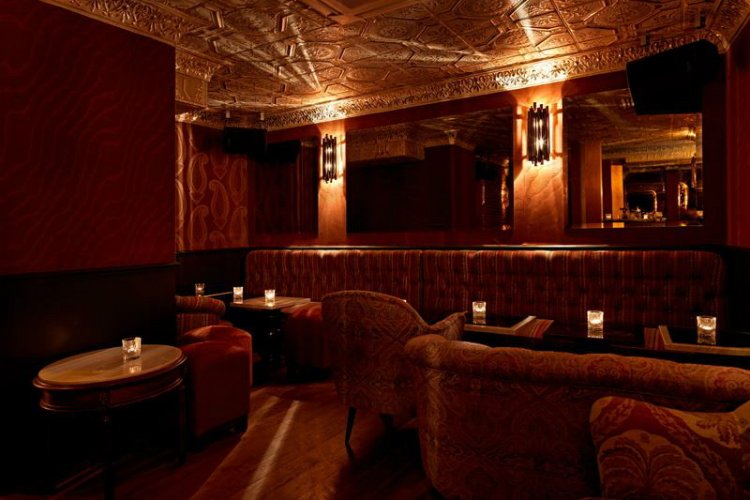 Beef Club. It's not a more street version of Fight Club; rather, a sophisticated, date-worthy steakhouse above an even more sophisticated, date-worthy cocktail den. Another offering from the ECC team, this bar goes a little heavier on the 20s theme than LRD – art deco sconces illuminate the walls, reflected by the tin-panelled ceiling that harks back to classic Prohibition-era bars. The menu's short and sweet, but that's probably a good thing – with such elaborate concoctions it could still take a while to choose.
Details: 58 rue Jean Jacques Rousseau, 75001 | M-W 7pm-2am, Th 7pm-3am, F-Sa 7pm-5am, Sun 8pm-2am | €€€
–

Le Syndicat | Strasbourg-Saint Denis
Le Syndicat may be hidden behind about five layers of old posters – but it's not just a place to get plastered. Intimate, discreet, and modern in its decor, Le Syndicat showcases all things Français, from rare and exotic gentian liqueurs and absinthes, down to the typically French bar snacks.
Details: 51 rue du Faubourg Saint Denis, 75010 | Open daily 6pm-2am (from 7pm Sun) | €€
–
Baranaan | Strasbourg-Saint Denis
The drinks at this hyper-cool Indian speakeasy are second to naan. Hidden behind an Indian vegan café, the whole bar is done up like an old train carriage, with scenery whizzing past the compartment windows, retro signage hanging around the space, and aromatic wafts of freshly-baked naan (which you can order alongside cocktails). Laced with exotic spices and herbs, the drinks here are unlike anything else in Paris – try the Tajma, served in a freshly opened coconut.
Details: 7 rue du Faubourg Saint Martin, 75010 | T-Th 6.30pm-2am, F-Sa 6.30pm-4am | €€€
–

No Entry | St Georges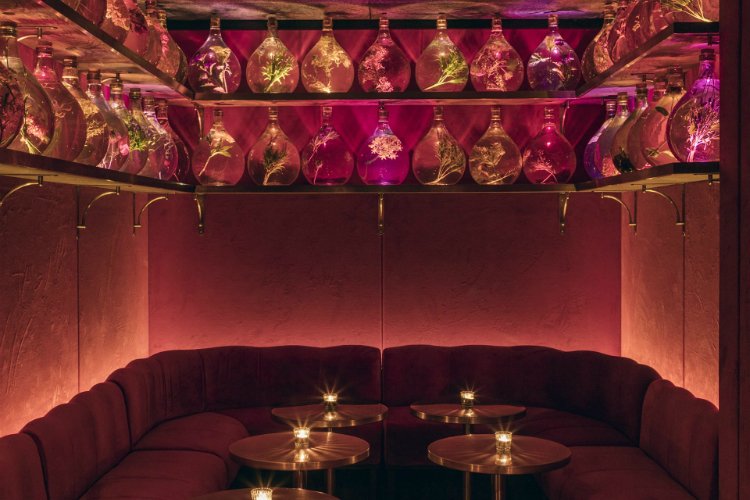 Tucked away behind a cold-store door in an Italian restaurant, No Entry might come across as a little cold – but don't worry, it's just a facade. Inside, you'll be enveloped in a rosy hued, retro laboratory, where illuminated carafes of slowly-infusing spirits line the walls. Behind the bar, meanwhile, you'll spot rare and vintage bottlings of Italian liqueurs – all of which find their way into the decidedly modern cocktails.
Details: 20bis Rue de Douai, 75009 | Open every evening 7pm-2am | €€€
–

Le Très Particulier | Montmartre
Le Très Particulier is another hotel bar off the beaten track, this time behind a doorbell and a long, unassuming sidestreet in Montmartre. The interiors here are a stunning mishmash of influences, from 18th century parlours to rooms that could have been plucked straight out of a Kubrick, Lynch or Wes Anderson set – but in summer, the pièce de résistance is the elegant terrace hidden away at the back, with its adorable white-painted iron tables and chairs. Get there early to grab one, and settle in for an evening of botanical cocktails made with infusions from the garden itself.
Details: Hôtel Particulier Montmartre, 23 avenue Junot, Pavillon D, 75018 | Open daily 6pm-2am | €€€
Main image: No Entry Bar
---
Like city-hopping? Check out the other city guides in our Travel section…