New Orleans – affectionately coined The Big Easy thanks to its laid back, pleasure-loving way of life – is best known for four things: its food, it's booze, its festivals, and its music. Below we've collated a list as to exactly where to enjoy them at their best, along with boozy bowling, boat tours through the bayous, a bohemian sculpture garden and more.
---
GO BAR HOPPING ON FRENCHMEN STREET
It's the more authentic alternative to Bourbon Street, lined with some of the best live music venues in town.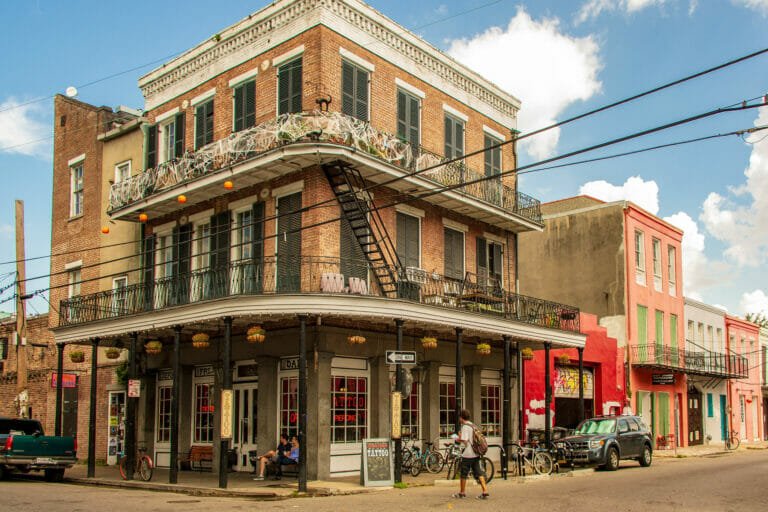 Image: Ken Kanouse 
MOOCH AROUND SOME MODERN ART AT NOMA
Their permanent collection alone boasts over 40,000 pieces of work.
SINK A COUPLE OF BREWSKIES AT COURTYARD BREWERY
Or snack on some street food from their various rotating food trucks.
LOOSE YOURSELF IN A MAGICAL MUSIC BOX VILLAGE
Where the houses make music, and no two shows are the same.
GO 'GATOR SPOTTING IN THE BAYOUS
Also known for their wild boars, bald eagles and more.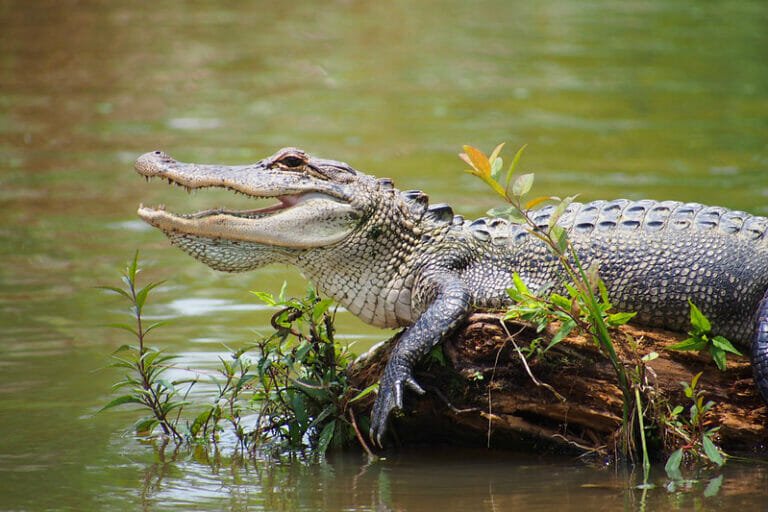 Image: Jeremy Seto
BROWSE THE BOUTIQUES ON MAGAZINE STREET
Refuelling with some Southern Comfort food at Gris-Gris if you start to flag. 
WATCH STREET PERFORMERS AT JACKSON SQUARE
Have your palm read, or soak up the sounds of a brass band.
BREAK FOR BRUNCH AT ELIZABETH'S
Their praline bacon is not to be missed.
LEARN EVERYTHING YOU NEED TO KNOW ABOUT JAZZ
The NOLA Jazz Museum boasts more jazz-based artefacts than anywhere else in the world.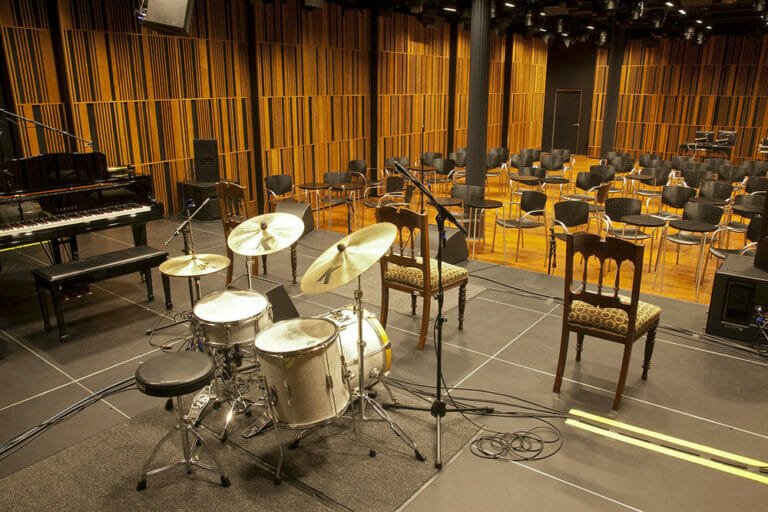 DRINK COCKTAILS IN THE FAIRY-LIT COURTYARD OF LONGWAY TAVERN
Soaked up by nostalgic tavern fare.
TAKE A STROLL AROUND CITY PARK
Or ride a swan around its Big Lake.
STRIKE IT LUCKY AT ROCK 'N' BOWL
Then dance the night away to a little funk and blues.
BREAKFAST ON BEIGNETS AT CAFE DU MONDE
If it's busy get one to go and eat it along the river.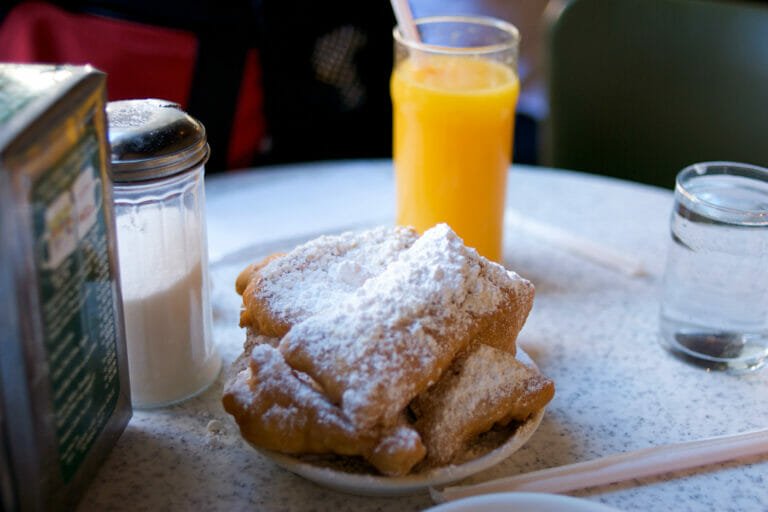 Image: Gregory Williams 
PERUSE PALACE MARKET
It's an open-air night market full of local artists and creatives selling their work.
INDULGE IN SOME PECAN PRALINES
Although make sure to avoid the tourist traps and head straight to Loretta's Authentic Pralines instead.
GET TICKETS TO SEE THE NEW ORLEANS SAINTS
Their colours are black and gold in case you want to blend in.
TAKE A TOUR AROUND MARDI GRAS WORLD
And have a sneak peak at the floats for that year's parade.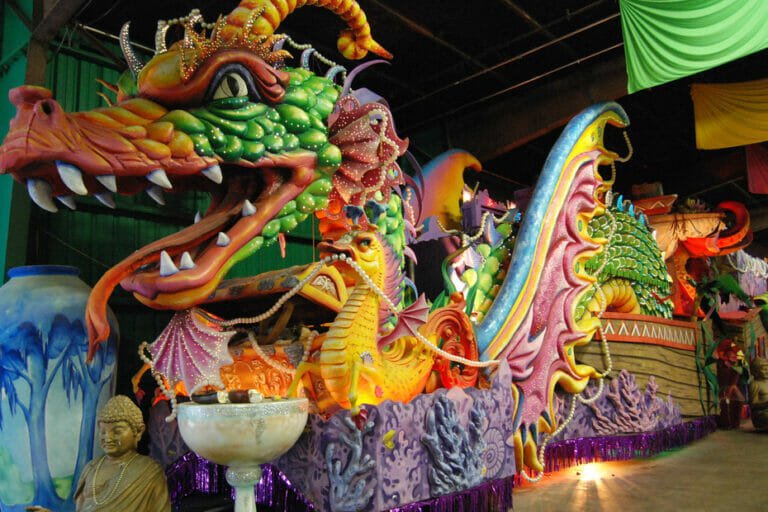 EXPERIENCE BRANDON ODUMS GIANT GRAFFITI-STYLE ARTWORKS AT STUDIO BE
A 35,000 sq. ft. warehouse filled with works exploring the experiences of African-Americans from the civil rights movement to the current day.
DRINK DRIVE THROUGH DAIQUIRIS
Both Gene's and Big Easy Daiquiris are worth checking out.
WATCH AN OUTDOOR MOVIE AT BURGUNDY PICTURE HOUSE
It's free and BYOB.
LOCK LIPS WITH SOME CRAWFISH
It's hard to go wrong but Frankie and Johnny's and Boil Seafood House are definitely worth a visit.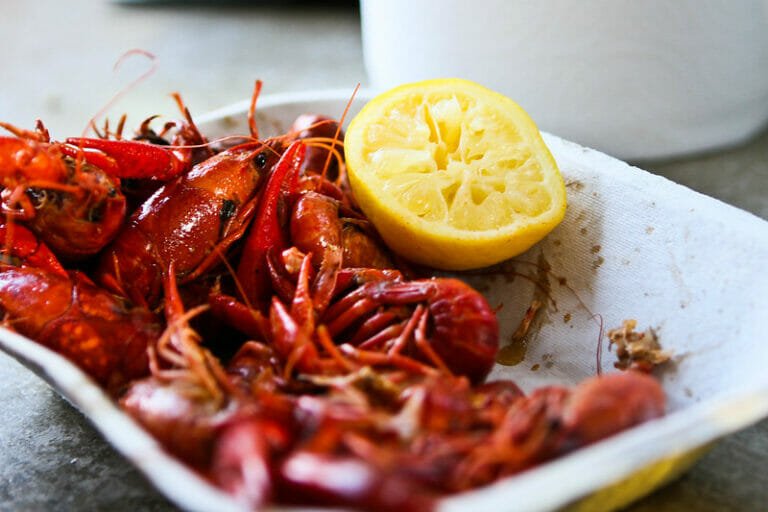 SEE A SHOW AT AT PRESERVATION HALL
Tickets are $20 and first come first served.
CHOW DOWN ON CHEESE AND WINE AT BACCHANALS
Best enjoyed in their courtyard, alongside some live Jazz.
EAT PLENTY OF PO-BOYS
Parkway Tavern, Verti Marte, and Domilise's come highly recommended.
HAVE A BOOZY PICNIC AT THE FLY
Nearby Gracious Bakery + Cafe is a great place to stop off for supplies.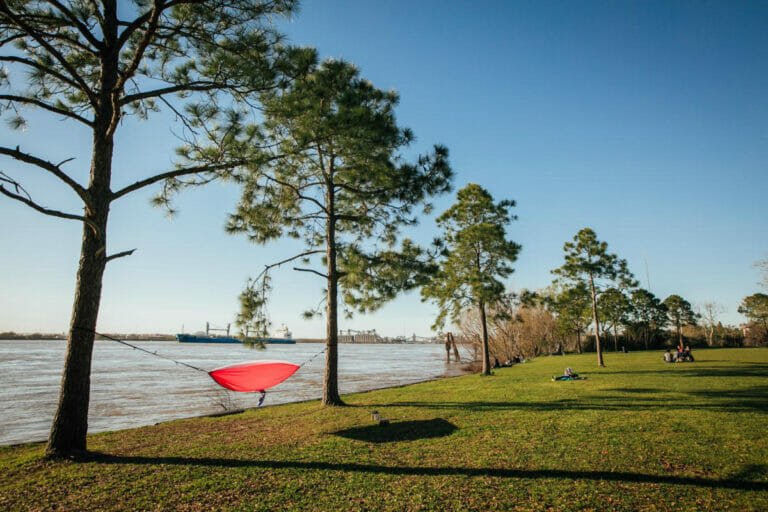 SEE REBIRTH BRASS BAND AT THE MAPLE LEAF
22 years and they only get more popular.
HIT UP HAPPY HOUR AT LUKE
Drinks are half price and oysters are 50 cents.
---

Can't quite afford the flights? Plaquemine-Lock offers up a slice of New Orleans right here London.