Make Santa Jealous | Where To Get Festive in Canary Wharf
It's the most wonderful time of the year…
…for everyone except the big guy at the North Pole and his elves, busily tinkering away at dolls' houses, teddy bears and subscription boxes of natural wine.
You, on the other hand, are free to make the most of the festive season, and as the nights draw in it's the perfect time to hunker down with your lover, your friends, or – why not – yourself, and warm your cockles over hearty food, hot cocktails, and wintry treats in a toasty little nook somewhere.
So we've picked out all the cosiest corners of Canary Wharf where you can do just that…
–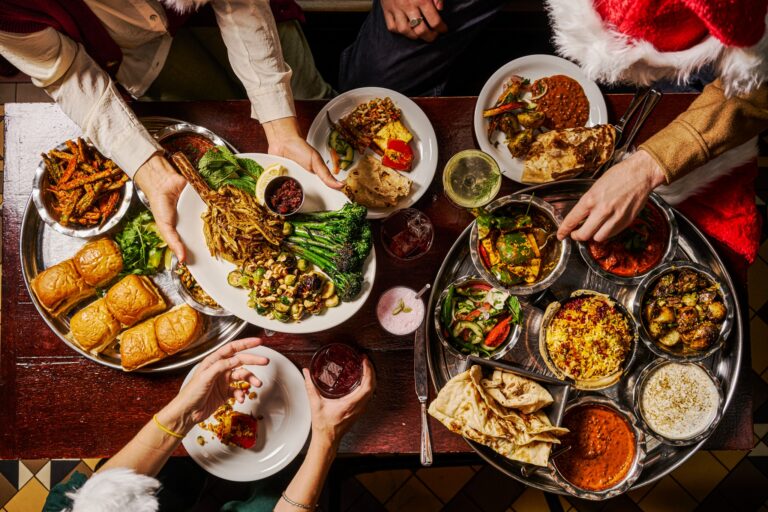 Something about Dishoom's house black daal seems almost scientifically engineered for cosiness. Silky, rich, and cooked slowly over 24 hours, it seems to keep you warm for just as long. Nab a table in the golden-hued dining room of their Canary Wharf restaurant, and scoop it up with sheets of freshly-griddled handkerchief roti, followed by warming jackfruit biryani; mutton pepper fry; and Canary Wharf's signature dish, the whole tandoori bream. Making a real occasion of it? Plump for this year's Christmas menu, with slow-cooked turkey leg and mince pie kulfi… and finish with a round of mulled Bramble cocktails, or a spice-scented cup of Dishoom's famous house chai.
Details: 13 Water Street, E14 5GX
–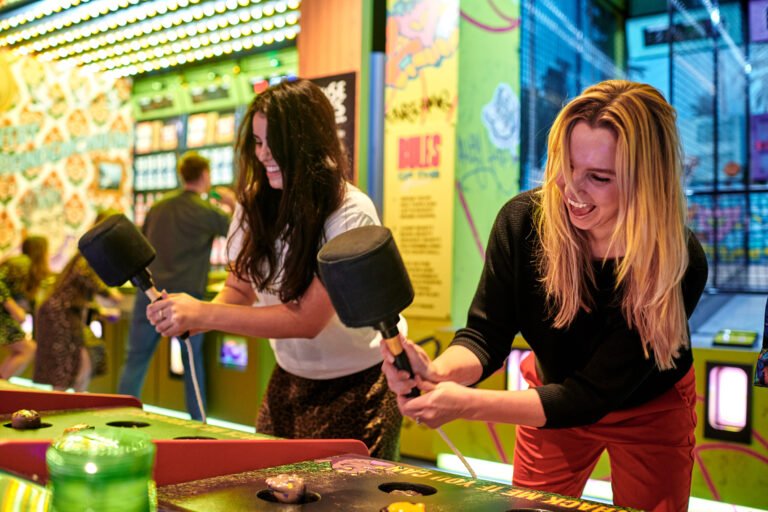 If you're feeling remotely shivery, a high-octane game of whack-a-mole – which you'll start 'for a laugh', but will inevitably end up getting inordinately competitive over – will soon get the feeling back in your fingers. Fairgame is one of the newer activity bars in London and offers a guaranteeably hilarious night out, where you'll duke it out in a variety of old-school carnival games before toasting the victor with prosecco-flavoured candy floss and toffee apple martinis. And if you're getting a big group together for a festive knees-up, there's also a load of private hire spaces, including fairground gondola-shaped booths where you can kick back with buckets of beers and sharing platters of crowd-pleasing street food.
Details: 25 – 35 Fisherman's Walk, London, E14 4DH–
–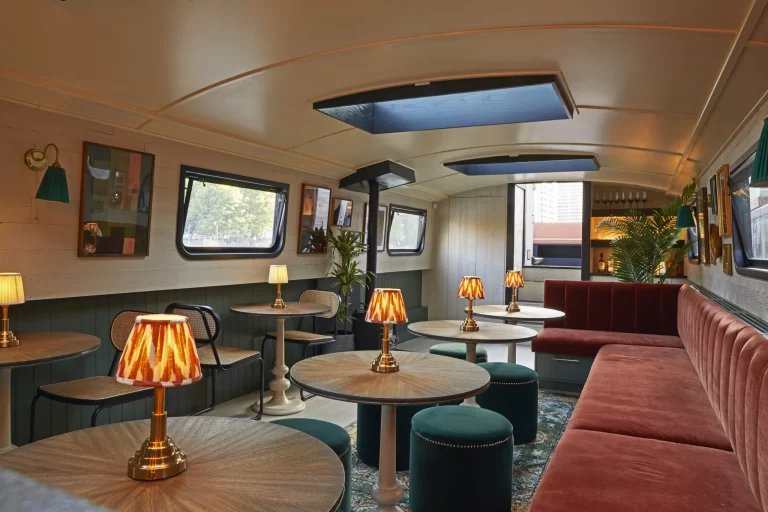 If you're planning a date on a crisp, wintry evening, here's an idea that's always worth floating: cocktails on a barge. The Boathouse is inspired by the jazz clubs of Paris, with plush, low-lit interiors and regular live music nights. You'll find it moored up in the swanky new Wood Wharf, with glittering views across the water and a deck on the roof if it's not too cold to look up at the night sky. And if it is? Snuggle up on the red velvet banquette inside…
Details: Boardwalk, Wood Wharf, E14 9SF
–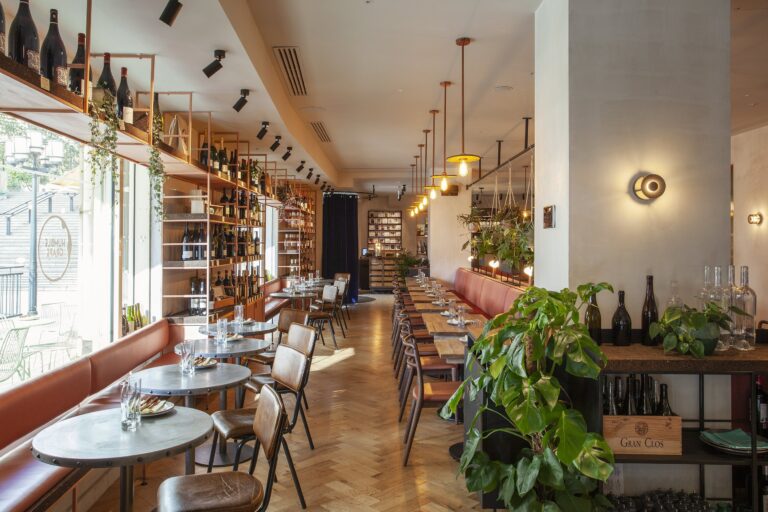 Humble Grape actually has a lot to boast about. Like their newest wine bar & restaurant, perched by the waterside on Canary Wharf's Middle Dock. In summer, it's a popular spot to sit outside and watch the sun go down, but in winter – whisper it – it's actually even better. You can hunker down inside and get on with the serious business of exploring their 450-strong collection of bottles, from elegant Austrian reds to deep ruby port from Portugal's Douro valley. There's something to tempt you in most days of the week, with Tuesday tasting flights, takeaway prices on Mondays, and one hell of a roast on Sundays. In fact, you might end up getting through their collection sooner than you'd think…
Details: 18-20 Mackenzie Walk, E14 4PH
–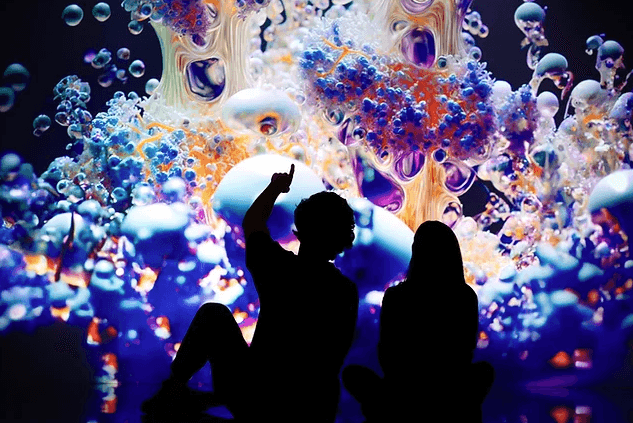 Walking through a winter wonderland? Been there, done that. Try taking a stroll through a psychedelic, hyper-colourful alien landscape. Illusionaries is Canary Wharf's new exhibition space dedicated entirely to all-enveloping, 360° digital art. The current exhibition, Latent Spaces, is truly eye-opening – and that's just on the screens. Created by London-based artist Markos Kay, it's a mind-boggling show that unfolds across three enormous rooms, providing the perfect cosy escape when the real world's looking a lot more grey.
Details: Crossrail Place, E14 5AR
–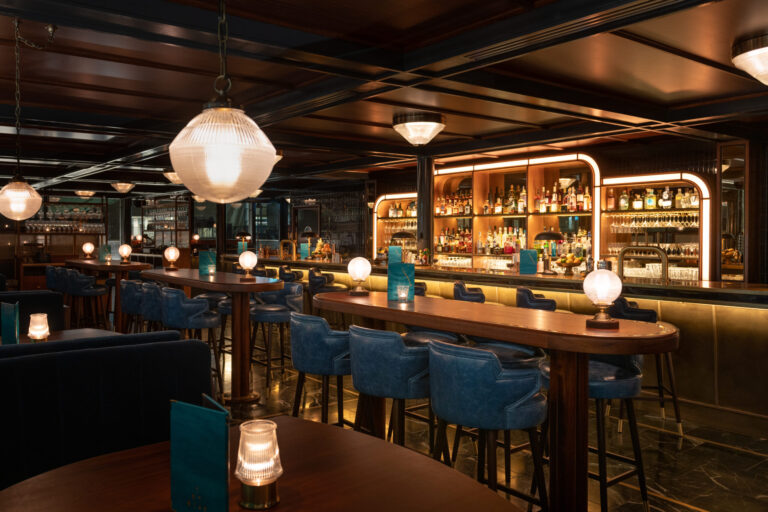 Oh, this old thing? Just a stunningly glamorous cocktail bar slung beneath Hawksmoor Wood Wharf, with the feel of being below deck in an art deco cruise ship. Corral your companions into one of the snug booths looking out over the water, and sip festive-feeling concoctions like the Sour Cherry Negroni and the Fuller Fat Old Fashioned (with salted brown butter & tonka bean). And if you're feeling peckish? You can dip your toe in the water (so to speak) of the full Hawksmoor experience with a menu of burgers, steaks, and sticky toffee pudding. Yep, we're glad they don't get the concept of 'bar snacks' either…
Details: 1 Water Street, E14 5GX
–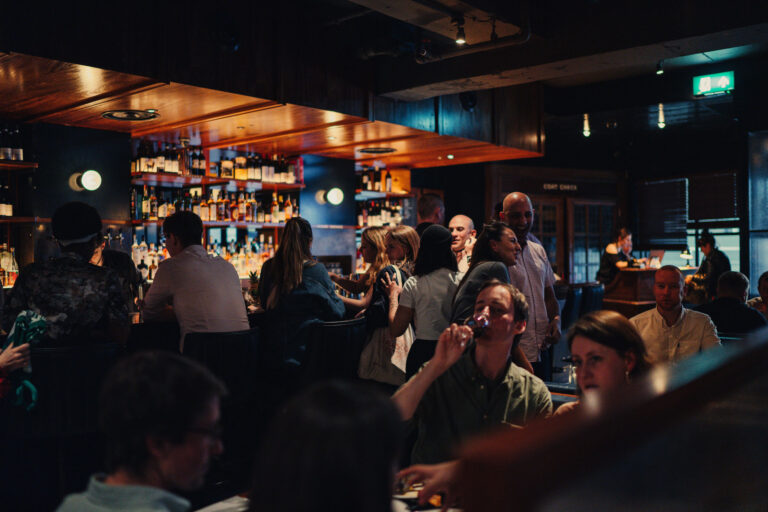 Blacklock's moodily lit temple to smoked meat is the ultimate hideaway on a frosty day. And sure, on any given day you and your mates can barrel in here, hole up in a corner booth, and settle in for a feast of thick smoked bacon chops, beef dripping chips, and white chocolate cheesecake. But you'll want to mark the 28th November in your diary, because that's when Blacklock's legendary Christmas Burger returns: a teetering Jenga pile of grilled turkey thigh, sausage patty, bacon, winter slaw, Camembert and cranberry ketchup. Add a little wine on tap or a signature house cocktail – many of which you won't find at any other Blacklock – and you've got yourself a lunch that could easily slip into dinner…
Details: 5 Frobisher Passage, E14 4EE
–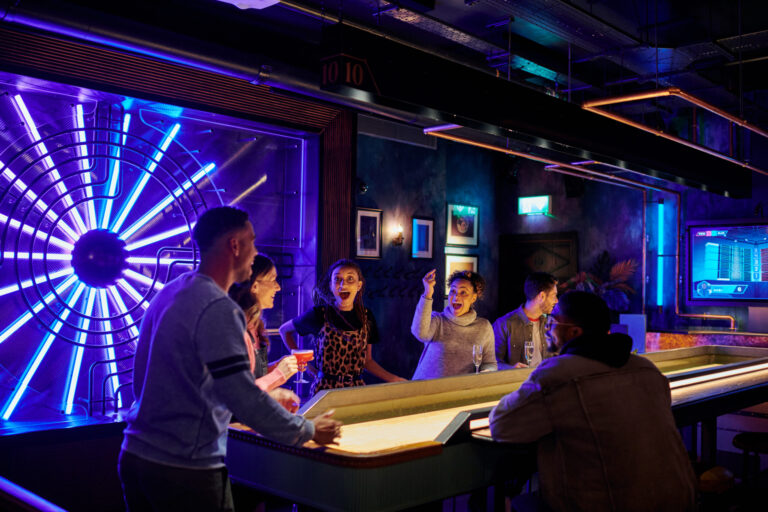 Electric Shuffle is here to zap away your winter blues. Warm up with the aid of a couple of Spiced Apple Hanger cocktails (that's rum, caramel, chocolate bitters & cloudy apple), then indulge in a little light competition on the shuffleboard lanes, battling it out over a series of teched-up games that riff on tabletop shuffleboard with automatic scoring, inventive twists and laser-sharp visuals. It's basically like curling, without the ice…
Details: 10 Cabot Square, North Colonnade, Canary Wharf, E14 4EY
–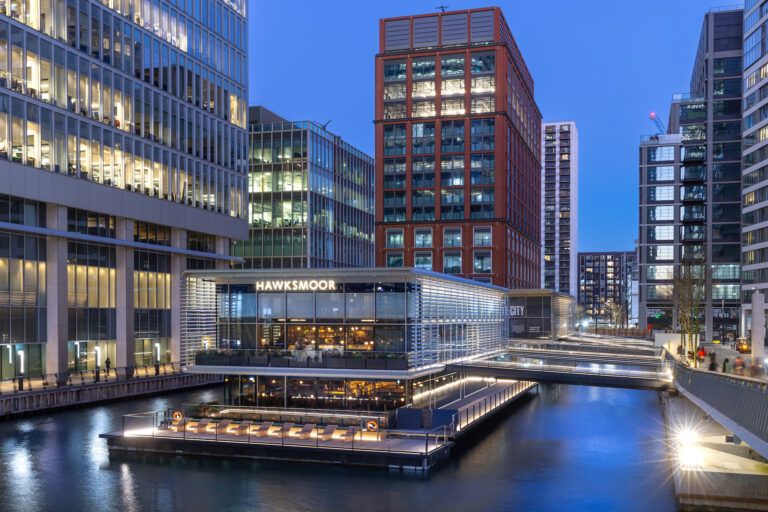 Yes, we could remind you that London's most beloved steakhouse gets its famous dictionary-thick cuts from Ginger Pig's ethically reared, rare breed longhorn… but it's possible that the real reason you should be visiting Hawksmoor this winter is for the mac & cheese alone: a cast iron skillet loaded with five types of melted cheese – yes, five – and a crispy parmesan crumb topping. Oh, and for added super-cosy-restaurant points, the whole place is floating. It's a two storey, sustainably-built pavilion moored up on the water itself, accessible by its own private bridge…
Details: 1 Water Street, E14 5GX
–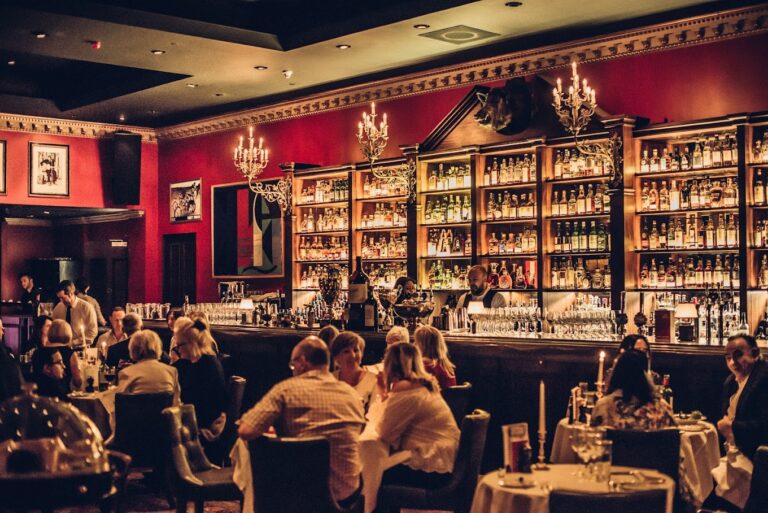 Unlike Santa, you don't have to wait until Christmas eve to get a tot of liquid gold. There's nothing like a wee dram when there's a nip in the air – and Boisdale has one of the best whisky bars in London. Their 12m long bar holds an impressive 1,000 bottles of the stuff, and the 83-page menu isn't so much a list as an atlas. You'll find a thorough representation of most of Scotland, plus a few familiar bourbons and Japanese whiskies, and a few less familiar numbers from India, Switzerland and Taiwan. And with regular live music, there's no need to rush back out to the cold any time soon…
Details: Cabot Place, E14 4QT
–
–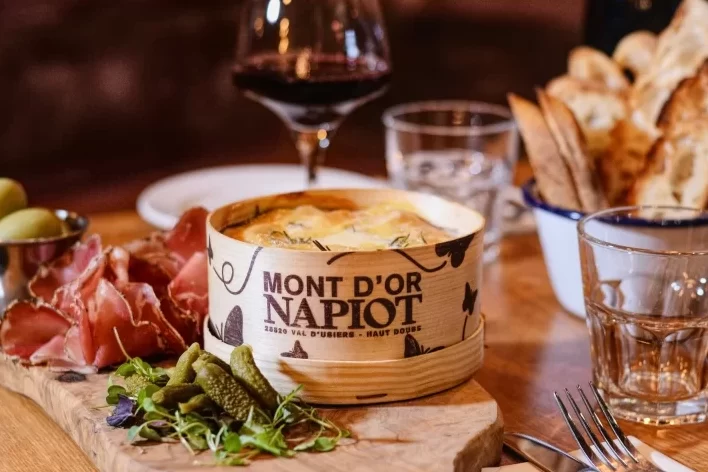 If you're after a cosy mid-day pick-me-up, here's a café you'll want to take note of. The Notes empire is rapidly growing across London, and its easy to see how: single origin coffee, roasted in East London, and served in warm, lively settings (that are both laptop and dog-friendly). Pop in for all-day brunch, a pot of Lalani & Co single batch tea, or, come the evening, a cheeseboard and a glass of wine…
Details: Unit CR24 Crossrail Place, E14 5AR

–

Ironically, Everyman is not your everyday cinema. It takes your typical, run-of-the-mill film experience, and bumps it up a good couple of notches with plush velvet sofas for two; comfy cushions and footrests; and hot food, cocktails and build-your-own sundaes delivered directly to your seat. Look, winter doesn't have to mean no ice cream, ok?
Details: Crossrail Place (Level -2), London, E14 5AR
–
---
Feeling festive? Find out what's happening in London this month