If you squint hard enough, you may just be able to tell where Little Venice gets its name from. The picturesque waterside oasis is thought to have gotten its nickname from poet Robert Browning, a former resident of the area in the late 19th century who had spent some time in Italy. 
Neatly bordering the west London neighbourhoods of Paddington and Maida Vale, Little Venice serves as the meeting point of the Grand Union Canal and Regent's Canal. Once thronging with barges loaded up with coal and other commodities, nowadays it's a tranquil area to explore. Narrowboats bob up and down on the water and Regency-era white-painted stucco buildings line the streets, lending the area a distinctive charm that makes it popular with Londoners and tourists alike.
The best time to visit Little Venice is the early May bank holiday weekend, when the annual canal-boat festival takes place. During the day, dozens of colourful canal boats glide into the basin, surrounded by pop-up bars, street food stalls and live music, before they sail away along the canals at dusk in a beautiful illuminated parade.
That said, it's a great area to explore year-round – in summer you can dine in waterside restaurants and relax in the leafy parks; later in the year, Little Venice makes an excellent starting point for a crisp autumn stroll along Regent's Canal passing the zoo, Camden Market, and King's Cross before ending up in East London.
We've put together a big guide to Little Venice below (and you can get a feel for it all in our reel right here)…
---
JUMP TO: Restaurants in Little Venice | Pubs around Little Venice
---

Best things to do in Little Venice
London Waterbus Company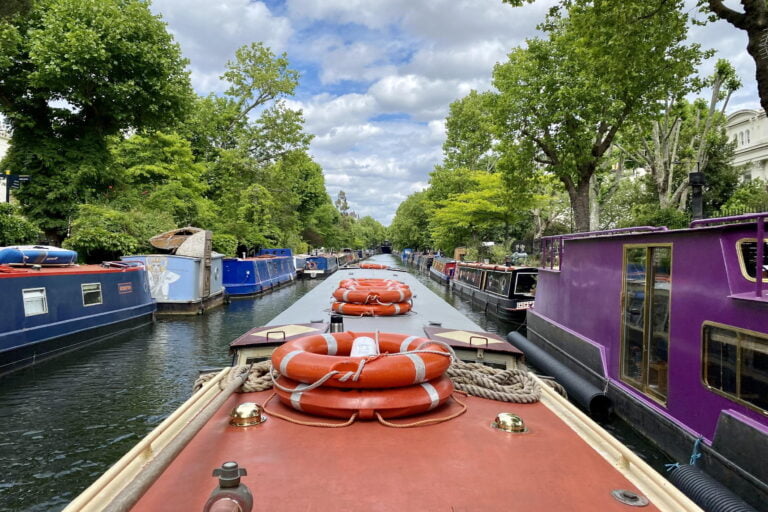 For a bus ride that will really – ahem – float your boat, hop aboard one of London Waterbus Company's traditional narrowboats and take a leisurely cruise along Regent's Canal towards Camden Market. The 45-minute journey begins at Blomfield Road (opposite Warwick Crescent) and passes through the grounds of London Zoo (look out for warthogs and African wild hunting dogs in their canalside enclosures). You'll also meander past the meticulously manicured back gardens of stately homes and modern villas, travel through the somewhat spooky depths of the 249-metre Maida Hill Tunnel, and pass under some pretty ornamental iron bridges. Prefer to tackle the high seas yourself? Hire a private electric Go Boat from Paddington, and pack your own picnic to enjoy as you chug along.
Waterbus: Waterbus Wharf, Blomfield Road, London W2 6NG | £15 (single trip) | Book here
Go Boat: Merchant Square, London W2 1AS | £85+ per hour (8 people) | Book here
–
Canal Café Theatre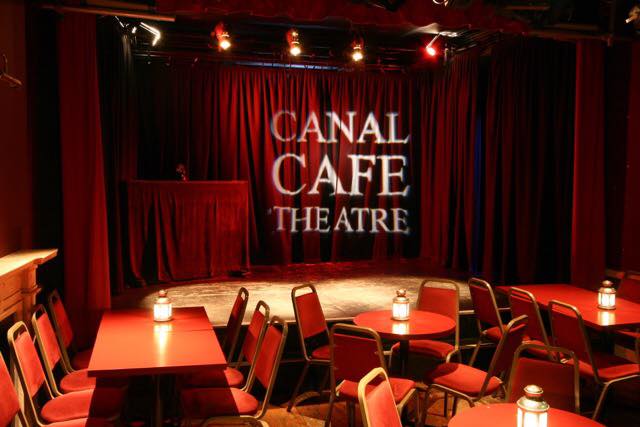 Smack bang in the heart of Little Venice, is the Canal Café Theatre. The comedy, cabaret and theatre venue – which sits above the charming Bridge House pub – has been a beloved neighbourhood gem since it first opened in the '70s. Despite only seating 60 people, it manages to boast an impressive programme of world-class theatre and comedy, including the world's longest-running live comedy show, NewsRevue. Notable names to have graced the stage include John Oliver, Miranda Hart and Eddie Izzard, so you know you're in for a treat.
Details: 13 Westbourne Terrace Rd, London, W2 6NG | Book here
–
Rembrandt Gardens
Rembrandt Gardens were opened in the 1950s but renamed after the Netherlands' most famous artist in 1975, when the city of Amsterdam donated thousands of tulips to the park. The well-kept waterside gardens boast plenty of green space that's perfect for picnicking, or else bring a book and soak up the tranquil atmosphere. 
Details: 6 Warwick Ave, London, W2 1XB
–
Puppet Theatre Barge
For over 30 years, the Puppet Theatre Barge has been a source of delight for children and adults alike. The converted Thames barge puts on a year-round programme of puppet show performances in its surprisingly spacious 55-seat floating theatre space. Specialising in traditional puppetry using long-string marionettes, there is a distinctive old-world quality to each performance, enhanced by the soft lighting and plush golden curtain. Step aboard to be transported back in time, even if just for an hour.
Details: Opposite 35 Blomfield Road, London, W9 2PF | Book here
–
Clifton Nurseries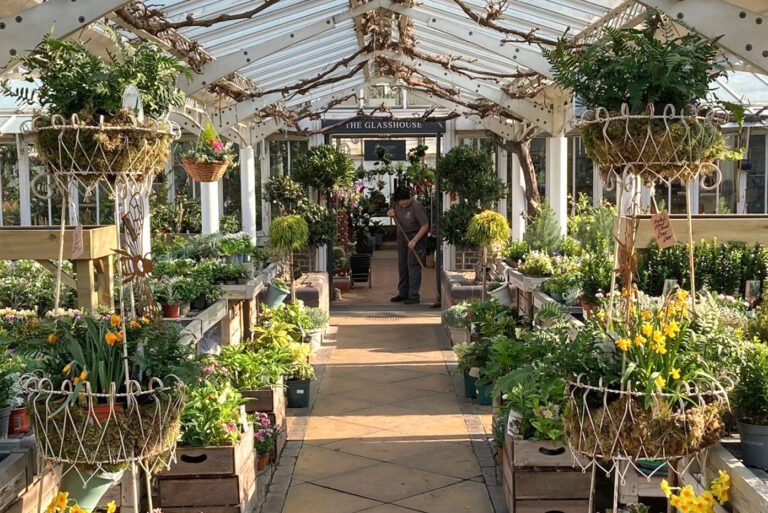 Clifton Nurseries is the oldest – and arguably most impressive – of London's plant shops, a veritable oasis tucked among the fine townhouses surrounding Little Venice. Since 1851, it has been the go-to gardening emporium for aspiring green thumbs and established horticulturalists alike. Even if you're the type who can't manage to keep a single house plant alive, it's well worth a visit for a stroll through the palatial glasshouse and a gander at the lush greenery and exotic flowers. Once you've gotten your foliage fix, hotfoot it to the garden café, Flotsam & Jetsam.
Address: 5A Clifton Villas, London, W9 2PH | Find out more here
–
---
Best places to eat in Little Venice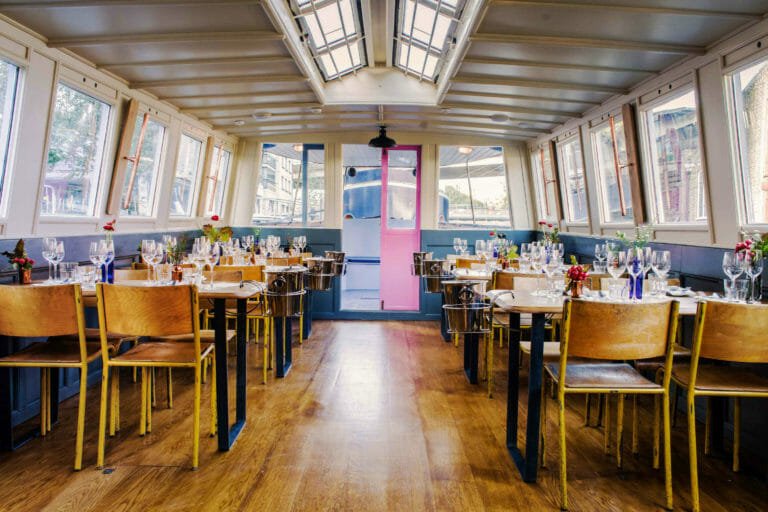 Sure, Little Venice, may not have gondolas, but it still knows how to do floating romance. Step aboard this candlelit barge for a phenomenal five-course seafood menu served alongside an English sparkling wine list, all while it gently winds its way down Regent's Canal from Paddington to Camden. Put simply, it's the boat that rocks.
Details: The Prince Regent Boat, Moored by Sheldon Square, Paddington, Central London, W2 6PY | Book here
–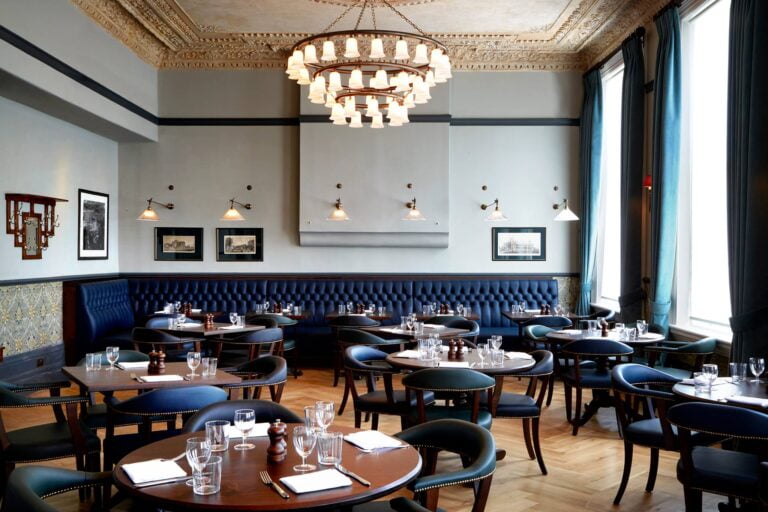 If you're looking for a sticky-floored boozer with cheap pints and packets of peanuts, The Hero of Maida certainly isn't it. Rather, it's a swish gastropub with high ceilings, dark wooden furniture and leather padded banquettes, plus a high-end menu to match. There's a clear French influence informing the dishes. Alongside British classics like scotch eggs and cod and chips, the menu features Gallic-inspired fare such as steak tartare, double raclette cheeseburgers and crème brûlée. Bring your parents for a smart Sunday lunch in the dining room, or enjoy a casual mid-week pint in the heated courtyard. 
Details: 55 Shirland Rd, W9 2JD | Book here
–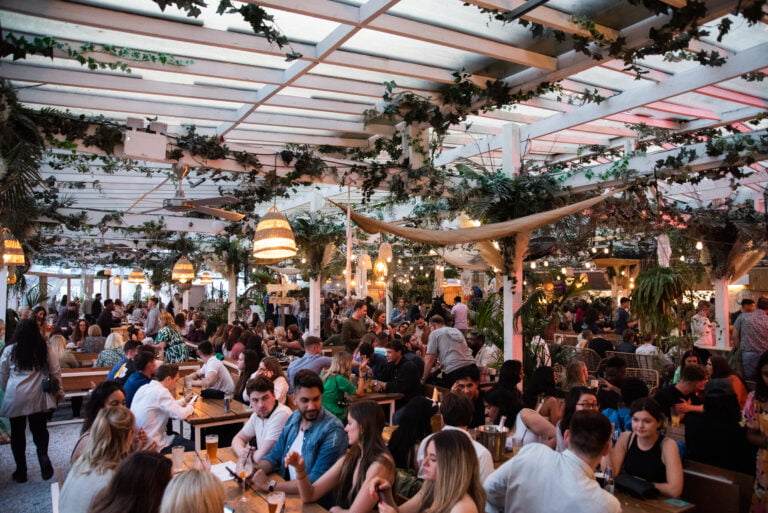 When you've got a group of fussy friends who can't agree on where to meet for a casual drink and bite to eat, Pergola Paddington is the place to go. The vine-covered, fairy-lit rooftop oasis is home to a couple of bars, plenty of bookable group seating and a choice of street food stalls. Currently in residence are Lucky's Hot Chicken, pastrami-slingers Salt Shed, and Japanese izakaya-style snacks from Temaki Bros. Throw in some cocktails and craft beers and everyone's bound to be happy. 
Details: 4 Kingdom St, W2 6PY | Book here
–
The Summerhouse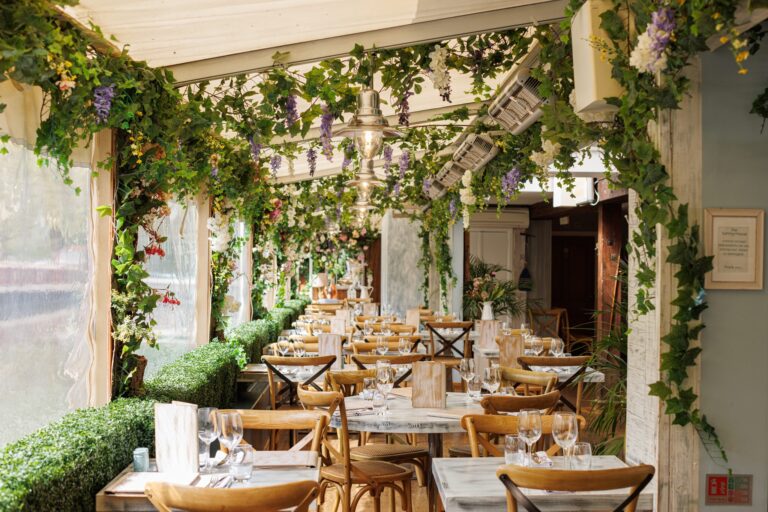 The Summerhouse is where you go when the city grind is getting you down and you want to pretend you're thousands of miles away. Fresh seafood: tick; fabulous canal-side views: tick; glamorous clientele: tick – what's not to love? As its name suggests, this place is in its prime in the warmer months, so nab a spot in the sunshine and linger for hours over Champagne and lobster. 
Details: Blomfield Road, London, W9 2PA | Book here
–
Cafe Laville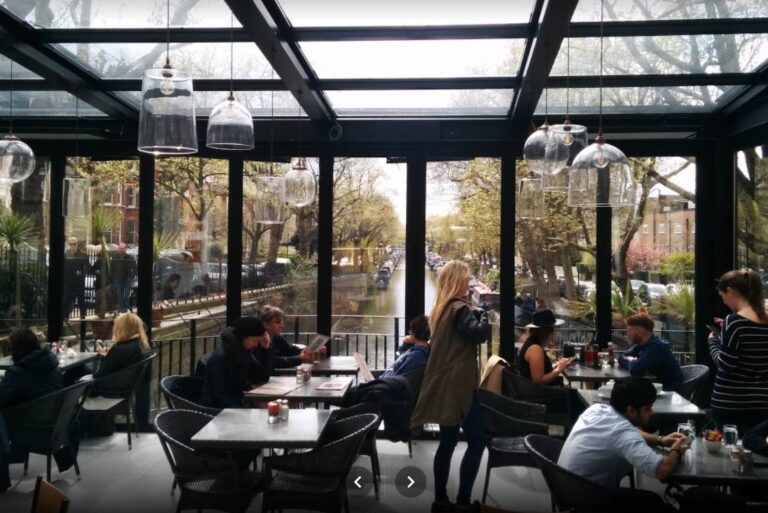 Perched atop the Maida Hill Tunnel, Cafe Laville is the perfect place to sit and soak in the charm of Little Venice as you watch the colourful canal boats drift below you. The balcony offers the best seats in the house, but the floor-to-ceiling windows and skylights lend the interior a bright and airy feel, no matter the time of year. No doubt you'll come for the views, but stay for the food: there's a sizeable pizza menu with all the favourites, plus a variety of pasta and other Italian classics.
Details: 453 Edgware Road, London, W2 1TH | Book here
–
Tokyo Pizza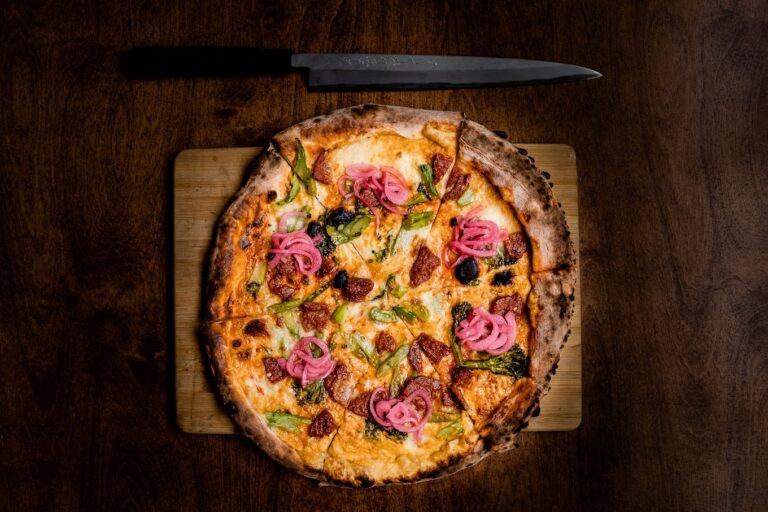 In a neon-lit, bunker-style izakaya setting, classic pizzas are given the Tokyo treatment with the addition of Japanese ingredients. And it's just weird enough to work. There's the salami pizza topped with shichimi tomato sauce and shishito pepper, a mushroom pizza elevated with sweet soy truffle glaze, and a spicy wagyu pizza with roast tenderstem broccoli on a sweetcorn cream base.
Details: 47 Maida Vale, London, W9 1SD | Book here
–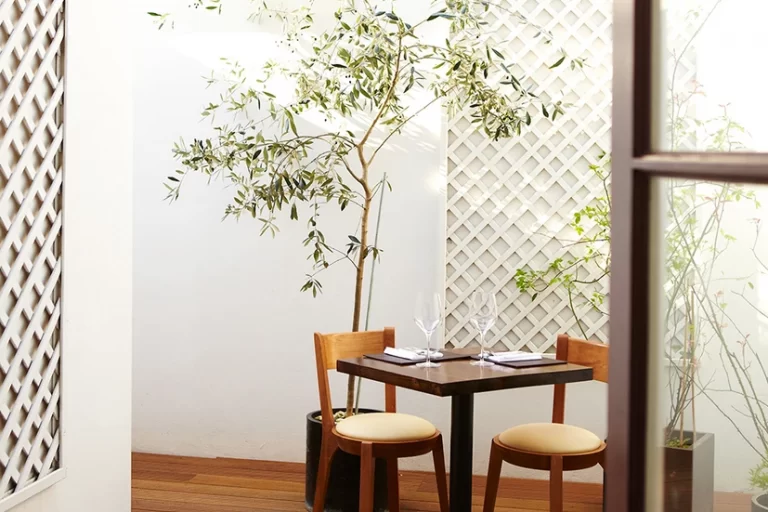 Kateh is one of Little Venice's best-kept secrets. Despite appearing in the Michelin Guide as a Bib Gourmand restaurant, the Persian eatery still manages to fly under the radar. With Iranian chef Narges Pourkhomami at the helm, the menu features a selection of authentic stews and salads alongside chargrilled meats and traditional Persian desserts. The elegant dining room seats just 75, while a private dining room downstairs and a pretty garden terrace offer additional space.
Details: 5 Warwick Place, Warwick Avenue, W9 2PX | Book here
–
---
Best places to drink in Little Venice 
The Warwick Castle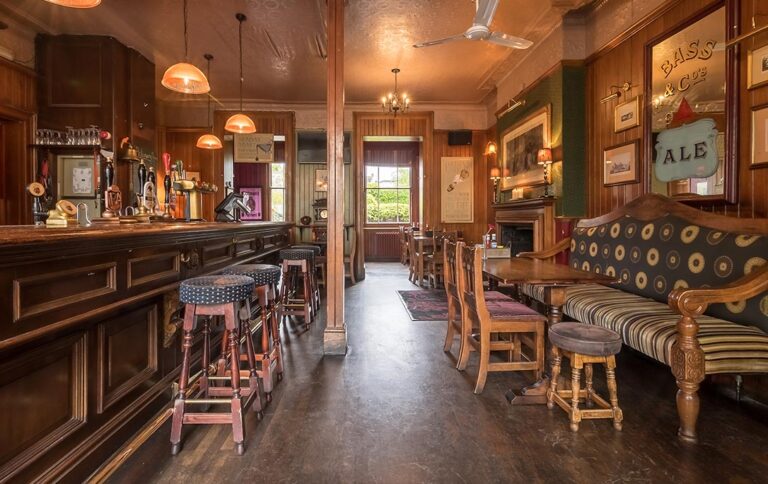 The Warwick Castle is a locals' haunt that prides itself on its convivial charm. The Warwick Place stalwart has been around since 1867, and maintains its old-school appeal with wood-panelled interiors, ornately etched windows and a marble fireplace. Have a glass of wine at one of the outdoor tables, or settle in for a hearty Sunday roast by the open log fire – just don't forget to order the sticky toffee pudding for dessert.
Details: 6 Warwick Pl, London, W9 2PX | Book here
–
The Prince Alfred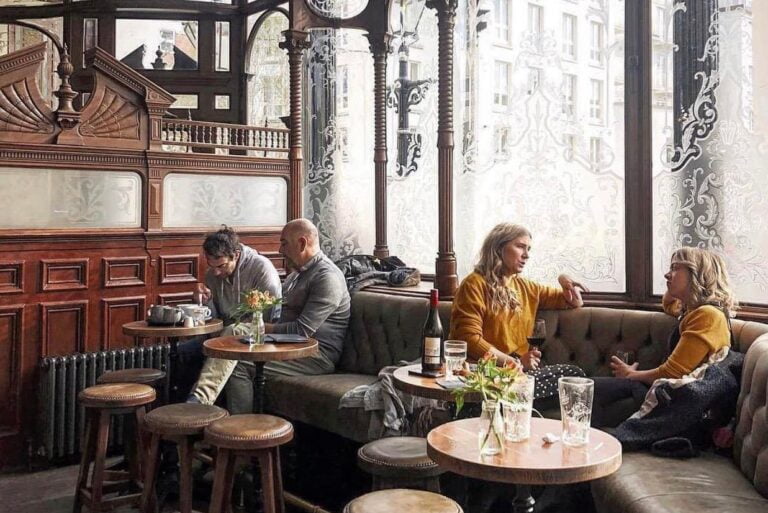 Travel back in time to the 19th century at The Prince Alfred, where very little seems to have changed since 1856. The Victorian pub is a hit amongst locals and visitors alike for its lavish interior, complete with 'snob screens' that separate the different sections of the bar. The secret cellar downstairs, originally used for storing coal, has been thoughtfully transformed into an intimate space for private parties and gatherings.
Details: 5A Formosa Street, London, W9 1EE | Book here
---
Love discovering new neighbourhoods? Check out The Nudge's Itineraries