Taking a stroll along Regent's Canal is a lovely way to spend time in your neighbourhood… whether that neighbourhood is Maida Vale, King's Cross, or Hackney Wick.
Almost nine miles long, the canal is a relic of London's industrial past, once rammed with barges ferrying coal and other cargo from one side of the city to the other. Nowadays, most of the water traffic comes from ducks and swans, while colourful houseboats hug the towpath, and cyclists, runners and pedestrians flock to make the most of this tranquil artery through the city, away from the hustle and bustle of the streets.
If you're feeling up to it, it'll take you just under three hours to walk the entire length of Regent's Canal, but there are also regular paths and stairwells connecting the towpath up to the main streets, meaning you can dip in for smaller sections that take about 20 minutes. And making all this a considerably easier task is the bevy of bars, restaurants and cafés dotted along the way, the best of which we'll take in here.
Obviously, you can follow this itinerary in either direction, but for now we'll start towards the western end at Paddington Basin, right outside the station:
–
PADDINGTON BASIN TO LITTLE VENICE | 10 MINUTES
Depending on the time of day, you might like to kick off your adventures with brunch at Darcie & May Green, enjoy some fine British cheese on the rooftop of The Cheese Barge, or start the first leg of your canal sightseeing in style, by enjoying a lunch cruise along the waters with London Shell Co, whose restored barge The Prince Regent takes punters up to Camden and back while lavishing them with freshly caught seafood and sparkling wine.
If you'd rather just crack on, grab a coffee (and possibly a cannoli – purely for sustenance purposes, you understand) from Torelli, the espresso bar stationed inside an old vintage airstream, and set off northwards on your canal-side adventure.
Just above Paddington Basin is the area known as Little Venice, and it's not because of the pigeons. This quaint little corner of Maida Vale is ridiculously picturesque, with weeping willows bowing gracefully into the water, olde timey canal boats garlanded with bunting, and – is the water meant to be that green? – cute little ducks bobbing around. Cross over the powder blue bridge and head down along the other side of the canal (from here there's also the option to jump onto a London Waterbus and take a 45 minute one-way cruise that'll take you right up to Camden Market).
If you're walking, you can nip back up to street level when you reach the next bridge – across the road you'll find Rembrandt Gardens, a pocket-sized waterside park filled with tulips (which wouldn't make a terrible place to sit down and paint).
What lies in store is about 20 minutes of gorgeously scenic uninterrupted strolling along the towpath, so let's crack on with the next leg:
–
LITTLE VENICE TO REGENT'S PARK | 20 MINUTES
Regent's Canal, Regent's Park – the future George IV got a lot done in the nine years he was waiting for his dad to get off the throne. The canal cuts right through the park, so this is where things get even more leafy. You can duck off the path here to go into the park itself, maybe enjoy a little picnic, stroll through Queen Mary's rose garden or take a boat out across the lake.
While walking along the towpath you can gawk at the sprawling gardens tacked onto the back of the park's mansions. And when you hear the distinctive cries of African hunting dogs through the trees, don't panic – the canal runs through London Zoo on its way towards Camden.
–
REGENTS PARK TO PRIMROSE HILL | 20 MINUTES
You might want to come off the towpath when you reach the Feng Shang Princess (you can't miss it – it's a Chinese restaurant that looks like a floating red pagoda), and take a hike up Primrose Hill for amazing views over London, or just a quick snack or a pitstop in the pubs (The Landsdowne and The Albert are both good shouts). Otherwise, carry on for another ten minutes (and keep your eyes peeled for the Banksy art along the way)…
–
PRIMROSE HILL TO CAMDEN MARKET | 10 MINUTES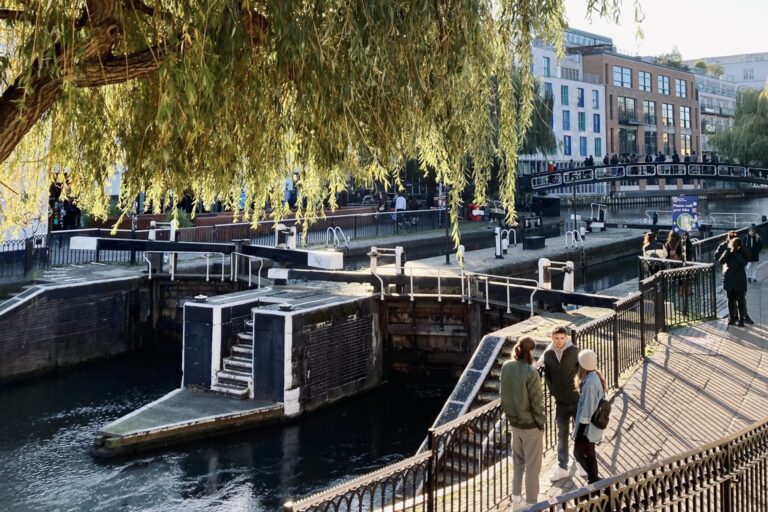 This waterside patch is probably the most picturesque part of the iconic Camden Market, with the historic lock on your right, a pretty bridge arching over the water, and a bustling street food market set set in the old loading bay.
Stop off for lunch here and take your pick from the dozens of international stalls, from Only Jerkin's Caribbean-inspired chicken & chips to fresh pasta made inside a cheese wheel from, er, The Cheese Wheel. Stay on the towpath a little longer to come up at Hawley Wharf, a new uber-sleek extension of the market on the other side of the bridge, where you can try Three Uncles' legendary Cantonese roasted meats and the amazing cheesy naan melts of Khaao Karachi. Finish off with a battered ice cream scoop from T's Fried Scoop for the ultimate hot-cold combo, and take it with you as you head from…
–
CAMDEN MARKET TO KING'S CROSS | 15 MINUTES
As you keep walking east along the towpath, keep an eye out for Sir Nicholas Grimshaw's Grade II listed 'High-Tech' apartments facing the canal (they were built in the 1980s and back onto his Sainsbury's building, which is surely one of only a few supermarkets to be listed).
Before King's Cross became the buzzy bar and restaurant nucleus it is today, it was a major unloading hub for all the goods carried by the barges, so at this point the scenery around Regent's Canal starts to become a bit more industrial. You'll pass the old lock keeper's cottage, a Victorian gasholder reborn as a park, and old warehouses (like the former coal offices which now house Assaf Granit's amazing Middle Eastern restaurant).
Following the path as it curves round, you'll find yourself by the stadium seating which, in summer, hosts free film screenings by Everyman. Heading up the steps to Granary Square with its enormous fountain display, you could take a seat outside for a sit-down lunch at Caravan King's Cross, pick up a sandwich and a negroni to go from Sons + Daughters, stop by Ruby Violet for a scoop of gelato, or head up to Canopy Market to browse the stalls (open Friday – Sunday).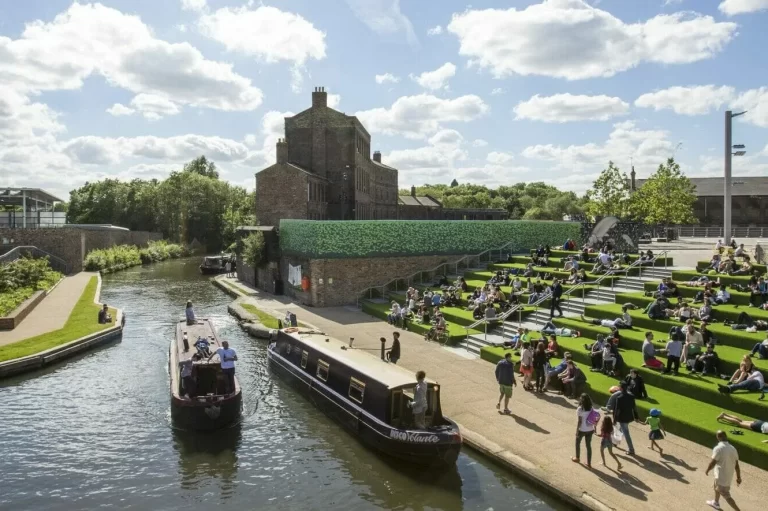 As you continue along the path, you might catch the mellifluous strains of musicians (and occasionally, flamenco dancers) stationed on top of Word on the Water, a floating bookshop that's well worth a rummage through as you pass. And if you fancy taking a topical break here, you can also cross over to the other side of the canal to visit The Canal Museum, a tiny little spot in a Victorian ice warehouse, which they quite accurately describe as "the only London museum of inland waterways".
–
KING'S CROSS TO ISLINGTON | 20 MINUTES ON THE BUS
Just east of the Canal Museum, the towpath disappears as the canal narrows. You could make your way along Islington's backstreets, but honestly you might just want to save your legs at this point and hop on a bus up to Angel station.
–
ISLINGTON TO HAGGERSTON | 25 MINUTES
Feels like it might be time for a pint, doesn't it? Luckily Islington's pubs are here to duly oblige before you get back to the canal. If it's a nice day, stretch out in the beer garden at The Earl of Essex; if it's rainy, get cosy in the invitingly old-school setting of The Island Queen. Skipped lunch at King's Cross and fancy something a bit more substantial? Head up to Plaquemine Lock, Jacob Kenedy's Louisiana-style tavern overlooking the canal, with soulful southern dishes, mint juleps and regular live blues.
Just after you pass under Whitmore Bridge you'll stumble across the jewel in the crown of the Haggerston Riviera, Towpath Café. Once Spring has sprung, this waterside institution rolls back the shutters and sets up tables and chairs directly onto the path, where chef Laura Jackson serves up a roster of top-quality Modern British small plates and carafes of wine. It's walk-in only, and has something of a cult following, so be prepared to hang around for a table – it'll be worth it. Queue too long? Peel off onto the Kingsland Basin and pop into Toconoco, a family-run Japanese café serving satisfying rice balls and noodle bowls.
–
HAGGERSTON TO BROADWAY MARKET | 20 MINUTES
Now that you're in Haggerston, you could head up the ramp to Haggerston Bridge and duck into A Bar With Shapes For A Name, currently standing on the World's Best Bars list and serving up some inventive pre-batched cocktails in a Bauhaus-inspired setting.
There's some unique-looking architecture along this stretch of Regent's Canal, from the huge scarlet ark that is Laburnum Boat Club to the sculptural installations around Hoxton Docks. After you pass the lock, swing a left to leave the towpath and you'll find yourself approaching Broadway Market, one of East London's most famous streets. On weekends the place is swarmed by market stalls, but on quieter weekdays you can still mooch round the dozens of independent businesses lining the street, from the Pavilion bakery to The Broadway Bookshop, Oded Oren's delicatessen, and vintage clothing in Retrouvé. If you want to stick around a while, head to the end of the street to soak up some sun in London Fields, or pop into Netil Market for a bite. Have a craving only a couple of small plates in a minimalist space run by Max Rocha will fix? Café Cecilia is waiting for you with a deep-fried bread & butter pudding and a view over the water.
–
BROADWAY MARKET TO VICTORIA PARK | 15 MINUTES
Carry on past the gentle giants, Bethnal Green's rusting old gasholders, and continue along the towpath as it crosses under Mare Street (home to a cluster of great bars and restaurants – Ombra, Bistrotheque and Rogues are all within a stone's throw of the water, as well as the absinthe-den-cum-curiosity cabinet that is The Last Tuesday Society). It's just a short walk along a particularly canal-boat laden stretch of Regent's Canal until Victoria Park begins to open up on your left.
This bucolic, 80+ hectare park is one of London's most treasured green spaces – home to a boating lake, a Sunday market, and roller skating. Oh, and a Chinese pagoda. And if you're tackling this mega-walk from this end first, it should almost certainly feature one of the legendary Sri Lankan breakfast spreads at Pavilion Café.
–
VICTORIA PARK TO HACKNEY WICK | 30 MINUTES
The end is in sight! Or, if you've just started from this end, oh boy do you have a long walk ahead! Taking a left along Old Ford Road on the fringes of the park allows you to rejoin the canal route towards Hackney Wick (or if you prefer, continuing straight along the path you were on will take you down to Mile End). This last stretch of Regent's Canal takes you past a gloriously leafy sweep of trees before giving way to a considerably less glorious building site which has been under construction for probably a million (or at least four) years. But there's still a kind of faded appeal to this last span of the canal, with warehouse-style buildings, massive graffiti murals and resilient clumps of nature taking over the beaten-up walls and paving.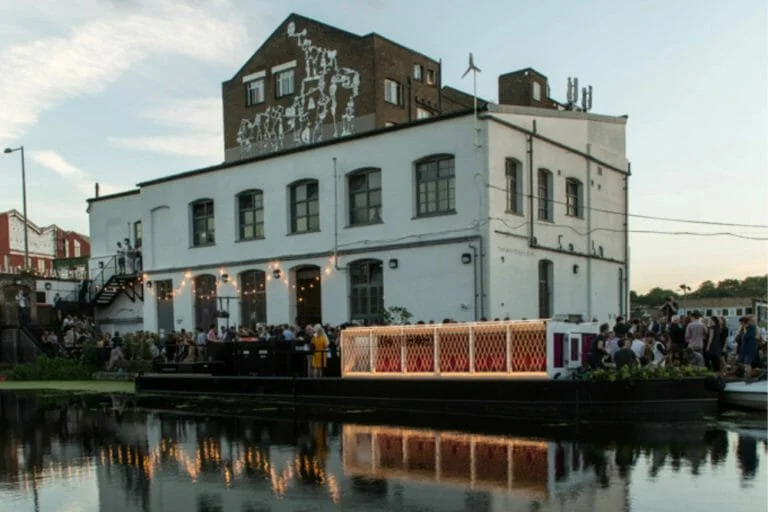 And at the very end? A miniature village awaits, the land of coffee shops with names like Thingy and Bad Coffee. In just a few short years Hackney Wick has changed immeasurably – depending on who you ask, for better and for worse. But you deserve to put your feet up after conquering London's canal on foot, and so to one of these trendy new spots must you hasten.
All My Friends is a relatively new kid on the block; a breezy industrial space manned by the team behind The Cause (they of Tottenham's legendary club nights). They sling vinyl, they serve booze, and you can even score some Hiroshima-style okonomiyaki here courtesy of kitchen resident Sho Foo Doh.
Right next door is Skeeter's, where, due to what we can only assume is some loophole in Tower Hamlets by-laws, you can go axe-throwing while drinking. The creatively courageous fringe venue, The Yard Theatre, is just up the road, while GROW stages laid-back live jazz nights on their floating canal pontoon. CRATE Brewery has tank-fresh beers and pizza, and also has picnic tables right on the canal's edge – in fact, you can even get here by taking a kayak up the canal from Limehouse.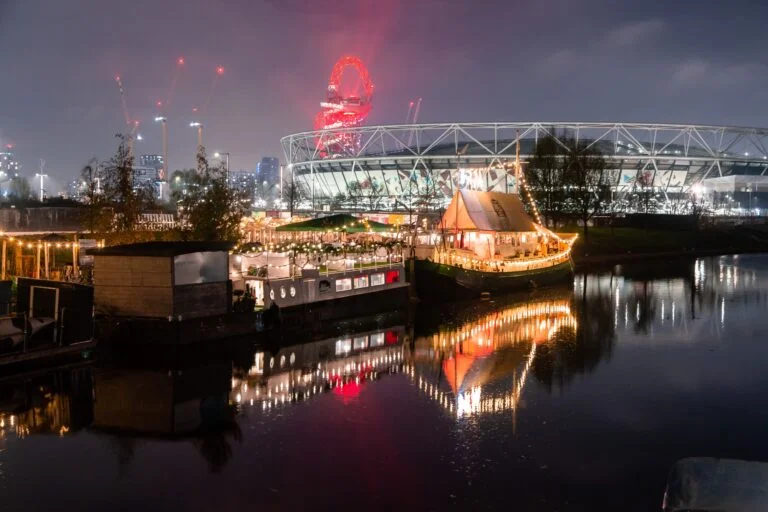 But our all-time favourite recommendation in Hackney Wick? Has to be Barge East. What started out as a restaurant on board a 115-year old Dutch cargo barge has since evolved to an airstream bar annexed on shore, a huge beer garden and a literal farm, where they grow many of the ingredients for their exceptional dishes, and where you can indulge in a spritz and some parmesan-dusted fries in amongst the tomato vines and vegetable patches. It's the very definition of the word charming.
In fact, it probably is best to start your Regent's Canal walk from the west… as you may not want to leave here for a long time.
---
Enjoyed your walk along Regent's Canal? Discover the best of London's neighbourhoods with more Nudge Itineraries