When the sun is shining in Hackney, there are few better places to be than in the centre of leafy Victoria Park, perched overlooking the lake at Pavilion Café.
And judging by the throngs of fellow diners, it would seem that every man and his dog (quite literally – this is prime pup-watching territory) would agree.
But jostling for elbow space is part of the fun. Pavilion is all about propagating community spirit. It attracts young families, activewear-clad joggers and hungover hipsters to its picturesque lakeside setting, where it's housed in a grand Victorian-style glass-domed building.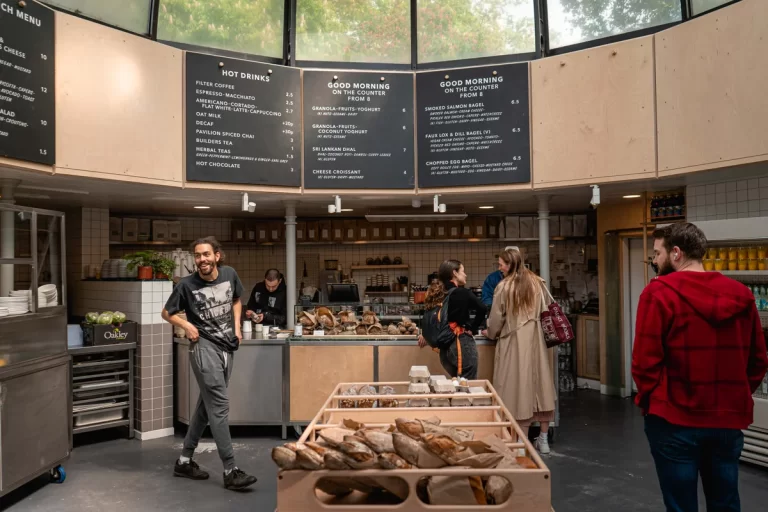 Yet the Pavilion story actually began thousands of miles from its E9 location, in the foothills of Sri Lanka. Owner Rob Green – a former social worker – was volunteering at an orphanage when he connected with local workers at the nearby tea plantations. Upon his return to London, he started selling Sri Lankan loose leaf tea at Borough Market, eventually going on to open his very own café – Pavilion – in 2007.
Today, Rob has four Pavilion outposts (three in Hackney and one in Newquay, Cornwall), but the original Victoria Park flagship remains an iconic east London institution, beloved by locals and visitors alike.
Those initial influences from Rob's adventures in Sri Lanka have stuck. On the morning menu, alongside classic breakfast fare like granola and bagels, you'll find Sri Lankan dhal, served with coconut roti and sambol, as well as buns made with spices like cardamom, cinnamon and turmeric.
For lunch, there's usually a series of toasted sarnies on offer (a decadent fish finger sandwich made using Fin and Flounder trout is particularly excellent) as well as specials like trout and cod fish pie (meat is off the menu but there's a focus on consciously-sourced fish). Wash it all down with coffee from Origin Coffee Roasters or a warming cup of spiced chai – a nod to Rob's days as a tea trader.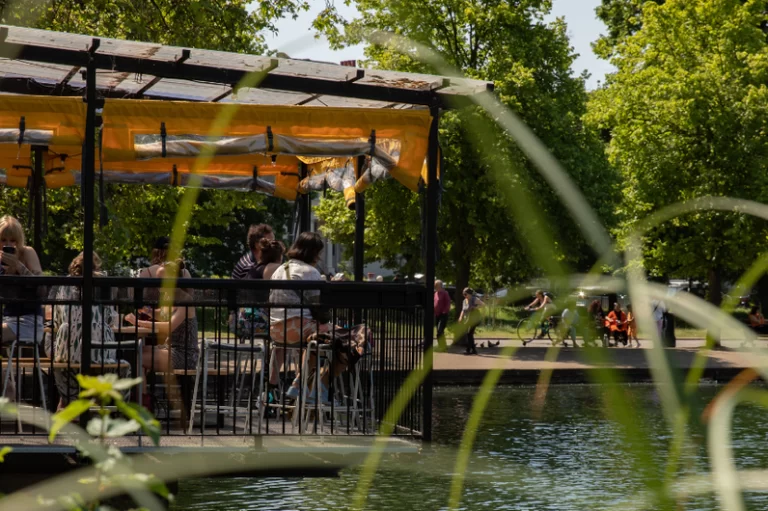 And before you set off on a jaunt round one of London's loveliest parks, make sure you stop by Pavilion's takeaway dessert hatch. Run by the phenomenally successful Happy Endings, it hawks cones of soft serve in summer, and hot puddings in winter.
You know, typical park kiosk stuff.
NOTE: Pavilion Café is open daily for breakfast and lunch, up to late afternoon snacks and drinks. There are no table bookings, but you can find out more HERE.
Pavilion Café | Victoria Park, E9 7DE
---
Checking out the local area? Take a look at our London Fields Guide.