If you're in the market to taste some of London's finest, freshest produce, then you're going to want to make sure it's Borough Market.
Borough Market is the oldest food market in London. It's been running for over 1,000 years. And yet, if you look at its history, it's consistently reworked itself to fit in with the ever-changing wants and needs of the city, meaning it's also still one of the best – not to mention it's totally free to visit, and open to the public six days a week.
THE HISTORY OF BOROUGH MARKET
Borough Market was originally a wholesale market, set up closer to the river, near the original London Bridge. In the 1700s it moved to Borough High Street, where its many stalls, some of which traded in livestock, spread out along the edges – and at points literally in the middle – of the street. Unsurprisingly, it was eventually closed down, charged with blocking the road and people's route to London Bridge and The City.
At this point traders were offered the chance to buy a pitch on what is now the modern Borough Market site, which some of them did, and they kept trading until the 1970s when the market closed again after a dramatic shift in the way London businesses sourced their food. Supermarkets started popping up everywhere and the independent traders of Borough began to suffer. It was only in the 1990s, when individuals became properly interested in their food, and where and who it was sourced from, that it opened again: this time as a public market, with 100% less live cow.
HOW TO GET TO BOROUGH MARKET
Although there is a Borough tube stop on the Northern line, the market is actually right next to London Bridge station (on the Jubilee and Northern lines, as well as national rail). Keep an eye out for the Borough Market exit signs, and it'll spit you out right next to the entrances, or aim for Stoney Street to enter under the market's iconic sign. You should also note that the market's closed on a Monday – you can double check opening times, and see a map, here.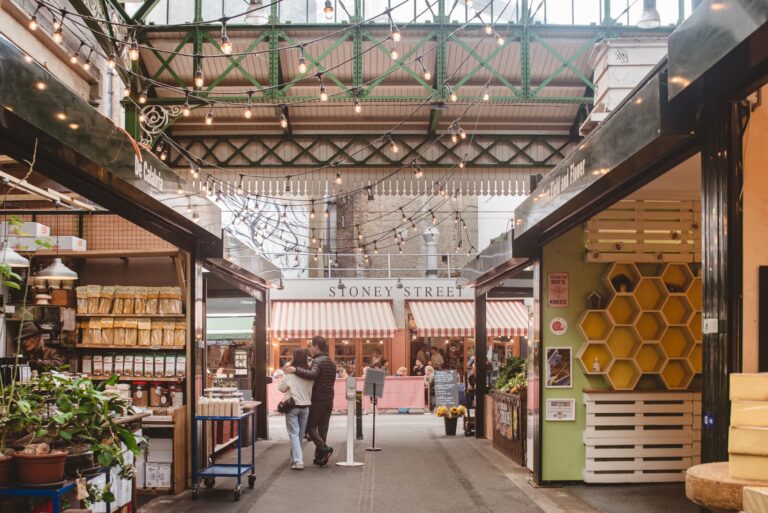 WHAT KIND OF MARKET IS BOROUGH MARKET?
Unlike Camden Market, which sells vintage clothes, vinyl, accessories and more, Borough Market remains a dedicated spot for everything edible: fresh produce, luxury cupboard-fillers, and even food to enjoy on the go.
Nowadays you can head there for everything from fresh bread to chocolate, cheese, charcuterie, and more, much of which is sold by the producers themselves. There are specialists in goat's milk ice-cream; seventh-generation oystermen; and a stall entirely dedicated to tomatoes from the Isle of Wight. Although it's not just traditionally British produce you'll find here: Temptings serves Punjabi-inspired chutneys and pickles; Gastronomica imports a whole range of Italian produce; and Jumi Cheese offers cheese from the Emmental region in Switzerland.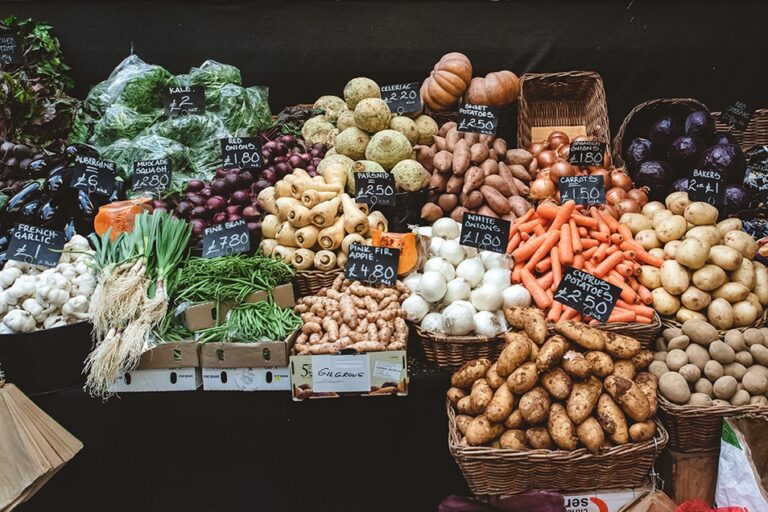 It's a sprawling mix of colours, smells, and flavours from around the world, many of which you can taste (if you double-lap with enough savvy you can probably skip lunch) and the producers or traders are on-hand and open to questions, and conversation, should you feel the urge. We could tell you who to look out for, but Borough Market is one spot where you should revel in browsing, and just follow your nose.
WHERE TO EAT IN BOROUGH MARKET
If taster portions don't quite cut it, you'll also find a whole range of street food traders in the Borough Market Kitchen area. Stand-outs include Gourmet Goat who serve Eastern Mediterranean-influenced dishes (flatbread wraps and pilaf bowls) centred around goat meat; Kappacasein who serve toasted cheese sandwiches and raclette melted over new potatoes; and the brilliant Tacos Padre, plating up Mexican classics from a festoon-lit kiosk well into the evening. And you'll definitely want to wind up at Bread Ahead for dessert – their glorious filled doughnuts are the stuff of legend (and you can even attend bakery workshops there, too).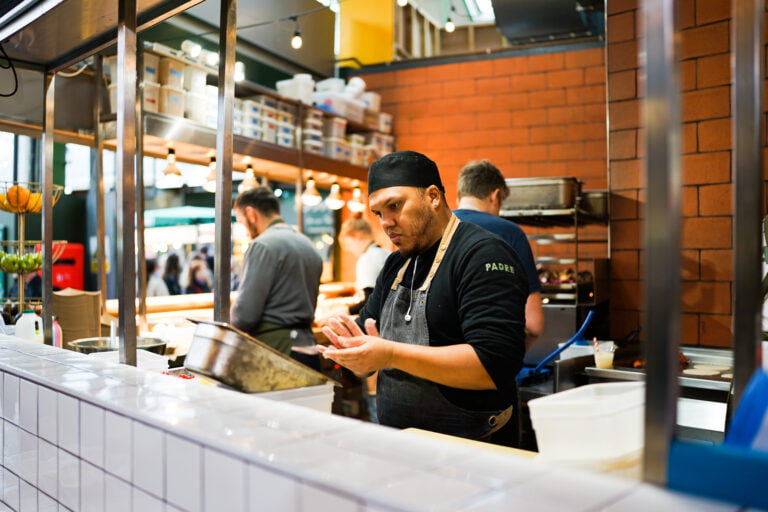 There are also a number of restaurants offering tables and chairs for great Mexican food (El Pastor); British food (Elliot's); seafood (Wright Brothers); pasta (Padella); Taiwanese buns and karaoke (Bao Borough); and more. Turnips particularly stands out for its elegant tasting menus, put together using the neighbouring stalls' produce by highly gifted chef Tomas Lidakevicius. Alternatively, if you're just after a cold pint post-market there's plenty of great pubs in London Bridge.
Don't worry if it all feels a little too overwhelming, you can also book yourself onto an official guided tour of Borough Market. Or, if you're looking to pick up a new skill, there's a year-round calendar of foodie events definitely worth checking out – demos, talks, and masterclasses  – all of which you can book into here. Although they book up fast, so if you're interested…
…try not to stall.
NOTE: Borough Market is open weekdays 10am-5pm, Sat 9am-5pm, Sun 10am-4pm. Entry is free, and you can find out more HERE.
Borough Market | 8 Southwark Street, SE1 1TL
---
While you're in the area… check out these great London Bridge restaurants