The Dartmouth Arms | North London Pub
The Dartmouth Arms was on the verge of disappearing in 2019 when, ironically, it was saved by the Disappearing Dining Club.
They took it off the hands of landlord Andy Bird, who himself had rescued the venue from the grasp of developers looking to mutate the space into flats.
The lesson being, as any of its patrons can tell you, that this is a place worth saving.
It's a little out of the way, down a side street off another side street by Tuffnell Park's main thoroughfare… but that's the thing about hidden gems – they kind of have to be hidden. Inside, it's about as comforting and inviting as the best pubs are, with warmth emanating from the dark walls, the candles on the tables, and quite literally from the cast iron fireplace. You'll also hear the cosy crackle of vinyl through the very old fashioned HiFi system (music is a 'thing' there, they proclaim), with records you can leaf through yourself, should you feel so inclined.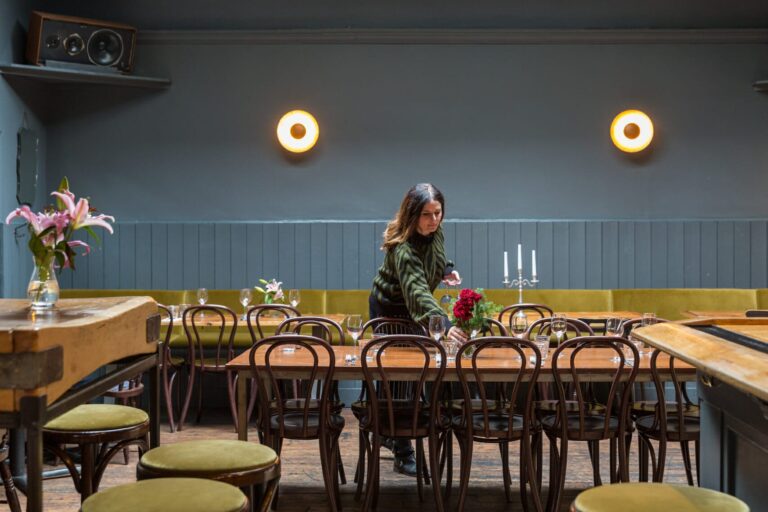 Being run by the the Disappearing Dining Club means the food is first-rate, with casual pub food ranging from house-smoked salmon fishcakes, to simple flat iron steak with garlic & parsley butter. Stick around for dinner, and you'll be choosing between warm prawn carpaccio with heritage tomatoes & basil; some smoked steak tartare with smoked egg yolk & matchstick fries; a whisky & apple braised celeriac with red pepper dressing; and a roast lamb rump with barley & beetroot risotto.
This being a pub, there is – shocker – booze, and plenty of it. The beer ranges from your classic lagers, to some cherry wheat beer, a gluten-free Dutch number, and an 8.5% blonde that's appropriately called 'Delirium'. There are cocktails (try the punchy Short Black with vodka & coffee liqueur) and four wines on tap, and even a few non-alcoholic options, too.
Because sometimes your sobriety is worth saving too.
NOTE: The Dartmouth Arms is open daily. You can find out more, and make a table booking at their website right HERE.
The Dartmouth Arms | 35 York Rise, NW5 1SP
---
Love a good boozer? Soak up the history at London's oldest pubs