God's Garden | A Pop-Up Bar In A Marylebone Church's Courtyard
And lo, the Garden of Eden didn't work out quite as well as planned.
Now the Lord God hath planted a second garden in Marylebone; and lo, this time it shall hath a cool hideout bar, and there shalt also be cocktails and stuff. And lo, this one shall be a pop up. Just in case. 
Welcome to God's Garden. It's brought to us from the guys behind Chameleon and Amazing Grace (who seem to have quite the knack for making churches a lot more boozy) and they've claimed it's here for a limited amount of time, although it's not clear precisely when they intend to shut up shop. Maybe never, let's hope.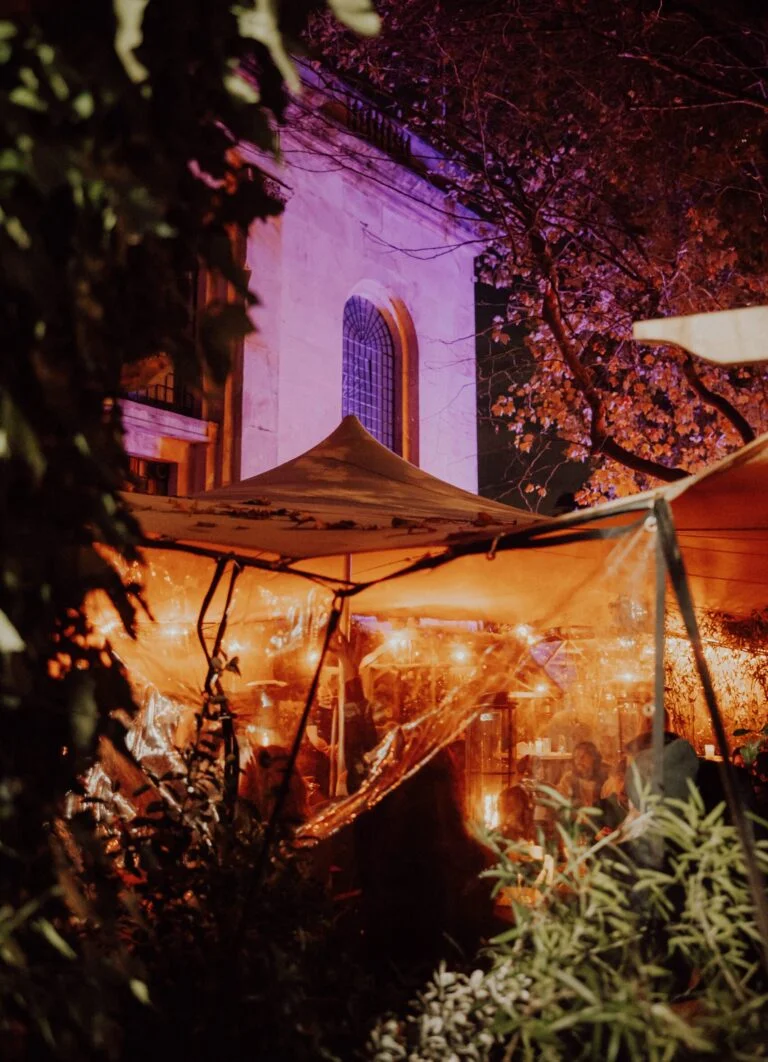 This oasis is set within the holy courtyard of One Marylebone Church (where you'll also find Chameleon), just a stone's throw away from Great Portland Street Station. By night, you'll recognise it by the indigo hues that light up the Grade I listed Georgian church, and the gold twinkling fairy lights that pop up from behind the florist that sits beside it, and draw you in.
Follow the light, and you'll pass through a rather pretty, quaint little greenhouse draped with vines and peeping blush pink roses. In the blink of an eye, you'll be inside what is two large stretch tents decked out with red Persian rugs, oak garden tables, and plenty of warm glowing lights. Fear not, it is not cold. The whole place is kept toasty with flame heaters, and there is even a stone fire pit on a raised deck surrounded by a pure white Lutyens garden bench and upholstered tub chairs. Take a minute to look up here and you'll see One Marylebone Church gazing down on you.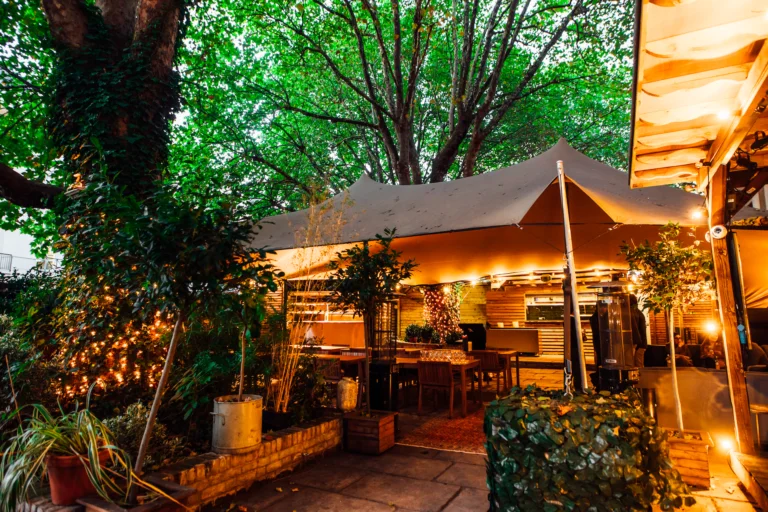 At the back of this surprisingly large space, you'll find the oak panelled bar where the all-important cocktails reside – the prosecco hibiscus royale is first-rate, and they've also got a generous selection of beers & wine. Beside that bar there's also a teeny little open kitchen, where (as of February 8th) Cue Point will be serving up a whole load British classics with an Afghan twist; think smoked meats & vegan BBQ dishes.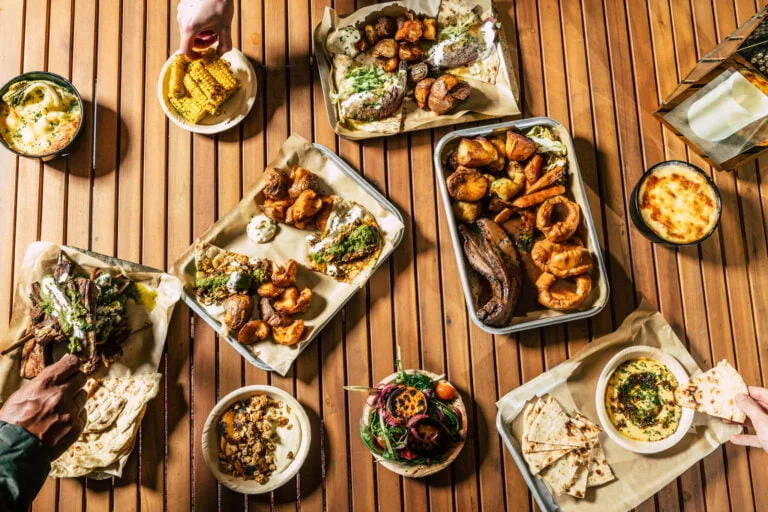 But God's Garden graces us with even more. They also put on a bunch of creative activities and events, a weekly highlight being the Saturday Après Ski Brunch Party and Sunday Feast with live music.
Isn't that just divine.
NOTE: God's Garden is open from Wednesday – Sunday until 19th March 2023. You can make a reservation right here.
God's Garden | 1 Marylebone Rd, London NW1 4AQ
---
The winter season is upon us… get your skates on at one of the best London ice rinks.