Eat Lagom | Sunday Roasts at Hackney Church Brew Co
Hackney Church Brew Co have something new for their Sunday service.
Because they're now serving up an end-of-week roast from the extremely talented people at Eat Lagom; an Anglo-Swedish outfit who specialise in live-fire cooking. They take methods & ingredients from both cultures, scorch them over sustainable wood & charcoal, and serve them with all the trimmings you could want.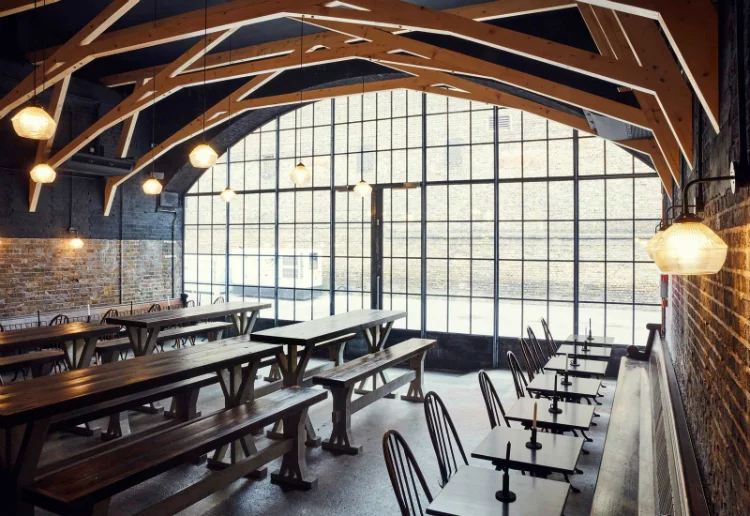 Head in on Sunday, pull up a pew, and grab starters like pit-roasted beetroot carpaccio with molasses, dill, and mint; smoked pork ribs with Wilderbee chilli honey; and some good old-fashioned grilled sauerkraut. After that, you'll get the main events: coal-roasted beef rump with horseradish; coal-roasted lamb hoggett with green sauce; smoked Fosse Meadow chicken with confit garlic; grilled pork belly with apple mustard; or fried cauliflower with truffle & aged Gouda.
Of course, this all literally being served in a brewery means that you can, in fact, get a quality beer to go with it all. The days's brews will invariably include a strong lineup of pale ales, lagers, pilsners, IPAs, imperial stouts, and more, and will all be written in chalk above the bar itself like hymnals.
And you'll be singing their praises in no time.
NOTE: Eat Lagom is serving their roast at Hackney Church Brew Co. every Sunday. You can find out more at their website right HERE.
Hackney Church Brew Co. | 16 & 17 Bohemia Place, E8 1DU
---
Partial to a tipple? Peruse the Best Bars in London