Bread Ahead have finally joined the upper crust.
After several years of impressing Borough Market punters with their loaves, doughnuts, and excellent baking courses, they opened a second branch in Chelsea, then a third in Soho. And now? Their continued success has allowed them to open up a new, vast venue in North London. An actual restaurant.
At 11,000 square feet, it's a palace of pastries. A castle of cakes. A bastion of baking. The place is fronted by gigantic, double-height glass walls, while inside it feels as though you could park a small plane inside the huge, industrial, loft-like space with its exposed piping and bare brickwork.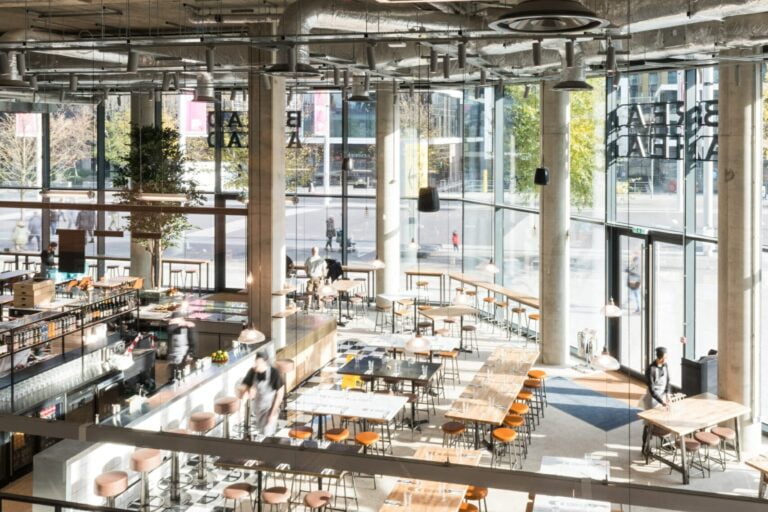 The first portion of this equation is the pizza & rotisserie restaurant. Here, you can get hold of anything from a whole burrata with charred beets, to half a free-range rotisserie chicken, to a classic n'duja pizza scratch-made from the classic Bread Ahead dough. And sticking firmly to their strong suit, there's also a brioche butter pudding for dessert.
Then there's the bakery, which sells all of their regular sourdoughs, regular doughs, pastries and – crucially – their doughnuts. And if you fancy learning the dark arts of baking for yourself? They hold regular classes from the two classrooms in their working kitchen, too. Courses range from three full days if you want to learn the secret to their sourdough, to a mere half a day if you just want to make their doughnuts.
Without them, there'd be a significant hole in their plan.
NOTE: Bread Ahead Wembley Park is open daily. There are no bookings. You can find out more at their website right HERE. 
Bread Ahead Wembley | Olympic Way, HA9 0FU
---
Like doughnuts? You wouldn't be here if you didn't. So here are the best in town.