Circus has some very elaborate table dressing.
You know; elegant glassware, chopsticks, diamante-clad showgirls whirling 10+ hula hoops on each limb…
It's a glitterball of a restaurant tucked away in Covent Garden, where dancers, contortionists and quite possibly even fire-eaters will step up and perform on the very table you've just eaten your starters at.
And while that might raise some immediate concerns regarding the proximity of your wine glass to the aerialist's feet as he swings overhead, fear not – the action all happens between courses. Which means you'll have plenty of time to tuck into pan-Asian sharing dishes like blowtorched salmon nigiri or rare beef salad drizzled with spicy nam jim dressing, before an acrobat turns up and starts unfolding umbrellas with her feet.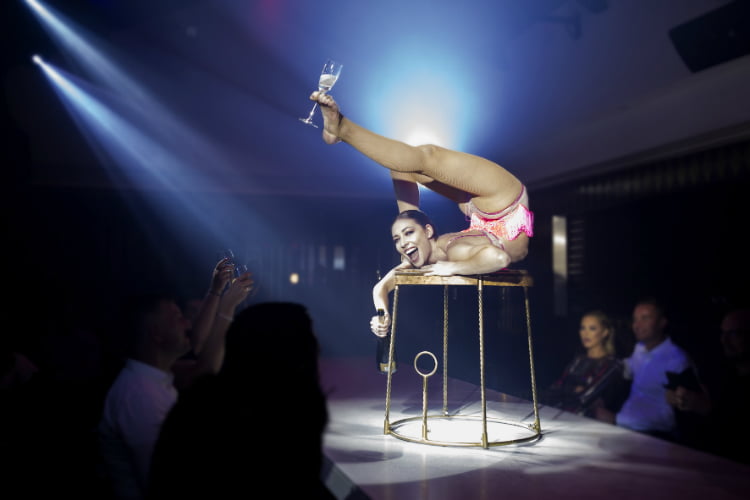 Those dishes size up for the mains, with numbers like aubergine and lychee red curry; miso blackened cod; and scallop and lobster thermidor served up between acts. And just to make sure there's no opportunity for the evening to come anywhere close to a lull, a close-up magician also weaves round the tables, plucking cards out of places you least expect.
As the last performance draws to a close, flag down a waiter for another Willy Wonka's Secret (a chocolate and whisky concoction topped with a blowtorched marshmallow) and join the party up on the tables, as DJs crank up the soundtrack and the lights are turned down a notch…
Just remember, no matter how drunk you get, that trying to replicate the performance of "the back flip guy" is probably not your finest idea.
NOTE: Circus is open now, Tue – Fri (6pm – late), and Sat (4pm-later). You can reserve a table and find out more on their website right HERE.
Circus | 27-29 Endell Street, WC2H 9BA
---
Like unusual dining experiences? Check out our guide to unusual restaurants in London