My Neighbours The Dumplings Victoria Park | Beautiful Dumpling Joint in East London
The couple behind My Neighbours The Dumplings have been busy over the years.
They've had two kids – a time-consuming start – whilst simultaneously turning their dumpling-focused pop up into a fully-fledged, permanent Clapton restaurant. A restaurant which promptly became a smash hit thanks to their mouthwatering, hand-made dumplings; buzzing basement sake bar and uniquely romantic, shabby chic interiors… and which has literally just spawned its own sibling in Victoria Park Village.
Welcome to My Neighbours the Dumplings 2.0, a (oh, you guessed it) dumpling-focused eatery that's taken up residence over a double shopfront on the fringes of Victoria Park. On one side you'll find the restaurant, and on the other the dedicated dumpling kitchen – which, when the concertina doors are drawn back, exposes a tantalising street-side glimpse of the team hand-making the day's dumplings….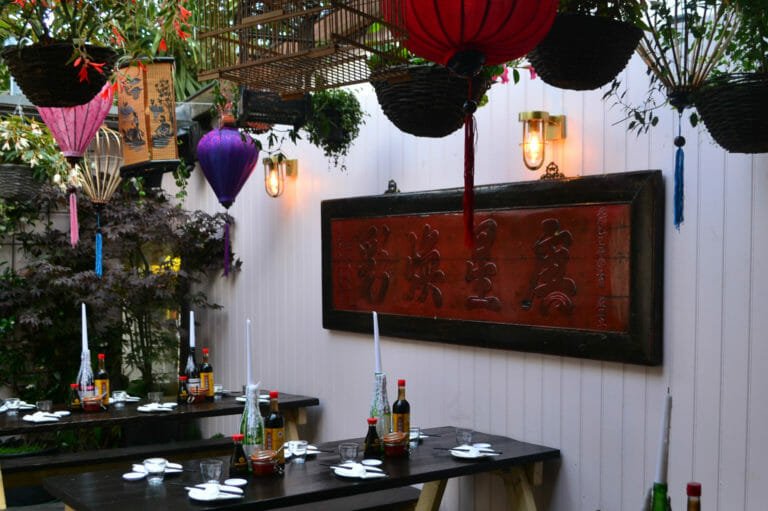 Inside, you'll spot head chef Trung Nguyen and master dumpling chef Carol Lee, who's been with MNTD since their pop up days at Palm 2. But as co-founder Becky Wharton told us, My Neighbours The Dumplings Victoria Park is no carbon copy.
Rather, it's a beautifully atmospheric, somewhat more polished take on the original. Clapton's artfully peeling wallpaper gets a nod through patinated mirrored gold wall tiles; the up-cycled pallet board bar has been upgraded to a smooth marble butcher's block, tucked away from the main dining room; and while the communal candlelit tables are still there, they're now made up of dark moody wood, separated by traditional Chinese screens and evocative illuminated restaurant signs.
They've also reprised their beautiful lantern-lit garden; now entirely al fresco and enclosed by rose pink clapboard, with Chinese parasols, trailing greenery and colourful shades bobbing overhead.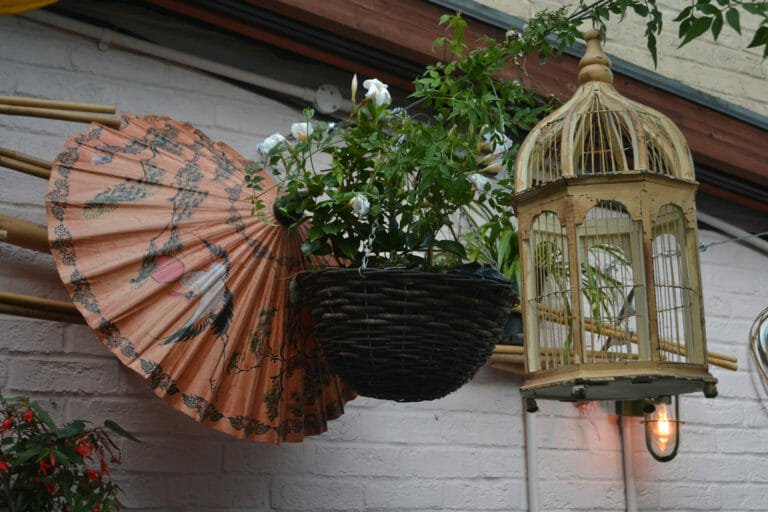 My Neighbours The Dumplings Victoria Park's menu is a little more playful than its Clapton sister, regularly switching up dishes and trying out new ideas every six to eight weeks. You'll still find Clapton stalwarts like the crispy prawn wonton, scallop and spinach dumplings and pork and prawn siu mai – after all, the dumplings are kind of a big deal here. But there's already new dishes joining the fray, with new cold dishes of nutty marinated silken tofu with preserved vegetables, and wood ear mushrooms, also marinated and served with green apple and goji berries.
The hot dishes, too, are moving away from classic dim sum with some new skewered creations, with a nod to Japanese yakitori. There's the line-caught mackerel, skewered, tossed on the grill and seasoned with sake and lime. You can follow that with smoky king oyster mushroom, served with mushroom mayo; and lamb skewers, slicked with a Persian-inspired cumin glaze and dusted with chopped mint.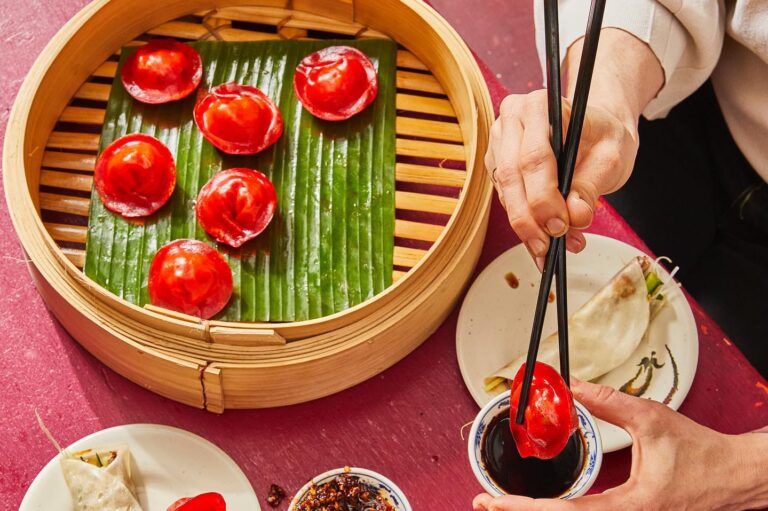 The drinks list is a perfect accompaniment to the hot, umami-rich dishes – there's thirst-quenching Japanese craft beer and Asahi on draught; plenty of wines by the glass and bottle; a slew of all-Japanese gins and whiskies; and a couple of classic cocktails enhanced with a little aged sake. And for fans of the latter, there's a whole two pages devoted to the stuff, including Gozenshu's "Cry Baby" and "Fuzz Face".
That'll put hair on your chest.
NOTE: You can find out more, and book a table at My Neighbours The Dumplings Victoria Park here.
My Neighbours The Dumplings Victoria Park | 178-180 Victoria Park Road, Hackney, London, E9 7HD
---
Like local dining? Check out the best restaurants in every London neighbourhood