The Oystermen.
Thankfully, they're more than mere TfL ticket inspectors.
See, when Matt Lovell and Rob Hampton shucked oysters together for a friend's wedding, and found out that a) they were surprisingly good at it, and b) people absolutely loved it. So, several years and several pop ups later, they decided to bring that joy to the masses with their Covent Garden restaurant.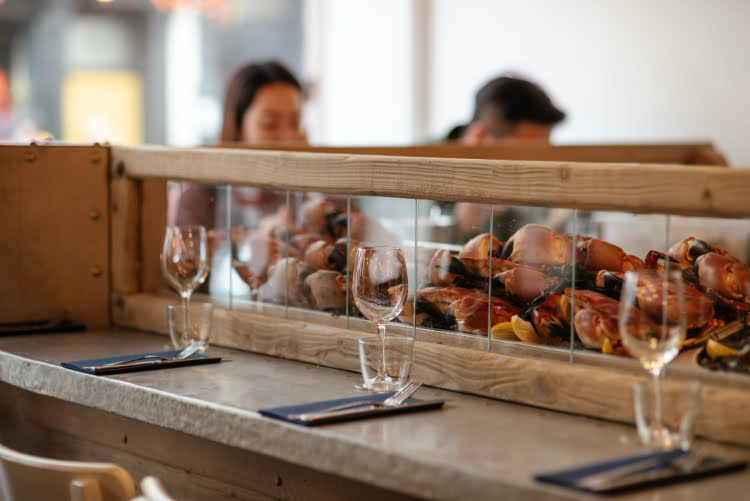 Having recently expanded into the neighbouring building, the new space has the feel of a rustic New England seafood shack dressed up for dinner, with wood, brick, and white tiles cleanly commingling over a parquet floor, and low, industrial bulbs suspended from shipping rope. All that extra space has made way for a dedicated raw bar, crafted like a boat hull by an actual shipbuilder and stacked with oysters from around the UK, with a smattering of seats reserved for walk-ins. In the back, meanwhile, there's the open kitchen in which you can see them preparing –
–
THE FOOD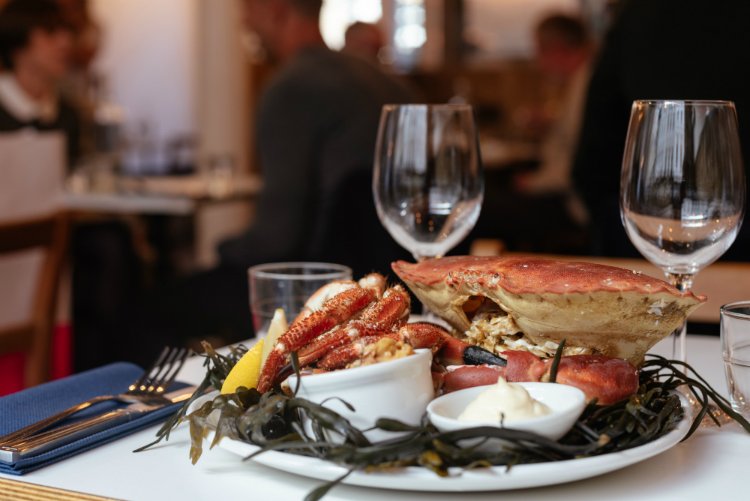 Things start with – believe it or not – oysters. There's a generous six types available, from Whitstable rocks and native to Kumamoto, and if you're feeling frisky you can get them hot buffalo style, tempura-battered with smoked herring caviar and Champagne aioli, or served in your martini. After that, starters sit along the lines of Portland crab thermidor with chilli and fennel; to smoked mackerel and lardo on toast and Dorset squid in an N'duja and zhoug broth, before scaling up to the mains of whole undressed crabs, braised cuttlefish orzo; roasted halibut with Jerusalem artichoke and hake with a devilled mussel velouté. And if you've any room to fill after all that, there's a small cheeseboard, or roasted figs with white chocolate mousse to plug the gaps.
–
THE DRINK
The wine list has been built to match the swimmers, and leans heavily towards white/sparkling, though they've now introduced a trio of sakes to the list, alongside an Oyster Bloody Mary shot, and their very own collaborative oyster stout on draught, made with Canopy brewery.
Truly, they're heroes on a half shell.
NOTE: The Oystermen Seafood Bar & Kitchen is open daily – you can find out more, and make a booking, HERE.
The Oystermen Seafood Bar & Kitchen | 32 Henrietta Street, WC2E 8NA
---
If you were holding out for TfL ticket inspectors… the London Transport Museum's just down the street.