Tehran-Berlin | Persian Restaurant in Clerkenwell
The Drunken Butler has been retired.
And in his place stands Yuma Hashemi's rebranded eatery, serving up the same elegant Persian cuisine under the new name of 'Tehran-Berlin'.
He originally opened the place – his first solo restaurant – in 2017, having worked in kitchens in half a dozen countries, including the US, Sweden, Portugal, France, Germany, and more. He trotted around the globe acquiring international culinary skills, and now he gives Londoners the opportunity to have a taste of Persia in this intimate, sophisticated restaurant.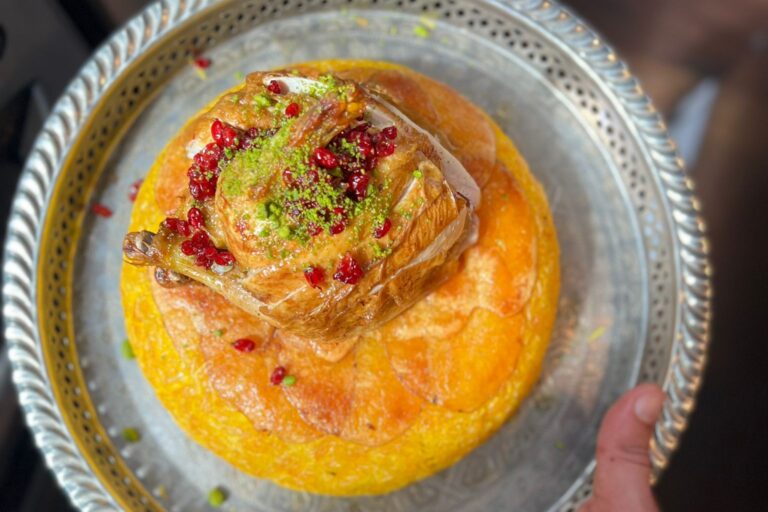 The new name reflects Hashemi's upbringing: he was born in Iran but grew up in Germany. As a result, the five-course tasting menu he serves up here mingles all kinds of culinary influences in original and delicious ways – although it's always kept secret until the night. There's just one sitting per evening, with the experience unfolding over the course of three or four hours, and the soundtrack shifts to match each course. And if you really want to take a deep dive? You can book in to sit at the chef's table, where Hashemi and his team will introduce you to each dish as it arrives.
So, what can you expect? Well, most definitely some Persian classics like Tahdig, which if you haven't had the pleasure of tasting, is saffron infused rice with ever-so-slightly crispy edges served alongside a selection of nourishing and decadent stews and barbecued chicken. And wine plays an equally important part here, so you can also opt for a blind wine pairing to be added to your meal.
And if you fancy a nightcap? Head across to Hashemi's new wine bar opposite, Emmanuelle. It's named after a 70s French erotic movie (they actually happen to have one of the chairs from the film in the restaurant) and serves a curated selection of biodynamic wines.
You might just spot the butler in there…
NOTE: Tehran-Berlin is open for dinner Tuesday-Saturday, plus Saturday lunch. The tasting menu costs £100 with wine-pairing for an additional £100. You can reserve a table and find out more on their website HERE.
Tehran-Berlin | 20 Rosebery Avenue, EC1R 4SX
---
Like dining out in the area? Peruse our guide to the best restaurants in Clerkenwell