Larry Jayasekara is one of those chefs who seems to have been flirting with greatness for his entire career, and just needed his own restaurant to finally seal the deal.
Well, now he's about to get his own restaurant.
Just to pack his life story into a nutshell: he was born in Sri Lanka, grew up, then manned the stoves at The Waterside Inn (three Michelin Stars), Michel Bras (three Michelin Stars), Le Manoir aux Quat'Saison (two Michelin Stars), and been head chef at Gordon Ramsay's darling Pétrus (one Michelin Star), which he left after being named National Chef of the Year.
Now he's teamed up with a backer who has deep pockets and a clear appetite for world-class food. Art dealer Tim Jefferies owns his own esteemed photography gallery in Mayfair, and he's essentially written Jayasekara a blank cheque and told him to create the very best eatery he can. The result? The Cocochine, which will join the ranks of Mayfair's best restaurants in January 2024.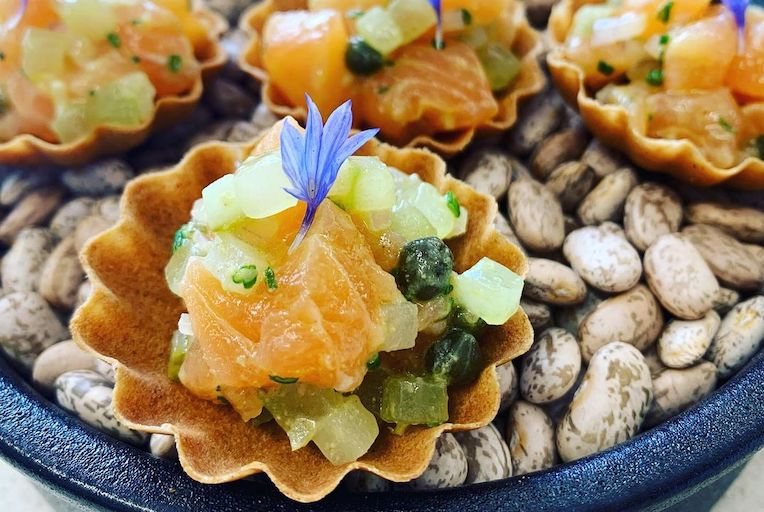 You'll find it in the ultra-luxe location of Bruton Place, where it'll be rubbing shoulders with Michelin Star alumni like Umu. The space will be fairly small, with room for just 8 tables and a chef's counter. But the kitchen? Will be huge at 920sq ft, and filled with all the latest tech, toys, and talent.
The dishes that result from all that will apparently include the likes of BBQ lobster wrapped in banana leaf, and draped in yuzu gel, crème fraîche, micro-basil and something called "cardamom-lobster jus"; some cauliflower which – after marinaded for a week in soy sauce – is paired up with rice vinegar, brown miso & Sri Lankan treacle; and a Jerusalem artichokes with roasted chicken fat.
And as one last twist, they're not taking online bookings – phone only.
Why? Maybe it just has a nice ring to it.
NOTE: The Cocochine is set to open in January 2024. We'll be back then with the full scoop. In the meantime, you can find out more at the website right here.
The Cocochine | 27 Bruton Place, W1J 6NQ
---
It's going to be in good company… here are the best restaurants in Mayfair.