Cecil Sharp House is the home of the English Folk Dance & Song Society.
And don't they just love to make a song and dance about it.
Though, honestly, they're quite justified in doing so – because this is probably the only place in London where, in the course of a week, you can listen to amazing live music, romp around at a deliriously sweaty ceilidh, try your hand at the banjo, and learn folk dances hailing from the Balkans to the Cotswolds.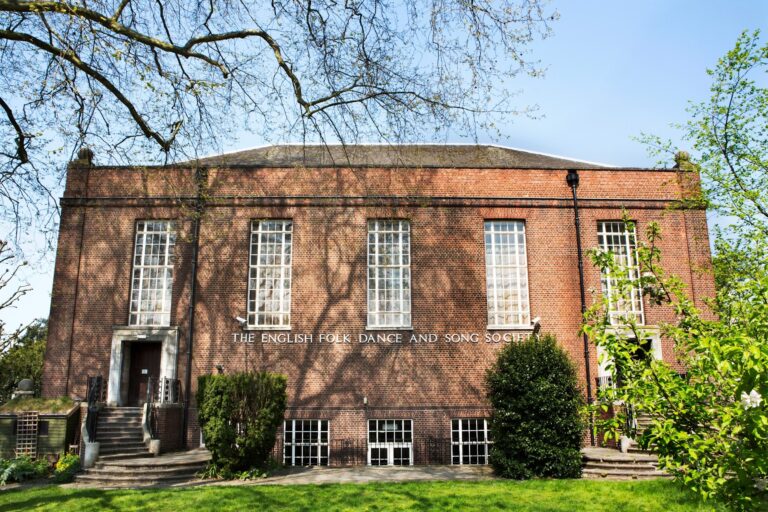 Its home is a sturdy, red-brick building on the Camden side of Regent's Park, whose dazzling centrepiece is a sun-drenched, double-height hall decorated with a mural by painter Ivon Hitchens. This is where the majority of their events take place – including, once every few months, the beloved Sunday Papers Live; the ultimate Sunday with comfy Chesterfield sofas, roasts, long walks up Primrose Hill and fascinating guest speakers who bring each of the papers' cultural sections to life.
You can see upcoming gigs and workshops here, but by far and away the most popular weekly fixture is the Friday night ceilidh. The Ceilidh Club have been running Scottish dancing parties here since the 90s – and when we say they're popular, we mean 'hundreds of tickets sell out months in advance'.
If you head down to the nearby Edinboro Castle on a Friday night, expect to see big groups conscientiously hydrating in advance of what might just be the biggest work-out of your life. Because Scottish country dancing isn't a genteel affair with curtseys and toe-tapping; it's a thunderingly raucous knees-up with couples hurtling across the room, a frankly unreasonable amount of spinning, and a rambunctious soundtrack provided by a live band, punctuated by claps and whoops from the crowd.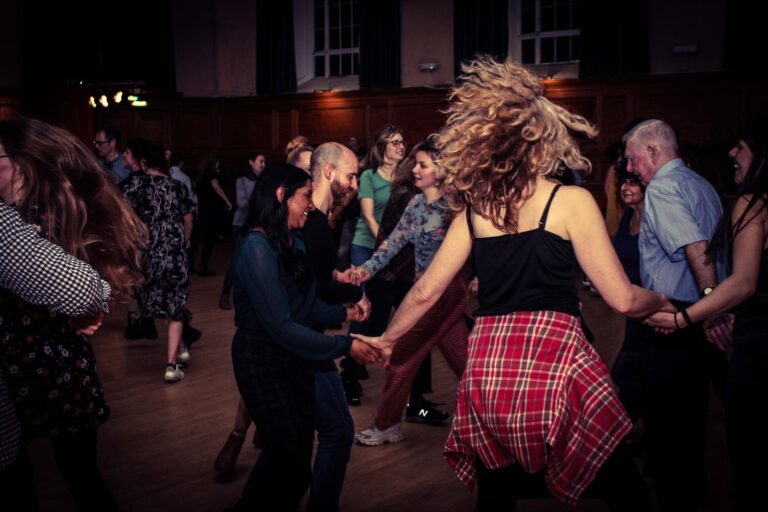 That crowd is hugely welcoming, so whether you're a kilt-wearing Scot or a total novice, you'll be swept up by the infectious energy (and don't worry, the band's 'caller' walks you through each step of the dance before you start, so there's no expectation to learn anything before you go). You will also sweat. A lot. And bring shoes that'll stop you skidding dramatically across the floor.
Downstairs is a well-stocked bar – though you'll mainly be coming down here for the water – and there are regular breaks in the dancing throughout the night so you can catch your breath and refuel. And if you're wondering how to actually pronounce ceilidh…
…have a dram of whisky, and you'll probably say it just fine.
NOTE: Ceilidh Club takes place every Friday at Cecil Sharp House – you can buy tickets (£22) HERE. You can also see what else is on at Cecil Sharp House HERE.
Cecil Sharp House | 2 Regent's Park Road, London NW1 7AY
---
Looking for a place to get keyed up before hand? Check out these great Camden pubs