It's hard to know how Chris Bracey got the idea to start collecting neon artwork.
Must've been given a sign.
But over the course of almost four decades, the late artist set about salvaging, collecting and creating all things luminous for his Walthamstow workshop – aka God's Own Junkyard.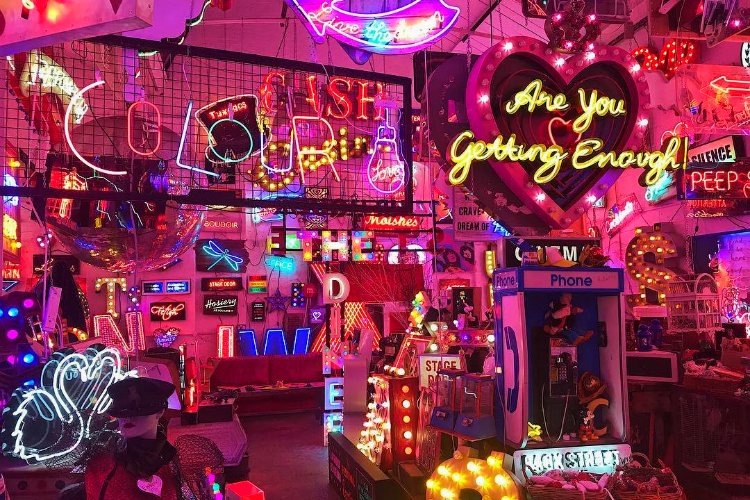 Bracey had a fascinating career, which started with making signs for strip clubs in Soho, and wound up, through a chance encounter, with him creating neon props for dozens of movies, from Batman to Tim Burton's Charlie and the Chocolate Factory. Those iconic glowing billboards in Bladerunner? That was him. He also created signs purely for art's sake, realising designs for Martin Creed and David LaChapelle, as well as his own – some of which now hang on Lady Gaga's walls.
The rest of them – along with the salvaged pieces of street advertising, retro signage, fairground bulbs, movie props, sex shop signs and various other bits of fluorescent bric-a-brac he'd accrued over the years – are displayed in this dazzling temple to light, hidden, as you'd expect, in an industrial park in E17. Lit by a rosy hue, every spare patch of wall, ceiling and floor has been commandeered for the collection. Think Times Square, times a thousand.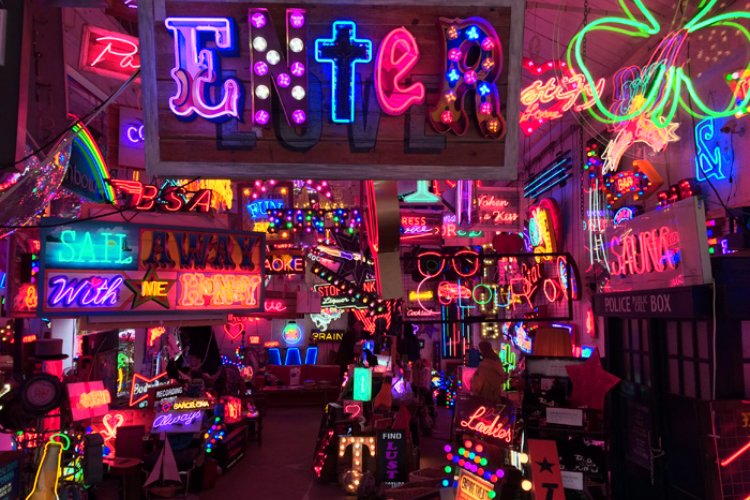 It's entirely free to wander through this neon jungle, and if you find the right 'BAR' sign, you can score yourself a drink here, too.  Under the moniker of 'The Rolling Scones', the café serves up about half a dozen different cakes, as well as coffee, wines and beer. It marks the surprising starting point for an excellent independent bar crawl – across the yard you'll also find Pillars Brewery, The Real Al Cider bar, Wildcard Brewery's Barrel Store (an al fresco taproom with regular live music events), and Mother's Ruin Gin Palace, with over 80 different gins to sample. As lazy summer weekends go…
…it's just the tonic.
NOTE: God's Own Junkyard is open Fridays & Saturdays (11am-9pm) and Sundays (11am-6pm). Entry is free – but you can leave a donation here to Prostate Cancer UK in memory of the GOJ founder, Chris Bracey. Find out more on their website HERE.
God's Own Junkyard | Unit 12, Ravenswood Industrial Estate, Shernhall Street, E17 9HQ
---
Like exploring the city's more unusual gems? Check out more quirky things to do in London