Springfest | The UK's Largest German Bier Fest
Little known fact: the UK's largest German beer festival doesn't take place in Oktober.
In fact, it takes place in (what is allegedly) spring… hence the name Springfest.
It's returning to Alexandra Palace this year, and for one night only the iconic venue will be transformed into a traditional German bierkeller. Assuming that is, that German bierkellers are traditionally vastly large, with rows upon rows of wooden benches, a stage for live music, tons of street food, a lineup of bars, and an army of dirndl & lederhosen-clad Bavarian servers hoisting gallons of beer to the tables.
Here's how it all breaks down:
THE BEER
You can get a stein-full of everything from jet-black lagers, to fruity wheat beers, to smooth pilsners, and thankfully you'll have at least two huge bars and the aforementioned army of servers to get them from. Aside from that, there's also a Jaegermeister & schnapps bar, annnd some cocktails. Just in case.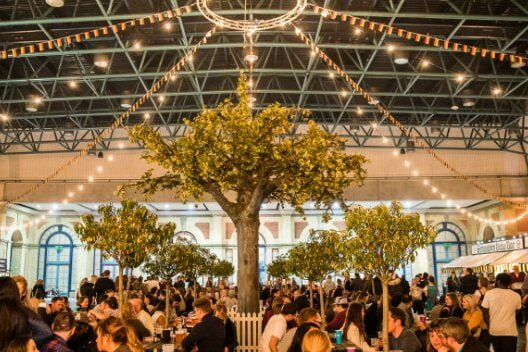 THE STREET FOOD
Sure, there are bratwursts, sauerkraut, and pretzels. This is a German bier festival, after all. But there's also going to be BBQ ribs & pulled pork from Bodeans, pizza from a wood-fired oven, and waffles with dozens of toppings from a gloriously named place called The Waffle Float.
THE MUSIC
On that huge, iconic stage you'll find A) a classic oompah band doing their thing during the day, followed by B) a lauded ABBA tribute act called PLATINUM, and finally C) DJ sets from Club De Fromage, whose point-perfect taste in hits has seen them play at Glastonbury.
Apparently they were one of the best in their field.
NOTE: Springfest takes place on Friday the 30th of March. Tickets cost £17, and are available now right HERE.
Springfest | Alexandra Palace, Alexandra Palace Way, N22 7AY
---
Like Theatre? Check out our guide to The Best London Theatre Shows right now.