The Best Hotels In Barcelona
Barcelona boasts some of the most stunning, unusual architecture in Europe.
And sure, some people might find it a little Gaudí…
…but there's no better place to soak it all up than from the rooftop terraces on the city's boutique design hotels, or the courtyards of the top-shelf hotels in the medieval Gothic Quarter. And to save you the legwork of finding the best-located, most stylish, and efficiently serviced hotels in Barcelona, we've put them all here in one list, discreetly arranged by price point.
You can thank us later.
---
PS You can explore all of our favourite restaurants, bars, hotels, and things to do in our full Barcelona City Guide
---
LOW-COST
€70 and below for the cheapest room
Meeting Point Hostel | Sants
Minimalist, Scandi-influenced design, a 24-hour reception and an insanely well-equipped communal guest kitchen come together at Meeting Point; a slicker-than-your-average hostel boasting clean, spacious dorms that are so budget-friendly, they go to brunch with it on weekends.
Price € | Amenities 6/10 | Location 6/10
_
Casa Kessler | Eixample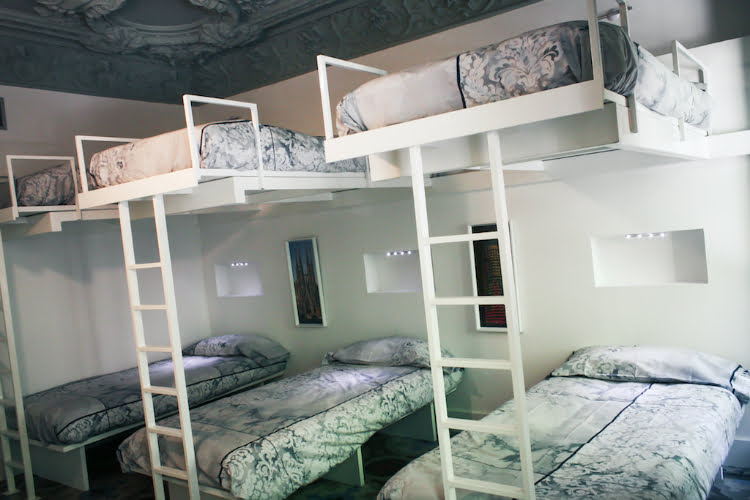 Billing itself as a 'boutique hostel', Casa Kessler's dorm rooms are essentially how Louis XIVth would have decorated a spaceship: boasting Art Nouveau exteriors, restored original tiled floors and elaborate plastered ceilings, and hyper modern furnishings.
Price € | Amenities 7/10 | Location 7/10
–
chic & basic Born | El Born
This hostel chain's got a couple of different incarnations across the city, but the industrially designed branch housed in a century-old building in bohemian El Born, however, is the only one that can boast 7m high ceilings, stained glass windows, and rooms that can change colour whenever you want. It's also a three minute walk to Barcelona's mammoth museum – which is not just a very large museum, but a literal exhibition dedicated to mammoths.
Price €€ | Amenities 8/10 | Location 10/10
_
Casa Gracia | Gràcia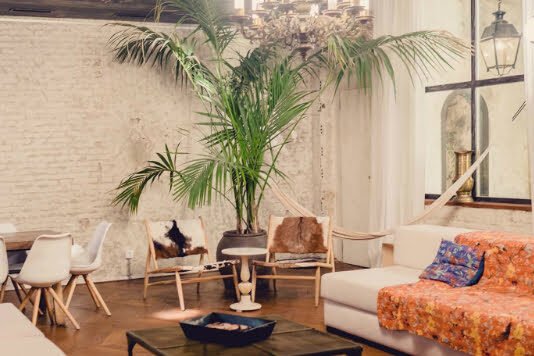 This place makes a terrible hostel – because it feels a lot more like a fully fledged hotel. There's gorgeous, light-filled rooms with shuttered windows opening onto balconies; multiple bars, cafés and restaurants worth visiting in their own right; an al fresco dining terrace; a library; DJ nights; yoga classes; film screenings; workshops; walking tapa tours and mucho mas…
Price € | Amenities 10/10 | Location 8/10
_
Teatro Hostel | Poble Sec
Set in the original theatreland neighbourhood of Poble Sec, the Teatro Hostel has gone heavy on the theme with festoon lighting, sweeping curtains, and walls crammed with theatrical curios and souvenirs. They're all dorm rooms here, but it's a good spot for meeting new people – something they give a little helping hand with in the form of paella cookery classes, family dinners on the terrace, and trips to hidden spots in the city to watch the sunset.
Price € | Amenities 8/10 | Location 7/10
–
Generator Hostel | Gràcia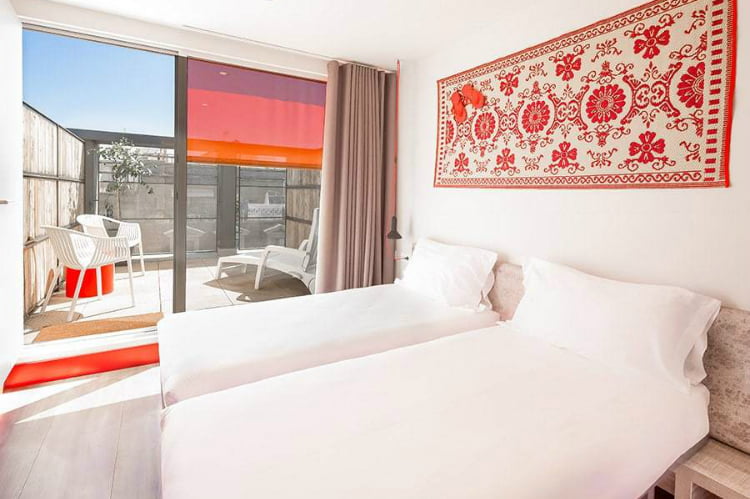 1 part hostel, 1 part hotel, and all amazing, the Generator holds up the good name of its hostels around Europe by filling this one with a 24 hour reception; colourful, industrial design; a gorgeous mezzanine lounge space; and a 300 lantern-lit bar, featuring tables made from old elevator parts. Oh, yeah – and a penthouse suite with panoramic views of the city.
Price € | Amenities 8/10 | Location 8/1
MID-RANGE
€70-200 for the cheapest room
Retrome | Eixample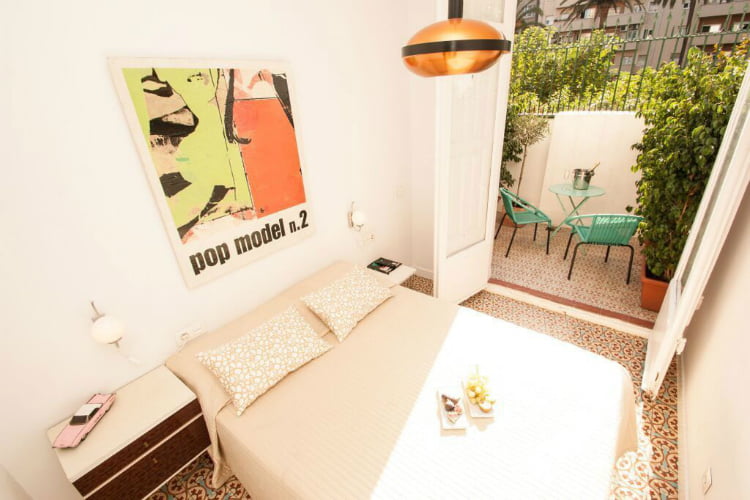 While still within ambling distance of Barcelona's big ticket attractions, Retrome is like a time capsule sanctuary hidden amongst the busy streets of Eixample's architectural heritage district. Set in an Art Nouveau building, the place is filled with terraces, original tiled floors, and retro-styled rooms that will take you right back to the 70s. Except, you know, with air con and wifi.
Price €€ | Amenities 8/10 | Location 10/10
_
Primero Primera | Tres Torres 
Each of Primero Primera's 30 rooms has been uniquely designed, whether it's tucked away in the eaves or boasting its own terrace. They all, also, come with a pillow menu. The whole place is designed to work like a residential members club, so expect offers of personal shoppers, couriers, drivers, private tour guides, free newspapers or snacks to come thick and fast while you're relaxing by the pool.
Price €€€ | Amenities 10/10 | Location 7/10
_
Duquesa de Cardona | Gothic Quarter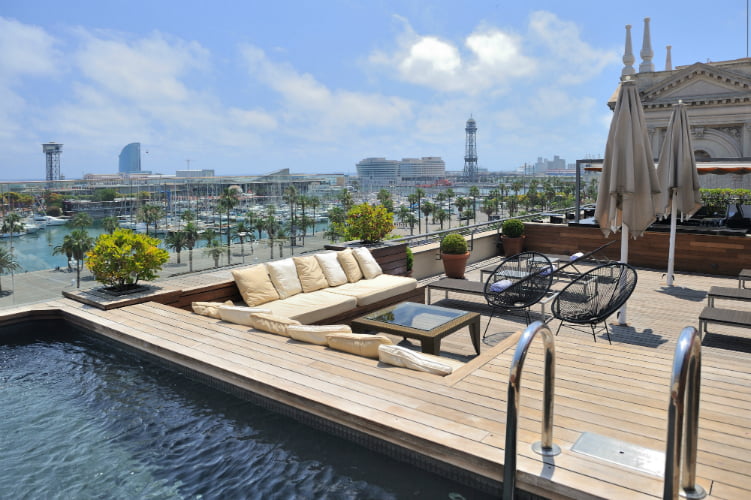 Yes, the rooms here are traditionally luxe. But it's really the rooftop that you're coming for – besides the bayside views, plunge pools and sumptuous day beds, there's also a lauded terrace restaurant and bar serving fresh oysters, tapas and barbecue dishes – plus a quirky G&T list to wash it all down.
Price €€€ | Amenities 9/10 | Location 10/10
_
Room Mate Anna | Eixample
Of all the Room Mate hotels dotted across Barcelona, Anna's the one to go for. The design of this boutique spot is all influenced by the ocean, whilst retaining all the land-lubber amenities you could need; like a buffet breakfast (that caters impressively for every type of diet), laundry facilities, and a rooftop bar with a plunge pool and 360 panoramic views of the surrounding modernist architecture of Barrrr'celona.
Price €€ | Amenities 9/10 | Location 9/10
_
Casa Bonay | Eixample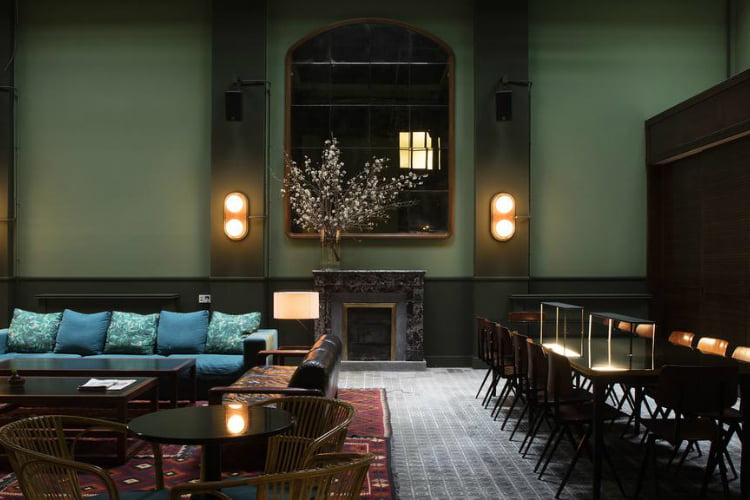 Casa Bonay is the brainchild of a family of creatives each specialising in interiors, graphic design, coffee, wine, and even soapmaking – and it shows. Everything from the magazines to the minibar has been given the artisan touch – and the place even boasts a roof terrace divided into public and private guest areas, where you can kick back on a sunbed and order something from their internationally trained chef.
Price €€ | Amenities 9/10 | Location 9/10
_
Grand Hotel Central | Gothic Quarter
The Grand Hotel Central, slap bang in the historic centre of Barcelona, offers the perfect way to connect with the city… free smartphones. When you're not out navigating the streets with their in-house app, you can use all the planning time you've saved to sink cocktails by the rooftop infinity pool.
Price €€€ | Amenities 9/10 | Location 8/10
–
Yurbban Passage | El Born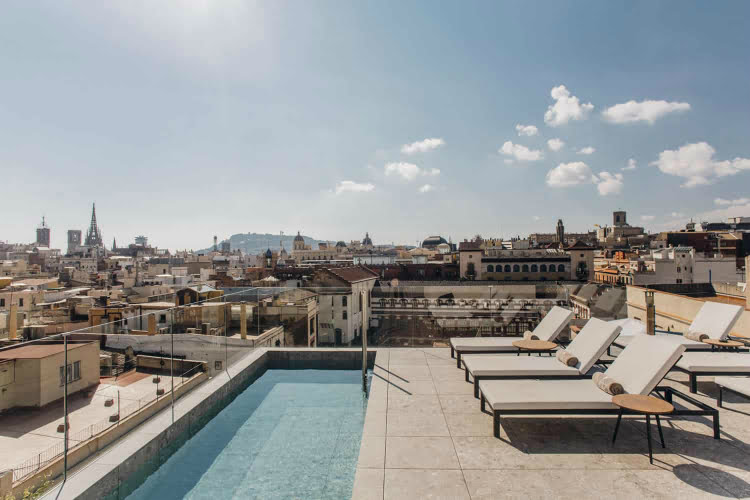 The only problem with Yurbban is that you'll probably need to build in an entire day to your itinerary just to explore the hotel. On the roof is a panoramic terrace with a sleek plunge pool; in the basement is a luxurious spa, and in between is a hotel built inside a protected former textiles warehouse (with a merchant street still running through the centre of it), filled with a healthy cafe, a florist, a shuffleboard room, a photobooth, an artisanal Local Store, free bike hire, a cocktail bar and a restaurant run by a Michelin Star level chef.
Price €€ | Amenities 10/10 | Location 9/10
---
LUXE
€200+ for the cheapest room
Casa Fuster | Gràcia
Fuster's Casa es su casa, because nothing is beyond the reach of the staff at this old-school, elegant hotel. At the sprawling breakfast buffet, they have a dedicated egg chef on hand to cater personally to your oval needs. Doormen offer you umbrellas when the forecast is ominous. And at the end of the day, you have a super luxe bedroom to kick back in, too.
Price €€€ | Amenities 9/10 | Location 9/10
–
Margot House | Gràcia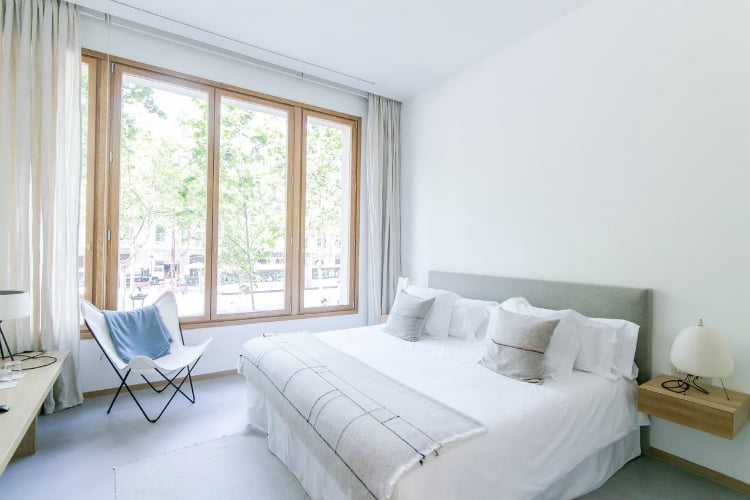 'Home is not a place, it's a feeling' is the motto of this boutique spot. Which is just as well, because we're pretty sure most homes don't come with breakfast buffets made with fresh Catalunyan ingredients, Brompton bikes and local insiders' guides to the area, stunning Scandi-chic libraries and a bevy of concierges ready to cater to every whim. But if you would like your home to be like this, you can always buy some of the decor to take back.
Price €€€€ | Amenities 8/10 | Location 9/10
_
The Serras Hotel | Gothic Quarter
Overlooking the Mediterranean Port Vell, The Serras building was home not so long ago to the first studio of one Pablo Picasso. Apparently, he found the views pretty inspiring. So it's a good job that it hadn't yet gained the rooftop cocktail pool, room service and restaurant run by Marc Gascons (whose nearby restaurant has a Michelin star), which might have been a tad distracting.
Price €€€ | Amenities 10/10 | Location 9/10
_
El Palace | Eixample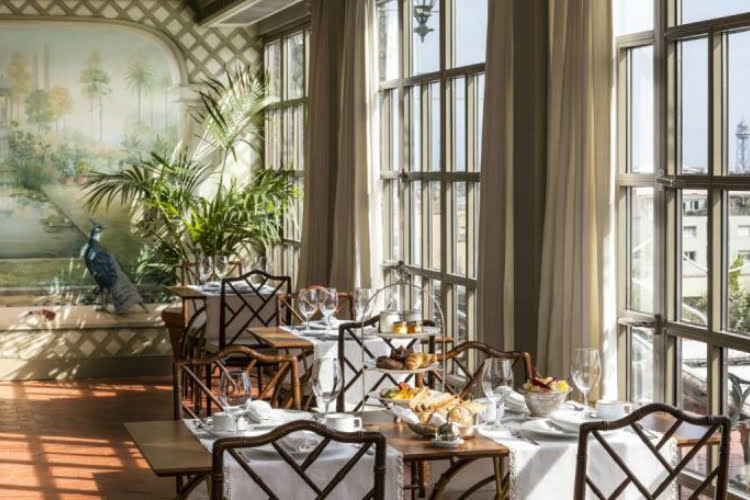 Living up to its name, El Palace is like the Ritz in better weather. Boasting grand, baroque bedrooms; a sunlit conservatory-style dining room; and a honeysuckle-covered pergola terrace with views of the surrounding boulevards, it's the stuff of 50s movies.
Price €€€€€ | Amenities 9/10 | Location 9/10
_
The One Barcelona | Eixample
Like the title of a luxurious Friends episode, this is The One With A Spa, Restaurant, Wine Bar, Rooftop Tapas And Cocktail Bar, And Stunning Rooms, Some Of Which Have Their Own Balcony Jacuzzi. Could it be any more perfect?
Price €€€€ | Amenities 9/10 | Location 9/10
–
Mercer Hotel | Gothic Quarter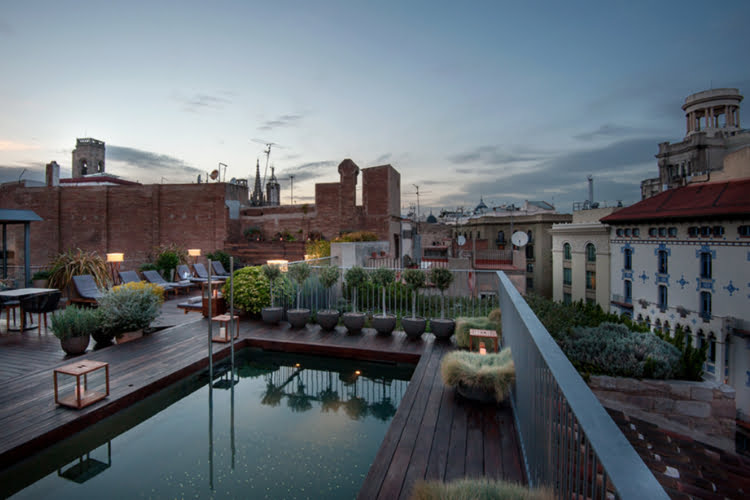 Nestled in the ancient Gothic Quarter, the Mercer has subtly interspersed midcentury furnishings, sleek glass walls, an orangery courtyard and a rooftop pool throughout the shell of a medieval building, glimpses of which you'll spot in the arches and exposed brick walls.
Price €€€€€ | Amenities 10/10 | Location 10/10
_
Monument Hotel | Gràcia
Housed in a ridiculously picturesque building, the Monument is, fittingly, a monument to luxury hotels. Their restaurants are headed up by Martín Berasategui (whose restaurants currently hold 8 Michelin stars), there's a cocktail bar with live jazz, and even special room packages inspired by the 7 Deadly Sins.
Price €€€€ | Amenities 8/10 | Location 10/10
_
Claris | Exiample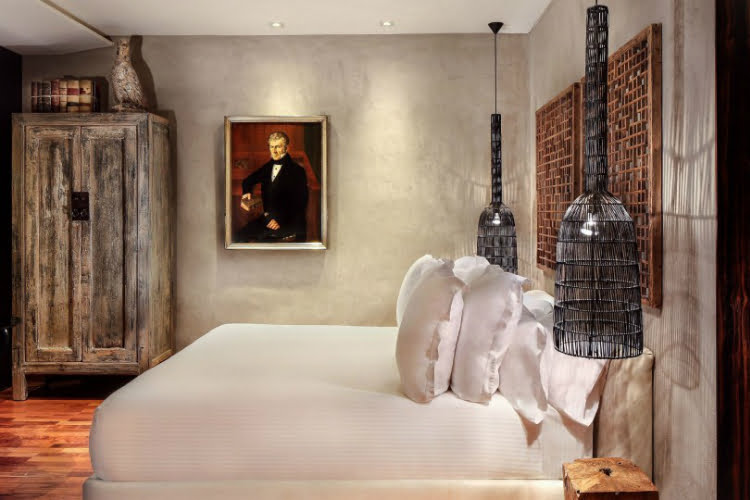 The people behind the Claris took a 19th century palace and worked tirelessly to scrub it up into this stunning 5* hotel, boasting multiple-floored rooms that each host priceless ancient and contemporary works of art, two excellent restaurants, and a bonus collection of pre-Colombian art in the lobby.
Price €€€€ | Amenities 8/10 | Location 10/10
_
Hotel Neri | Gothic Quarter
Effortlessly elegant, the Neri is a beautiful, stone-sculpted building literally steps from the steps of the Sagrada Familia. Rooms come with pillow menus, massages and beautiful quartzite bathrooms, but you'll be spending all your time in the leafy medieval courtyard outside.
Price €€€€€ | Amenities 6/10 | Location 9/10
–
Ohla Barcelona | Gothic Quarter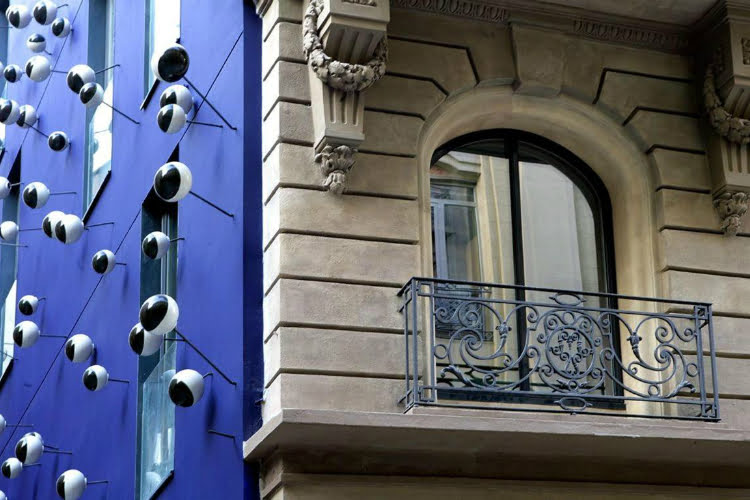 With a unique aesthetic that compatriot Dalí would no doubt have approved of, the picturesque Ohla combines classically elegant decor like the romantic rooftop pool, neoclassical façade and sleek, low-lit, lobby, with eccentric touches: like covering the entire exterior with eyeballs on stalks.
Price €€€€ | Amenities 9/10 | Location 8/10
_
OD Barcelona | Eixample
Minimalist in design and maximalist on experience, OD will flesh out your itinerary with G&T nights, Sunday brunches, and DJ-fuelled parties by the rooftop pool. Oh, and if you plump for one of their suites, you'll get your own smartcar to zip around in.
Price €€€€€ | Amenities 8/10 | Location 8/10
–
Cotton House | Eixample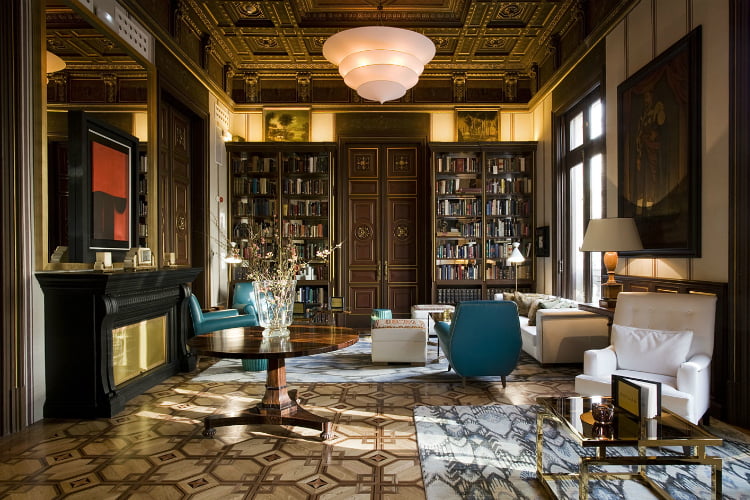 Once the Cotton Producers Guild HQ, the Cotton House Hotel has retained all its quirky original features like the wood panelled snugs and suspended midcentury spiral staircase, and replaced everything else with a library, botanical terrace, a rooftop pool, and award-winning concierges.
Price €€€€€ | Amenities 8/10 | Location 9/10
PS Planning a trip? Check out our guide to the best restaurants in Barcelona