Keeping London's heart racing is TeamSport Go Karting.
There are five sites around London: Tower Bridge, Docklands, Edmonton, Acton, and Mitcham. The Docklands site is probably the flagship, with a massive 800m, multi-level track – meaning with enough throttle you can reach speeds of 40MPH.
That's 44 seconds a lap ie. pretty damn fast.
Unlike other go karting tracks around London, it's also able to fit up to 20 drivers at a time, meaning no one needs to be left behind. Just book in, and they'll kit you out in all the gear on the day – balaclava, helmets, protective jumpsuits, the lot. Of course if you're a pro-carter and you'd prefer to bring your own home-washed race-wear that's ok too, so long as it gets the go ahead from the marshals on hand.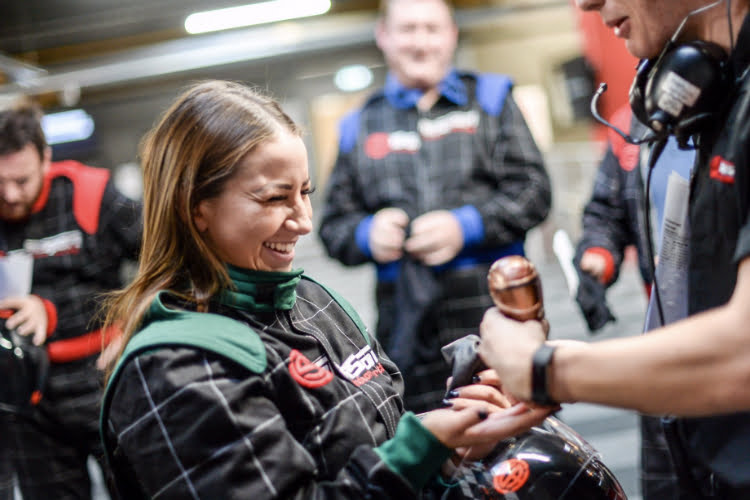 Racing options include Opened Timed Race Sessions where it's all about you, and beating your previous best. You'll get up to 30 minutes of karting time, broken up into 8-15 minute sessions, with a print out at the end revealing your times. Otherwise there's the 50 Lap Race, which puts you head-to-head with the other drivers, competing to see who can smash out 50 rounds first. You also get three shots at a trophy for the mantelpiece – first, second, and third – which is hard to turn down. On Sundays and Bank Holidays they offer Unlimited Karting, where you can drive freely for up to fifty minutes, refining your corners, over-taking, or make-believe Champagne spray at the end.
If you get hungry, or you fancy something other than fake Champagne, they do stone-baked pizzas, garlic bread, and buckets of beers.
They also offer a free shuttle service to and from North Greenwich tube station…
…for when you get tired.
NOTE: TeamSport Go Karting Docklands is open seven days a week. For more information or to book, visit their website here. Open Timed Race Sessions start from £20pp; the 50 Lap Race is £40pp; and Unlimited Karting starts at £30pp. 
TeamSport Go Karting London | 3 Herringham Road, East Greenwich, London SE7 8NJ
Last Updated: 24th April 2019
---
Adrenaline junkie? Try Hackney Wick Boulder Project.