UPDATE 24/11/23: Wun's Tea Room and Bar is temporarily closed.
---
Just when you thought London was going to have to do without a chic, 1960s-Hong-Kong-styled tea room and bar…
…we went and found Wun.
It comes to us courtesy of show-runners Z He and Alex Peffly. Z herself is from Hong Kong and apparently felt strongly about creating a place that gave Londoners a taste of the nostalgic Cantonese dishes from her childhood, in a space inspired by what she'd consider to be two classic components of life in HK: the tea room, and the drinking den. And so, Wun's Tea Room & Bar was born on a corner of Old Compton Street.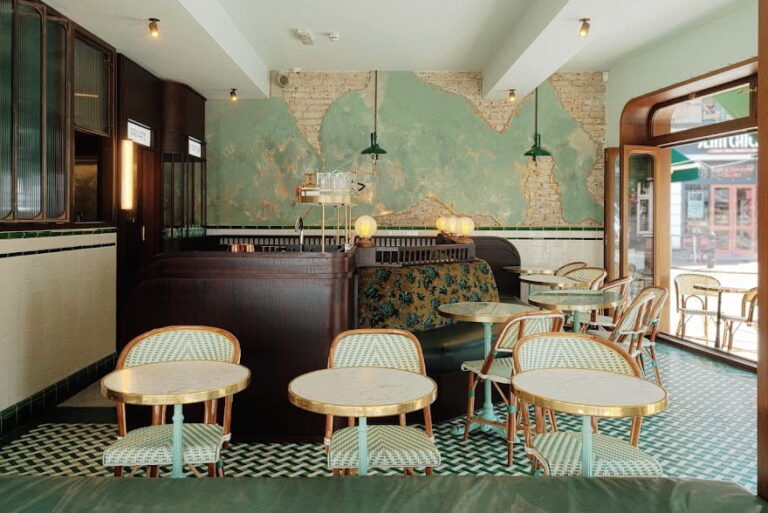 Wun's Tea Room is a tale of two storeys. Upstairs it boasts huge, floor-to-ceiling folding doors that allow tables to spill out al fresco style, depending on the weather. Inside, you'll find a strikingly retro cha chaan teng, with rattan chairs, peeling plaster walls and tiled flooring. It's perfect for a quick lunch, especially on a sunny day, but if you want to take things to the next level, you need to go downstairs…
Downstairs at Wun's, it's dark, it's moody, and it's cool. It's been designed to echo Hong Kong's vibrant night life, and does so with gusto, throwing bright green neon onto the walls, and peppering the space with small brass-rimmed tables. A mid-century cabinet, topped with DJ decks and surrounded by palms, takes centre stage; whilst a vintage jukebox filled with old school records, brought all the way over from Taipei, sits in the corner.
The menu at Wun's Tea Room changes relatively frequently, but it's fast becoming a legal requirement to order their Iberico char siu pork with spiced sugar skin. It's simply a plate of pork with no frills or garnishes, but each piece will melt over your tastebuds in the kind of way that makes you instantly forget all common decorum and snatch the last piece off the plate without so much as offering it to your companion. And to go with it there's crispy fried chicken with kung pao butter; helpings of stickily gorgeous lamb ribs that fall off the bone; zingy plates of tiger herb salad; earthily pungent clay pots filled with rice, beef cheek, and bone marrow; and subtly fragrant trout tartare with dan dan dressing. It's glorious.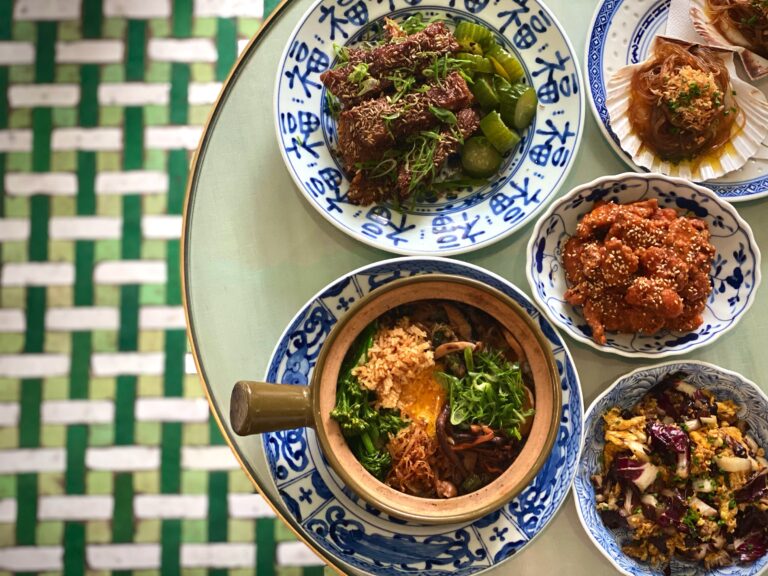 And the drinks at Wun's Tea Room? They're no less impressive, with cocktails like the Dates & Barley, which comes theatrically over from the bar housed in a smoke-filled whisky decanter, and is then poured table-side into your glass – it's rich, dark, and (surprise!) intensely smoky. Then there's the Marigold and Lemongrass which, thanks to the lemongrass tea, comes served in its own teapot, which you can pour at your leisure.
If you've been looking for a great Chinese restaurant…
…you're guaranteed to leave feeling like you've wun.
NOTE: Wun's Tea Room and Bar is open for dinner Tues-Sun, plus Friday lunch and weekend brunch. You can find out more, and book a table, HERE.
Wun's Tea Room & Bar | 23 Greek St, London W1D 4DZ
---
Big fan of Cantonese cuisine? Take a look at our Guide to London's Chinatown.