If you're going to put a female-led wine bar & restaurant anywhere, Maiden Lane is a pretty good shout.
And not just because of the name, but also because it represents the restaurant nucleus of Covent Garden, stuffing into its tiny, 150m length (deep breath): two coffee shops, a pair of pizza places, a Venetian tapas spot, London's only Canadian restaurant, the oldest restaurant in the entire city, the largest pub in the city, a burger bar, a New Orleans-style crabshack, dim sum, Indian, Portuguese places annnnd The Lady of the Grapes.
She takes pride of place slap bang in the centre of all of these, proudly announcing herself with a bright red facade. Inside, you'll find a cosy, intimate space swathed in wood, and lit by candles with months-worth of wax dripping off the sticks. It feels lived-in, in the best possible way. And what's more, you'll find yourself more-or-less surrounded by wine.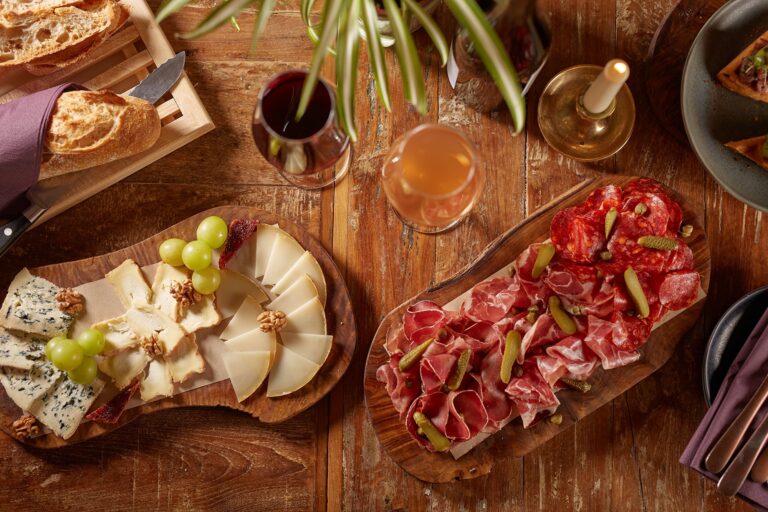 Around 80% of that wine comes from female winemakers, a decision that's essentially the reason d'être for the entire place. The aim is to lend support to talented women competing in a market dominated by men. Regardless of the gender of their creator however, all the bottles come from small organic, biodynamic or natural vineyards – and they're all good. That leaves you with a list of over 100 wines, all of which list both the owner & oenologist (winemaker) in their descriptions. It leans towards the Old World, but has plenty of variety, and a thoroughly reasonable range of prices too.
Adding some ballast, they've got a pretty decent lineup of food too. It's all designed to go with the grape hooch, meaning you'll find a lot of charcuterie (everything from Basque chorizo to Cornish coppa) and lots of cheese (Brie de Maux comes with fresh grapes, and Goat Crottin with truffle honey). If you're in the market for something more substantial, then you can always spring for a whole fondue; some fried oysters with spinach; a smoked aubergine; some pork croquettes, and a lot more. They're even serving some crêpes suzette set alright before your eyes after being doused in orange liqueur.
Don't worry though. We won't tell the wine.
NOTE: Lady of the Grapes is open Tues-Thurs 4-11pm, Fri 3-11.45pm, Sat 12-11.45pm, Sun 1-10pm. You can find out more, and make a booking at their website right HERE.
Lady of the Grapes | 16 Maiden Lane, WC2E 7NJ
---
Like a little of the ol' grape hooch? Here are the best wine bars in London.