Covid-19 note: Barrafina have reopened Dean St, Adelaide St, and Coal Drops Yard. They're also taking part in the Government's Eat Out To Help Out scheme with 50% off food (capped at £10pp) Monday- Wednesday at Dean St and Tuesday – Wednesday at both of the others, throughout August. 
Let us – for a brief moment – give thanks to Spain, who have gifted the world Pablo Picasso, Don Quixote, The Alliance of Civilisations and – probably most importantly – Barrafina.
At least, in a roundabout way, that is. See, Barrafina – London's best Spanish restaurant – actually comes from two English brothers, Sam and Eddie Hart, inspired by the famous Cal Pep tapas restaurant in Barcelona.
Considering Barrafina's significance in the London restaurant scene, it seems possible that someone, one day, many years from now, may ask you what it was like to dine there…
And so we've prepared a sample response for you:
"Imagine walking into a scleral-white, cosy eatery packed with stainless steel, marble and mirrors, and sitting down at an open kitchen bar where arguably London's most prestigious Spanish tapas chefs are plating up a colourful mixture of both contemporary and traditional Mallorcan and Catalan tapas dishes.
"Then, imagine leisurely perusing the menu, while watching those chefs gracefully slice wafer-thin, rose-pink cured meats from whole legs hanging on proud display above the bed of iced, fresh seafood behind the bar.
"And finally, imagine being able to talk to the chefs while they recommend the perfect red and white wine and sherry pairings for the (Michelin-starred) dishes they're plating you up, while the rest of the bar gaggle and bop their way through the thick atmosphere, to the music of modern Spain."
Or, alternatively, you could go and see for yourself.
Either way.
There are now four branches of Barrafina in London, each of which serve that stupendous tapas menu bolstered by a few characteristic specials. Here's what you can expect in each one:
–
BARRAFINA DEAN STREET | Soho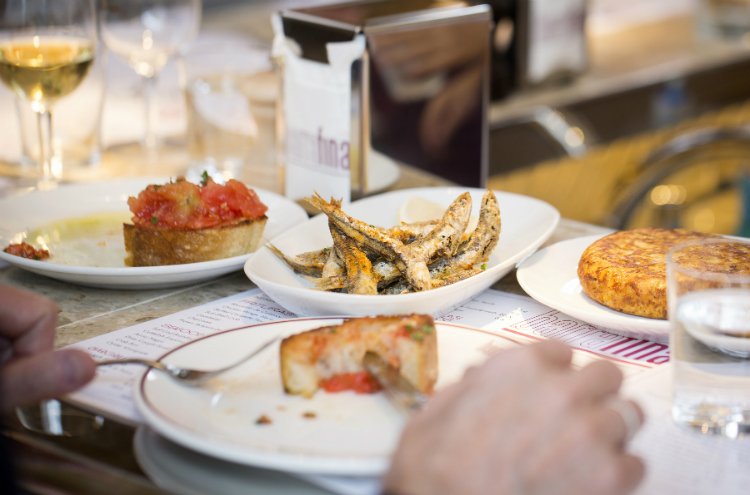 When the landlords of the original Barrafina on Frith Street decided to redevelop the building instead of continuing to host, you know, the most popular restaurant in London, the flagship set sail for Dean Street instead, where it's made a new home in the ground floor of Quo Vadis (also run by the Harts). Sporting the characteristic marble dining counter, bustling open kitchen and somewhat Bavarian-looking beer pumps, it's settled in nicely. Leave room for the Santiago tart; a traditional Galician almond cake.
Details: 26-27 Dean Street, W1D 3LL | Open M-S 12-3pm and 5-11pm, Sun 1-3.30pm, 5.30-10pm
–
BARRAFINA ADELAIDE STREET | Covent Garden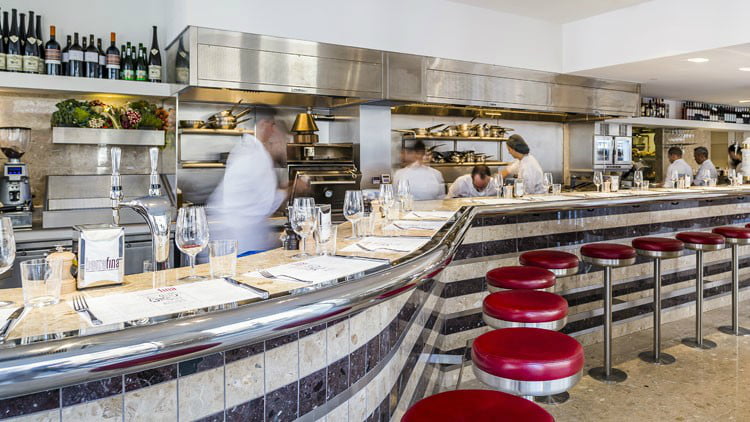 Happily a little more spacious than its sibling, Barrafina Adelaide Street is flooded with light – and has a dedicated space for drinks while you're waiting for your spot at the counter. There are subtle differences in the menu between each branch, so head here for a wider selection of seafood, or if you have a particular penchant for cuttlefish croquetas; crispy pig's ears; and milk-fed lamb's brain.
Details: 10 Adelaide Street, WC2N 4HZ | Open M-S 12-3pm and 5-11pm, Sun 1-3.30pm, 5.30-10pm
–
BARRAFINA DRURY LANE | Covent Garden
Barrafina Drury Lane is probably the cosiest in the group, where those trademark glossy counters and floors are surrounded by exposed brick walls, warm pendant lighting, and quirky arched windows. Specials here include Botifarra sausage with wild mushrooms; fried duck egg with chargrilled kidneys and potatoes; and fideuà, a kind of Valencian paella made with noodles instead of rice.
Details: 43 Drury Lane, WC2B 5AJ | Open M-S 12-3pm and 5-11pm, Sun 1-3.30pm, 5.30-10pm
–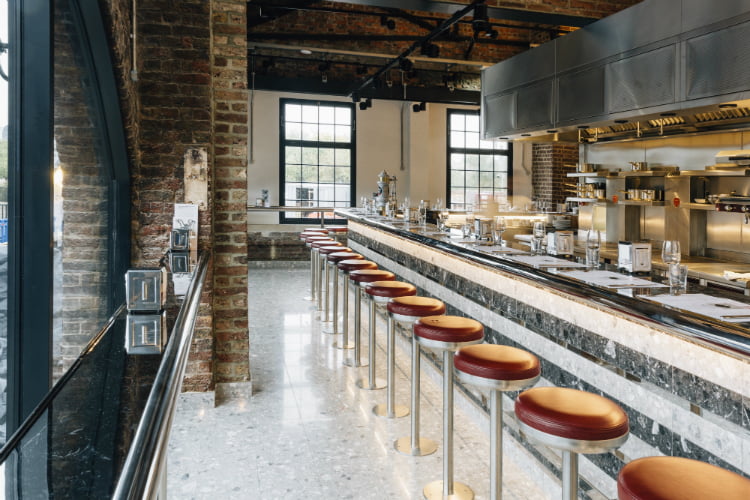 Set in the newly unveiled Coal Drops Yard, Barrafina King's Cross is their largest yet, with a whole terrace for al fresco dining due to open next Spring (under the separate moniker of Parrillan) and a beautiful private dining room overlooking the canal. The menu, meanwhile, is all overseen by exec head chef Angel Zapata Martin, and has a strong Catalunyan accent… READ MORE
Details: Coal Drops Yard, N1C 4AB | Open Mon-Sat 12-3pm, 5-11pm; Sun 1-3.30pm, 5.30-10pm
NOTE: The Barrafina restaurants do not take reservations, and cannot accommodate groups of more than 4. They do however take bookings for groups of 8 and above in their private dining spaces at the Adelaide Street, Drury Lane and King's Cross restaurants. You can find out more on their website HERE.
Main image: Barrafina Dean Street | Last Updated: 4th August 2020
---
And if you like Barrafina…why not try Quo Vadis, El Pastor, and The Drop, all brought to you by the same team.