Jacuzzi Restaurant, Big Mamma Group's Latest | Kensington High Street
Welcome to Jacuzzi, arguably London's most glamorous, buzzing, plant-filled (and genuinely beautiful) Italian eatery…
It's the latest in a highly successful collection of restaurants launched by Big Mamma Group – the intrepid team behind hits such as Gloria; Circolo Popolare; and Ave Mario – who have now firmly planted their flag in this former bank on Kensington High Street, channelling the sort of casual opulence that's usually reserved for either laughably implausible fiction or the imminent collapse of a decadent empire.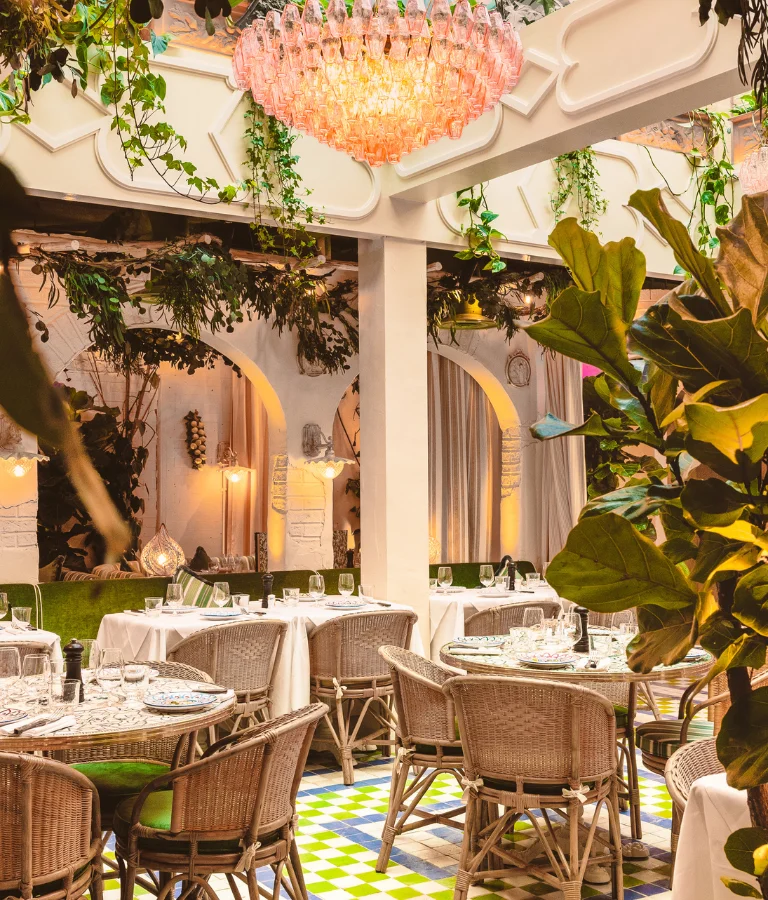 From the outside Jacuzzi gives very little indication of the opulence and scale inside. Set out over four floors, the interiors merge lush, red banquettes and chairs with gold candlesticks and light fittings alongside white tablecloths, Italian art and fairy lights dotted throughout a veritable rainforest of greenery. If you're looking for fancy restaurants in London that still have a bit of a sense of humour to them, Jacuzzi wouldn't be a terrible place to start.
Head up the sweeping, brightly-lit staircase to the (even more botanical) mezzanine, and you'll find a cocktail bar… plus a retractable glass ceiling that pulls back to let a few lucky rays of sunshine in to enjoy the Jacuzzi experience for themselves. Even higher up than that is The Boudoir (a plush green room bedecked with murals to Italo fashion greats), while downstairs in the basement you'll find the building's old bank vault, which has been covered in mirrored segments and transformed into the world's most glamorous toilet (the most surprising feature of which is the one way glass in the cubicles, allowing those inside to see out but – thankfully – no one else to see in).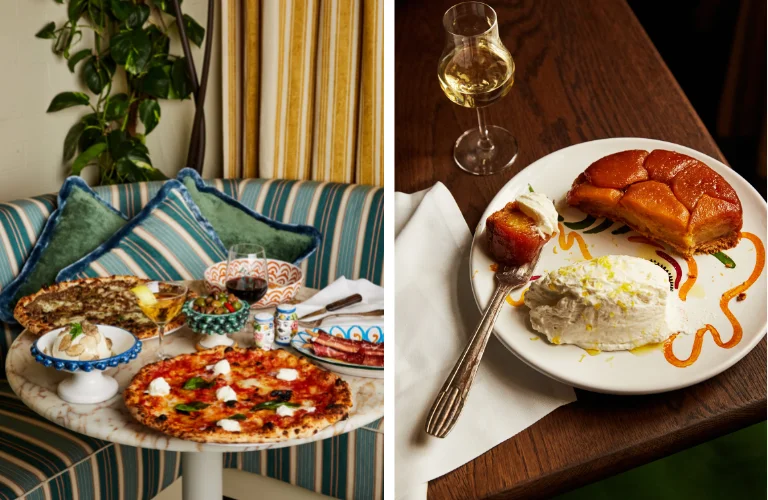 The menu at Jacuzzi follows Big Mamma's tried and tested formula of highly instagrammable dishes, from pasta served in a 4kg wheel of pecorino cheese decorated with fresh black truffle & parmigiano foam, to risotto loaded with half a lobster, dozens of clams, red gurnard & cuttlefish; a pizzetta covered in Venetian caviar, and that Cioccolato Fondue – you know, the one made with half a kilogram of Grand Cru dark Valrhona chocolate.  It's all part of the show, but the quality of the ingredients and cooking also shine through, making for an extremely enjoyable meal. Every dish that we tried hit the spot which, when combined with the theatricality of the restaurant and the stunning interiors, puts this place right at the top of our "must return soon" list.
"Buon cibo. Buon vino. Buon amici".
Note: Jacuzzi is open now, seven days a week. For more info and to book, check out their website here.
Jacuzzi Kensington High Street | 92 Kensington High St, W8 4SH
---
This place is in good company… Check out our guide to Kensington's best restaurants