The people behind Chin Chin make religiously good ice cream.
A skill they presumably learned at sundae school…
…or, more likely at their Chin Chin Lab in Camden, where they've been practising the art of making ice cream using liquid nitrogen for the last seven years. And now, they're pouring their talents into a glorious Soho emporium, called the Chin Chin Club.
The space seems to be entirely coated in gold and marble, with mini strip lights perforating the ceiling, and a car-sized slab of marble squared off into the shape of a bar. It's from behind that bar that you'll find the science-powered wizardry behind their liquid nitrogen made ices; making their ice cream this way means it's a) always made fresh, before your eyes and b) smooth & ice crystal-free. The menu includes some of –
THE CLASSICS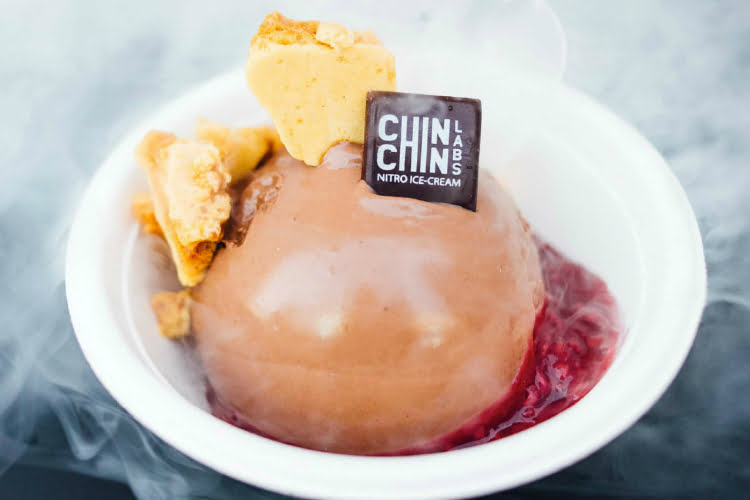 Yes, you can get scoops of insanely flavoured ice creams (tonka bean, cherry & shiso leaf, and avocado & fried corn, for example), and yes, you can get their Brownwich ice cream sandwich that uses brownies to grip a slab of pondicherry vanilla ice cream, but what you're really here for is –
THE NEW STUFF
There's the Choux-wich (a choux ice cream sandwich with Persian Pistachio and olive oil ice cream); the Avo Taco (a purple corn waffle taco filled with avocado ice cream & topped w/ house cream & crunchy fried corn); Yuzu Pina Coladas with rum candy floss; sticky toffee pudding sundaes with Earl Grey ice cream; and even "Miracle Cones" – sugar-free ice cream which miraculously tastes sweet after you pop a miracle berry pill. And if it melts?
Just take it on the chin.
NOTE: The Chin Chin Club is open Mon-Thurs 1-9pm, Fri-Sat 1-10pm & Sun 1-8pm. You can find out more on their website right HERE.
The Chin Chin Club | 54 Greek Street, W1D 3DS
---
Love ice cream? Time to tackle our Central London ice cream crawl…