Hideaway | Boutique Mayfair Café from A Michelin Starred Chef
What was Ollie Dabbous' next move after creating one of London's best restaurants?
Hideaway.
That isn't to say he became reclusive and shut off contact with the rest of the world – it was much the opposite, actually. Following the critical and commercial success of his stunning three-storey Michelin-starred restaurant overlooking Green Park, Hide, he went on to plot the boutique café spin-off: Hideaway. For the past two years the café hasn't had its own place, instead living the pop-up life at different locations around town, but now that it's had a bit of time to find its feet, Hideaway has finally settled into a permanent space on Mayfair's Mount Street.
If Hide was Dabbous in serious mode, Hideaway is the chef's attempt at being casual. And, well, he's given it a go… just excuse the chandeliers and marble tables. It's an airy venue, toned in cream and wood-brown colours with seating that views onto the street, antique displays and bird cages hanging above the counter – which are home to bottles of champagne rather than, well, birds, so you'll have to stick to the London zoo if you want avian activity…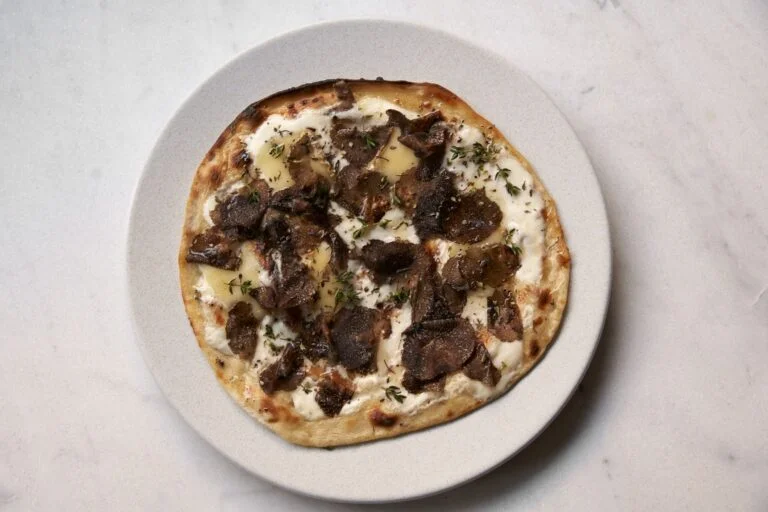 To the food: lining the counter at Hideaway is an array of baked-fresh-everyday grab-and-go goodies, including goji berry cookies, yuzu & perilla cream buns and toasted éclairs. For the more substantial sit-down stuff, you'll find what you'd hope is the final evolution of avocado on toast (topped with Royal Siberian caviar here), a lobster roll (that can also be topped with caviar if you're feeling fancy) and pizzas and waffles luxuriously dressed up with liberal amounts of black and white truffle shavings. Away from the truffle and caviar, there's also a range of salads, as well baguettes and a smoked salmon and cream cheese bagel with homemade dill pickles.
As for drinks, which are an crucial cog in the machine at Hideaway too – they do first class-coffee in all forms; the standard espresso-based using Union Coffee beans, the novelty (think a hot turmeric latte, ice Spanish lattes with condensed milk and an apple pie latte in the winter), and the boozy (a double shot iced espresso tonic with a spirit of your choice and an espresso martini). Rather just sit there with a good ol' bottle of wine? Fair enough, there's a carefully picked selection from Dabbous' side-hustle, Hedonism Wines. 
Hideaways are always good for a bit of escapism after all…
NOTE: Hideaway is open from 9am-8pm on Mon-Sat and 9am-6pm on Sunday. They only do walk-ins (because it's casual, remember?) and you can find out more on their website, here. 
Hideaway | 100 Mount Street, London, W1K 2TG
---
And for after? One of the best bars in Mayfair should do the trick…